Comfortable sleep is the best thing during the chilliest winters, but if you don't feel the comfort of warm, it will destroy your whole night sleep. Sometimes, even the woolen sheets, quality blankets, and thick comforter are not sufficient enough to eliminate the chill. And here comes the role of Electric Blankets that will make you feel warm and cozy without heaping the extra woolen blankets at all.
But how to choose the right heated blanket? Isn't is a tricky job? Yes, so here we are with our reviews of best electric blankets in India as well as a comprehensive Buying Guide, that helps you to choose the best.
Top 7 Best Electric Blankets in India
Best Electric Blankets in India- Reviews
1. Expressions 350 TC Double Electric Bed Warmer Under Blanket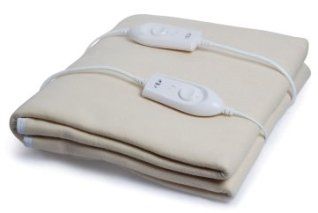 It is an under electric blanket from the brand Expression with awesome safety and comfort features for a warm sleep. It can be used placing under your bed sheet that works miraculously in radiating heat from under for the coziest and sound sleep.
The best part is that it also offers the heat therapy to get you relax from the achy back and leg muscles. This electric bed warmer comes with 3 heat settings- high, medium, and low that you can choose according to your preferences. The separate control switches let you use it in a more comfortable way.
Key Features
Under Electric Blanket
Dual heat controls that you can customize accordingly to manage heat if sharing your bed
Overheat protection that shuts off the blanket automatically when gets overheated
3 heat settings to choose accordingly
Shockproof feature make it absoutely safe to use
Relieves muscle pain and stiffness with its heat therapy
1 Year Warranty
Pros
Good quality electric blanket
Well designed to generate sufficient and proportionate warmth as per body of the user
Its auto power cut feature works automatically if it is kept switched on for long
Lightweight
Safe to use
Cons
2. Comfort Wool 250 TC Double Bed Electric Blanket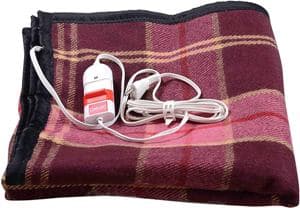 This one from the brand Comfort is another best electric blanket to provide your warmth and comfort in the chilly winters. It is an under bed warmer that comes with all the impressive features and performance at the best price tag. As the high-quality fabric is used in this blanket, it offers the most premium look and also ensures its durability too.
With awesome safety features, this electric blanket has, it is safe and comfortable to use. It comes with the handy remote control that makes you adjust the temperature according to your comfort zone and also you can easily turn it on/off whenever you want.
Key Features
Under Bed Warmer
Automatic temperature control with timer
Handy remote control to operate the heat settings
Shockproof and fire resistant ensures safety of the product
Overheat protection that shuts off the blanket automatically when gets overheated
Doesn't affect room moisture
Extremely low power consumption
Pros
Ideal for double bed size
Made up of superior quality material ensuring its durability
Offers a warm and cozy bed in few minutes only once it is turned on
Retains warmth for a long time
Looks very elegant
Safe to use
Remote control operation is very handy
Cons
Non-washable
No warranty details provided
3. Cozyland Double Bed Electric Bed Warmer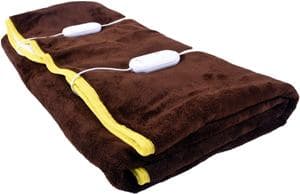 For extreme winter conditions, this double electric blanket from Cozyland is a must have in every home. Like the name, it offers the cozy sleep even in the coldest and chilliest winter nights. With its remote-controllable two heat settings, you can adjust the temperature according to your convenience. The best is its heat therapy that it provides to relax you from the achy and sore body and thus makes your sleep even more comfortable.
Key Features
Heating electric under blanket
100% shockproof and waterproof
Remote control operation
2 heat settings
Auto cut off function
Fire resistant material used
Minimum electricity consumption
Machine washable
Pros
Great for extreme winter conditions
Warms up the bed very quickly
Easy and safe to use
Comfortable with thin wires interior and soft exterior
Machine washable
Adjustable heat settings let you choose the desired temperature level as per your convenience
Cons
4. Home Elite Solid Single Electric Blanket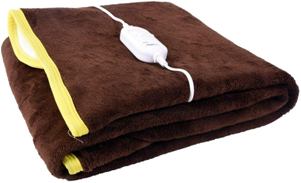 This single bed electric blanket from the brand Home Elite offers the most luxurious yet comfortable sleep during the chilly nights of winter. It comes with two controllable heat settings with remote, and so operating the blanket is too easy, especially for older age group.
The plus point is that you can also get an amazing heat therapy with this electric blanket that relieves you from the back and leg aches. The several security features of this electric blanket make it the most ideal choice. Available in the bright blue color, it adds an aesthetic appeal to your bedroom.
Key Features
Remote controllable two heat settings
Ready in minutes after you install
Safe product
Shock Proof and water resistant
Great power saver
Pros
Made with a high-quality material
Comes with amazing security features, so absolutely safe to use
Remote control feature is really very nice to control heat settings
Doesn't affect moisture of the room due to use of heaters
Saves electricity as compared to blowers and heaters
Cons
5. Winter Care Automatic Double Bed Electric Blanket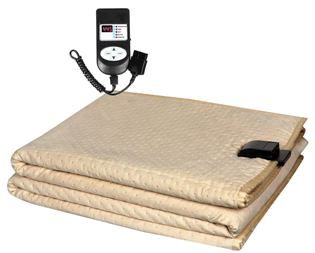 This double bed under electric blanket from the brand Winter Care is another smart choice for getting a comfy and warm feeling during chilly night sleeps. Packed with so many awesome features, it must be great buy rather than room heaters or heat convectors. So, now no more worry about the raising of electricity bills when this electric blanket is with you.
Its extra soft fabric offers an extra comfort while sleeping. This one comes with an LED digital controller that lets you set the time and temperature accordingly. Not only an economical option but also great to use for heat therapy to reduce arthritis and old age pains.
Key Features
Double bed under electric blanket
Auto shut off
Automatic digital controller for time and temperature setting
Low electricity consumption
Machine washable
Helps in relieving pain and arthritis
Heats the entire bed
No drying up of air
Pros
Great quality product with super soft fabric
Feels very rich and soft
Easy and safe to use
Maintenance of this electric blanket is very easy
Its Teflon coated element protects against any leakage of current along with multiple layers of fabric to avoid all kinds of problems
Takes only 10-15 minutes to warm up the bed
Cons
No hand wash and no dry clean
6. Warmland Single Bed Electric Bed Warmer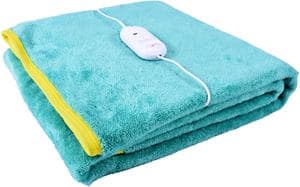 It is also one of the best electric blankets for chilly winters. The Warmland single electric blanket offers you the utmost comfort while sleeping, watching TV, and reading books. Not only this, but also it is great for the people having arthritis, backache, and for old age people. With its three controllable speed options-low, medium, and high, you can easily set up your own preferable speed. The very best part is that it gets warm very quickly as soon as switch it on, so you don't need to wait for a long time.
Key Features
Single under electric blanket
Shockproof and flexible
3-speed setting options
Auto shut off
Machine washable
Low power consumption
Pros
Retains heat very well
Has ultra-thin wires and comfortable softcover
Overheat protection is a nice feature
Maintenance is easy
Safe to use
Cons
It should have more heat settings
You can't wash it in folded condition
7. Pindia Superior Double Bed Electric Blanket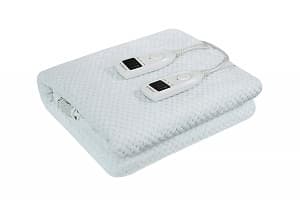 It is the most convenient and economical way to keep you warm in the extreme winter conditions. This double bed electric heating blanket can be used overnight for the most comfortable and warm feeling. It is also an ideal option for pain relief whether it is joint pain or muscular pain due to its awesome heat therapy. It comes with two thermal cutout sensors and so, for complete safety and comfort, this one is absolutely an ideal choice.
Key Features
Adjustable temperature settings
Temperature regulator remote
Even heat distribution
Overheat protection
Waterproof and shockproof
2 built-in thermal cut outs
Pros
The fabric of the blanket is very good and sturdy
The wires are good, and connection with the blanket is totally insulated
Decent quality remote control
Heats up very well
Different heat settings are really very helpful
Cons
How to Choose the Best Electric Blanket? (Buying Guide)
What is an Electric Blanket and how it works?
An electric blanket is the same as your regular woolen blankets except it come with the ultra-thin and flexible wires into its fabric layers. And the electric blanket uses the power of electricity to heat these insulated wires. It goes between your mattress and the bed sheet. Once it is plugged in, the wire heats up and heating the surrounding fabric as well to warm you up more quickly. The latest models come with the control unit feature that lets you adjust the time and temperature accordingly. Even some of them also have dual control feature, so if you are sharing the bed with your partner, you can create your own temperature setting on your side of the bed.
Types of Electric Blankets
1. Under Electric Blankets
These are the most cost-effective choices of an electric blanket. It comes with the tie tapes that you can use to place it on your mattress under the sheet.
2. Mattress Cover Electric Blankets
It works the same way like a fitted sheet does. You can also place it under the bedding and sheets to get a comfortable heat up of bed before the bedtime.
3. Over Electric Blankets
These blankets you can use either on the top of the sheet or inside a duvet cover to cover yourself in the chilly winter nights. The best part is that these electric blankets offer you the flexibility to move it along with you.
4. Duvet Electric Blankets
It works the same way like the over electric blankets. It offers you the flexibility to choose high settings for bed heating and low settings for all night use accordingly.
Factors to Consider Before Buying an Electric Blanket
1. Size of the Electric Blanket
While buying an electric blanket, the foremost step to consider is its size, like you do while choosing a mattress or bed sheet. The size determines whether the blanket will fit your bed or not. Electric blankets come in different sizes- twin, full, queen, and king, matching your standard mattress sizes. So you can choose it accordingly.
2. Material
What if you don't feel comfortable in your heated blanket if it is scratchy or provides irritation? Total waste of money! Therefore, looking for its construction material is also very important while choosing a heated blanket. Luckily, most of these come with a soft polyester microfiber construction that feels cozy and comfortable. Also, these are thick and fire-resistant, making them the best. You will also find electric blankets made of wool in the market. These are also best as they are natural fire-resistant and hold heat for a longer duration. When it comes to plug-in controls, these are made up of plastic material.
3. Multiple Heat Settings
Well, all the electric blankets come with different heat settings options. It allows you to choose the desired level of temperature according to your comfort and need. You just need to simply press the button to set your desired temperature level.
4. Dual Temperature Control
This feature is important to look for if you are the one who is sharing your blanket with your partner or others. It means you and your fellow will have full control over the temperature setting, whatever you like most. So, no one is feeling too cold and too hot. Just sleep comfortably at your preferred heat setting.
5. Cleaning of the Electric Blanket
Most of the electric blankets are not washable; well, some come with this feature too. But since they are embedded with wires and plug-in controls, you must be very careful regarding their cleaning. You must read the instruction manual carefully, whether it is washable or not, and then do the cleaning action accordingly. If your heated blanket comes with a washable feature, you must first remove out the plugs and controls embedded in the blanket. So that you can wash the fabric easily in your washing machine.
6. Programmable Functions
The advanced models of electric blankets come with the most innovative feature of programmable settings. With this feature, you can set your electric blanket to warm up half an hour before you go to bed. Some also have an LCD display for easy reading and adjustments of temperature during the night.
7. Safety
Safety points are very important while using any electrical product. The same goes with the heated blankets too. Though the modern electric blankets come with advanced safety features assuring your protection from any electric hazards, you may still check whether it comes with safety standards or not. Make sure to check the ETL or UL mark on the blanket before buying.
8. Auto Shut off
It is a smart safety feature that most of the modern electric blankets come with. It allows your electric blanket to turn off automatically when it gets overheated or even if you forgot to shut it off.
9. Temperature Sensors
Various best electric blankets have this feature that allows it to detect the room temperature and thus adjust the heat accordingly.
10. Extra Foot Warmth
Some high-end models include this feature that allows some extra heat to your feet. So, for those whose toes do not get easily warmed inside the blanket, this feature helps them to make their feet cozy and comfortable.
11. Extra Quilting
Some heated blankets come with extra quilting that adds cushioning to your blanket and thus provides more comfort.
12. Budget
Generally, the electric blankets are expensive than your regular blankets. But as they offer more warmth and comfort due to the heat settings, their prices are fully justified. Keep in mind that the branded ones will be more expensive than the non-brand heated blankets and will be more durable and comfortable. So, it's up to you which one suits your budget. The price also depends upon their size as well. Well, the good quality heated blankets range around Rs 1000 Rs 3500.
13. Warranty
Warranty on the heated blanket determines its quality and durability. So, it is very much important to go for the one that comes with a good warranty period and after-sales service. It assures you, if there goes anything wrong with your electric blanket, you may get it fixed or replaced without paying an extra cost. Most of the electric blankets come with a warranty of 1 year, and some goes up to 2 years also.
Pros and Cons of Electric Blankets
Pros:
Its consistent and easily adjustable level of heat offers the most restful and comfortable sleep
You don't need to cover yourself with those extra blankets weight; an electric blanket is pretty enough to stay warm during the chilly nights
Some modern models come with dual temperature controls, so you and your partner can choose your own preferred heat level
Electric blankets let you turn down the thermostat 10 -15 degrees at night, thus helps you in saving the electricity bills
It also increases the blood circulation and relaxes your muscles making you getting relief from aches and pains and eases muscle tension
Eases menstrual pain
Cons:
It is pretty difficult to maintain the electric blankets because of the embedded wiring. Some models are machine washable but must be air-dried, while some are not washer friendly
The power cords, connectors, and thermostat controllers in the electric blankets to control temperature is also uncomfortable to manage
Electric blankets are not perfect for those who like to wrap themselves up in their blankets
You should avoid keeping excessive weight and pressure on the electric blankets as it could result in damaging the wires, causing shock and fire hazards
The maximize heat settings will cause health issues, so the normal heat setting is very much important in the electric blankets
Important Safety Tips to Follow When Using a Heated Blanket
However, the newer and innovative models of electric blankets come with the advanced safety features; you must follow the following points for extra safety.
Make sure to store the electric blankets flat, as creasing may lead to wire damage and heat spots
Do not make the electric blanket wet if it doesn't have the washable feature
Turn off the power of the socket when it is not in use
Don't keep your electric blanket switch on all overnight, if it lacks thermostatic shut-off feature
Keep your children and pet away from the electric blanket
Electric Blankets Frequently Asked Questions (FAQs)
1. What is the safest brand of the electric blanket?

All the above mentioned electric blankets from the brand Expressions, Comfort, Pindia, Cozyland, etc., come with essential safety standards and features, therefore absolutely safe to use.

2. Is it safe to use an electric blanket?

Almost all the electric blankets have safety features included, making them safe to use for everyone. For some specific people like children, people suffering from diabetes, pregnant women, people suffering from dementia, or any other mental disorders, it is not advisable to use the electric blankets.

3. Is it safe to sleep under an electric blanket?

Electric blankets are advisable to use only for a short period of time and are absolutely not recommended for overnight use. For overnight use, you must check whether it has an auto shut off and timer feature or not. If yes, then only use it while sleeping.

4. How long do electric blankets stay on?

With proper care and maintenance, an electric blanket can stay in good condition for up to 10 Years.

5. Do heated blankets use a lot of electricity?

Generally not. The electric blankets consume very little energy, even less than your space heaters. On an average, they consume 60-200 Watts depending upon the heat setting mode. So, if you are using a heated blanket for 2 hours, and it consumes 100 W, then it takes 0.2 kWh of energy (0.2 unit).

6. Can you leave electric blankets on all night?

No, you can't leave an electric blanket on all night unless and until it has thermostat control for use overnight.

7. Do electric blankets catch on fire?

Yes, the improper use of the electric blanket can cause it to catch fire. Make sure to switch it off when not in use.

8. Are electric blankets good for arthritis?

Yes, the heat of the electric blankets provides relaxation from pains like arthritis, back pain, body pain, and even menstrual pain.
Conclusion
That's all for our picks of best electric blankets in India with their full reviews and specifications as well as pros and cons. Hope the buying guide we have covered on how to choose the best electric blanket, will ease your buying decision. As our personal recommendation we suggest you to go with Expressions 350 TC Electric Bed Warmer that is suitable for couples as it is a double bed heated blanket. Also, it comes with amazing features, three heat settings and also standard safety features making it a great addition to beat the harshing cold of winters. Still, if you have any suggestion in your mind regarding the blog, please let us know via the below comment section.
Read Related Reviews
Buy Electric Blankets Online
Bell electric blankets for Single Bed - 10 Ye...
30%
Expressions Polar Electric Bed Warmer - Elect...
47%
Expressions Polar Electric Bed Warmer - Elect...
50%
cozyland single bed electric warmer blanket
60%
Beurer HD 75 Electric Blanket, Cuddly Heat Bl...
16%
ARCOVA HOME Polyster Single Bed Heating Elect...
55%
Electric Bed Warmer - Electric Blanket - Sing...
75%
Cpixen Coral Velvet USB Plug-in Heated Shawl ...
32%