In terms of giving the most incredible comfort to your newborn baby, buying the best Baby Cot is a fine decision. There are, of course, many choices that you have to look into, but essentially it works well for their sleeping pattern.
Baby cots or cribs is specially designed for a newborn to 8 months old baby. It actually likes a small bed that includes a barred/closed side of long wood or metal. It also has storage drawers, hanging toys, wheels, and other features for all yours and your baby's convenience. A baby cradle is another best version that comes with a swing or rocker feature in the baby's cot/crib.
Indeed, you can easily fit it beside your bed and rock your baby soothingly at night. This way, you do not have to worry about them feeling uneasy and restless at night, and the gated frame provides ample security. To put it simply, there are many reasons why investing in a cradle or its alternatives, cribs or bassinets, something you should seriously consider.
Certainly, while reading through the best baby crib reviews would soothe your worries, this article provides further description. From what you should buy to how to safely use these products, you would learn valuable information here.
But first, you should know what the crucial features are that you should stay vigilant about when selecting a baby cot/crib. Some of them are:
Age- Notice what age is mentioned that the bed can hold up to, in the matter of mattress and strands. Usually, newborns up to 8 months can stay on them comfortably.
Support- Keep note if the best baby palna or other varieties that you like has a robust support structure.
Lock system- While the swinging motion is good for rocking the baby, it is important that it can lock in place too.
Bedding- Make sure about the consistency of the bedding in the baby cot, and that must not be too soft or fluffy. For a newborn baby, this is risky as they can suffocate amidst the fabric.
For your better understanding, the Buying Guide below will be greatly helpful.
Top 10 Best Baby Cots (Cribs) in India
Best Baby Cots (Cribs) Reviews
1. Fisher-Price Georgia Baby Crib Cum Toddler Bed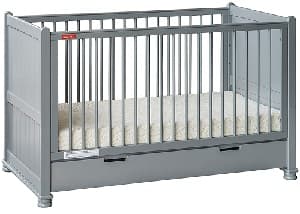 Without a doubt, when listing for the best baby crib in India, it is unimaginable not to mention Fisher Price. Thus, our top pick includes from the same brand. It is one of the best brands for baby materials in the market, and with the Georgia Baby Crib Cum Toddler Bed, it proves why. As the name suggests, this product is convertible based on how old they are.
To be specific, when your little one is younger, you can use this baby bed in its crib format. And the heights levels would make it comfortable for you to pick up your child easily. There are four options for that to be specific, all suitable for your baby's different ages. The highest age that this product can hold is 5-year-olds when you turn the crib into a toddler bed.
The material of this crib and toddler bed combo is some solid and seasoned wood, which means it would last longer. Plus, the railings on the sides have virgin plastic construction in the form of teething rail. It ensures that your baby would comfortably and safely stay inside the region and cannot fall off.
In the bottom region, you would notice a storage section too, where you can keep your baby's essentials. It is spacious enough to hold a lot of important but small objects, like toys, nappies, towels, etc. All the parts are tested under the jurisdiction and authority of the European standards. They check all the joined and attachable parts during construction, giving you a stable and safe end-product.
Speaking of construction, this product is not too difficult to put together when you buy, and neither to dismantle. All in all, this product is definitely worth considering.
Key Features
Can turn from a toddler bed to a crib and vice versa
The paint finishing does not have lead in it- good for baby's skin
You can adjust the mattress base to four levels
Storage compartment present
The wood structure is long-lasting, strong and durable
European standards checked
Best for newborns to toddlers of 5 years
The rails on the side are removable to transform the crib into a bed
The side grills are for protection
Pros
Solid build and structure
Protective rails
You can comfortably adjust the mattress height
The wood material is good for longer use, and reusable for next baby too
Suitable for both boys and girls
Cons
Very expensive
Need to buy the mattress separately
2. R for Rabbit Smart Folding Baby Cot/Crib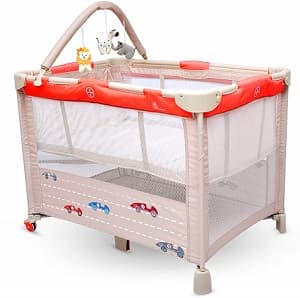 Are you thinking about what is the best baby crib for your little one? Look no more! R for Rabbit is one of the best brands that provide some of the best crib/cot options in the market, and this one is undoubtedly a good example. After all, it grows with your little angels and is extremely adaptable. Whether you have a newborn or they are a toddler now, both can easily settle into this.
Of course, it acts as the perfect play yard for your child, too, transforming in size and area. Thus, you can utilize it for years and save a lot of money.
Aside from this, the Air Mesh available all around allows them to breathe easily, whether they are sleeping or playing. You can move it around from room to room, too, thanks to the legs and wheels feature. For exp. if you need to go to the living room from your bedroom or vice versa; along with your baby, this feature would lessen all your worries.
In the question of safety, another mentionable matter is the certification that it has, i.e., EN 716. The additional layer of the bassinet also acts as the perfect companion to its already safe and long-lasting features. Thanks to this layer and the firm mattress, your child can sleep properly until they are one year old.
Of course, that is not where its features end; you can remove the bassinet layering later and transform it into a Baby cot! Thus, you can use this best bed for baby for at least three years. There are other notable points too, and they are mentioned hereafter.
Key Features
It can hold up to 20 kgs in weight.
There are legs and wheels present for portability
Can turn the bassinet to a crib
The 4 in 1 Mesh surrounding is good for breathing
A pocket is present for storage
Toy bar for entertainment and good for baby's motor skill development
Easy to fold and carry around- plug available to pull, close legs, fold and then put in a pack
European standard verified product
Pros
The mosquito net is good for protection from insects and ensures a comfortable sleeping
Portable due to presence of wheels
Lightweight build
Both installation and detachment modes are easy
Long-lasting and durable, for at least 3 years
Cons
Expensive
The hard mattress can be uncomfortable
3. LuvLap Baby Multipurpose Wooden Cot C-80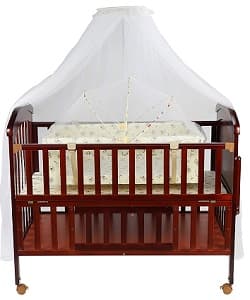 In terms of providing baby-related products, LuvLap is a name that you would hear often, and rightfully so. It provides safe-to-use products that are best for both the parents and the children. And one of the best and most sought-after products in that regard is the model C-80, the best cot for baby.
From build to features, it is one of the winning options in terms of usability and safety. It has the certifications to prove it, specifically of the European standard mark. This cot is made up of strong wood of the pine trees, and the material is then polished to perfection. Certainly, it is strong in size but also looks attractive at the same time.
Of course, the features do not end there; you can transform this cot into a cradle, too, depending on what you need at the time.
It can hold newborns most properly until they reach the age of 1 year. However, the youngest age that is best for your kid to sleep inside this structure is at least 3 months. As for the weight limits that are applicable here, the highest recommended measurement is at least 15 kgs. Anyone over that cannot sit properly within or can fall from it; thus, maintain precautions.
The base of the cot is covered with a strong and durable fabric, and it is very breathable. Consequently, as your child is lying, they can breathe properly, even when the mosquito net is applied around it. While all these features make this a good cradle choice to consider, the lack of mattress is notable.
Key Features
Can turn into a cradle from a cot and vice versa
Spacious for a newborn baby
Can carry 15 kgs of weight
Made of pinewood and is durable
A mosquito net comes with it
One of the best baby cribs for small spaces; you can attach it beside your bed
Storage area present below the cot area
Wheels are present for easy mobility
Pros
The fabric covering is breathable and comfortable
Best for newborns
Two compartments
You can easily move it around the room
Rocker mode is present
Cons
Wheels do not have a locking feature
4. R for Rabbit Baby's Den Wooden Baby Cot/Crib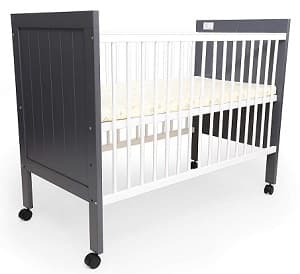 Now again, a product from R for Rabbit. In terms of getting the best crib for baby, you can turn towards this wooden cot that is both easy-to-install and safely constructed. Its build, too, is with great quality pine wood material, which is smoothed and polished for an attractive appearance. It also has two packs on two sides and teething rails that altogether ensure a safer stay for the baby.
Another great feature of this baby cot is its height adjustment, and on this crib, you can change the base levels to fit your needs. It makes it easier to use the structure for various purposes for your baby, and the screws keep it intact. Overall, the structure and the soft mattress within makes the experience of your child comfortable and secure.
Key Features
The wooden structure includes pine wood construction which is of robust and high quality
The mattress is comfortable for the child to lay in
Teething rail for newborns that are securely placed
The packed surface on two sides for secure placement and they are smoothly finished
Easy to adjust the height in 3 modes, depending on what you need it for
The screws are well-placed for stability
Movable owing to the wheels feature
Long-lasting; best for newborns and 3 years alike
Pros
Stable and durable build
Installing the parts is very easy
Sharp edges are not present
Can move it from one room to another
The mattress base is easily adjustable
Cons
Cost is more
No rocking feature
5. LuvLap Wonderjoy Folding Baby Bed Cum Cot/Convertible Crib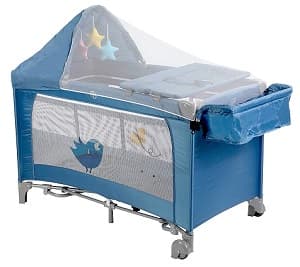 LuvLap brings you another attractive and usable option for your baby, and its name is Wonderjoy. If you are wondering why, the reason is its feature, or more elaborately, its multiple convertible options. Whether you are in need of a cot or a crib, this wonderful product converts as per your requirement.
Yet, its conversion advantages do not end there; you also get the option to use it as a playard. As your baby grows up, they would need something where they can sit and play, but also nap when necessary. This product covers all of your baby's needs equally well. In fact, you can easily fold it and carry it around, which is great for you in times of making a traveling plan as a family.
It can hold around 15 kgs in weight, and the best age for the baby who can comfortably lay in it are the newborns. The side parts are elevated and detachable and come with a zipper system. It is wonderful for when your child needs to nap. And the porous mesh on each side offers good visibility and ventilation.
Plus, there is a detachable changing board too, which you can use when you need to change your baby's diaper. It comes with safety straps that hold your child in place so that you can move around and not worry about them falling off.
Furthermore, there are detachable pockets as well, where you can keep your baby's things when required. Given all that it contains, this Folding Baby Bed Cum Cot is another commendable and best baby cot in India.
Key Features
The side area comes with a zipper opening
Mosquito net protects the child from diseases
Mesh sides are good for breathing, and you can see your child inside properly
Wheels for better movement
EN standard approved
Can fold the entire bed compactly
Comes with a toy and stuffed toys too
The canopy feature is available, and you can use it as per your convenience
The playard can convert into a napper
The sleeping base is elevated and full-size
Pros
Convertible features
Breathable fabric and netting
Travel-friendly
Detachable canopy and changing table too, for diaper-changing
The essentials can be stored in pockets
Cons
Assembling takes time
Cannot hold more than 15 kgs
6. Baybee Wooden Swing Cradle/Cot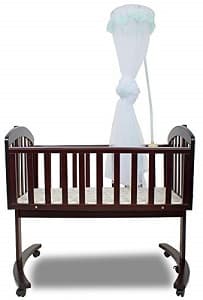 There are several best cradles for newborns, and one of the most useful ones is this by Baybee. This company is considered as one of the most trustworthy baby article brands (certified ad EN 716 as per the European standards). Indeed, the item is quite safe and supportive and made with durable pinewood from New Zealand.
In fact, most of the particles within this cradle are hygienic and safe, and completely BPA free. Your baby can sleep comfortably within, day after day. And you can keep it in your family for future use too.
Not only is the design of this cradle of the modernist style, but the finishing is done with white and non-toxic paint. So, your baby can sleep within, and you do not have to worry about it reacting against their delicate skin.
This best wooden wood baby cradle is most suitable for the newborns only though, as its 200 grams body cannot hold bigger babies. The highest weight it can carry, in fact, is 25 kgs. Newborns can fit well within the space until they learn to crawl on their knees and hands.
In the question of portability too, this cradle is wonderful as you can carry it easily if needed. The best place to use it though is inside the house, and many hospitals and kindergartens also keep a spare.
The mosquito net that comes along with it is another excellent feature that makes it worth thinking about. It protects them against unwanted diseases, and you can easily detach it too when it is not in need.
Key Features
The wooden cradle is made of New Zealand's rich pine wood- stable, durable and non-toxic
Mosquito net available that you can attach and detach as per your child's need
A swing system present that sways the cradle gently
Portable owing to the wheels feature
Every part minutely checked and certified as safe
Cozy cushioned mattress for comfort
Best for 1-year-olds and younger
Removable mattress for easier cleaning (both cradle and mattress separately)
Can hold up to 25 Kgs of weight
Pros
Attractive design
It comes with a lever to easily switch on or lock the swing
Instruction manual helpful for installation
Fewer chances of mosquito bites thanks to the mosquito net
Parts can be locked for stability and safety
Cons
Only good for newborns
Not includes the mattress
7. LuvLap Baby Multipurpose Wooden Cot C-30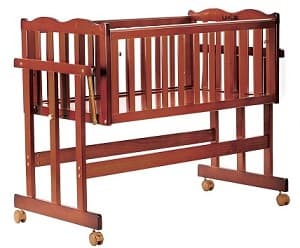 Like the maximum LuvLap products are, this one follows the European Standards well and is approved as EN Passed. The features and parts were all minutely checked for errors, but all are of good quality and noteworthy. Made of polished pine wood, this best baby palna can work as both cradle and cot. It depends on what your baby needs and what activity you intend to do.
You can transform it into three different forms too, a tea table, a shoe rack, or a desk. So, when you do not require the cradle functions anymore, you do not have to throw this away; very cost-effective.
Plus, the mosquito repelling net is a wonderful addition, something you would appreciate highly. There are other features too, which only proves what a good investment this one is, as mentioned below.
Key Features
The primary materials in the structure are plastic and pine wood
The wood is strong, safe, and eco-friendly
The cradle has plastic arms, and that snuggles your baby in comfortably
It can carry around 15 kgs of weight
Multipurpose for baby use and others
Best for newborns to at least a year old baby
The mosquito net is protective and permeable
Wheels allow portability
European standards certified
Pros
Looks attractive thanks to the polished finish
The wooden frame is long-lasting
Spacious interior for newborn baby
Can move the structure around using wheels
All parts are well fitted for proper safety concerns
Cons
Difficult to wash
Not good for any age other than very young babies
8. Baybee Pack N Play Cradle for Baby/Folding Baby Cot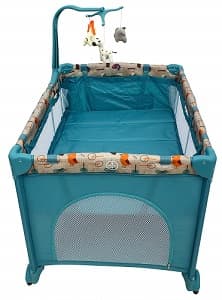 In terms of good sleep and comfortable playing for your child, buying a multi-functional product is essential. And this one is the best baby bassinet as well as baby cot that was tested to the highest quality tests under European Standards. And afterward, it received an EN 716 tag, which means that this product is safe and easy to utilize.
Being able to breathe easily is important, aside from the stable design and protective layering. The Air Mesh that is available on two sides provides these very advantages, altogether.
The best ages that this product is good for are from the newly born age to 1 year, if you use the bassinet feature. As a cot, you can use it for a total of 3 years for your baby, proving it evolves adjacent to your baby's development.
Key Features
The mattress and layer of bassinet structure is good for newborns
When your baby grows up, you can remove the layer and turn it into a cot
Wheels allow you to move the structure and the legs present help to stand it
Best for newborn age to 3 years in total
Toy bar present for baby engagement and motor development
Adaptable features in playing too; turn from a play yard for baby into a playard for toddler
Stable and long-lasting build
Air Mesh god for ventilation
Break wheels present on one side
Come with a music specialty
Pros
Multi-purpose use
Good ventilation for a comfortable sleep
Entertainment through toy bar
A locking mechanism on wheels
Safety certification available
Cons
Bassinet bed requires extra covering
9. JoyRide Baby Cozy Nest Crib and Cradle with Mosquito Net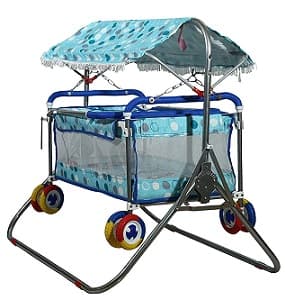 In the question of best cradles for newborns, this option from JoyRide is one worth wondering about. The design of this structure is attractive, and the building material is highly safe and durable too. Plus, there is a mosquito net feature here that protects your kid from bugs and mosquitoes, ensuring comfortable slumber.
Of course, in terms of use, that is not the only way that you can use this. You can later turn it into the best baby jhula, and this swinging feature is very exciting and satisfying for babies. When you are not using it as a swing and need to move your baby, there are wheels underneath that would work for you.
This pram feature is easy to handle, and the space is quite appropriate for your child. As for the comfort matter, the soft mattress within makes up for that function appropriately.
Key Features
You can substitute the use from a cradle to a stroller or swing
The swinging feature is very comfortable for their sleep
Portability is possible thanks to the wheels underneath
The mosquito netting is comfortably porous for protection from insects but ventilating too
The bed is soft and comfortable
Compact design
The structure is not too heavy
Pros
Attractive and colorful design
The cradle base has a soft mattress
You can move it as a pram from room to room
Protects against mosquitoes for baby's comfortable sleep
Cons
The build could use better work
Features are not many
10. Comfort Store Sturdy Baby Cradle/Crib/Cot/Rocker/Play Pan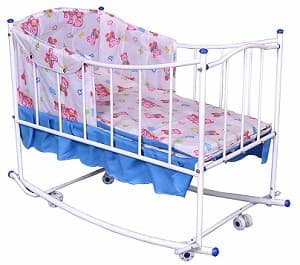 One of the best baby cradle options with multi-purpose uses is this one that Comfort Store organized. Starting with why that is so, it is best to mention the three functions it can work as- a rocker, a cot, or a playpen. It depends on what your baby needs currently, and the easy assembly quality of this allows for the rest.
The structure of this 3 in 1 Best Baby Cradle is made of steel overall, and the pipes are coated. It is the reason behind the stable and durable quality of this structure, and the interiors are comfortable too. Indeed, safety and comfort are two things that the manufacturers have stressed.
Portability, too, is a visibly and structurally great characteristic of this cradle, in the form of the wheels. In fact, you can turn its rod around as per your advantage, whether you need the structure as a rocker or a cot.
Key Features
Only nuts and bolts are needed for the assembly of parts, which is quite easy to handle
Mosquito net protects against insects and has a zipper entrance
Pillow and mattress are removable
High-quality building material
Turn the wheel rod toward the ground to turn the structure into a cot
When you need a rocker, turn the wheel rod away from the ground
The metal build is hard to break or destabilize
The pipes are coated
Pros
Attractive design
Instruction manual is very helpful
Follows safety rules
Easy to enter baby through the zipper entrance
Cons
Not very durable
Cannot hold a lot of weight
How to Choose the Best Baby Cot/Crib? (Buying Guide)
Before you can go ahead with placing the order, you should consider a lot of different matters. It is mainly to ensure that your baby has the most wonderful experience using it and can do so for long. Plus, the aspect of safety is another important point to judge the best baby cradle India on, given the functions it must carry. From factors like money to the physical materials used, as a parent, you need to pay heed to a lot of things. Thus, take a look at the following points and buy the right, which is right for your little one.
Important Physical Features
There are some matters of the physicality on which you should base your buying decision. Whether you want a cradle, a cot, or a bassinet, the important physical features are worth noting for each. Some do not have all the highlights in high quality, and you should buy the one that has most of the following.
1. Mesh Walls
For proper protection against falling over when they turn on their side. This is especially harmful in a baby cot bed, which is of a smaller size, and the mesh sides are helpful here. Not only do they hold the baby in place, but also the porous layer allows air to enter easily. Thus, a newborn child can breathe easily and sleep comfortably.
2. Storage
When you are taking care of a baby, there are plenty of products that you need to keep at arm's length. Thus, buying a bassinet that comes with a storage region for clean clothes, toys, diapers, etc., is a great choice.
3. Portability
It is not possible for you to always stay in one place; you may need to go do some other duties in other parts of the house. In such a case, you cannot leave your child unattended, and a portable cradle or bassinet would work in your favor. You can, therefore, take them around to another room easily.
4. Canopy
A very important reason why people buy the best baby bed, bassinet, or crib in the first place is that they are good for sleeping. But sometimes, conditions like excess light can disturb a baby's sleep. For this, buying a cradle that comes with the canopy system is a wonderful plan. Also, in some bassinets, there are two canopies for all-round protection from light, and you can consider that as well.
5. Mattress
In terms of mattress quality, the one that you use should be firm in texture and thin in shape. It is because a baby may suffocate if they turn over or move around on a softer mattress. This problem would not arise on a harder and flatter mattress.
6. Rocker
A baby enjoys a soothing rocking movement, but you cannot always do so and need a break. Here, having a bassinet that can rock is a wonderful help, and you can adjust the movement speed too.
7. Accessories
To give your baby a fun time while lying or sitting in these products, certain accessories are greatly helpful. These include a hanging toy bar that also improves a baby's motor skills from early on. Plus, there are some that come with a sleeping pad or a bedsheet- and they are interestingly useful, too.
Key Factors to Think of Before Buying
There are some elements that you have to look into, aside from the physicality of the cradles or bassinets. They are as mentioned hereafter.
1. Safety
First and foremost, the main area of concern when buying the best baby cot is how stable the build is. After all, babies spend the maximum time in the cribs or cots. Given that, go for newer models as they come with better features and follow the safety regulations and standards. For example, make sure that the one you buy has a standard distance of 2-3/8″ space between slats.
Also, try not to use a crib that comes with decorative cut-outs or rail posts, as both are major health hazards. In the case of the former, such particles can harm newborns' skin as their leg or arm can get caught in it. On the other hand, when you have rails in the corners, it can cause a snag and hurt your child.
.
2. Cost
Another matter that stumps many new parents is the factor of cost. Of course, it is best to choose the best cradle for baby or bassinet that comes within your budget range, but do not set it too low. After all, the best features and more long-lasting capability is present in costlier options.
Thus, if that is something you want, increasing the budget slightly to buy a durable product is a smart investment. On the other hand, if you do not wish to use it for long, buying a lesser-priced product is a suitable choice too.
3. Versatility
When you are buying a crib for your child, opt for convenience over design, and versatility is one thing that ensures that. Indeed, if you purchase a product that you can convert later into another type of bed, you can use it for longer. Like, there are some cradles or bedside bassinets that hold newborn comfortably and are portable too.
But as they reach 2 years of age, you can transform the crib into a toddler bed. Without a doubt, this is worth investing in, as you would get the features of two products in one.
4. Manufacturer's Credibility
You would surely want the best for your child, and that includes who makes them. Thus, while you should think of the physical features of a product, you should check out the manufacturer's credibility as well. Looking at the baby cradle reviews, if you notice that their products have an unsafe reputation and many complaints, it is best to steer clear.
5. Ease of Use
Not everyone lives the same way, and not everyone has the same needs. But they do want something that is easy to use, and taking note of your necessities would help you narrow this down. Like, how big is your room? In such a case, buy a cradle which is of a smaller size and can fit in smaller regions. Plus, if you desire a portability feature, choose a cradle that is easy to carry or has wheels.
Important Safety Tips for Baby Cots/Cribs
Babies cannot talk, and they cannot tell someone if they are feeling protected or content. It is up to the parents to make sure that their children are happy and that they are safe. Given that, here are some things that you can do when buying the best baby crib in India for your little darling's safety.
The first thing that you should look at is the presence of safety precautions or lack thereof. Also, notice the reviews of the brand beforehand and if their company saw any complaints. As for the certifications, ones like JPMA and CPSC are important.
As mentioned earlier, thick and fluffy blankets, mattresses, pillows, etc., are a choking hazard waiting to happen. Given how soft and delicate their muscles are, they cannot move around properly if they turn over. When this happens, they will get stuck in the soft fabric, and that has harmful consequences.
If you are thinking of reusing a broken or old crib, which is at least ten years older, try not to do so. They would not have as many or as effective safety factors as the newer improved models.
Try to avoid drop-side cots or cribs as your child can fall off if the side's mechanism is faulty.
When you are assembling the parts of the product, you must follow the instructions that are provided.
Double-checking everything would only safeguard your baby from any harm they may face because of item defects. Notice if any materials are loose or the edges are not jagged- both are harmful to a baby.
If you do not want to buy a baby cradle online, but at the store, you should shake it a few times. In case the stabilizers are weak or missing inside, the frame would appear loose. Plus, if some things are properly fitted, they would jiggle or fall off too. These are some things you should try to avoid and not buy one that shows them.
Do not place the product near hanging things like blinds or curtains. Newborns cannot tell the difference between safe or otherwise and can try to pull them down. Then, they would get caught in between the upholstery, or the hanging rod can unfasten and fall. Both these situations are harmful; thus, notice where you place your child's crib.
Baby Cribs Frequently Asked Questions (FAQs)
1. Which is better baby bassinets or cribs?

Essentially, both a baby bassinet and a crib are equally useful and give a baby ample comfort and support. Yet, there are some notable differences, and a lot of that has to do with your own preferences and situation. Like, if you live in a smaller apartment-like area, it is obvious that you would require the best baby cribs for small spaces. In this regard, a bassinet would work better for your situation rather than a crib.

2. Is it okay to start a baby directly with a crib since birth?

While it is neither impossible nor wrong to use a crib for your baby since birth, there are easier alternatives. After all, during the early days, a baby is constantly restless at night and needs more attention. Since something like a bassinet can fit snugly beside your bed, you can keep a better watch on your newborn using it.

3. At what age is using a cradle not necessary any longer?

Usually, a newborn outgrows the Best Baby Cradle or basket around the age of 6 months, as they can sit up now. Due to the shallow structure of the bedding, your baby can accidentally fall off the side. Hence, it is better to graduate your child to a crib by this time.

4. Is using a cradle for a newborn actually safe?

Indeed, there is the possibility of harm for newborns, especially up to the age of 1 year. The main issue that is possible under this is suffocation leading to SIDS. It is usually due to the bedding in the cribs, bassinets, or cradles, especially if the mattress is softly padded and loose. This is a major suffocation hazard for newborns as they cannot move properly, and need a firm, well-placed, and 1.5-inch thick mattress.

5. Is co-sleeping good for newborns?

No, co-sleeping is not a good idea when you are sleeping with newborns and employ the use of a crib instead. It is because if you try to sleep with your baby on your bed, your covers are too big for them. Thereafter, they can suffocate on them or with the pillows, not to mention, can fall off too. Another major concern is if you turn on your side at night and accidentally do so on them.

6. How to cover the newborn when they are sleeping at night?

For a comfortable and safe sleeping for your child, make sure that the mattress you use is firm, waterproof, and flat. On top of it, use a single sheet as a covering, and try to use one lightweight blanket layer or more. Also, make sure to tuck the covers around your baby, specifically under their arms.

7. How are bassinets different from a cradle?

In essence, the two types of baby products, a cradle, and a bassinet, are not completely different. However, one notable distinction is that you can rock a cradle from side to side. A bassinet, on the other hand, is more stagnant and well supported. Plus, they are mostly made of wood, although many cradles now come in other materials.

8. Which is better for sleeping- a cot or a Moses basket?

A baby can sleep comfortably in both Moses baskets and cots, especially in the first six months of their lives. However, when it comes to the question of which is better, the answer is a cot. It is a safe and sturdy product where your child can comfortably sleep for longer and not fall off either. And they are comparatively more space-saving than a crib as their size and structure are more compact.
Conclusion
Overall, there are a lot of options available in the market today in terms of the Best Baby Cradle for babies. Each comes with different specifications, uses, and are suitable for different types of babies. Thus, it is crucial to know what features you should notice more and make the right and safest decision for your baby.
Out of the ones mentioned, you can choose the one you find most useful, and noticing the baby cradle reviews would help you make up your mind. Fisher-Price Georgia Baby Crib Cum Toddler Bed and R for Rabbit Hide and Seek Baby Bed/Cot/Crib are different but equally useful choices you can focus on. All in all, make the final decision taking everything like longevity, features, cost, and situational need in mind.
If you feel anything we have missed out, please give you suggestions and feedback in the below comment section.
Read Related Reviews
Buy Baby Cribs Online
LuvLap Sunshine Baby Playpen Playard/Folding ...
17%
BabyTeddy ® 9 in 1 Patented Multifunctional ...
17%
Baybee 3 in-1 Baby Bedside Crib Cradle for Ba...
25%
BabyTeddy Patented 10 in 1 Portable Baby Crib...
47%
BabyTeddy ® 9 in 1 Patented Multifunctional ...
23%
Fisher-Price Joy Baby Wooden Crib/Baby Cot (N...
21%
House of Quirk Bedside Baby Crib, 4 in 1 Port...
10%
VParents Bunnyi New Born Baby Crib Bassinet c...
49%