Feeding a toddler is a very difficult job as they are little naughty and proactive. To make this task quite easy, use a sitting chair for baby. It is also well known as the Baby High Chair.
The high chair is a type of stuff which is mainly used to feed young babies. The concept of making a baby high chair is very simple. The sitting chair is lifted up from the floor to a consistent distance so that parents may feed the child without any difficulty from a standing position too.
A baby high chair is very useful to give food to toddlers. It does not require a person to bend to feed them. Other than this, you may keep away from the chaos created by spread out foodstuffs just by using a high chair. Talking about the strength, baby eating chair has a wide support system that makes it durable and long-lasting.
Get more deep into it, by heading to our Comprehensive Buying Guide Section.
10 Best Baby High Chairs In India
Best Baby High Chairs in India- Reviews
1. Luvlap Royal Highchair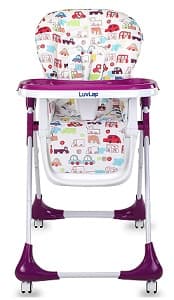 To make your baby's feeding task easy and pleasurable, we have this Luvlap High Chair first in our search. With a combination of attractive features, this product fulfills your life with lots of parenthood pleasure.
Its wheels and adjustable 7-height levels provide liberty to give food to your baby from anywhere. This High chair from Luvlap is best suitable for 6 to 36 months old baby and can hold weight up to 15 Kg.
Talking about the features, not any product beat this High chair. The 5-point safety harness makes it very safe for babies that securely strap up around the shoulders and the waist.
It can be modified to 7 different elevations, as indicated by the age of the baby and ease of parents. The adjustable three-position seat recliner, dine tray, and footrest helps baby feed and rest in different positions & provide more space for growing kids as well.
Cleaning and maintenance is also not difficult as it has a removable and washable feeding tray, seat pad, and safety belt. You can simply clean the dirt and stain after feeding the baby to keep it germ-free and hygienic always.
Having an amazing safety system, it offers 360° Swivel Four wheels with brakes that provide effortless stirring in the rooms and balcony. And the power-assisted brakes give instant immobility when the baby is feeding. Last but not least, easy and compact folding makes it more attractive and saves your storage space too.
Key Features
7-height adjustable & 2 position shoulder height adjustable
5-point safety harness & 3-point seat recline system
Adjustable footrest, feeding tray, seat pad & safety belts
Maximum weight recommendations 25 Kg
Swivel Wheels with brakes for easy move
Stopper to stop Unit from moving
Removable and washable seat pad, feeding tray
Pros
Personal resting space with different adjustable heights and shoulder height provide a next-level comfort to your baby
The High chair is easy to fold and is compact for storage in a nominal space
Safe, sturdy and convenient
Easy to assemble and value for money
Various height levels are the best feature. Likewise, you can adjust the backrest and the footrest as your kid grows.
Cons
No user manual provided with the unit but is not very tricky to assemble
2. LuvLap 4 in 1 Convertible High Chair Cum Booster Seat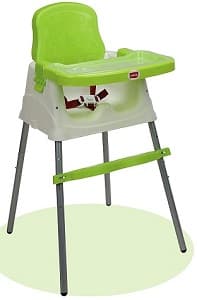 Luvlap products never compromise with the quality and feature. After all, it's about the safety and comfort of your baby. And that's why once again a product from Luvlap move toward second next in our top list.
It is a four-in-one convertible high chair seat for babies and is available for 6-36-month-old kids and carries weight up to 22 kg. This product is certified as per European standard that makes it extremely safe for little ones.
The best feature of this high chair is that you can convert it into a low-chair as well as a booster seat. You can modify it as per your convenience by making it low seat with the tray on the floor. Additionally, it can be modifiable into a booster seat that you can fix with a dining chair.
It is available with hook-on height adjustable legs that facilitate multi-utilities as per your feeding convenience and baby's height. The 3-point safety harness is very safe for the baby as it secures the baby around the waist. As it is a convertible high-chair, you can easily convert it into Low-Chair by shortening the legs of the high-chair.
Cleaning after feeding can be tricky in most products but not with Luvlap since it has a detachable Feeding tray that helps hassle-free cleaning of stains and food mess.
Other than this, the legs of the chair can be detached and secured as a booster seat on a regular dining chair. You can also fold it easily that usually facilitates in storage. It requires minimal space to store through foldable backrest.
Even more, the dining tray can be bendable to 3-position, which facilitates more belly space for growing babies. It can be used as a low chair, Booster Chair, High Chair and Booster seat on the floor. What's more, you require!! It's undeniably a good buy.
Key Features
Modifiable 4 in 1 function
3 point safety harness for comfortable seating
Adjustable footrest
Three-position Detachable, Bendable and washable Feeding tray to keep it hygienic
Foldable backrest
Maximum weight recommendation 18 Kg
Portable with easy and compact folding
Height adjustable and removable strong metal legs
Pros
Light-weighted and good quality high chair
Firm and comfortable with adjustable feature depending on how you want
Easy to assemble and easy to clean
The support system is ultimate and can be modifiable
Cons
No Instruction manual provided as it seems difficult to assemble some parts like safety belts
Sometimes the legs of the high chair keep slipping on the floor. It may be risky until the child sits perfectly silent and unmoving
3. Chicco Polly Easy High chair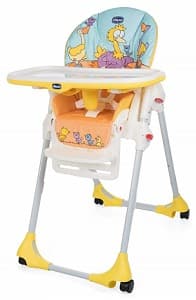 Giving something solid to eat will no longer be upsetting for feeders because feeding toddlers becomes easy with Polly Easy High chair. With Chicco Polly Easy feeding chair, your kid will feel absolutely comfortable and fully wrapped up for safety measures.
This multicolor attractive baby sitting chair has an adjustable height, and you can prefer from 7 different elevations. These modifiable heights are very useful to fit the high chair at your regular table and unusual uses.
This product is a perfect companion for your baby's first meal. If you want to surprise your little one with comfort and pleasurable feeding experience, you should prefer this colorful, vivid gift for your baby.
The high chair has ample space to accommodate your kid. The comfortable seating provides smoothness and soothing experience while feeding. Other than this, the backrest facilitates post-meal relaxation in a 3-different recline position.
It can be modifiable to different table heights. Transform the height of the high chair as per your feeding convenience. Bendable footrest offers a three-position adjusting feature that makes baby comfortable in every growth stages. 4 Swivel wheels come with revolving controls that make it easier to secure.
Polly Easy High Chair can be a fortunate thing for tiny houses. Due to its ultra-compact feature, it can fold easily and occupy less space for storage so that you have more space in your room. The comfort and safety it provides not only assure its expediency but also facilitates a pleasurable feeding experience to baby.
The high chair is suitable for both boys and girls, but the minimum age required to use the feeding chair is six months and above. Not-well grown baby found misplaced in it. Hence, you need to wait for him to grow into it.
Key Features
7-different adjustable heights for different uses
Spacious sitting space for comfort
Compact and sturdy
Minimum recommended age six months
Four swivel wheels for easy maneuverability
Pros
Ample space for baby to sit and get relax after feeding
Adjustable height for different uses facilitates various poses to feed and relax at the same time
The simple, compact feature provides more space in the room
High chair for both boys and girls
Cons
Not reliable for newborns to 3 months old babies
Non-removable tray
Difficult to wash the feeding tray. Only wiping is possible.
4. Chicco Polly2Start, 2-in-1 Highchair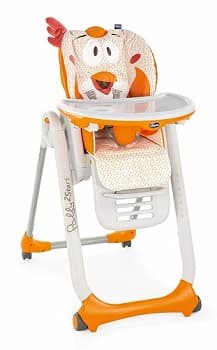 Small babies always attract with the colorful things, so Chicco presents an amazing, comfortable, and best baby High Chair in vibrant orange color. It is not only attractive by its appearance but also admired by its features.
The high chair is suitable for both mother and kid. Keeping in mind the baby's comfort and its functionality, the manufacturers fabricate this high chair with realism and expediency.
It is very light in weight and compact. This solid pocket meal high chair is best for your baby's feeding time and resting moments. Moreover, it also gives a rich and dazzling addition to your house.
This multipurpose high chair has a four-position reclining backrest, 8-position height adjustment, 3-position legrest adjustment, 4-position tray adjustment that makes it a versatile unit. Furthermore, it comprises a spacious padded relaxing seat cushion, which is detachable, and you can wash it on a regular basis to keep hygienic.
The removable feeding tray comprises an integrated cup-holder that is meant to avoid spills. This compact pocket meal high chair has an adjustable 5-point harness that keeps your kids safe.
Most of the high chair models have not any option for folding, which leads to compromise with congested spaces in the room. But, not with Chicco pocket meal high chair! You can fold it and carry it with ease wherever you want. Due to its light-weighted feature, you can carry it easily, and compact folding feature facilitates to carry everywhere you want without much effort.
It has an adjustable leg rest that can bend to 2 different positions. Change it according to your baby's growth. Spontaneous folding feature provide more assistance in shifting and make it contracted to store efficiently.
This high chair is best suitable for 0-3 year old babies. But too younger kids are not suitable enough for this high chair as they can skid or lose their balance sometimes. Hence, wait for your kid becomes 3 months old or above.
Key Features
Ultra-compact and lightweight
Recommended age 0-3 years
Adjustable leg rest to 3 different positions
Large and comfortable seat with adjustable backrest
Spontaneous folding system
Ergonomic handle
Pros
It has a modifiable footrest that can twist to 2 different positions. Transform it according to your baby's growth.
Superlight-weight and ergonomic handle facilitates lifting high chair effortlessly
The wide tray provides ample space to feed properly and play after meal
Integrated cup holder is fixed in the tray to avoid leaks and mess
Cons
No Swivel wheels lock system
Expensive
5. Fisher-Price 4-in-1 High Chair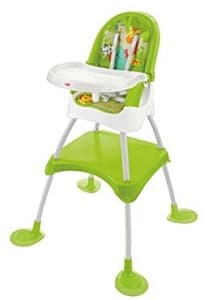 Fisher-Price 4-in-1 high chair is the most popular choice among kids because it has all those features which a kid requires. Ultimate framework and outstanding feature makes it very functional.
The 4-in-1 features start with a high chair for toddlers. It comprises a safe feeding tray which is dishwasher safe. It is simply removable and stain-resistant. The high chair also comes with a washable seat pad. The seat pad can easily comes off and wash down directly. You can machine wash too that resists stains and spills. This is all about the high chair feature.
As the baby grows, this feeding high-chair can easily transform into a 2-piece set, i.e., a feeding chair and a stool set. You can use it with or without the feeding tray that all depends on your convenience.
Coming to the third conversion of this high-chair, it becomes a child booster seat. All you need to just take away the feeding tray and fold up the chair's legs beneath the seat. A child booster chair is ready!! You can simply fasten with the strap to nearly all regular chairs, so kids can also join you at the dining table.
And the last conversion of this High chair is amazing obviously. Growing kids can't utilize their early days feeding chair, but not with Fisher-Price 4-in-1 high chair. When you no longer need feeding high chair, it can easily be changed into a study table. Isn't it worthy?? Your child will definitely get a place where they can eat, sit, relax, learn, and play!!
Fisher-Price High-chair has a 3-point restraint system that is quite safe for your little one. It is available in the market with various height adjustment and non-toxic materials. The comfy, contoured, and non-hazardous seat provides incredible comfort and ease to feed. Being foldable, it is easy to store and consumes less space.
Key Features
4-in-1 convertible high chair
Comfy space for kids to sit, learn and play
3-point restraint system with the safety harness
Foldable and non-toxic
Different height adjustment
Pros
High chair mode has ample storage to keep baby stuffs like milk bottles, bibs, napkin, toys, etc.
Easily transform from one use to another making it very functional and cost-effective
Good quality, durable and easy to assemble
Easy to clean
Cons
You cannot recline the seat of this high chair
6. Kurtzy Kids Foldable High Chair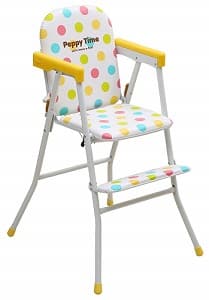 Parents who are tired of getting their little ones to calmly be seated and eat peacefully; there is no other choice except High Chair. Kurtzy High chair is the brand that provides the entire feature you are looking for.
The chair is very well-built and easy to carry around on every occasion on an outing. It is a well-made chair for toddlers, and the material used is aluminum, which is very sturdy and thickset. It can hold up weight from 1 Kg to 50 Kg, and that is cool, maybe. From the safety and security point of view, it is really a very secure product for kids having various safety measures.
The soft fabric offers all the sturdiness and comfort you need to feed your baby, with extra smoothness for sensitive skin. The high-chair is incorporated with a footrest that gives a comfortable experience to little feet. It has an adjustable strap that gives safety and easy fastening.
The feeding tray is removable so that you can also fix this high chair to the dining table. Detachable feeding tray is also convenient for washing. You can simply clean the mess after meal through wipe or rinse down the tray.
The high chair is easy to assemble, and no further accessories are required to assemble it. Even not any tools are essential to mount up. Simply fasten the knobs in the legs.
Folding this high chair is very simple. All you need to do is just push the feeding tray upwards and bend down the footrest to fold the chair. It can be folded efficiently with a single drive for easy storage and carrying one place to another.
Key Features
Aluminum material construction
Recommended Weight- 1kg -50 kg
Safety Harness with safety belt
Easy and compact Foldable system
Easy to assemble
Very soft padded cushion seating with flexible Footrest
Pros
The sturdy framework provides safety to young kids, and it helps to avoid falling down while climbing on their own
It can be folded single-handedly with ease
Removable tray facilitates cleaning separately
Cons
The attached table cannot be adjusted much
You cannot recline the chair
7. 1st Step Safe Feeding High Chair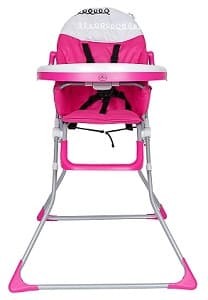 Kids need a personal space to eat and relax, and so high chair is the suitable place where kids can eat freely in the lap of comfort. The 1st step High chair lets the parents to feed their baby without much effort. Kids will also find a proper space where they can feed properly in the growing years and can discover some table etiquettes.
This baby sitting chair is EN 14988 certified. It is one of the most rigorous recognition defined by European Standards.
It comprises a 5-point safety harness that not only straps up safely the body of your kid but also helps to remain seated until the feeding is completed.
Feeding solid stuffs to the little one can be a tiring task for new parents. You just need to leave all your worries to the 1st step high chair because it has all those facilities which you require to feed your baby. It has a proper seat with secured straps, feeding tray to keep foodstuffs, footrest, and much more.
With a safety perspective, it would be a better choice. This feeding chair has an Anti-skid stand that helps in keeping the entire framework in a stable position. You can utilize the high chair with a food tray or without food tray. Food tray can be twisted and turn over when food is not to be set aside.
The seat of the high chair is comfortable enough to relax babies. Furthermore, it also includes a removable seat cover, which is waterproof and stains proof. You can wash it as well on a regular basis to keep it clean and tidy for further use.
Key Features
5-point safety harness for maximum safety
Bendable Food tray with cup holder
EN 14988 Safety certified by European Standards
Anti-skid stand
Removable Seat cover
Pros
For maximum safety, the 5-point harness system provides strong strap up to the body
An anti-skid stand helps in keeping the highchair in a constant and secure position
An added cup holder in the food tray facilitates avoiding liquor drops
Stain-proof seat cover makes it very durable and clean all the time
Cons
No swivel wheels
Recliner option is not available in the seat
8. Little Pumpkin Kiddie Kingdom 3 in 1 Foldable High Chair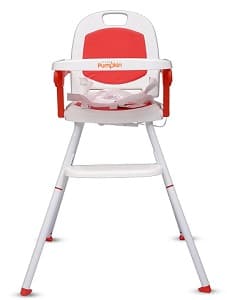 When looking for the best baby High chair, this model from Little pumpkin Kiddie Kingdom can be suitable for your search. It can be transformed into three different chair modes. The vibrant red color makes it more eye-catching and pleasurable for babies.
The three different modes can be a high chair, low chair, or booster chair. You can transform the mode of the chair the way you want. As per your convenience, it can be a high chair, if you want your baby to eat with you at the dining table. You can make it a low chair if you want your baby to be seated on the floor. Simply attaché it with any other chair to make it booster chair.
To convert it from high chair to low chair or booster chair, all you need to remove the legs, and your booster chair and low chair is ready for your efficacy.
If you are planning to go restaurant or somewhere else for outing, simply fold it and carry in a travel bag provided free for your utility.
The safety harness is good for six months and above kids. Actually, the safety harness is missing to strap up at the shoulders. If your kid is too small and can't sit on their own, there are chances he may get injured. But for grown-up kids, the harness provided is satisfactory enough to hold him.
Key Features
3-in-1 foldable feature from the high chair, to booster chair and low chair
Easy storage
Detachable feeding tray
Detachable and washable seat cover
Travel bag included
Maximum weight recommendation: 6-25 kg
Pros
There is a travel bag included with the set that makes it easy to carry while going for an outing
Removable and washable leather fabric for easy cleaning
Convertible to 3 different chairs
Good quality metal and plastic used
Cons
Food Tray is difficult to re-adjust and is also very small in size
The joints between long stands and short stand are slightly loose when in High chair mode
Shoulder harness is missing which is not appropriate for too young kids ages from 3-6 months
9. SYGA High Chair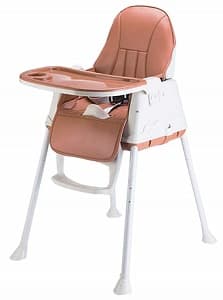 This baby chair consists of a PP plastic desk and a metal frame. It is a convenient foldable safety Booster dining chair for infants. This is a very cost-effective product, and its 3-in-1 design makes it very attractive and beneficial.
You can easily convert this baby high chair to a normal chair, booster chair, or high chair. A simple alteration makes this high chair bend for your convenience. You only need to buy a single product, and you will get three useful fittings for your baby. If taking about its features and functions, nothing can do better except SYGA High chair for baby. It is a completely safe and comforting baby product with a cushion option.
Feeding can be easier with SYGA high chair because it has a removable feeding tray with three different changeable positions. You can go on with this product with growing babies as well. It's an appropriate size table and chair & they can feed without help in the growing years.
Cleaning is also very easy and simple with this model. The booster chair is durable, stain-resistant, and easy to remove. You can remove the liquor stains easily by mopping it with a wet cloth. The feeding tray is dishwasher-safe, and it comprises a socket with it.
It is available in different vibrant colors, and your child will definitely love the exciting shades and can always have a hygienic space to enjoy food and drink.
Key Features
Adjustable 3-in-1 convertible High Chair
Easy to clean
Material: Environmental friendly Plastic Table, Metal Frame
Removable tray with three adjustable positions
4-block adjustments
Various color options
Pros
Light-weight
Easy to assemble
The feeding tray has an extra light tray so you can clean up any liquor drops in the sink
For the different stage of baby's growth, there is a detachable tray with three flexible positions
Cons
The stand's material may not be good, which makes the chair unsteady, leading to high chances of collapse
The entire framework of the high chair is well built enough, but connecting the stand to make it high chair is quite upsetting
10. Baybee 5 in 1 Smart and Convertible High Chair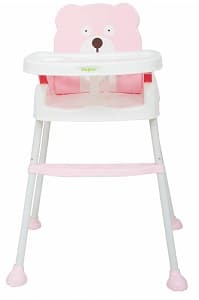 Safety is the primary thing if you are looking for baby products, and hence, Baybee 5-in-1 high chair is decorated with European standards EN14988 safety certification. That means it is completely safe and secured for toddlers. Feeding can be easy for mothers and their babies if you prefer Baybee High chair for the little ones.
It becomes a full-size high chair with a little conversion. It can be five different chairs with unique seating positions. The 3-point safety harness helps you to tie together your kid while dining. It makes your child secure and protected from any damage.
It's the right size feeding chair for growing babies. As the baby grows, this high chair can give a suitable place to eat and learn dine etiquettes. Furthermore, they can play and enjoy the meal very tactfully. The high chair has an integrated tissue box that is very cool for self-assembling. To wipe spills, you can simply find the tissue at its fixed place.
It's anti-skid, and tipping-resistant design facilitates to avoid any mishap and remain stable in any condition. The finest and most select backrest design brings the proper posture to make little one sit and skillfully learn good dining manners.
Key Features
Safe and sound product with EN 14988safety certification of European standards
Full-size high chair with a 5-in-1 convertible option
Three different height adjustments
3-point safety harness
Removable food tray with visible tray cover
Integrated tissue-box
Optimal backrest design
Pros
The product is quality assured and safe for babies
The built-in tissue box is a very cool option for self-assembling
Removable food tray with visible tray cover to wash frequently
Washable seat option is good to maintain hygiene
Cons
Not ideal for too young kids less than eight months
How to Choose the Best Baby High Chair? (Buying Guide)
An appropriate sitting chair for baby can help make feeding more pleasurable and helpful for both feeder and eater. Although different variations, features, materials, and style availability makes it very confusing to buy from.
A baby high chair is not a required product for newborns. It is somehow avoidable, but once your baby crosses four months and you started feeding small bites of cereals or vegetable and fruit pulp, baby feeding chair is essential.
Getting the full benefits of a high chair that meets your requirements, it is important to pay out for the right one.
To sharpen your exploration, read carefully our detailed and enlightening Buying Guide to recognize preventative measures and different features that are significant to you.
Different Types of High Chair
There are different types of High chair available in the market that is briefly described below. Just know your requirements and consider their features, and it will definitely make possible close to your choice.
1. Traditional High Chair
It is also very popular as a Standard feeding chair. They can be wooden, plastic, or metal, which is quite comfortable and significant. These can be available in foldable and non-foldable option. Traditional chairs comprise customary models to high-end models. But the design of the conventional high chairs is the same as the previous models.
Traditional wooden baby high chair is quite a good option, but the only drawback with this model is that it cannot be collapsed. So, there must be storage issues if you are tight on space. These are not travel friendly as well.
2. Multi-functional High chair
These are modern high chairs and can be very flexible that can be tuned according to your baby's comfort. Modern High-chairs comprises reclining seats so that your baby can get a short nap after the meal. These are multi-functional, and you can easily adjust the height of the chair, recliner seat (lounger), or even footrest according to your baby's need.
Moreover, they can be foldable and adjusted without much effort. The downside of this model is that it is not easy to assemble and is rather costly than usual models.
3. Convertible High Chair
A convertible chair is changeable, which can be switch into different forms. It can simply transform into a High Chair, Baby feeding chair, Sturdy chair, or Normal chair. This high chair is a good selection for those who want a High chair that grows along with the baby and is long-lasting. It is very versatile but cannot be minimized and take up more space exceptionally.
4. Grow-with-me High Chairs
This model is mostly available in wooden material. The attractiveness of this model is its changeability. It can be switch to a childhood chair to young adulthood. It can hold the weight of a formative year's baby to approx 79 kg adult. Not all wooden baby high chairs can transform to different renovations. What makes it popular in the Indian market is its flexibility and creative features!!
5. Individual Booster Chair
If you are looking for a space saver chair, nothing is better than this model. It's a detachable chair that can be fixed to the normal chair or High chair. They don't have supports but a hook-on seat. So if you want a contracted high chair for toddlers, go with stand-alone booster chair.
Booster chairs are not like traditional High chairs. For small space, it would be the best choice, but it also has a negative aspect. They can fit on any regular chair but rather tricky to assemble.
6. Hook-on baby sit chair
Like traditional chairs, it does not have a feeding tray but an attached desk. Hook-on chairs are also very popular as Table chairs. The present table in it can be used for serving food. You can simply fix Hook-on chairs with your regular dining table, but it is avoidable if you have a glass dining table.
Hook-on sit chair is very handy and is portable too that can be used in the restaurant as well. You can simply store it in your cabinet also due to its flexible feature. The framework of this baby chair is very durable, and the materials used in it are quite strong to carry the baby's weight.
7. Travel-friendly High Chair
The design of this type of High-chair is very simple but resourceful. People who travel a lot must go for this type of sitting chair for a baby. It has a 3-point or 5-point harness system that makes it very safe and sound for babies. The fabric used in this model is of high-quality that lets your baby sit and relax comfortably.
Furthermore, it has a flexible food tray, which is very good in quality and comprises a hard plastic sheet. It has a broader base and a strong support system that makes it more durable. It has all basic features from adjustable feeding tray to height adjustment or recline position. These chairs are weather-resistant too and can be folded simply. A narrow cylindrical type carry case is also there for outdoor convenience.
8. Fabric High Chair
Fabric high chair is also travel-friendly and is very easy to use. You can put on to the normal dining chair and feed the baby once they sit with ease. Fabric high chair can be washable, and you can frequently wash it in your washing machine too. These types of chairs have not feeding trays, and also there is no provision to adjust the height of the chair.
9. Twin High Chair for toddlers
If you are blessed with twins, you don't need to buy two separate high chairs for them. It is specially made for twin children. It has all the basic features that a normal high chair requires. This type of high chair is quite productive but very space-consuming.
Things to Consider Before Buying a Baby High Chair
High chairs are best for formative years to 4 years of age. It can hold weight up to 22-25 kg approx. When shopping for your baby, consider the following important factors:
1. Functionality
There are plenty of high chairs available in the market with specific functionality in it. While purchasing baby sitting chairs, make sure that it has basic functions that you actually require. Sometimes too many features lessen the chair's quality.
Check if it has enough space, inbuilt tray feature, wheel lock system, etc. Foldable high chair for baby has its separate significance. It makes them a good choice for occasional use such as, at relative's house for vacation. Having a tray can assist you to operate with one hand.
The wheel lock is an essential feature in high chairs for safety and easiness. The model you choose must have lock wheels to keep the chair fixed when in use. Wheels can also lend a hand to move here and there effortlessly.
2. Safety
Safety comes first when you are thinking of buying baby products. Baby chair seat should have these key mechanisms:
5-point harness safety restraint system- It comes with five points of strapping to hold your baby securely from five different places like waist, shoulders, between legs, etc. This safety system ensures that the upper and lower body of your baby is secured fully.
3-point Harness Safety Restraint System- It comes with three points of strapping to secure your baby from falling. This safety harness system only secures the lower part of your baby and is not better than 5-point harness.
A crotch post to prevent the baby from slipping of the chair. It is a pole that connects the seat and tray of the high chair and you baby needs to place their leg on either side of it, for their safety.
Wheels that can be fixed in place and can be movable easily
3. Comfortability
Despite everything, no one compromise with the comfort of the baby, especially at the dining table. Always look for a well-shaped baby eating chair with soft cushioned padding and washing machine friendly feature. The soft and shaped chair will provide a relaxed feel that helps the baby to enjoy food.
4. Design of the High Chair
High-chairs are available in different range and styles. Some designs are functional, while others are precisely practical. Functional designs are most popular than usual. It provides a helping hand to parents, such as seats that tilt back to multiple positions are very helpful while bottle-feeding.
Bendable trays with dishwasher-safe inserts are suitable for rapid cleaning. Try to find a spacious, strong, and detachable tray type that offers effortless clean-up.
Baby high chair with height adjustments can be very handy for the parent in the same way. To match with your chair at the dining table, you can lower the baby sit chair that usually lets you sit while feeding the baby.
5. Durability
Although baby products are not usable for a lifetime but compromising the durability is completely a stupidity. If you are buying a high chair for toddlers, you need it for years. The durability of the product provides safety to your baby. Hence, always choose a high chair that is strong enough to run for long years even after your baby doesn't need it. The wooden baby high chair is conventional but a good choice if you look for durability.
6. Immovability
While buying High Chairs for babies, don't skip to consider the stability of the chair. A high chair must be fixed in a place at the time when feeding your baby. It should not be in motion once the baby sits over; it may cause mishap or damage to the baby.
Make sure the product you select for your little one has good weight-resistant, and the base must be of high-quality. Therefore, only prefer a high chair whose mechanized standards are top-class and certified.
7. Wheels
If you want to avoid lifting baby feeding chair to shift it from one place to another, prefer High chair with wheels. Any products with wheels are easy to use and move swiftly from place to place. Keep in mind that the wheels of the baby eating chair have a lock system so that it may not move when in use.
Accordingly, the chair would stable at the dining table. Once you lock the wheels, it can't be in motion, and the chair is secure.
8. Cleaning and Maintenance of High Chair
It's quite impossible to feed your baby without any mess in the table. Cleaning is rather a very challenging task after the baby finishes his meal. For this, a high-chair should have a detachable feeding tray. The tray should be of high-quality material so that it may clean properly and not leave any food stains.
Many brands like Mothercare high chair, Chicco high chair have dishwasher safe features. These high-chairs are more comfortable to use, and cleaning is effortless.
Aside from the feeding tray, the seating cushion must be removable to keep the baby sitting chair clean and stain-free. Make sure that the softened pad can be removed effortlessly, and the fabric is machine wash safe so that you can simply remove all the stains.
9. Age
Not every age group of the baby is fit to hold every high chair for feeding. There is a specified model and size for different age groups' babies. Ensure that the baby high chair you selected can hold the weight of your baby. One more thing, the sitting chair chosen for baby must get attuned to your baby. It is requisite for the little one to feel relax and content while sitting on the same.
Not every high chair is good enough for every age group. There is a specified period to use the high chair for the baby. Hence, knowing the proper age that fits your requirement with the model you selected is requisite to buy a high chair for baby.
10. Storage
For small houses, it is difficult to store redundant objects. You need to be very cautious about the dimension of the baby high chair if you have less space in your house. Ensure that the product does not take up much space when not in use, or requires a large room to store. Foldable high chair for baby is best suitable for packed houses. You can keep it in the storeroom or in a cabinet after use.
Select a foldable High chair that can fold up effortlessly and take up less space when collapsed. Check smooth edges so that you prevent yourself from unnecessary harm to your fingers while folding.
11. Footrest
Every High-chair does not have this feature, but surely it will be a supplementary feature for the high chair. Excluding padded seating, the footrest will also provide comfort to your baby after he puts the feet on it. Baby can spend extra time on this High chair after finishes his meal by relaxing the feet and lying down in the recline position.
It will also save family members from naughty acts performed by your baby with simply hitting alongside the dining table. 15-minutes relaxing nap provides other family members a satisfying mealtime without any annoyance from their child.
12. Prefer Branded High Chair for babies
Branded products have their own reliability. For child products, never compromise with quality and comfort. There are many brands that manufacture child-care products with integrity. Some of the most popular brands that you can trust are Mothercare, Chicco, Luvlap, etc. You may get detailed information in our product description section for your convenience.
Safety Tips to Consider Before Using a Baby High Chair
Always follow these simple instructions before using High Chair to feed your baby:
While feeding your baby in the high chair, make sure one attendant is always there with your baby. Never leave them unattended even for a single minute.
Let other kids be away from the baby high chair and avoid messing up with the high chair when your baby is in it.
Kids probably can't sit quietly. They more likely to hit their hands and legs or having fun all the time. So make sure that the high chair is fixed at a place, or else it may fall and cause harm to your kid.
If you are using a foldable high chair for baby, make sure it is locked properly after every setup.
It is required to check thoroughly every component of the high chair to ensure any dent or damage.
Moreover, it is required to check the high chair is far-away from the dining table as little babies tend to hit the chair with their legs. To avoid such a situation, prefer High Chair having Footrest.
Check twice the wheel locks after putting your baby in the high chair.
Use harness carefully to tie your kids in the high chair. It will help your kids from slipping or losing their balance.
Don't let your baby doing amusing stunts in the high chair. It may lead to injury if lost balance.
Why do you need a Baby Sitting Chair?
Four months and above toddlers are ready to eat solid foodstuff, and hence, it is required to provide a fair place at the dining table. Baby feeding chair is for the same purpose, and it lets the baby enjoy their feast as they crave for.
As the baby grows up, they become more proactive. And once you start feeding your baby squashed fruit, soups, or solid cereals, it creates a mess, and beyond doubt, it will be a difficult task for you to feed them. Hence, baby feeding chair makes them stay in one place till they finish their meals. It also limits the mess to where they are seated. A high chair has many benefits, let's count some of it:
Benefits of Using Baby Sitting Chair/High Chair
A high chair lets your baby stay right in one place while eating, which usually limits the chaos of foodstuffs on the table.
It is very effortless to clean. Seeing as the baby seated in one place while eating, so it is easier to clean the mess after mealtime.
Most of the products arrived in the market can be directly attached to the dining table, and this makes your baby can join a happy mealtime with family.
Small babies learn things quickly. A high chair can add fuel to the baby's interest in healthy meals, and eating with the folks on the table will push them to eat cereals and other solid foods too. It will also lead to gain knowledge of table etiquettes.
High Chairs with seat adjustment can also make them feel comfortable. Babies can get peaceful and relaxed after their feast by lying down in the reclined position.
A feeding chair is very useful while traveling. You can avoid excessive disorder and untidiness while traveling by using Portable baby chairs or travel –friendly feeding chairs.
Some of the high chairs can be convertible, and it may grow with your baby. You can use the baby sitting chair for playing purpose and study table as well.
Baby High Chair Frequently Asked Questions (FAQs)
1. Is High Chair suitable for a 4-month old baby?

Every newborn has definite growth and liveliness. Some can sit on their own very soon while some are too weak to take a seat. Usually, 4-6 months child are capable enough to use High Chairs. Prefer reclining High chair if you want to provide comfort and safety at the same time.

2. At what age, a baby is able to sit in a high chair?

First, know your baby's growth and development. If he/she is ready to consume cereals or solid food and can be seated without anyone's help, you can go for the High Chair. Overall, 6-months and above infants can use a high-chair properly, and you can add it to your kitchen set-up too.

3. What features to consider when buying a high chair?

Some important features to think about before buying the high chairs are:

Assembly Unit
Durability
5-point or 3-point harness
Moving parts
Spacious or adjustable seats
Detachable food tray
Reclining padded seats
Castor wheels

4. How to clean a baby feeding chair?

Make a solution of vinegar and water. Take both half in ratio. Spray this mixture generously on the high chair until it gets drenched. Wait for 5-10 minutes to soak the stain, then rub the spots gently and wipe thoroughly with a clean wet cloth. It is better to prefer removable tray or padded seating for machine-wash.

5. How functional is the Footrest?

The best pose to eat food is the seating position that means hips, ankles, and knees should be at 90° angle along with feet lying down inactive on even surface. Footrest provides proper posture to relax legs that help in eating food without any annoyance.

6. Is the high chair cover machine-washable or not?

To maintain hygiene, it is necessary to clean the seating of the High Chair. You can deep clean the cover and the cushion in the washing machine frequently. Or else, you can simply wipe the surface with a damp cloth.

7. For how long you can use a High Chair?

A high chair is meant for the purpose that the baby can safely and neatly consume the food if he is not able to sit on their own. Once your little one can be seated all the time without falling down, you may think of joining your baby with you on the table on a normal chair.
At least, baby ages from 12-15 months should use baby feeding chair. Safely strapped in the High Chair is the better choice. If your baby's growth is quite slow, you can carry on with the High Chair to 2-3 years.
Conclusion
That's all on our gathered information on best baby high chairs in India and the reviews of top-rated models.
All in all, what matters to purchase Best High Chair for Baby is durability and comfort. All you want a strong, balanced high chair that may last long. Ensure its functionality, safety measures, durability, comfort, and wheel lock system to better serve your baby. Moreover, you can also search for a foldable high chair for the baby that should be washing-machine friendly.
What's more, you want to think about is its portability and flexibility. Go for a multipurpose model baby chair, which you can take with you on-the-move as well. Always make a choice of branded products for its stability with the intension that may be you plan one or more child. If it is strong and long-lasting enough, you can possibly make- in-use with your other kid too.
Hope this guide will surely help you in making the right choice for your little ones. Still if you feel we have missed anything, please share your suggestions or feedback in the below comment section.
Read Related Reviews
Buy Best Baby High Chair Online
SYGA High Chair for Baby Kids,Safety Toddler ...
52%
StarAndDaisy Comfort 4 in 1 Premium Multifunc...
60%
Prima Detachable Baby Desk Plastic Chair 130 ...
21%
LuvLap 4 in1 High Chair for Baby / Kids, Todd...
27%
SYGA High Chair for Baby Kids,Safety Toddler ...
53%
SYGA High Chair for Baby Kids,Safety Toddler ...
52%
LuvLap 4 in 1 Convertible Baby High Chair wit...
36%
Safe-O-Kid Feeding High Chair Baby, Convertib...
63%