French Door Refrigerators are one of the trendiest variants nowadays among various styles of refrigerators. With the most pleasing aesthetics and well-organized spacious set-up, it is a great addition to your kitchen. But choosing a reliable model of it is quite difficult. So, for your convenience, we came up with this blog post helping you out in picking the best one.
Well, French door refrigerators are much similar to the side by side refrigerators in terms of space and are quite expensive too. But the features these fridges offer, totally justifies the price tag. So, if you want a luxurious type of refrigerator with incredible features, the French door refrigerators is an ideal buy.
To get in-depth details on French Door Refrigerators, please head to our Buying Guide Section.
5 Best French Door Refrigerators in India
Best French Door Refrigerators Reviews
To help you with your selection, we have reviewed here the top models of French door refrigerators from the most reputed brands like Samsung, Whirlpool, etc. It will surely let you identify the most reliable and convenient one.
1. Samsung 693 L Frost Free French Door Bottom Mount Refrigerator (RF60J9090SL/TL)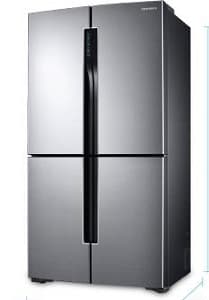 This Samsung French Door refrigerator with four doors comes the top on our list with a ton of excellent features. Its modern and stylish look definitely gives a graceful appeal to any modern kitchen. And the minimalistic recessed handles add more charm. Plus, the 693L capacity provides you ample of space for all your refrigeration needs.
Its counter-depth design and height fit seamlessly with the surface of your kitchen cabinets and counters. Thus, it saves a lot of space in your kitchen. This fridge comes with the triple cooling system that maintains the proper temperature inside it and prevents the odor mixing to each compartment.
One of the most unique features of this refrigerator is Cool Select Zone Plus that allows you to convert the freezer into the fridge when in need. Also, there are four convertible modes, including Soft Freeze Mode, Quick Cool Mode, Chill Mode, and Cool Mode. All these modes allow you to change the temperature as per the type of food you are storing.
This French door refrigerator also comes with Power Cool and Power Freeze technology that ensures quick cooling of the beverages and quick ice making. There is also an inclusion of multi airflow vents that provides even and uniform cooling in each compartment. Thus, your food gets fresher for longer.
Key Features
Capacity 693 L
Digital Inverter Technology
Triple Fresh Cooling to maintain the optimum temperature inside
Multi Air Flow vents for uniform and even cooling
Slide-out drawers for easy food organization
Power Cool for quick chilling of the fridge contents
Power freeze for quick ice making
LED display at the door to change the fridge's temperature
Big door bin to hold large bottles, cans, and jugs
In-built stabilizer
Door Alarm
Toughened glass shelves
Separate fruit and vegetable box
Pros
Stylish design with sturdy built
High capacity to store the massive amount of food items
Very fast freezing with chill mode
Performance-wise, the fridge is awesome
Cons
No ice/water dispenser
Expensive
2. Samsung 579 L Frost Free French Door Refrigerator (RF57A5232B1/TL)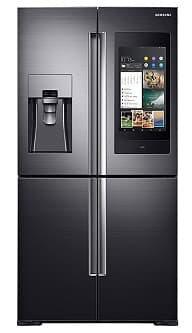 This French Door Refrigerator from the brand Samsung complements your kitchen interior with its contemporary design. It is a perfect combination of outstanding quality and performance. Also, with its superb functionalities and features, it is an excellent buy for any modern kitchen.
The stylish and refined look of this fridge adds a touch of glamor to your kitchen. Plus, its contoured metal body and recessed handles add more elegance and grace. Moreover, it comes in a stylish counter depth and height design that perfectly fits with the surface of your existing kitchen furniture or cabinet. And thus, it offers an entirely harmonious look upgrading your kitchen decor.
The spacious room in both the fridge and the freezer allows storing any type of food very conveniently. Also, there are four doors that open out wide, enabling you to see everything kept inside the fridge very easily. There also comes an easy big door bin, so you can easily store big bottles and juice cans, etc.
It features a revolutionary triple cooling system that independently controls and optimizes the temperature and keeps food fresh for longer. Also, it prevents odor mixing in each compartment.
The fridge offers you the option to convert its bottom-right compartment from freezer to fridge with four temperature settings, including cool, quick chill, soft freeze, and frozen modes. Thus, you can easily customize the space on your demand with this refrigerator.
When it comes to advanced features, the fridge comes with built-in ice and water dispenser. So, you can enjoy a refreshing glass of chilled filtered water and even fill a pitcher with cubed or crushed ice at the touch of a button. The LED display at the door again adds a touch of style.
Key Features
Capacity 579 L
Counter-depth refrigerator
Digital inverter compressor for less noise and more energy efficiency
Triple fresh cooling for the long-lasting freshness of the food items
Digital display to control the fridge's operation
High-efficiency LED light
Convertible freezer
In-built water and ice dispenser
Humidity controlled fruits and vegetable drawer
Auto Ice Maker
Tempered Glass Shelves
Door alarm
Recess Door Handle
Pros
Stylish design with a premium finish
Sturdy build quality
Good storage space
Great cooling and performance
Cons
3. Panasonic 551 L (NR-CY550QKXZ) French Door Refrigerator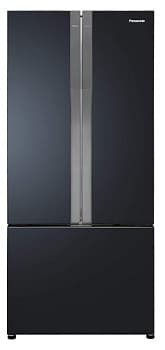 This bottom mount French door refrigerator from the brand Panasonic comes with a host of features, making it a great addition to your kitchen. Aesthetically, this model is very pleasing with convenient four-door options. And the recessed handle gives this fridge an elegant and classy look.
With the capacity of 551 L, you can store all types of edible items in huge amounts without worrying about the lack of space. It comprises of four toughened glass shelves in the fridge compartment that can hold bulky containers with ease. Moreover, it also has well-designed double-layered door pockets, including large pockets at the back and small pockets in the front. It allows you to store different sized bottles in an organized way.
The freezer zone is there at the bottom with two doors that again offers ample of space to store frozen items like ice-cream, nuggets, meats, fish, etc. The best part of this fridge is that you can adjust the temperature of each compartment across two different modes. These modes include the vegetable mode to keep them fresh and soft and the dairy/meat mode to keep meats and dairies fresh for longer.
There is an inclusion of the dual-cooling fan that effectively cools both the fridge and freezer compartment independently and offers efficient cooling. The built-in Inverter compressor ensures more energy efficiency. Also, the fridge comes with an eco-thermo sensor that detects the change in temperature inside the refrigerator. And thus easily adjusts the temperature according to it and provides optimum cooling.
Another best feature of this refrigerator is an easy touch screen control panel at the refrigerator door that allows you to control the temperature and other settings of the fridge at a smart touch. There is also a water dispenser so that you can get fresh and chilled water without opening the fridge.
Key Features
Capacity 551 L
Digital inverter compressor
Dual-cooling fan
Extra Wide interior
Easy twist ice maker
Nano titanium filter
Toughened glass shelves
Touch screen control panel
Stabilizer free operation
Twist ice tray
Water Dispenser
Pros
Classy design with black steel finish
Four-door refrigerator allows easy access to each compartment
Very energy efficient
Great in terms of performance
Cons
4. Hitachi 451 L Frost Free French Door Bottom Mount Refrigerator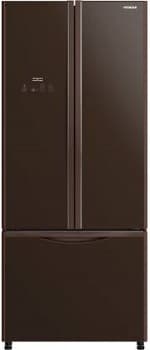 Hitachi is one of the most popular refrigerator brands that offer various innovative models with superior functionalities. And so, this French door refrigerator comes next on our list that is again a great deal for your home.
Its stylish look and steel finish is a symbol of grace and elegance. This French door bottom mount refrigerator has the fridge section on the upper side with two doors and the freezer section at the bottom with two drawers. Thus, it provides you ample of space for various food storage very conveniently.
This fridge is featured with dual cycle dual air technology that creates customized temperature zone inside the compartments. Thus, it keeps the food items fresh for longer and also prevents odor mixing to each compartment. It has a unique high moisture retention technology that retains the freshness in fruits and vegetables for up to a week.
Also, it comes with an IntelliSense DC inverter compressor that ensures uniform cooling inside the fridge by adjusting its speed according to the workload. Thereby, it also ensures energy efficiency.
This French door refrigerator comes with an automatic ice maker. You just need to add water to its special compartment and done. It will give crisp ice cubes whenever you need them. There comes a classy LED control panel at the door of the refrigerator that lets you control the fridge's temperature at just the touch of a button.
Key Features
Capacity 451 L
Frost Free refrigeration ensures no ice build-up
DC inverter compressor
Dual Cycle Dual Air technology for the long-lasting freshness of foods
Automatic Ice Maker
High moisture retention technology
LED control panel for intelligent temperature control
Toughened glass shelves
High-efficiency LED light
Double fruit and vegetable box
Built-in stabilizer
Pros
Smart design with two freezer drawers at the bottom
Very spacious inside
Great performance
The two freezer drawers at the bottom allow organized storage
Cons
5. Haier 531 L Frost-Free French Door Bottom Mount Refrigerator(HRB-550KG)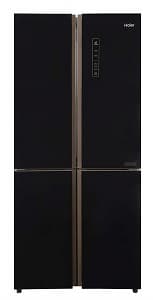 If you are looking for an affordable model of a French door refrigerator, this Haier model is a great buy. But if you think the price will affect the quality and performance, then you are wrong. This model features both quality and performance at such a budget-friendly price range.
Its slim-fit design easily fits any modular kitchen. Even with the side by side door structure, spacious fridge space, and a large freezer compartment, it will cater to all your refrigeration needs. The best feature of this French door refrigerator is its easy convertible option. So, if you are seeking for more storage space, the fridge will allow you to convert the whole space into the fridge so that you can get more storage space.
The refrigerator comes in two sections-the upper one is the fridge zone, and the bottom one is the freezer zone. Both two sections come with two doors at each. With the spacious depth from inside, you can get a large storage capacity.
There also comes two humidity control storage areas so you can keep fruits and vegetables separately with long-lasting freshness. The fridge also comes with a bigger cool pad that retains the cooling inside it for up to 10 hours, even when there is no power supply.
Another smart feature of this French door refrigerator is its Hi-tech sensors that automatically adjust the temperature range based on the contents and then provide optimum cooling. With its super freeze and super cooling system, it can cool the items immediately with just one touch. Also, with a digital display, it let you choose the preferred settings for temperature or humidity.
Key Features
Capacity 531 L
Twin inverter technology
Dual fan technology
Dual freezer with two side by side doors
Top LED to lighten the entire refrigerator
Toughened glass shelves
Double humidity box
Super freeze and super cool technology
Frost-free doors
Sensor smart technology for easy temperature adjustment
Convertible freezer to fridge option
Digital display at the door
Pros
Excellent design and performance
Quality of the fridge is too good
Huge space in both the fridge and freezer compartments
Super silent operation
Large bottle holder
Cons
View on Amazon View on Flipkart
French Door Refrigerators Buying Guide
If you are confused about how to choose the best French Door Refrigerators for your kitchen, our following buying guide will surely help you a lot. Go through the following sections and make your buying decision easier.
What is a French Door Refrigerator?
These refrigerators come with two doors side by side and a bottom drawer, which is the freezer section. The reason behind this design is that most of us usually don't use the freezer more than the fridge section. Thus, you don't need to bend down more and more to access the food items as well as fruits and vegetables kept in the fridge compartment. Also, it gives you the flexibility to see your food at the eye level.
The best is its aesthetic appeal making it very eye-catching. Also, if you have a large family, it is possible to get most of the food storage. So, with massive capacity, a French door refrigerator is an excellent addition. Besides, there are various benefits that make you love this useful kitchen appliance. So, have a look at the below section to know about all the advantages of a French door fridge.
Why Choose French Door Refrigerators?
Stylish appeal and easy organizing layout of these refrigerators are good for large families.
Ultimate color finishing, different door styling (two or four), and single or double freezer drawer options add impressive styling to your kitchen or dining area.
French door refrigerators come in a sleek and flexible design. Its half-door design doesn't swing out towards a wall or to the kitchen space. So, in case of a lack of space, it can fit very easily. The counter-depth models of these refrigerators are very nice that avoids extra space in your kitchen.
The shelves in these refrigerators are very wide and deep. So, it offers plenty of room to store the food items very conveniently.
Since the freezer is at the bottom section, the accessing of popular foods is within easy reach. Also, no need to bend down frequently to reach the food items.
It comes with the huge freezer capacity allowing you to store a large amount of frozen items in an organized way.
With a separate fridge and freezer compartment, these refrigerators are proving to be very energy efficient. You only need to open one side of the refrigerator to access many food items. So, it releases out less cold air and thus saves more energy.
Some also come with smart features, including Wi-Fi connectivity, built-in ice/water dispensers, built-in icemaker, etc.
French Door Vs. Side By Side By Side Refrigerator
Design
The French Door Refrigerators come with the fridge section at the upper side with two doors and the freezer zone at the bottom, usually with one or two drawers or two doors.
The Side by Side refrigerators come with two doors side by side, having the freezer zone at the left and the fridge zone at the right.
Storage Space
French door refrigerators come with more storage volume as well as more lateral width as compared to side by side refrigerators.
Convenience
The French Door Refrigerators offer more convenience in terms of the accessibility of the majority of chilled contents that you will find at your eye level. The freezer compartment, which is majorly less accessible, is present at the bottom. The only downside is that for getting out the frozen items from the fridge, you need to bend down that is painful for elderly people and those who have backache issues.
In case of side by side refrigerators, you don't need to bend down to access the frozen items that is a plus point.
Freezer Space
If you have the habit of stockpiling frozen items much and want a spacious freezer, then side by side refrigerators are good over the French door refrigerators.
Price
If you are budget-conscious, then side-by-side refrigerators offer the most reliable combination of storage space, features, and aesthetics for less money over the French Door Refrigerators.
But, if you are comfortable in investing such a huge price tag for features and style, you can go for the French Door model.
Installation space
French door refrigerators fit very well to the large kitchen. But if space is a constraint for you, or you have a medium-sized kitchen, then don't go for a French door refrigerator. In this case, the side by side model is best.
Things to Consider Before Buying a French Door Refrigerator
1. Family Size
Determining your family size is very much important before buying any refrigerator variants. For small to medium sized-family, single door, double door, and triple door refrigerators are great. But if you have more than 5-6 members in your family, you must require a large capacity fridge.
In this case, side by side refrigerators and French door refrigerators are excellent because of their large storage capacity. It allows you to store large trays and bulky food in the fridge section without any hassle.
2. Fridge Dimension
As discussed earlier, the French Door refrigerators ensure the safe and secure storage of large-sized containers and bulky items both in the fridge and freezer compartments. It is clear that this variant of the refrigerator is quite bulky than other types, so a proper installation space is required.
First, check the dimension of the installation area where you want to keep the fridge. If the space is sufficient for appropriate installation, then only invest in such a pricey appliance. Moreover, the counter-depth models are also available that take less space in your kitchen. But to their shallow design, these have less storage capacity over the large-sized French door fridges.
So, choose the preferred model as per the space available for installation.
3. Interior Design
All the models come with adjustable shelves and bins so you can customize the space accordingly, depending upon the type of food you want to store.
Temperature-controlled crisper drawers offer enough storage space for fruits and vegetables and also keeps them fresh for a longer duration.
The doors come with enough space for storing a large number of beverage containers. Also, having multi-utility boxes for storing chocolates, dry fruits, and cosmetics, etc.
The freezer drawer allows you to store an ample quantity of frozen items like ice-creams, nuggets, meats, and fish, etc.
4. Energy Consumption
Energy consumption of these refrigerators is comparatively high over single door, double door, and triple door fridges. But its door-in-door storage allows access to only that item you need at a time. Thus, this design cuts down the energy consumption.
Moreover, these also follow the strict standards of energy efficiency. Thus, the latest and modern French door refrigerators let you save a huge on your annual energy costs.
5. Noiseless operation
The advanced and reliable French Door refrigerators ensure very quiet and noiseless operation. So, no more disturbance and annoyance with the silent running compressor like other fridges do.
6. Durability
A French Door Fridge is an expensive investment. So, it is obvious to consider the one that is durable and long-lasting. In this case, you must purchase the same from only the reputed and reliable brands. The less recognized brands do not offer more durability as compared to the top-most brands and manufacturers.
7. Warranty
Most of the reliable brands offer different layers of warranty on their product. It includes a one year warranty on the fridge and either five years or ten years warranty on the compressor, covering the water filter and other units too. So, it is essential to go only for that brand, which offers excellent coverage of the warranty on their product.
Some Other Smart Features
French door refrigerators come with the automatic defrosting feature. Thus you don't need to take care of the freezer's defrosting at regular intervals.
Some models have a door-in-door feature. It means an additional door within the fridge section for easy access to the snacks and beverages kept inside. This feature helps in reducing the temperature loss from inside.
The other smart features of a French Door Refrigerator include a built-in ice/water dispenser that lets you access the ice or water when you need even without opening the fridge door.
Some also offer an easy connection with the Wi-Fi enabling you to control the operations of your fridge via your smartphone and other smart devices.
Some smart models from Samsung and LG also come with video and music streaming options, as they have built-in speakers for music.
Note :- Not all the brands come with these features. So, make sure to check first if you feel these features are essential for you.
Conclusion
That's all regarding the latest and best French door refrigerators in India reviews. The models we have covered include different styling and budget. Also, the review of all these models will ease your buying decision. So, choose the one suiting your preferred style and budget.
Well, the buying guide we have provided will surely make you get all the necessary information to purchase the best and preferable model for your home. So, I am sure that you will find the most reliable model satisfying your needs.
Still, if any confusion strikes in your mind, or have any queries, please do share your thoughts in the comment section below.
Read Related Reviews
Buy Best French Door Refrigerators Online
Samsung 865L 4-Door Flex French Door BESPOKE ...
23%
Samsung 705L Dual Flex Zone French Door Refri...
23%
Haier 531 L French Door Refrigerator Applianc...
28%
LG 694 L Frost Free Smart Inverter Side-by-Si...
11%
LG 530L, French Door Refrigerator with Smart ...
38%
French Door Refrigerator
11%
LG 530L, French Door Refrigerator with Smart ...
38%
Urban August Fridge Lock: Multi-Functional Ca...