Are you fond of regular partying at your home, and the freezer of your standard fridge is not enough to stock up on bulk foods? If yes, then investing in a Deep Freezer is the best solution to this.
Generally, the deep freezers are commonly found in ice cream parlors, restaurants, or general stores, but due to our sophisticated lifestyle, these are gaining much more popularity for residential usage too.
Key Takeaways
Here is the quick summary(TL;DR Version).
Our top recommendation is the Haier HCC 460HC because of its large capacity and excellent build quality. You can also choose Rockwell convertible green freezer if you wish to reduce electricity bills.
If you are concerned about budget, pick Blue Star CHF200.
When shopping for your next best deep freezer, you should look at where you'll put it, whether you need double or single doors, and how much electricity it uses. We've covered these important factors and others in our buyer's guide below.
Top 7 Best Deep Freezers in India
Deep Freezer Brands
Capacity
Door Type
Warranty
Haier HCC 460HC Deep Freezer
Read Review
429 L
Hard Top Double Door
1 Year on Product
3 Years on Compressor
CHECK PRICE
Rockwell Convertible Green Freezer
Read Review
350 L
Hard Top Double Door
10 Years on the Body
5 years on Compressor
CHECK PRICE
Blue Star CHF200 Deep Freezer
Read Review
200 L
Hard Top Single Door
1 Year on Product
2 Years on Compressor
CHECK PRICE
Godrej Deep Freezer
Read Review
200 L
Hard Top Single Door
1 Year on Product
5 Years on Compressor
CHECK PRICE
Panasonic Deep Freezer
Read Review
290 L
Hard Top Single Door
1 Year on Product
2 Years on Compressor
CHECK PRICE
Voltas CF HT 320 DD P Deep Freezer
Read Review
320 L
Hard Top Double Door
1 Year on Product
2 Years on Compressor
CHECK PRICE
Western Deep Freezer
Read Review
125 L
Hard Top Single Door
-
CHECK PRICE
Best Deep Freezers- Reviews
#1 Haier HCC 460HC Deep Freezer (Best Overall)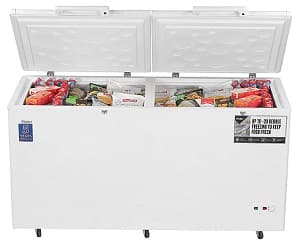 Haier India is one of the best brands serving us with their outstanding products of home electronics assuring quality and performance. And so our top pick comes from the house of Haier that includes a lot of impressive features fulfilling your needs. Not just that, it is an excellent option for safe storage of frozen food products like meat, vegetables, ice creams, packaged foods, etc., at an ideal temperature maintaining freshness, quality, and taste. Have a look at its smart features that will make it an outstanding purchase in every manner.
Key Features
If storing a large amount of frozen food is your primary concern, then this Haier model is definitely to go with. Its large capacity of 429 liters provides you enough room for everything you need to freeze.
Its robust construction and non-corrosive protection give it prolonged life.
The hard door with a three-layer trapezoid design ensures better cooling efficiency inside without leakage of cold air. Thus, maintaining the freshness of food for a long duration.
For better and efficient cooling retention, it comes with five-side freezing technology. The feature allows cooling from all the four wall sides as well as the base too. Thus, it doubles up the freezing capacity.
It's a convertible deep freezer that means you can use it either as a deep freezer or a basic cooler when needed.
There also comes an indicator light letting you know that the freezer is on.
The six caster wheels included with it allow easy movability from one room to another.
It comes with a warranty of 4 Years (1 Year Comprehensive and 3 Years Additional Compressor Warranty), removing all your worries if any problem occurs in your deep freezer. You can easily get it serviced or maintained without paying any additional cost.
Pros
Sturdy and durable construction
A lot of interior space to store huge amount of food items
Comes with a basket for easy organization of food items
Consumes very less power
In case of power cuts, the freshness of the food items remains for a long duration
Great for commercial usage
Cons
#2 Rockwell – Convertible Green Freezer GFR350DDUC (Runner Up)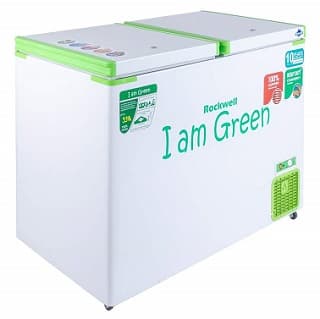 Coming to the next, our runner-up pick from the brand Rockwell is a decent addition to any commercial store. This freezer from Rockwell boasts premium quality, smooth finishing, and assured durability. Moreover, with a lot of impressive features at a budget-friendly price tag, you may surely get the best out of it.
Key Features
The first impressive feature is its design with a complete white outer body and green outline at the doors that makes it attractive and blends perfectly to the storage area.
The freezer is suffixed as 'Green' because of its low energy consumption. It consumes 53% less power as compared to other models. Thus, making it again a budget-friendly product in the long run.
There are twin doors with separate compartments and a security lock feature so that you can organize the food stuff easily.
The huge capacity of 350 liters allows you to store a lot of food stuff easily.
Its unique three-sided air circulation design facilitates better heat transfer and thereby ensures efficient cooling inside. Moreover, the 90 mm high-density PUF insulation traps the interior cooling and therefore keeps the food stuff fresh for a longer duration.
The freezer is super tropicalized that works efficiently even in extreme temperature conditions.
With a convertible feature, it allows you to use it both as a freezer as well as a cooler. So, if required, you can use it to store milk and dairy products, beverages, etc.
The product comes with a warranty of 10 years on the body and 5 years on the compressor that keeps you worry-free about durability.
Pros
Energy-efficient deep freezer
Caster wheels at the bottom ensure easy movement of it
Corrosion-resistant body
Easy to clean and maintain
Comes with baskets for proper organization of food stuff
Cons
#3 Blue Star CHF200 Single Door Deep Freezer (Best Budget Pick)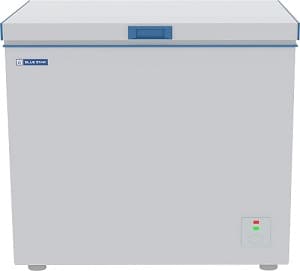 Belonging to the most reputed brand Bluestar, our next best pick is definitely a worth purchase for those searching for a quality deep freezer at an affordable price tag. This one is the most ideal buy for any small store as well as for your home use too. Even with a lot of impressive features, this one can be a great addition for the safe storage of perishable food items.
Key Features
It is a single-door hard top deep freezer that comes with a decent capacity of 200 liters.
Its robust construction makes this freezer best for heavy-duty usage and ensures durability too.
The robust recessed handles look stylish and do not take extra space.
Having the high-density PUF insulation, the cooling inside the freeze remains good even in case of power cuts too. Therefore, the food remains fresh for a longer duration.
The best is its energy-efficient compressor that saves a lot on your pocket while paying the electricity bills. It consumes only 4-5 units total in a day, depending upon its storage capacity.
The freezer includes heavy-duty caster wheels at the bottom for easy mobility.
It also comes with a 1 Year Comprehensive warranty on the freezer with additional two years warranty on the compressor.
Pros
Corrosion-resistant body and durable inner and outer construction
Energy-efficient deep freezer
Comes with a basket for easy organizing of the food stuff
Easy to change the temperature at your convenience
Lockable doors
Cons
Too deep, makes cleaning a bit difficult at the bottom
#4 Godrej 200 L Deep Freezer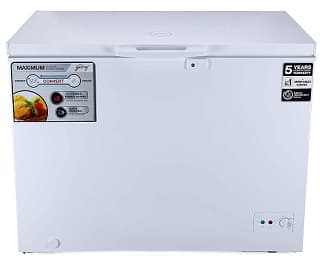 The next product in our list of best deep freezers in India comes from the house of Godrej. The brand that is serving its customers for the last 62 years with its innovative and quality assured products. This model from Godrej comes with a lot of amenities, making it worth for every penny.
Key Features
This white-colored deep freezer is a single-door model with a classic hard top door and comes in a capacity of 200 L, which is pretty good enough for small commercial stores and home use.
For easy opening and closing of the door, it is featured with recessed handles. Plus, there are wheels at the bottom for easy maneuverability.
Like other models we have mentioned, it also comes with high-density PUF insulation that retains the cooling inside for a longer duration, even in case of power cuts too.
It also features a specially-designed rodent cabinet to keep your foodstuff safe from rodents. Thus, it maintains both hygiene and quality.
Cleaning and maintenance of this deep freezer is too easy as it comes with an impeccable drainage system for draining the residual water during operation and post-cleaning.
It has a convertible feature to convert the freezer into a cooler when needed. So, you can store your dairy products, beverages, etc., with ease.
Another impressive feature of this best deep freezer is its faster freezing. Moreover, the tropicalized compressor is exclusively designed for the Indian climate, ensuring the best performance even in high ambient temperatures.
The interior LED light illuminates the cabinet so that the food stuff is clearly visible, and you can get them with ease.
It comes with a warranty of 1 year on the product and 5 years on the compressor.
Pros
Robust build quality for heavy-duty usage
Power saving freezer
Easy drainage of the defrost water through the defrost drain pipe
Easy to clean and maintain
Silent operation
Cons
Manual defrost is a hassle
#5 Panasonic 290 L Single Door Deep Freezer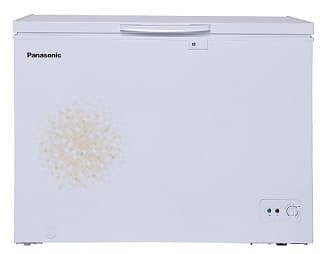 This Panasonic model with the capacity of 290 L comes the next on our list that again has amazing features and performance. Adding this one to your commercial store, or even at your home, you can get enough space for everything you need to keep fresh for longer. Even with its high energy efficiency compressor, the freezer offers long-lasting performance. Some of the smart features of this deep freezer include:
Key Features
This single-door deep freezer comes with an upper storage basket allowing ease and convenience for proper storage and accessibility.
The outer body comprises high-quality material construction and PUF insulation that increases the cooling efficiency even in case of long hours power cut.
It also has a lock and key arrangement, keeping your food items safe and secure.
The freezer has a convertible feature allowing you to use it either as a basic cooler or a dedicated freezer.
Its manual temperature adjustment feature ranging from +10º C to -22 º C ensures easy temperature adjustment according to your needs.
The indicator light at the exterior allows the freezer's operational status.
You will get a one-year warranty on the product and two years on the compressor.
Pros
Extremely sturdy and well built deep freezer
Cools fast and maintains precise temperature
The thick insulation maintains the coolness over a long period of time, thereby ensures more energy savings
Noiseless operation is the best feature
Cons
Complaints of overheating from all sides
#6 Voltas CF HT 320 DD P Double Door Deep Freezer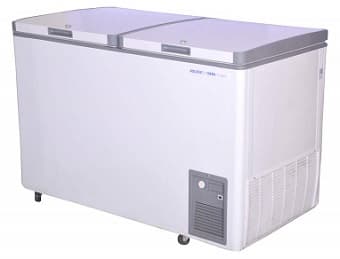 Voltas is one of the most trusted brands among Indians when it comes to variable cooling appliances. This model from Voltas comes as our next best pick, not only because of its robust construction but also for its amazing performance and durability. It is again a dual-door freezer with hard top construction that is cable enough to store multiple items without getting things mixed up.
Key Features
The huge capacity of 320 liters with two separate compartments allow you to store a large amount of food items.
Another best thing is its aesthetic design in a classy white color option that adds a touch of grace to the place where you keep it.
The outer construction includes UV-grade plastic material that looks appealing and is durable too. Plus, the sunken handle ensures easy lifting and closing of the door with full safety.
The freezer uses Stucco Aluminium inner liner that ensures improved hygiene.
There is also a door lock feature making it absolutely safe to use and protects from restricted accessibility.
For ease and convenience of portability, the freezer also comes with caster wheels ensuring easy movement of it.
Pros
Durable construction
Corrosion-resistant body
Heavy-duty caster wheels
The freezer comes with one basket for easy organization of your food stuff
Good freezing with a decent storage capacity
Cons
No convertible option is there
#7 Western Deep Freezer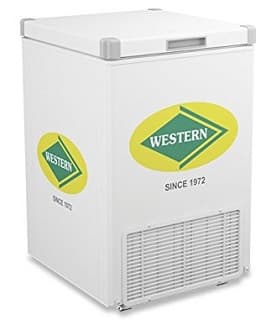 If storage is a constraint for you, then this chest freezer from Western will definitely be the best buy. Though not a very popular brand name, it does a lot more making it easy for you to store and access the food stuff the way you want.
Key Features
It comes in a capacity of 125 L, offering you decent room to store food items without any stress.
The compact design in classy white color gives a touch of grace to the storage area.
Featuring an energy-efficient compressor, the model doesn't consume much electricity and thus saves a lot on your pocket.
The tropicalized technology ensures efficient cooling performance, despite of the harsh summers.
The temperature range of -17 DegreeC to -22 DegreeC allows you to set the suitable temperature accordingly.
It uses an environment-friendly R134A refrigerant
High-quality caster wheels for easy movement.
Pros
Robust construction and aesthetically appealing design
Corrosion-resistant body makes it durable
It fits easily even in compact spaces
Efficient performance
Easy to clean and maintain
Cons
No warranty details provided
How to Choose the Best Deep Freezer? (Buying Guide)
Types of Deep Freezer
1. Upright Freezers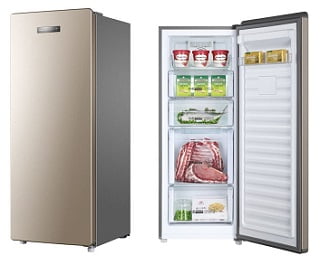 These are much similar to your regular refrigerator having bins and shelves both inside and on the door, allowing you to organize the food stuff properly. As these are vertical and standalone, these take less of your floor space. So, the upright freezers are the best choice if you are tight on space.
The best part is that you don't need to bend down to pick the food items; that is the biggest benefit for those having back pain. Also, it comes with the feature of auto defrost, making their maintenance absolutely hassle-free. Well, these are the best options for home use, but on the downside, they come with a higher price tag.
2. Chest Freezer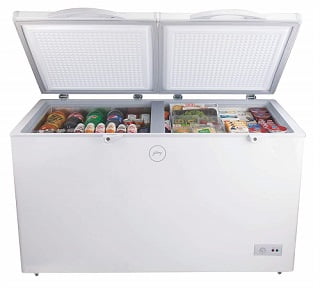 Somewhat looking like a coffin, the chest freezers are horizontal and wide in size. They include dividers or removable hanging baskets, allowing more room for storage in comparison to the upright freezers. Moreover, these are also very energy-efficient, and come with a low price tag in comparison to the upright freezers.
The best feature of the chest freezer is that they tend to keep food frozen for a longer duration even when the power is off. The only downside with these freezers is the manual defrost option, which is quite a hassle.
Chest Freezers Vs. Upright Freezers (Which is best?)
| | Chest Freezer | Upright Freezer |
| --- | --- | --- |
| Appearance | Sits horizontally on the floor and are deep | Sits vertically with various shelves and compartments |
| Installation Space | Takes more floor space as it is wide and horizontal | More space-saving due to vertical design |
| Cost | Less expensive over the upright freezers | Expensive |
| Energy efficiency | The airtight locking seal at the top makes them more energy efficient | Upright freezers have smaller gaps in the door mechanism that can take more energy |
| Defrost | Manual defrosting | Auto Defrost |
| Noise Level | Low noise as compared to the upright freezers | Noisier |
| Cleaning and Maintenance | Harder to clean and maintain because of manual defrost | Easy to clean and maintain, auto defrost and then easy wipe down |
| Food Storage | More storage capacity and keeps food fresh for 2-3 days during power cuts | Less space for larger food items and faster spoilage during power cuts |
Things to Consider Before Buying a Deep Freezer
1. Size and Placement
Well both the terms are two sides of a coin. As we have mentioned earlier, the two types of deep freezer and their size, you may choose the one depending upon the space you have for their easy placement. Chest freezers are wide, while upright freezers are vertical.
You must also think about the door swings, so that they will not block the placement area when you open or close the door.
Also, keep in mind to leave a few extra inches across the freezer for proper air circulation.
Size and Storage Capacity
Deep freezers, whether chest or upright, are generally available in four size ranges.
Compact Units – 100 L
Small Units 100 L – 250 L
Medium Units 250 L – 350 L
Large Units more than 400 L
You may decide to choose the ideal size depending upon the members of your family if you are buying it for your home.
And if you are buying it for a shop or store, you may need more space, and therefore large units are the ideal investment.
2. Door Type
The deep freezers are available in two door types: Hard Door and Sliding Door
I. Hard Door Deep Freezer
These door types are the most popular choice in deep freezers as they retain more cooling as compared to the sliding-type doors. That's why these are best for storing the food items in bulk and even for longer durations. Generally, deep freezers with hard doors are found in meat houses and storage rooms.
The hard door deep freezers are further categorized into two types:
a) Single-door Deep Freezer
As the name signifies, these types of deep freezers come with a single hard door. These are used to store only one or two items. But, if you want to keep the items more organized, you can use separate baskets.
The single-door deep freezers are best for small Kirana stores and small shops to store dairy products like milk, curd, ice-creams, etc.
b) Double-door Deep Freezer
This type of deep freezer comes with two different compartments having two separate doors. And these compartments are separated by walls so that you can store multiple items in an organized way. These also include baskets for more storage convenience.
II. Transparent Sliding Door Deep Freezer
A transparent door type deep freezer is the best way to showcase various food items like ice-creams, frozen foods, and other dairy products without opening the door. These types of deep freezers come with a sliding door and are large in capacities. Therefore, these are great choices for supermarkets, ice-cream parlors, etc.
The only downside with these deep freezers is that the cooling leaks from the edges due to the glass design. Therefore it consumes more energy.
3. Build Quality
Both the interior and exterior build is important to consider if you want your deep freezer to run long. Most of the best quality deep freezers include double-wall construction, and the inner chamber is made up of high-grade stainless steel.
The outer body comprises a thick PCRC sheet /stainless steel with a powder-coated finish to provide protection against corrosion.
Tip: Keep your deep freezer in the semi-ventilated area to give it prolonged life.
4. Compressor Efficiency
The compressor is an important part of variable cooling appliances like refrigerators, ACs, etc., that is responsible for cooling. So, it is very crucial to choose the one having a good quality compressor. Also, make sure to check the warranty on the compressor, so that if any problem persists, you may replace it without paying the extra cost.
5. Convertible Feature
Though not very important but a great feature for those who don't want to use their freezer all the time. The option lets them convert their freezer into a cooler, so that they can use it to cool multiple food items and drinks.
6. Blackout Protection
The deep freezer with blackout protection feature ensures that the frozen food items will remain cool for long, even in case of power failures. The feature allows you to keep the food items cool and fresh for at least 1-3 days.
7. Quick Freeze and Soft Freeze Option
The quick freeze option allows to cool large quantities of food items very quickly. Some freezers also come with a soft freeze feature for storing the ice-creams to retain their softness without getting too hard.
8. Temperature
As per the FDA guidelines, the standard temperature for a deep freezer is 0 degrees F (-18 degree celsius) that is essential to keep food items fresh. This temperature also retains the food's taste for several months.
But you need to keep in mind to place your freezer at specific places where it is able to maintain this temperature appropriately. Also, check the optimum temperature of the freezer before buying. So that it can withstand the ambient temperature easily. Some deep freezers work fine in any space, while some do not.
9. Adjustable thermostat
After temperature, the adjustable thermostat feature is yet another important consideration that allows you to maintain your freezer's temperature accordingly. It also improves the performance of the deep freezer.
10. Compartment Dividers
To store a large number of food items in an organized way, the deep freezers with dividers and baskets are ideal choices. It allows you to keep the food stuff arranged so that you can get them easily.
11. Price
Well, the price of the deep freezer depends upon its capacity and the features present in it. The good quality freezers from the best brands fall under the range of Rs 13,000 to Rs 50,000. So, you may choose the one that fits best of your budget as well as your requirement.
12. Warranty
Considering the warranty terms is also very important that assures you if any problem occurs in your deep freezer, you may get it fixed without paying any extra cost. It is also important to always go for the branded ones as they offer the best warranty and after-sales service. Most of the best quality deep freezers offer a 1-2 years warranty on the product with an additional warranty on the compressor.
13. Additional Features to Look For
Power-on Indicator Light- It allows you to check that the freezer is on and working or not.
Interior Light- It makes you easily see the food stuff kept inside the freezer.
Alarm- Some high-end models of deep freezer come with audible alerts to let you know if the door has been left open. The feature reduces the risk of defrosting of the food due to a change in temperature.
Leveling Legs- It ensures that the freezer will stay balanced on uneven floors.
Optional Caster Wheels- The feature ensures that you can easily move it around if needed.
Safety Lock- It is best for your kid's safety as they don't be able to open the freezer's door and thus protects them from falling into it.
Stabilizer & Auto Shut- Off- It is very important to protect your appliances from any damages. Both built-in stabilizer and auto shut-off are very useful features that will help you to keep your freezer safe.
Tips for Care and Maintenance of Deep Freezers
Place the deep freezers away from direct sunlight and other heat sources like oven, radiators, etc.
Make sure to keep your freezer in a temperature stable area for its efficient working.
Check the thermostat on a regular basis. Most of the advanced models come with a built-in thermostat; in case if not, you can use a thermometer for this. Ensure that your freezer's temperature should be 0 degrees Fahrenheit (-18 degrees Celsius).
Defrosting and cleaning the freezer is also very important at regular intervals. An ice build-up will lower its efficiency.
Vacuum any exposed condenser coils regularly to ensure proper air circulation.
Check the seal occasionally to ensure proper sealing. A damaged or broken seal may lead your freezer to leak and thereby affects its cooling performance.
Make sure to clean your freezer at regular intervals. You can use a damp cloth and detergent for this. You can also use a spray cleaner to remove tough stains. To remove nasty smells, you can use a deodorizer too.
For best results, make sure to keep the freezer full of food but not overload it. This helps in stabilizing the interior temperature and also lowers the energy consumption.
Deep Freezers Frequently Asked Questions (FAQs)
1. What are the most reliable deep freezer brands in India?

The best deep freezer brands in India are Bluestar, Haier, Godrej, and Voltas. We have reviewed the top-rated models from all these brands, that you can choose according to the capacity requirement and budget preferences.

2. Which is better- a chest or upright deep freezer?

Well, both have their pros and cons; a chest freezer is better than an upright freezer. The chest freezers are comparatively more energy-efficient and can keep the food items fresh for 2-3 days in case of power failures. They are also economical and more durable than upright freezers. But if you have compact space, the upright freezers are the best option because of their vertical design.

3. What is the cost of a deep freezer?

The price of the deep freezer depends upon its capacity and brand. In India, the best quality deep freezers from the topmost brands range around Rs 13,000 to Rs 50,000.

4. Does a deep freezer use a lot of electricity?

The latest deep freezers are energy efficient that use 30 to 100 Watts of power depending upon their size/capacity, indoor temperature, and efficiency. Also, make sure that your deep freezer will run more efficiently when it is full.

5. Can a deep freezer be kept outside?

Regular deep freezers are not designed to keep them outside as the extreme outdoor environment may cause the freezer to malfunction. For outdoor use, some specialty freezers are available that you can use.

6. Is it OK to keep a deep freezer in the garage?

It is very important to keep the freezer in a place with the right interior temperature. And if your garage is insulated and climate-controlled, it's perfectly fine to place your deep freezer there. But, make sure that the space is completely dry without any moisture. It is better to keep the freezer away from direct sunlight.

7. How do I Choose a deep freezer?

You can choose a deep freezer by keeping certain things in mind, including -size and placement area, door type, compressor efficiency, blackout protection, temperature, manual or automatic defrost option, compartments, and dividers, etc.

8. Is a deep freezer worth it?

Yes, it allows you to store your favorite food (frozen) and drink stuff, so you don't need to rush to the market when you need them. This way, you can easily entertain your guests or a large group of people whenever needed. Even more, some models of deep freezers come at equivalent, sometimes even at a lower price tag than your refrigerator. That makes it buying a deep freezer fully worth it.

9. How long does a deep freezer last?

The upright freezers have a shorter lifespan than the chest freezers. A chest freezer comes with a shelf life of up to 20 years, while upright models generally last for up to 15 years only.
Conclusion
That's all! We hope the above guide and reviews of the best deep freezers in India will let you make the best choice for your needs. We have considered and mentioned every single detail on it so that you will not get confused while making a purchase. As our personal recommendation, you may opt for Haier HCC 460HC Deep Freezer, that is best in terms of price, features, and performance all.
Still have any confusion, feel free to share with us via the below comment section; we will help you asap.
Read Related Reviews
Buy Deep Freezers Online
Voltas CF HT 320 DD P Double Door Deep Freeze...
7%
Blue Star CHF300 Double Door Deep Freezer (28...
8%
Blue Star CHF150 Single Door Deep Freezer (14...
22%
Voltas 500 DD CF Double Door Deep Freezer, 50...
16%
Blue Star CHF200 Single Door Deep Freezer (19...
1%
Blue Star CHF500 Double Door Deep Freezer (48...
28%
Voltas 405 DD CF Double Door Deep Freezer, 40...
20%
Panasonic 290 L Single Door Deep Freezer (SCR...
16%