Are you fond of trying out new recipes every day? But what if the ratio of ingredients is not accurate? The whole recipe spoils. For a serious cooking, you must determine the exact ratios and servings of the ingredients very well. And here comes the role of modern digital kitchen scale.
Whether you are a foodie, dieter, or home cook, you need to add the exact amount of ingredients to get exact texture and flavor in your recipes. In that case, a good kitchen scale is an absolute must-have tool for every kitchen.
Digital Kitchen Scales are now becoming very popular in India. They offer precise readings and are often viewed as more accurate and long-lasting than mechanical scales, which makes their presence more widespread among modern kitchens.
Types of Kitchen Scales
There are basically three types of kitchen scales namely-Balance scales, Mechanical scales, and the most precise Digital scales.
Balance Scales are the traditional ones which are now very rare and seem like a Seesaw. To weigh your ingredient on them, you need to position the weights on one arm and the ingredients at the other arm and then wait for them to balance. There is no need for a battery, and they are easy to use, but on the downside, they are not precise, and it can be very difficult to measure the ingredients in smaller amounts accurately.
The second one is Mechanical Scales which are far more common – working with a spring that moves the dial to reflect the weight of the ingredients. There are some fabulous retro designs, and the weight capacity is often higher than other scales. There is no need for batteries either, but when it comes to measuring tiny amounts, these scales are not very precise.
And now the most modern one Digital kitchen scales which use LCD displays. They are often very compact and are extremely precise in measuring, even including smaller amounts, and you can switch between different measurements too. But there is often limited weight capacity, and they do rely on batteries.
Features of Digital Kitchen Scale
A kitchen weighing machine or a digital kitchen scale comes with the following awesome features:
Ease of Use- Unlike the traditional scales that require subtracting out the weight of the bowl you are measuring in, digital kitchen scales come with a tare button. Simply press the button to "zero out" the weight of the container that yo
u are using to put your ingredients. And then by pressing "Tare," you can start at zero with each new ingredient you are weighing in the same bowl.
Weight Conversions- Digital kitchen weighing scales simple do the conversions for you. With the single press of a button, you can convert the metric measurements and vice-versa.
Ratio Baking or cooking- Digital kitchen scales are superb tools for cooking/baking by ratio and makes it a breeze. You can simply scale the ratio down to a single serving, or up for a large dinner party with ease.
Precision- The modern digital kitchen scales are the best ones that give the precise and accurate measurement of the ingredients so that you can make a perfect dish every time.
Things to consider while buying a Digital Kitchen Scale
Measuring platform size should be big enough for your needs.
The model you chose should be accurate and precise
Weight capacity for the scale is also very important to consider. Most of the best sellers go from 1 gram (or .1 oz) to 11 lbs.
It must have clear display readability
Must have Automatic shut-off feature to protect battery life
It must be easy to clean and store
Best Digital Kitchen Scale Reviews
Want to purchase the best digital scale for all your weighing needs in the kitchen. Since it is a quite daunting task to choose the best one as there are countless brands of kitchen scales with different features available in the market. But which one is best for you? Considering the above points, customers review, product specification, designing, etc. we have rounded-up here the 7 best digital kitchen scales from the best brands. So just go for your best pick. But before going through the full review of each model, let's have a quick look at our best picks.
Brand
Model
Measures In
Max Weighing capacity
HealthSense
KS 33
g, lb, ml, oz
5 Kg
View on Amazon
View on Flipkart
Belita
BPS K 1131
g, oz
5 Kg
View on Amazon
Hesley
HSK1
g, lb, ml, oz
5 Kg
View on Amazon

Bulfyss
SF 400
Kg, g
10 Kg
View on Amazon
View on Flipkart
Generic
ISCALE-1
kg, g
10 Kg
View on Amazon
MCP
SF 400
g, kg, oz, lb
7 Kg
View on Amazon
View on Flipkart
Japp
DF 400
Kg, G
10 Kg
View on Amazon
View on Flipkart
1. Health Sense Chef-Mate Digital Kitchen Scale-KS33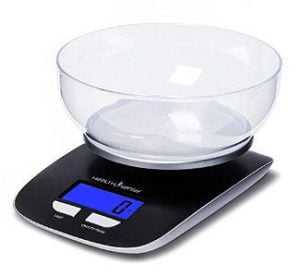 This beautifully designed digital kitchen scale provides precision and accuracy to measure the ingredients. It serves for all of your cooking, baking, and household needs and utilizes leading industry technology with its high precision weight sensors. Featuring a charming Blue back-light LCD, it clearly displays your weights in mulple units. It comes with a multi-unit capability including pounds, ounces, grams & milliliters.
The very best feature is its tare function. Means you can eliminate the weight of an empty container or ingredients for net weighing determination. This weighing scale also comes with a weighing capacity up to 5Kg with the graduation of 1g that makes it perfect for baking, cooking, and many more utilities.
Key Features
Hygienic Weighing
Quick unit conversion
Tare made easy
Quad Precision Sensors
Uncompromising accuracy
Auto off feature
Easy cleaning
Perfect portioning
Buyers Feedback
The Good
Compact and Stylish design
Big illuminated display to make the readings very easy
Gives accurate and précis measurements
The feature of displaying weight in multiple different units proved to be extremely useful
Easy to use
The Bad
Might seem a little on the expensive side
View on Amazon View on Flipkart
2. Belita BPS-K-1131 Electronic Digital Kitchen Weighing & Volume Measurement Scale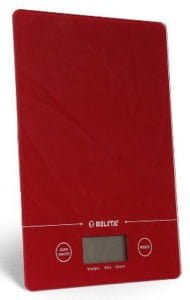 This professional scale designed for kitchen, mail room or even your workshop will absolutely be your best choice with amazing features. Its ultra slim model will definitely add a great style to your kitchen. It is the only one digital kitchen scale in the market that measures not only the weight of food items but also the volume of water and milk.
This kitchen scale has a great tare option feature that lets you weigh different ingredients in the same container. It comes with a splash-proof design that ensures accurate weighing even in humidity areas. This digital kitchen scale is battery operated and very easy to use.
Key Features
Ultra slim model
Made of high-quality material, durable enough for your daily using
Wide LCD screen display, easy to read
Tare function
Low power consumption
Automatically lock the reading when data is stable
Mode function to switch between weight and volume
Buyers Feedback
The Good
Nice and elegant design
Works perfectly
Both weight and volume measurement is a nice feature
3. Hesley HSK1 Digital Kitchen Scale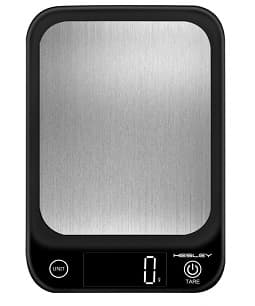 The Hesley HSK1 digital kitchen scale is one of the best scales with the modern and stylish design and gives accurate weighing results every time. It comes with a removable brushed stainless steel platform so that you can clean it easily and also doesn't allow scratches and fingerprints on it.
Its blue back-light LCD clearly displays your weights in multiple units including pounds, ounces, grams & milliliters. When using a container etc. to weigh another object, you want to know the exact weight of the object without the container's added weight. This model has a great tare function to accomplish just that. This chic and slim weighing scale is surely your best companion in the kitchen.
Key Features
Enduring strength in steel
Smart switch units
Touch and tare
Quad Precision sensors
Uncompromising accuracy
Auto-off and easy cleaning
Perfect portioning
Buyers Feedback
The Good
Impressive size and look
Brushed steel finish on the top and plastic base saves it from being scratched
Illuminating display nicely shows the weight in various units
Tare function is a great feature
Easy to clean and store
The Bad
The display dims automatically after 10 seconds
4. Bulfyss Electronic Kitchen Digital Weighing Scale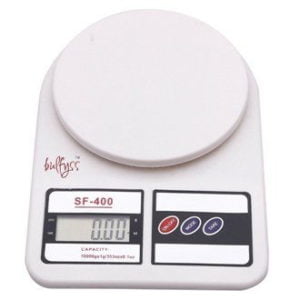 This weighing scale from Bulfyss is specially designed for weighing kitchen products. It can come in very handy for your everyday kitchen needs. It comes with an LCD using which one can easily read the measurements. Tare option is also provided in this weighing scale that you can use to measure the different items in the same container.
This device can withstand at any temperature, pressure, etc. It is equipped with a sensor system that provides accurate results every time even in humid areas also. The device runs on a battery and consumes a limited amount of power. Hence the battery doesn't get exhausted very often. Its stylish look adds a great charm to your kitchen.
Key Features
High precision Strain gauge sensor system
Beautiful appearance, special surface treatment
Wide LCD screen display
Low Power consumption
Tare function
Automatically lock the reading when data is stable
Buyers Feedback
The Good
Good kitchen scale for measuring small quantities
Great accuracy
Readings are accurate and consistent
Very nice product in this price range
The Bad
If you don't place the product on a flat surface, it will show you wrong measurements
View on Amazon View on Flipkart
5. Generic Electronic Kitchen Digital Weighing Scale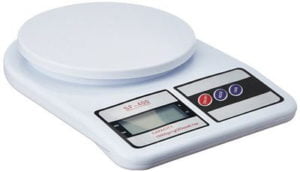 This electronic kitchen weighing scale from Generic comes to the next line of our best picks of digital kitchen scales. It comes with a large round stainless steel washable tray for repetitive cleaning. This digital scale has a maximum weighing capacity of 10 kg and is accurate up to 1 g. It is a highly precise weighing scale.
This digital kitchen scale is battery operated and very easy to use. It has an LCD backlit display for easy reading and also has an overload and battery low indicator. So if you want a highly reliable weighing scale in your kitchen, this one will be the best choice.
Key Features
High Precision Strain Gauge Sensor System
Tare option to weigh different ingredients in the same vessel
Battery operated
User-friendly scale
Lightweight
Buyers Feedback
The Good
Light, stable, and good weighing scale
Pretty accurate
Convenient to use
It has imperial and metric measurements along with tare and auto-off functionality
Also great for small measurements
6. MCP Digital Kitchen Scale SF-400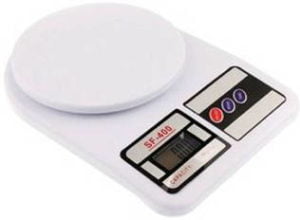 This digital kitchen weighing scale from MCP is an ideal choice for all your concern about weighing ingredients precisely and accurately. It comes with a large display window that displays the resultant weight in clear digital numerals. You don't need to convert the units of measurement for various ingredients, as you can easily select the unit of measurement from g, kg, oz, and lb as per your recipe.
This battery-operated weighing scale is made from plastic and is designed to weigh ingredients up to a capacity of 7 Kg. The best is its tare function that lets you reset the scale to zero after placing an empty container, so the resultant weight displayed is only that of the ingredient that you actually want to weigh.
Key Features
Automatic switch off
Low battery and overload indication
Automatic zero resetting
Display LCD
Buyers Feedback
The Good
Really simple and efficient scale
Worth for the price
Gives accurate measurements
Readings are consistent
The Bad
Weight capacity is only 7 kg which is very low
View on Amazon View on Flipkart
7. Japp Electronic Kitchen Digital Weighing Scale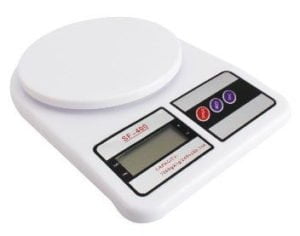 Do you want a highly convenient and functional kitchen weighing scale, Japp Electronic digital kitchen scale must be the best choice. This useful kitchen scale is a professional scale specially designed for kitchen use with a washable tray for regular cleaning.
This machine is featured with the splash-proof design, so the precise weighing is ensured even under high humidity conditions. This accurate kitchen weighing machine is battery operated and also very easy to use. There comes a wide LCD screen display along with high accuracy stain gauge system to make sure more precise weighing results.
The maximum weighing capacity of this weighing scale is about 10 kg. The other smart features include buttons for tare function, on/off and mode settings. There is also overload and low battery indication system.
Key Features
Splash-proof design
Beautiful appearance
Low power consumption
Tare function
Automatically lock the reading when data is stable
LED display
Battery operated and easy to use
Buyers Feedback
The Good
Nice design
Lightweight and good for the kitchen
Shows accurate readings
View on Amazon View on Flipkart
Final Words
This is all about our best picks of the digital kitchen scales to measure ingredients perfectly. Make the mouth-watering recipes just perfect by choosing one of the models mentioned above. Also, the price for each model is very reasonable and pocket-friendly that you can easily afford. And do share your comments if you feel anything is missing.
Explore More
Scale: The Universal Laws of Life and Death i...
44%
Vajan Ghataye Asan tarike Se (Hindi Edition)
6%