Weighing scale is one of the essential tools that you can find almost in every field, whether it is a retail store, small shops, grocery store, gyms and fitness centers, school, hospital, commercial industries, and even at your home also. But the question comes for what it is used for? It is simply used for measuring weight whether it is your body weight or it's a weight of the material or ingredients. If we talk about the commercial use of a weighing scale, it is a necessary tool in this field. Welcome to the blog which is all about best Commercial Weighing Machines you can buy.
Our Best Picks of Commercial Weighing Machines
| Brand | Model | Max. Weighing Capacity | |
| --- | --- | --- | --- |
| iScale Heavy-Duty Commercial Weighing Machine | ISP-100M | 100 Kg | View on Amazon |
| Baijnath Premnath Industrial Weighing Machine | CSP-200K | 100 Kg | View on Amazon |
| Honda Electronic Commercial Weighing Scale | Platform Scale | 150 Kg | View on Amazon |
| Tata Metal Plate Weight Scale for Commercial Use | Platform 200/300 | 300 Kg | View on Amazon |
| GF Caliber Weight Industrial Weighing Scale | GFC-100S | 100 Kg | View on Amazon |
| PERIYAR Floor Scale Weighing Machine | ZYQ-12 | 300 Kg | View on Amazon |
| Equal EIWS-22 Digital Weighing Scale | EIWS - 22 | 120 Kg | View on Amazon |
| Metis Electronic Industrial Weighing Scale | Metis09 | 200 Kg | View on Amazon |
| Voda Platform Scale | VSP-100 | 100 Kg | View on Amazon |
If you want to know how to choose a perfect commercial weighing machine, read our buying guide below.
Best Commercial Weighing Machines Reviews
When it comes to the retail field or for any commercial industries, commercial weighing machines play an important role to weigh things up to the maximum capacity it has, with utmost accuracy. To measure weight in heavy quantities, the platform type commercial weighing machines are the ideal ones. So, here is the review of best platform weighing scales along with their specifications and buyer's feedback for all your commercial and industrial weighing needs.
1. iScale Digital Heavy-Duty Commercial Weighing Machine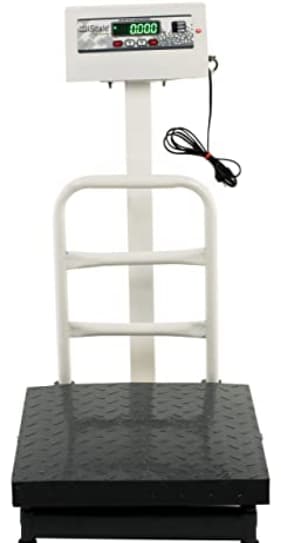 iScale is a brand from Baijnath Premnath, and it is currently another best commercial weighing machine model. Its steel construction with metal composition makes it perfect for any type of heavy-duty object weighing.
This industrial grade weighing machine can weigh items up to 100 kg with a precision of 10 grams. Built-in high precision sensor for optimum accuracy. Double display green LED light makes visibility more clear even in sunny daylight. The backside display is convenient for customer viewing. The control panel is very simple and straightforward to use. It has four buttons, one for Tare functionality (setting 0 weight of the empty container), MR (Memory Recall), M+ (add to memory) and the last one is a mode to set weighing mode (KG or liter, etc.)
iScale commercial weighing machines are well balanced due to 4 rubber feet, which are adjustable and non-slidable. The white color heavy grill support helps in weighing large or tall objects. Robust build structure and coated with anti-rust powder make it durable and suitable for weighing heavy objects like metals and scraps. Use it to weigh retail items, in grocery stores, Langar, parcel weighing, warehouses, and other Industries.
No extra adapter needed; it has 220V Power cord built-in. The included battery has the power backup of two days and six months standby time, and this feature makes it the perfect choice for places where electricity is inconsistent. It has a power saver mode to save power when the appliance is not in use for a longer duration. It has an additional power switch and a fuse to protect the display unit from a sudden power surge.
The company provides 24×7 hour support. They also claim to replace the weighing scale within three months from the date of purchase if it does not work as expected. If you have a problem with the setting of the machine, call them, and they will help you.
This variant itself weighs 16 kg and has a 16 x 16 inches robust platform with a chequered platter to weigh various types of items. It comes in 2 more variants 50 Kg and 200 Kg weight capacity.
Check the detail of other variants from iScale
– Maximum weight capacity 50 kg , 14×14 inches platform and 14 Kg weight, 5 grams precision click here to view details.
– Maximum weight capacity 200 kg, 20 x 20 inches platform and 22kg weight, 20 gram precision click here to view.
Key Features
Stamping & Calibration certificate
Heavy grill support for large objects
Double LED display
Built-in battery
10 grams of precision
Advanced control panel
optimum accuracy & repeatability
Buyers Feedback
The Good
Strong material body
Available in 50 kg, 100 kg and 200 kg Variants
Built-in power cord
Tare option
The Bad
No downsides for the product noted yet
2. Baijnath Premnath Stainless Steel Industrial Weighing Machine
Baijnath Premnath Commercial weighing machine is currently the best available model. It has a rechargeable battery which can last up to 50 hours. Platform top is made of stainless steel, which is safe and clean for all types of item weighing.
It is a top-notch heavy duty industrial weighing machine that can be used for Restaurants, Warehouses, Retail, and shipment weighing. Made with heavy-duty and durable mild steel and coated with rust proof powder, it is perfect for industry, business, and home use.
The maximum weight capacity of this model is 100 Kg, with a weighing precision of 10 grams. It can be extended to 150 Kg on request. The length and width of the platform base are 16 inches x 16 inches wide enough for measuring large and tall packages with its long back grill support.
It has a large LED display with 180 degrees wide viewing angle. You can manually or automatically turn off the battery to preserve it. It features an item counting functionality that can count items of the same weight. Auto zero tracking and option of selecting between KG or Liters as a weighing unit.
The LED indicator is fixed on a height-adjustable pole made of mild steel. You can easily clean the platform as its platter can be removed; the base's support is stable due to Anti vibrational and adjustable rubber feet.
Baijnath Premnath provides one year of the limited warranty. They also provide 24×7 support on phones, which can be useful for settings, troubleshooting, and calibration.
Overall it's an excellent commercial weighing machine, and we recommend buying it for your business needs. After purchasing it, you can call customer care and ask them to set the basic settings as per your needs. After this, it's ready to use in your shop or industrial area.
Key Features
Tare weighing option
Rust proof steel frame
Adjustable rubber feet
Remove platter for easy cleaning
Stainless steel platter for long life
Switch the unit, KG or Litre
A large LED indicator on both side
Buyers Feedback
The Good
Platform size is 16 x 16 inches
It can weigh up to 100KG
Direct power or 6V battery
Can be extended to 150Kg
The Bad
No computational work, like billing
You have to assemble product yourself
3. Honda Electronic Commercial Weighing Scale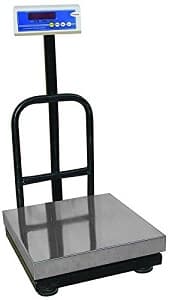 This commercial platform weighing scale caters to the various commercial weighing needs with its advanced features and so comes in the top of our list. With well-maintained quality standards and the maximum weighing capacity of 150 Kg, it is a perfect choice for retail segment weighing to commercial uses.
Key Features
Rugged construction ideal for tough uses
Stainless steel pan
High Precision load cell
Overload protection
0.5 inch Bright LED display
Piece Counting/Ltr Weighing function
Low Battery Indication
Battery backup feature
Buyers Feedback
The Good
Nice build quality
Offers very precise and accurate measurements
Overload protection is a good feature
It is both battery as well as electric power operated
The Bad
No downsides for the product noted yet
4. Tata Digital Metal Plate Platform Weight Scale for Commercial Use
This is another best model from the most reputed brand Tata with so many great features. For weighing heavy weights in various commercial industries including automotive, wholesale markets, and construction industries, this one is the perfect buy. This heavy duty platform scale is capable of measuring weights up to 300 Kg with the accuracy of 20 gm. It is designed with such a robust and durable structure that let it sustains in the rough and harsh industrial environments. Its bright White LED offers ease of readability for the measurements.
Key Features
Tare Function
Bright LED display with intensity control
International quality load cell
Overload Protection
Auto Calibration
Battery low alarm and indication
Buyers Feedback
The Good
Great for measuring heavy weights
Gives accurate and precise measurements
Sturdy and robust structure
Quick response time is a nice feature
Battery backup is also very good
5. GF Caliber Weight Accuracy and Industrial Weighing Scale
GF commercial weighing scale is perfect for retail shops, industrial weighing, grocery stores, warehouses, and other places.
It has four rubber feet which hold firmly to the place where it is placed. 2 handles at sides to grab and move it easily. It is made with heavy-duty mild steel structure, which makes it durable even with heavy rough usage. The platform is 16 x16 inches and coated with rust proof powder coating.
The maximum weighing capacity of the GF weighing scale is 300 kg, which we think is suitable for weighing heavy items. It has grill support to weigh large packages without any hassle.
The display runs on the rechargeable battery, there is an on and off button to turn off the display and save battery when not in use.
Key Features
Grill support
Built with mild steel
LED display
On/OFF button
Rechargeable battery
Tare option
Buyers Feedback
The Good
Weight capacity of 300 kg
Rust proof body
Sturdy and durable
Durable
The Bad
No direct power source
ingle and small LED display
6. PERIYAR Floor Scale Weighing Machine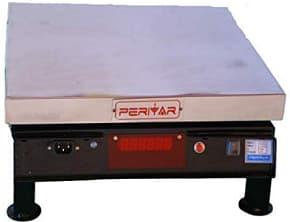 Periyar weighing scales are owned by the company Aluva Scales INC located in Kochi, Kerala. Periyar is a leading brand in making weighing scales for different industries and small to big commercial usage sizes.
They have a variety of weighing scales, but very few of them are listed for online sale on platforms like Amazon and Flipkart. This model is good and has almost similar features, as mentioned in a few of the other models at the top of this review.
The maximum weighing capacity of this commercial weighing scale is 300 kg, with an accuracy of 50 grams. It has a direct power supply and a turn off button to save the battery. The width and height of the platform are 16 x 16 inches. Like others, it can be used in commercial usage like warehouses, restaurant kitchens, grocery stores, or retail shops. It has no grill support, which makes it a little uncomfortable in measuring large items. The 4 feet are stable and metal made.
Key Features
Built using steel and other metal
LED weight display
Change the mode
Approved
Buyers Feedback
The Good
Heavy duty
Different mode
Sturdy & durable
The Bad
Single LED display
LED light is less readable in daylight
7. Equal EIWS-22 Digital Weighing Scale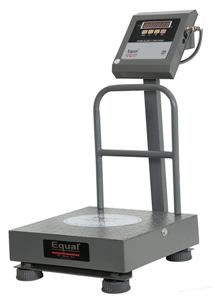 This digital platform weighing scale from Equal is one of the best choices for commercial uses. Featuring the dual front and back LED display, it offers a convenient readability to the customers. It comes with the maximum weighing capacity of 120 Kg with the accuracy of 20 gm. Its sturdy and robust structure makes it suitable for harsh weather conditions.
Key Features
Tare option
Overload protection
Front & Back Red LED Dual Display
Piece counting function
350mm x 350 mm Pan Size
Battery Low Alarm Indication
Auto Calibration
Longer Battery Backup up to 50 Hrs
Buyers Feedback
The Good
Build quality is awesome
Good accuracy
Sturdy and durable
Easy to fix and use
8. Metis Electronic Industrial Weighing Scale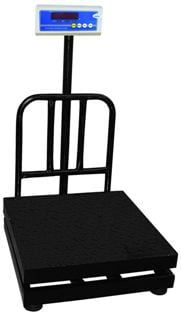 This premium quality electronic industrial weighing scale from Metis suits all your material weighing needs with extremely accurate weight measurements. It's simple and elegant design gives a great aesthetic look. The maximum weighing capacity of this weighing machine is 200 kg with the accuracy of 20 gm that is pretty good for all commercial and industrial requirements.
Key Features
Rugged stainless steel structure
Platform size is 20×20 (inches)
Sturdy grill for supporting the heavy load
Zero, Battery, Battery low & Count Mode
Bright LED display
Tare Function
Buyers Feedback
The Good
Great in terms of accuracy and precision
Nice aesthetic look
Material quality is very good
Easy to use and maintain
Runs on both battery and electricity
9. Voda Platform Scale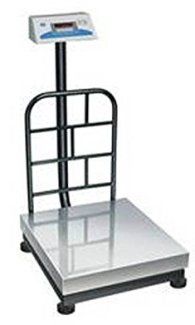 This electronic weighing scale of platform type from the brand Voda is also the best buy for all commercial uses. It comes with a robust structure for extra durability. This heavy duty platform scale has the maximum weighing capacity of 100 Kg with the accuracy of 10 gm. The very best is its inbuilt thermal printer for automatic label printing.
Key Features
Tare Function
Auto Shut Off
Bright LCD with number of characters on display up to 7 digits
Item Count Function
Proper Calibration
Numeric clock
In-built thermal printer for bill printings
Item count function with pre-stored unit weights
50 hours Inbuilt Battery Backup
Buyers Feedback
The Good
Offers accurate and precise measurements
The in-built thermal printer is a nice feature for bill printings
Great product in this price range
Strong and sturdy built
Runs on both electricity and battery
The Bad
The quality is not up to the mark
Buying Guide of Commercial Weighing Machines
This section helps you choosing commercial scales, buying tips and many more detail.
Why Choose Commercial Weighing Machines?
Weighing machines are highly demanded for commercial uses to scale different types of material without any hassle. As the modern electronic weighing machines features the latest innovative technologies, they are not only useful to weigh things but other features too. The latest commercial weighing machines come with the features like tare weight option, pieces count, weighing conversion in different units, etc. And so it has been made the task of weighing even much easier than the traditional versions.
Different Uses of Commercial Weighing Machines
Commercial weighing machines are used in Kirana shops, general stores, retail stores, and commercial industries, etc. to weigh different materials. The use of weighing scale in a grocery store is to weigh vegetables and fruits. In retail stores, it has been used to weigh grains, foodstuffs, and fluids like oil, etc. The same it has been used in the commercial industries to weigh different things like electronic items, chemicals, metals, and other elements with the extreme accuracy. So, I hope you will now get a clear idea of how the commercial weighing machines are used in different fields.
Some Amazing Features of Commercial Weighing Machines
Digital Readability Support- The modern electronic weighing machines come with the LCD display that enables the digital readability support. It means the weight of the things you are going to measure is easily shown on the display that is readable to both the seller and the buyer. And so, makes it easy to use as well as handy in every perspective.
Accuracy- The digital weighing machines always offer accurate and precise measurements. Thus, it becomes easy to use even if you are measuring maximum weights for the commercial purposes.
Repeatability- This one is a great feature of commercial weighing machines or any digital weighing scales that offer the consistent results every time you measure for the same thing without showing any deviation.
Maximum Capacity- Maximum capacity in any weighing machine is referred as the maximum amount of the weight it can support. Each and every model of electronic weighing balances come with a maximum weighing capacity ranging from 5Kg up to 200 Kg. But the commercial weighing machines are also used in heavy weight-related industries to measure heavy equipment more than 200 Kg.
Platform- Platform is the upper surface of the weighing machine where you put the material to weigh it accurately. The weighing scale with a smaller platform size can be used in the kitchen as well as to measure things in smaller quantities. The digital scale with a bigger platform size can be used to weigh materials in large quantity.
Types of Commercial Weighing Machines
Commercial weighing machines are of following types
Platform Type
In the Platform type of commercial weighing machine, the top platform, i.e. the area where we keep the objects to weight is wider and can handle 100 -200 KG normally. This type is suitable for those who want to measure rice sack, sugar sack or something similar heavy items with a wide base. They also comes in 2 variants with or without electronic display.
Table Top
Table top commercial weighing machines are used in shops and popular among general stores. They have no extra LCD display attached to the weighing machine, due to this sometimes it becomes inconvenient to see the weight of the object currently weighing.
LCD Type
LCD weighing machines are easy to use because they have an extra display panel which makes it convenient to watch while weighing.
Computerized
Computerized commercial weighing machines have calculators built along with some more advanced functionality, It can calculate the price according to the weight. You have to set the basic things and it can provide more information of the object being weighed.
Floor Base
The Floor Bench weighing machine is very flexible to install. The display panel is loosely coupled with wires and you adjust them on any side of your wall. Also the machine itself has a base which is almost plain with no height. This makes it easy to drag and keep heavy objects on it.
Tips to Maintain The Commercial Weighing Machine.
Maintaining the commercial weighing machine is important, Below are some important tips.
Clean the Machine
When you use Weighing machine regularly it gets dirty. Dust and particles settle in corners of the machine which may lead to inaccurate readings or malfunctioning of machine or display. Use a brush to clean the corners and wipe it with dry cotton cloths.
Oiling and Lubricating the machine
Only if it is a mechanical machine, don't do this for electronics machines.
Don't touch the weight display panel and change the cell regularly
Normally weight display panels in electronic commercial weighing machines get damaged within a few months of use. To keep it long lasting, one should never touch or press it, regularly change the cell.
Do regular inspection of the machine from top to bottom
These machines should be checked regularly for any defects due to corrosion or damage. Weighing machines can produce inaccurate measures if part of it is damaged, this can cause loss in business.
Important Consideration before buying commercial weighing machines.
Below we have mentioned some important points that you should check before investing in your next commercial weighing machine.
Check for power source. These scales use batteries or direct electricity to perform their basic functionalities. If you live in an area where electricity is a problem, it would be better to have battery powered scale.
Sometimes you need to weigh materials which are not stable and keep shaking, for this you need active Impact weighers, Look for this feature if you need this.
Check for a USB port also known as USB Weighing Scales. This feature allows you to connect your scales with computers which could be used to maintain many things including inventory and price of products.
If you need calibration, check it before purchasing. Some scales have built in calibration while some others need mechanics to do it.

>
Final Words
This is all about our best picks for the commercial weighing machines for all commercial and industrial weighing requirements. All the models that we have listed above are robust and durable. Also, these commercial range of platform scales are best-in-class with ISI approved quality as well as featuring innovative technology, so surely be the great buy. Make your pick now by reading our listed models reviews.
Explore More
MEDITIVE Digital Kitchen Weighing Scale with ...
20%
TECHway Smart Digital Table Top Weighing Scal...
59%
Baijnath Premnath Premium Battery & Electrici...
62%
RTB DIGITAL Kitchen weighing scale 10kg,weigh...
54%
iScale i-02 30kg x 2 g Digital Table Top Weig...
65%
Atipriya Venus Commercial Hanging 100 Kg Grey...
43%
iScale i-01 30kg x 2 g Digital Table Top Weig...
60%
PESCA Venus Commercial Hanging 100 Kg Weighin...
50%