Weighing scale is one of the essential tools that you can find almost in every field, whether it is a retail store, small shops, grocery store, gyms and fitness centers, school, hospital, commercial industries, and even at your home also. But the question comes for what it is used for? It is simply used for measuring weight whether it is your body weight or it's a weight of the material or ingredients. If we talk about the commercial use of a weighing scale, it is a necessary tool in this field. Welcome to the blog which is all about best Commercial Weighing Machines you can buy.
Our Best Picks of Commercial Weighing Machines
For detailed description of these models, please head to our Review Section.
Why Choose Commercial Weighing Machines?
Weighing machines are highly demanded for commercial uses to scale different types of material without any hassle. As the modern electronic weighing machines features the latest innovative technologies, they are not only useful to weigh things but other features too. The latest commercial weighing machines come with the features like tare weight option, pieces count, weighing conversion in different units, etc. And so it has been made the task of weighing even much easier than the traditional versions.
Different Uses of Commercial Weighing Machines
Commercial weighing machines are used in Kirana shops, general stores, retail stores, and commercial industries, etc. to weigh different materials. The use of weighing scale in a grocery store is to weigh vegetables and fruits. In retail stores, it has been used to weigh grains, foodstuffs, and fluids like oil, etc. The same it has been used in the commercial industries to weigh different things like electronic items, chemicals, metals, and other elements with the extreme accuracy. So, I hope you will now get a clear idea of how the commercial weighing machines are used in different fields.
Some Amazing Features of Commercial Weighing Machines
Digital Readability Support- The modern electronic weighing machines come with the LCD display that enables the digital readability support. It means the weight of the things you are going to measure is easily shown on the display that is readable to both the seller and the buyer. And so, makes it easy to use as well as handy in every perspective.
Accuracy- The digital weighing machines always offer accurate and precise measurements. Thus, it becomes easy to use even if you are measuring maximum weights for the commercial purposes.
Repeatability- This one is a great feature of commercial weighing machines or any digital weighing scales that offer the consistent results every time you measure for the same thing without showing any deviation.
Maximum Capacity- Maximum capacity in any weighing machine is referred as the maximum amount of the weight it can support. Each and every model of electronic weighing balances come with a maximum weighing capacity ranging from 5Kg up to 200 Kg. But the commercial weighing machines are also used in heavy weight-related industries to measure heavy equipment more than 200 Kg.
Platform- Platform is the upper surface of the weighing machine where you put the material to weigh it accurately. The weighing scale with a smaller platform size can be used in the kitchen as well as to measure things in smaller quantities. The digital scale with a bigger platform size can be used to weigh materials in large quantity.
Best Commercial Weighing Machines Reviews
When it comes to the retail field or for any commercial industries, commercial weighing machines play an important role to weigh things up to the maximum capacity it has, with utmost accuracy. To measure weight in heavy quantities, the platform type commercial weighing machines are the ideal ones. So, here is the review of best platform weighing scales along with their specifications and buyer's feedback for all your commercial and industrial weighing needs.
1. Honda Electronic Commercial Weighing Scale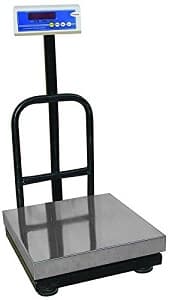 This commercial platform weighing scale caters to the various commercial weighing needs with its advanced features and so comes in the top of our list. With well-maintained quality standards and the maximum weighing capacity of 150 Kg, it is a perfect choice for retail segment weighing to commercial uses.
Key Features
Rugged construction ideal for tough uses
Stainless steel pan
High Precision load cell
Overload protection
0.5 inch Bright LED display
Piece Counting/Ltr Weighing function
Low Battery Indication
Battery backup feature
Buyers Feedback
The Good
Nice build quality
Offers very precise and accurate measurements
Overload protection is a good feature
It is both battery as well as electric power operated
The Bad
No downsides for the product noted yet
2. Tata Digital Metal Plate Platform Weight Scale for Commercial Use
This is another best model from the most reputed brand Tata with so many great features. For weighing heavy weights in various commercial industries including automotive, wholesale markets, and construction industries, this one is the perfect buy. This heavy duty platform scale is capable of measuring weights up to 300 Kg with the accuracy of 20 gm. It is designed with such a robust and durable structure that let it sustains in the rough and harsh industrial environments. Its bright White LED offers ease of readability for the measurements.
Key Features
Tare Function
Bright LED display with intensity control
International quality load cell
Overload Protection
Auto Calibration
Battery low alarm and indication
Buyers Feedback
The Good
Great for measuring heavy weights
Gives accurate and precise measurements
Sturdy and robust structure
Quick response time is a nice feature
Battery backup is also very good
3. Equal EIWS-22 Digital Weighing Scale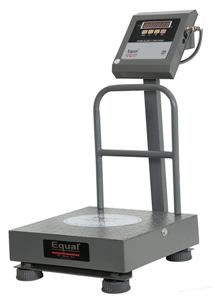 This digital platform weighing scale from Equal is one of the best choices for commercial uses. Featuring the dual front and back LED display, it offers a convenient readability to the customers. It comes with the maximum weighing capacity of 120 Kg with the accuracy of 20 gm. Its sturdy and robust structure makes it suitable for harsh weather conditions.
Key Features
Tare option
Overload protection
Front & Back Red LED Dual Display
Piece counting function
350mm x 350 mm Pan Size
Battery Low Alarm Indication
Auto Calibration
Longer Battery Backup up to 50 Hrs
Buyers Feedback
The Good
Build quality is awesome
Good accuracy
Sturdy and durable
Easy to fix and use
4. Metis Electronic Industrial Weighing Scale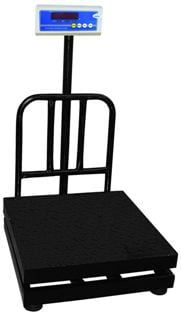 This premium quality electronic industrial weighing scale from Metis suits all your material weighing needs with extremely accurate weight measurements. It's simple and elegant design gives a great aesthetic look. The maximum weighing capacity of this weighing machine is 200 kg with the accuracy of 20 gm that is pretty good for all commercial and industrial requirements.
Key Features
Rugged stainless steel structure
Platform size is 20×20 (inches)
Sturdy grill for supporting the heavy load
Zero, Battery, Battery low & Count Mode
Bright LED display
Tare Function
Buyers Feedback
The Good
Great in terms of accuracy and precision
Nice aesthetic look
Material quality is very good
Easy to use and maintain
Runs on both battery and electricity
5. Voda Platform Scale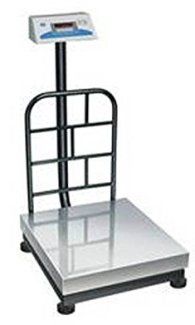 This electronic weighing scale of platform type from the brand Voda is also the best buy for all commercial uses. It comes with a robust structure for extra durability. This heavy duty platform scale has the maximum weighing capacity of 100 Kg with the accuracy of 10 gm. The very best is its inbuilt thermal printer for automatic label printing.
Key Features
Tare Function
Auto Shut Off
Bright LCD with number of characters on display up to 7 digits
Item Count Function
Proper Calibration
Numeric clock
In-built thermal printer for bill printings
Item count function with pre-stored unit weights
50 hours Inbuilt Battery Backup
Buyers Feedback
The Good
Offers accurate and precise measurements
The in-built thermal printer is a nice feature for bill printings
Great product in this price range
Strong and sturdy built
Runs on both electricity and battery
The Bad
The quality is not up to the mark
Final Words
This is all about our best picks for the commercial weighing machines for all commercial and industrial weighing requirements. All the models that we have listed above are robust and durable. Also, these commercial range of platform scales are best-in-class with ISI approved quality as well as featuring innovative technology, so surely be the great buy. Make your pick now by reading our listed models reviews.
Explore More
GF Caliber Weight Accuracy Platform Industria...
GF Caliber Weight Accuracy Platform Industria...
12%
Autosol Metal Polish, 250 g