Weighing Machines are one of the most essential tools that have been used for many years to measure things. These are very popularly used in grocery shops, sweet shops, and general stores, and even in your kitchen also. But now technology has changed the whole way of weighing things with the new and advanced models of Electronic Weighing Machines. These weighing machines are very perfect to give an accurate and precise measurement of things without any hassle, unlike the traditional weighing scales.
So, here we are with our reviews of best Electronic Weighing Machines for shops.
5 Best Electronic Weighing Machines for Shops
If you are running a shop and want to replace your old weighing machine or want to buy a new one with some more added features, this is the best place you have visited. Here, we have gathered some of the best models of electronic weighing machines for shops that you can rely upon to buy. All these models have some amazing features and have come from the most trusted brands, so no need to worry about the quality.
Best Electronic Weighing Machines for Shops Reviews
Now, let's get dive into the full review of each model based on their specifications and buyers feedback and pick the best one accordingly.
1. Equal Digital Weighing Scale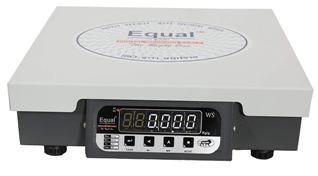 This one is a perfect and best-in-class digital weighing machine suitable for both shops as well as for your home and kitchen. It comes with a maximum weighing capacity of 50 Kg with the accuracy of 5g. Its large platform of 300mm x 300mm makes it easy to weigh things up to the maximum weighing capacity. This weighing machine from Equal comes with a white LED display that lets you read the measurements with ease. Also, its low profile feature enables it to weigh heavy weight with ease of lifting.
Key Features
Bright white LED display for better readability
Low Profile makes it easy to weigh the heavy weights
Removable pan for easy cleaning
Large platform of 300mm x 300 mm
Pros
Beautiful and stylish appearance
The maximum weighing capacity of 50 Kg is awesome
You can use it both for shops as well as for household purposes too
Cons
The minimum weighing capacity is 50g, so not suitable to measure the weights below 50g
2. Atom A124A Electronic Weighing Scale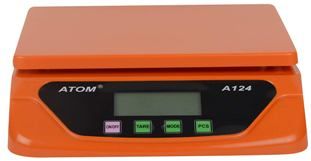 This compact digital weighing scale comes with so many remarkable features and hence a good weighing machine for shops. It has the maximum weighing capacity of 30 Kg, and the minimum weighing capacity is 1gm. For the best accurate and precise measurements, this one really works great.
This digital scale comes in a stylish design as well as orange in color that offers a great aesthetic look. Its portable design makes it easy to use and carry anywhere with you.
Key Features
Auto Shut Off
Auto Zero Tracking
Outside Calibration
Auto Backlight
Counting Function
LED Green display
Pros
Quality is up to the mark
Accurate and precise measurements
It can be operated on both battery and electricity
Cons
The platform size is small as per the maximum weight of 30Kg
3. Taj+ Table Top Electronic Weighing Machine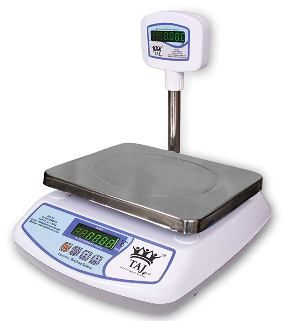 This is one of the best quality tabletop electronic weighing machines from the brand Taj+. This weighing machine offers to measure the weight up to 30 Kg along with the triple accuracy of 1g, 2g, and 5g. It comes with two bright green, attractive displays one in front and one on the pole for the better readability of the measurements. It also comes with the Pcs counting function as well as Kg/ltr conversion. The very best art is its bigger pan size that makes it an ideal option for every retail shop.
Key Features
30 Kg capacity with 1g accuracy
Bright Green Dual LED display
Best in class SMD based motherboard for better reliability and durability
Big Pan Size 240mm x 300mm
Pcs counting function and Kg/ltr conversion function
Pros
Great product in this price range
The build quality is very nice
Offers accurate and precise measurements
The two bright green attractive displays one in front and one on the pole makes it easy for customers also to view the weight
Cons
4. Metis Electronic Weighing Machine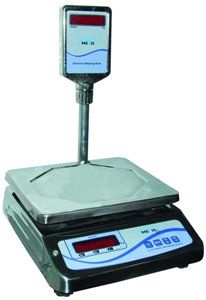 This premium quality weighing machine from the brand Metis is one of the great choices for all retail and sweet shops. It offers the very precise and accurate measurements and can weigh up to 30 kg. The platform size is also pretty enough that lets you weigh things up to the maximum weighing capacity of the weighing machine.
Key Features
Tare Function
Bright Green Dual LED display
Auto Shut Off
Auto Backlight
Big pan size250mm x 300mm
Pros
Nice build quality
Precise and accurate measurements
Platform size is also good to measure things very easily
Consumes very less power
Cons
5. AmtiQ TS 500 Electronic Weighing Machine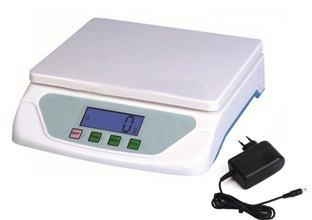 This high-quality electronic weighing machine from the brand AmtiQ is one of the multi-purpose scales with a lot more great features. This one is an ideal option to be used in hotels, chocolates, and condiments shops, etc. It comes with a high precision strain gauge sensor system that offers accurate and precise measurements of the things. This machine also comes with the Tare option to weigh different ingredients in the same container. The very best feature of this electronic weighing machine is that it offers accurate measurements even in high humidity areas because of its splash-proof design.
Key Features
Maximum weighing capacity 25 Kg
Tare Option
Auto Shut Off
High Precision Strain Gauge Sensor System
Accuracy 1g
Why choose Electronic Weighing Machines for Shops?
Don't you remember those traditional weighing scales that were more similar like Seesaw? And to weigh things on that scales, the shopkeepers usually had to position the iron weights on one section and the ingredients to measure on the other section. The weighing got to be finished when both the sections achieve the balancing position. The main downsides for those traditional weighing scales are that they are not very precise and when it comes to measuring things in smaller quantities, they are quite difficult to measure.
But the digital and electronic weighing machines are now becoming the smartest way of weighing things and available in every retail shop, kirana stores, sweet shops, etc. The best part is that it comes with an LCD display that shows the very compact and extremely precise measurement of things you need to measure. You can even measure the smaller amounts very precisely in these modern electronic weighing machines.
Things to Consider Before Buying Electronic Weighing Machines for Shops
If you are planning to buy a new electronic weighing scale for your shop, whether to use for your household needs, you must go through the following points to choose the perfect one.
Scale Capacity: This one is the most important point to consider if you want to buy a weighing scale for commercial purpose. The standard capacity of an electronic weighing scale is 5 Kg, but for commercial purpose, you can buy the one with capacities of 10 kg, 20, Kg, and so on up to 150 Kgs.
Platform Size: The electronic weighing machines for shops must have the larger platform size that let you measure things very easily.
Fluid Measurement: This is another important feature, an electronic weighing scale must have. This feature makes the weighing scale easy to measure the liquid ingredients too like oil, and honey, etc.
Good Screen: Always opt for the weighing machine having a good LCD that makes your readability of the measurement easier. Some advanced models of electronic weighing machines also come with the LCD with backlight illumination.
Water Proof: The waterproof models are proving to be the most ideal option that makes the cleaning of it very easier. Also, whenever you measure the liquid ingredients, no need to worry about if the ingredient drops down on the surface of it, no damage will occur.
Conclusion
This is all about the best electronic weighing machines you can buy for either using at your shops or even for household measuring needs. All these models offer highly precise and accurate measurements. These electronic weighing machines we have listed above are also the cost-effective options. So pick the one according to your requirement and budget preferences.
Read Related Reviews
Buy Related Products Online
Klick n Shop ShopAIS Weighing Scale Digital P...
65%
Baijnath Premnath Premium 30Kg x 1g Digital M...
58%
RYLAN Electronic Digital Kitchen Scale, Kitch...
69%
Glun Multipurpose Portable Electronic Digital...
58%
RC Enterprises Digital Electronic Ultimate 10...
70%
REXBURG® Electronic Kitchen Digital Weighing...
75%
ENEM Digital Weighing Machine for Kitchen wit...
71%
MCP Compact Scale with Tare Function SF 400A ...
47%