Frothing milk is a pretty easy thing to do. You just pour in some milk, stick it on the stove, and wait for the steam to come out. But why not take convenience to the next level and use the Best Milk Frothers? This way, you don't have to babysit the stove, and there's no risk of getting scalded.
The best milk frother can help you make a big variety of creamy and delicious flavors: from lattes and cappuccinos to hot chocolate and soy milk. While you can buy pre-made lattes at your local coffee shop, nothing tastes quite as good as fresh homemade latte, especially the ones that you can make with a milk frother.
In this review, our team of experts has extensively researched each model listed. With our detailed review, we examined the best manual, electric, and handheld models.
Best Milk Frothers In India- (Quick List)
Best Milk Frother – Reviews
1. Breville Cafe Milk Frother
High Performance and Versatile Milk Frother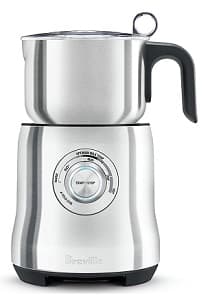 Breville cafe milk frother is the best bet if you want a high-performing and versatile device. No matter how fancy coffee maker or expensive coffee beans you have, the froth on your coffee makes the difference. And this milk frother does the same. It is the best buy for any true beverage aficionado. The best part is that it can handle large capacities of milk that sets it apart from our listed models.
Specifications
Dimension and Weight: 15.49 x 16.26 x 26.16 cm; 1.63 Kilograms
Material: Brushed Stainless Steel
Capacity: 3 Cups
Wattage: 500 W
Warranty: 1 Year
Key Features
The model comes in a simple, classy, and elegant design, having a milk jug and a power base. It includes a brushed stainless steel body with gray accents that looks premium.
It can hold up to three cups of milk, which we think is a decent capacity.
This milk frother uses induction heating and a spinning motion to create a silky and foamy texture for your drinks like cappuccinos and mochas.
The induction heating ensures that the frothed milk is heated to an even temperature. It also has a shut-off feature that automatically turns the device off when the milk has reached your desired temperature.
It comes with two frothing discs- one for cappuccino and one for latte. The cappuccino frothing disc creates a thicker, creamier froth, while the latte frothing disc makes smoother and silkier milk; so you can use them accordingly.
You can easily customize the temperature of the milk with the help of the power dial present on the device (ranging from 120 to 160 degrees Fahrenheit).
The best part is that it works well on different types of milk ( oat milk, cashew milk, almost milk, soy milk, etc.). You will discover each kind of milk will offer a unique flavor and texture to your beverage.
It also comes with a cold-stir option to create a cool foam to top an iced coffee or tea.
Cleaning is a breeze as both the frothing discs, the milk jug, and the lid are all dishwasher safe.
Pros
Decent capacity
Ideal for both hot and cold beverages
Adjustable temperature control
Easy to use and clean
Cons
2. Country Bean Stainless Steel Milk Frother
Best Manual Milk Frother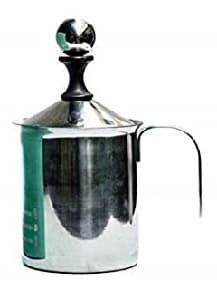 If you are searching for a high-quality milk frother with decent capacity and pricing, sturdy build, and top-notch performance, then our next best pick from the house of Country Bean is the perfect match. Using this manual milk frother, you can easily froth back home coffee in seconds, just like in the cafes.
Specifications
Dimension and Weight: 16 x 12 x 8 cm; 380 grams
Material: Stainless Steel
Capacity: 400 ml
Key Features
It has a stainless steel construction with mesh, making it durable and long-lasting. The design includes a stainless steel mug attached to a sieved plunger and a plastic knob on the top.
The double froth pump helps you make frothy and foamy milk. You just need to push the plunger up and down until the milk turns into a fluffy consistency.
It can hold 400 ml of milk.
It requires no power or battery for its operation; a simple mechanical frothing method makes it easy to use anywhere and anytime.
The double-walled sieve mechanism and the sturdy knob make the process of sieving very simple and non-messy.
The model works seamlessly with all kinds of coffee, whether it is a French Press, a Moka Pot, or a pour-over.
Pros
Durable construction
Very easy to use
The foam it makes is so thick, creamy, and dense
Budget-friendly product
Cons
3. Nespresso 4192-US Aeroccino4 Milk Frother
Best Milk Frother with Heater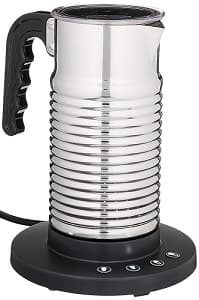 Nespresso has always been synonymous with high-quality espresso. So our next best milk frother comes from the house of Nespresso, with a lot of top-notch features. The best part is that this milk frother comes with a heater too, which sets it apart from other models we have mentioned over here.
Specifications
Dimension and Weight: 17.98 x 17.98 x 20.98 cm; 1.04 Kg
Material: Stainless Steel carafe and plastic base
Watts: 490 W
Warranty: 1 Year
Key Features
The design includes a carafe, base, transparent lid and seal, and a whisk.
Its high-quality construction (Stainless steel jug with durable plastic base) makes it an ideal product for long-term usage without worrying about any breakage. Plus, the heat-resistance handle makes pouring milk or froth a snap.
Its base has four buttons for different drink functions (hot milk, cold foam, and two hot foam options for cappuccinos and lattes) that promises to offer rich quality foam every time.
The device is very simple and straightforward to use. You just need to pop the magnetic whisk in the middle of the jug, put it on the base, and plug it in.
This milk frother can froth 130 ml of milk in just a minute and heat 60 ml in under two minutes.
For more convenience, there are two different levels marked on the inside of the jug to let you know the maximum amount of milk to put in.
It also features an automatic shut-off to avoid milk from burning.
The dishwasher-safe body of the Nespresso Aeroccino 4 milk frother makes cleaning a breeze.
Pros
High-quality construction
It looks stylish and best for both home and professional use
The four frothing modes, including cold foam, is a nice feature
Easy and intuitive control
Cons
4. AmiciKart Electric Automatic Milk Frother
Best Handheld Milk Frother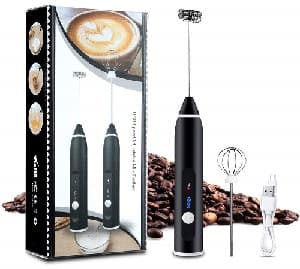 With a lot of good customer ratings on Amazon, the AmiciKart Electric Automatic Milk Frother is another best-rated model on our list. Its unique light-weighted design allows you to use it easily. Moreover, it's a handheld frother so that you can stick it directly into your cup for frothing.
Specifications
Dimension and Weight: 23.4 x 11.4 x 3.4 cm; 180 Grams
Color: Black
Speed Settings: 3
Warranty: 1 Year
Key Features
This cordless model is powered by a 1200mAh battery, so you won't have to worry about finding an electrical outlet. Plus, it comes with a universal USB port or charge line to let you charge the device anywhere and anytime with your power bank.
The stainless steel whisk can make the perfect milk foam for your coffee from macchiato, cappuccino, latte, mocha, etc.
It also comes with an extra egg beater for whipping eggs and cream for all your baking tasks.
The three-speed adjustments (Slow- 8000 RPM, Medium- 1000 RPM, and High- 1200 RPM) using one-button operation makes it to froth the way you want.
The lightweight whisk whips up all types of milk — from whole and skim to almond and oat, in less than a minute with the push of a button.
Its detachable stainless steel whisk is rust-proof and durable. Moreover, it is easy to clean too— simply put the whisk head under the running water.
The model is compact enough to fit easily in your kitchen drawer or in your bag to make frothy coffee while traveling.
The flat base allows easy vertical standing on the table or cabinet while using it. Therefore, no need to buy a separate stand for this.
Pros
Sturdy and lightweight design for easy operation
Two attachments are very good
Good grip
Easy to use and clean
Cons
5. InstaCuppa Handheld Milk Frother
Value for Money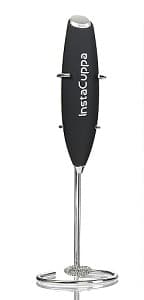 The next comes Instacuppa, a best handheld milk frother to get a foamy top on your coffee drinks. This mini version of a portable hand blender looks very cute and stylish, and the ease of use it offers is unbeatable.
Specifications
Dimension and Weight: 8 x 8 x 27 cm; 200 gm
Color: Black
Speed Settings: 1
Warranty: 1 Year
Key Features
The classy black finish of the appliance beautifully complements your kitchen style. On the plus side, you can also choose from a range of color options, including white, red, yellow, silver, pink, and mint green.
The sleek and light-weight design of the gadget allows you to use it easily, whether in your kitchen or while traveling. Moreover, the ergonomically designed soft-touch handle provides a better grip while operating it.
The whisk of the frother is made up of premium-grade stainless steel that won't rust or break over time. Plus, it is dishwasher safe too, so cleaning is very easy.
InstaCuppa Milk frother works on two AA batteries, so you don't need to worry about the cord or finding sockets.
It also comes with a very stylish and elegant-looking stand that allows you to conveniently place it anywhere.
The steel whisk is easily detachable that you can put under the running water for easy cleaning. Therefore, the battery chamber will not get wet; thus, preventing any malfunction in the device.
Pros
Nice ergonomic handle
Very easy to use and clean
It is a versatile product that can be used to froth any hot and cold liquid (milk, milkshakes, cocktails, and hot chocolate, etc.). You can also use it to whip eggs and cream.
Noiseless operation
Cons
6. Tyzag Milk Frother Handheld
Best Budget Pick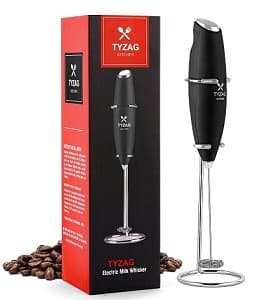 If you are searching for the best milk frother at a pocket-friendly price tag, this one from Tyzag is surely the best investment. It can create foamed milk in just a few seconds and let you enjoy cafe-style coffee at home. The model is best for cappuccino, latte, macchiato, and hot chocolate.
Specifications
Dimension and Weight: 7 x 7 x 25 cm; 150 Grams
Material: Stainless Steel
Color: Black
Warranty: 1 Year
Key Features
It looks stylish in elegant black color and also comes with a stand for safekeeping it in an upright position. You can also choose from other color options (red and blue) according to your kitchen style.
The stainless steel whisk is durable enough for long-lasting usage and can create rich and creamy froth in a matter of seconds.
It is also featured with a high torque motor that ensures enough power for creating foamy milk very easily.
The sleek and lightweight design allows you to hold it easily while operating the device.
Cleaning of the whisk is too easy-just rinse it in hot water and dry it for further usage.
Pros
Ergonomically designed
Easy one-button operation
Sleek stand for easy storage
Battery operation for easy usage anywhere and anytime
Cons
7. Aerolatte Milk Frother with Stand
Best Stylish Milk Frother with Stand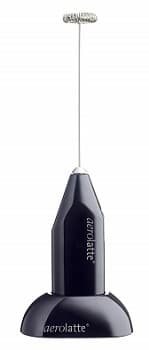 Though all the models we have mentioned here look stunning, this milk frother from Aerolatte stands out for its eye-catching design and impressive stand. This professional-grade machine is the best fit for any coffee shop, bar, or home kitchen. It is a simple battery-powered device that can froth hot and cold milk and mix hot chocolate in less than a minute with the push of a button.
Specifications
Dimension and Weight: 2.79 x 3.81 x 21.59 cm; 120 Grams
Material: Stainless Steel
Color: Black
Warranty: 5 Years
Key Features
The frother is made up of stainless steel that ensures solid construction. Plus, the premium-quality components ensure its exceptional durability and performance.
Its sleek and lightweight design looks premium, and it sits in a stylish same color stand for comfortable storage.
Being cordless, the device can be used anywhere as you don't have to search for the plug points. Moreover, the batteries last for a decent period of time.
The model comes with a large frothing whisk that can create gorgeous creamy foam (in just 20 seconds) for your coffee toppings.
It works well with any type of milk (almond, coconut, etc.) and can be used for any kind of drink, sauces, soups, etc.
Cleaning of the device is also very simple- just unplug the frother and rinse the whisking head and the stem under a tap. Use a damp cloth to wipe out the stand and the handle.
Pros
Stylish design
Includes a sturdy stand for its storage
It makes high-quality foam
Light in weight and portable
Cons
Hand wash only, no dishwasher-safe
The larger whisk results in a slower speed
How to Choose the Best Milk Frother? (Buying Guide)
1. Different Types of Milk Frother- Choose the type that suits you best
I. Manual Milk Frother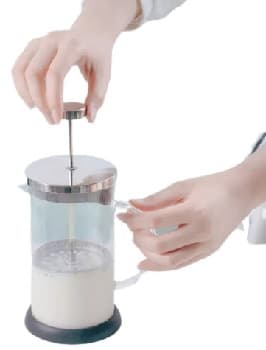 Manual milk frothers, also known as hand-pump milk frothers, are popular for their affordable price and easy maintenance. Like the name, you need to put some manual effort to create froth using these frothers.
Typically, they have a plunger attached to a mesh screen within a stainless steel cup. You just need to close the lid and use the plunger to plunge the milk rapidly for 10-30 seconds.
Some even take 4-10 minutes to froth the milk. On the downside, these are perfect only for making one to two cups of beverage at the same time.
II. Handheld Milk Frother

The handheld milk frother looks the same as a mini immersion blender. It comes with a whisk and a propeller. To create foam in milk, you need to submerge the tip of the whisk in the milk or any mixture and switch it on. You can make foam in the mixture by moving the unit inside it. Addingly, it allows you to froth both hot and cold milk.
The best part of handheld milk frother is that they are small, compact, and battery-operated, so you can easily use them anywhere and anytime. Plus, they are easy to store as well.
III. Automatic/Electric Milk Frother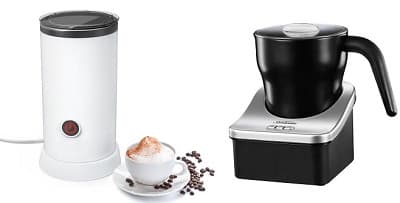 The electric milk frothers are the most advanced and convenient versions and are capable of frothing milk in high quantities at once. That's why these machines are ideal for professional use and for the home with large families.
These machines look like small food processors, or some include a jug with an induction base. They are best for making multiple coffee beverages at the same time. Some can also heat the milk at the same time while frothing. On the downside, these machines are expensive over the former ones, but the features they offer justifies the price range.
2. Capacity
Capacity matters. With capacity, we mean here the reasonable amount of milk that a model can froth in one batch. So whether you are buying the frother only for you or for your family– make sure the model you choose comes with enough capacity to fulfill your requirements.
The manual and electric milk frothers (usually comes with a container) can whisk and froth from 1-4 cups of milk in one go. However, the capacity varies from model to model.
And, with a handheld milk frother, you can froth only one cup at a time.
3. Temperature Setting (Hot, cold, and warm)
With milk frother, expecting hot drinks like lattes, cappuccinos, and hot chocolate is pretty understood. But some smart models are capable of warming milk and also allow cold stir options. So, you can easily make your own iced coffees/frappes.
The automatic electric milk frothers and handheld milk frothers are best to choose if you want multiple temperature settings in your device.
Some electric milk frothers also come with moderation settings that allow you to choose the thickness of the froth (smooth, thick, or fewer bubbles only- you can choose the desired one accordingly).
4. Motor Power and Speed
Another thing to keep in mind is the motor power. You need to ensure that the unit you purchase offers enough power to whip up large quantities of milk quickly without overheating. It also needs to provide sufficient power to whip up small amounts of milk efficiently.
You must consider the unit that comes with a speed of at least 15000 RPM to whip up simple things like milk, powders, and supplements, etc. But note that this speed is enough only for thin froths.
On the other hand, if you want to mix heavier and thicker mixtures, you must consider the unit that comes with at least 19000 RPM motor.
5. Power Consumption
The handheld models consume less power as compared to the larger electric models. It is better to check the power rating of the frother before purchasing it. The higher the wattage, the higher will be its efficiency, but it will consume more energy. So, make sure that you choose the right appliance for your household to keep your electricity bills at a manageable level.
6. Battery
A battery-powered milk frother is ideal for those who live in areas where the electricity supply is unreliable. They're easy to use during off-hours and won't drain batteries quickly. Plus, you can also use them where no power sockets are available (while traveling).
7. Fothing Time
The unit that takes a minimum amount of time to make froth is always preferable. Depending on the design and quality of the milk frothers, different models require different amounts of time to froth milk.
The comparison says that electric milk frothers are faster and time-saving over the handheld milk frothers. They can tackle huge amounts of milk and offer a quality froth in very less time.
On the other hand, manual milk frothers take much more time and manual effort than the electric and handheld models.
8. Size and Portability
The different types of milk frothers come in different sizes. So, it is very important to go for the best-suited size that fits well on your kitchen countertop or in your kitchen cabinet. A larger device may not fit well in smaller spaces where space is limited.
The next comes portability, which is again an important factor of consideration if you love to use your device on the go or for campings and picnics. In our opinion, the manual and handheld milk frothers are the best options to use on the go.
9. Consider Milk Type
People use different types of milk in their favorite beverages, so it is very important to consider the best milk frother accordingly. Make sure the frother you are going to purchase is compatible with different types of milk (almond, coconut, etc.) to serve your needs.
In our research, we found that handheld milk frothers are best for every kind of milk (including both lighter and heavier milk).
On the other hand, the electric milk frothers are best for lighter milk only. So, make your purchase accordingly.
10. Ease of Use
Complicated operations in a milk frother engage a lot of your valuable time; better to invest in the one with easy and intuitive controls and operations. The device with some basic functions and simple controls like separate buttons for whisking, frothing, and temperature settings allow users to use it easily and best for beginners too.
11. Ease of Cleaning
After the ease of use, cleaning is also an utmost important thing to maintain hygiene. Well, most of the milk frothers are easy to clean under running water; better to opt for the models that are dishwasher-safe. It will save your time and effort for cleaning the appliance. Not to mention, the outer body, especially for handheld and electric models, must be easily wipeable to make it look shiny and spotless.
12. Price
Finally, price matters too. There's no point in spending money on something that doesn't work properly. So, try to find a product that costs less yet performs better. In the case of milk frothers, the different types of it come in different price ranges. If you want to purchase a decent quality product, you may consider the following price ranges.
Manual Milk Frothers: Rs 1000- Rs 2000
Handheld Milk Frothers: Rs 600- Rs 1500
Automatic Electric Milk Frothers: Rs 3000- Rs 15000 (Goes higher up to Rs 50000 depending upon the brand and features present in it)
13. Warranty
It goes without saying that any appliance worth purchasing must last long enough to serve you for several years. Look for the milk frothers that come with warranties ranging from 1 year to 5 years, depending on the manufacturer.
Milk Frother Vs. Milk Steamer
You have probably wondered if milk frothers and milk steamers are the same. Well, the answer is simply no. Steaming and frothing (or foaming) are similar to some extent but not exactly identical.
Talking about the key difference, the milk frother makes the milk very foamy, light, and airy instead of a steamer. On the other hand, milk steamers heat the milk with steam and texturize it as well. A steamer, however, won't produce as much texture (or foam) as a frother can.
Conclusion
Finally, wrapping it up, we expect that the information above, as well as reviews of our best-picked models, are pretty much enough to make an informed purchase decision. If you are still confused, you may opt for our personal recommendation Breville Cafe Milk Frother. This is a quality product that won't let you down for its performance and ease of use.
Please do write to us for any of your suggestions and feedback regarding this blog; we would love to hear from you.
Read Related Reviews
Buy Milk Frother Online
SimpleTaste Electric Milk Stand, One Touch Ha...
63%
Zuvexa USB Rechargeable Electric Foam Maker -...
50%
The Earth Store Swifther Handheld Coffee Frot...
60%
Bonsenkitchen Milk Frother Handheld Electric ...
66%
TEX-RO Coffee Frother Stainless Steel Manual ...
65%
Electomania Milk Frother for Coffee, Manual M...
63%
Country Bean Stainless Steel Milk Frother, fo...
7%
IKEA PRODUKT Milk-frother Black
56%