Essential oils have been used for centuries for their therapeutic and aromatic properties. And with the rise of aromatherapy and natural remedies, essential oil diffusers have become a popular choice for spreading these oils into the air. Not only do they add a pleasant scent to any room, but they also have numerous health benefits, such as improving mood, reducing stress, and promoting better sleep.
However, with a wide range of diffusers available in the Indian market, finding the best one can be a daunting task. That's why we have researched and compiled a list of the best essential oil diffusers in India to help you make an informed decision.
From advanced technology to elegant designs, these diffusers have been carefully selected based on their effectiveness, ease of use, and overall customer satisfaction. So, whether you're a seasoned essential oil user or just starting out on your aromatherapy journey, read on to discover the top diffusers that are sure to enhance your well-being and elevate your home ambiance.
Benefits of Using an Electric Essential Oil Diffuser
Air Purification: Some essential oils, like eucalyptus and tea tree, are known for their antimicrobial properties, helping cleanse the air.
Relaxation and Sleep: Oils like lavender and chamomile promote relaxation, thus aiding better sleep.
Mood Enhancing: Citrus oils can uplift moods, while scents like rose can induce feelings of love and warmth.
Respiratory Health: Essential oils can aid in clearing nasal passages, making breathing easier.
Safe Alternative to Candles: Electric diffusers don't have an open flame, making them a safer alternative.
Factors to Consider When Buying an Electric Essential Oil Diffuser
1. Capacity: Consider the size of the water tank or reservoir in the diffuser. A larger capacity allows the diffuser to run for a more extended period without the need for refilling.
2. Run Time: Different diffusers offer varying run times. Some may run continuously for a few hours, while others have intermittent settings or timers. Choose one that aligns with your preferences.
3. Diffusion Method: Electric essential oil diffusers employ different diffusion methods, such as ultrasonic, nebulizing, or heat-based. Ultrasonic diffusers are the most common as they use water to disperse the oil into the air.
4. Lighting Options: Many diffusers come with LED lights that can add ambiance to your space. Some offer color-changing options, while others allow you to set a specific color or turn the lights off.
5. Auto Shut-off: Look for a diffuser with an automatic shut-off feature that turns off the device when the water level is low, preventing damage.
6. Design and Aesthetics: Consider the diffuser's design and how well it fits into your home decor. You can find diffusers in various styles and materials.
7. Noise Level: Some diffusers operate quietly, while others may produce a low hum. If noise is a concern, opt for a model with a quiet operation.
Best Essential Oil Diffusers in India Reviews
1. Allin Exporters Aromatherapy Diffuser
The Allin Exporters Ultrasonic Humidifier Aroma Diffuser is a fantastic addition to any living or workspace. Made from high-quality ABS grade plastic, it effortlessly diffuses your preferred essential oils, creating a natural and refreshing ambiance. It also works as a humidifier; thus ideal for maintaining optimal humidity levels in various settings, including homes, offices, spas, and massage parlors.
Utilizing advanced ultrasonic technology, it operates at 2.4 MHz, ensuring essential oils maintain their therapeutic properties. With a generous 500ml water tank, it can run continuously for up to 10 hours on a single refill. The diffuser boasts a timer function and auto-shutoff feature for added convenience and safety.
This device not only enhances the air quality by maintaining humidity but also neutralizes harmful ions, making it perfect for combating passive smoke, stale air, and allergens. The integrated LED lights offer a soothing range of 7 colors to set the mood, and the diffuser can be used as a standalone humidifier during winters or in air-conditioned spaces.
2. HOMDIS Essential Oil Diffusers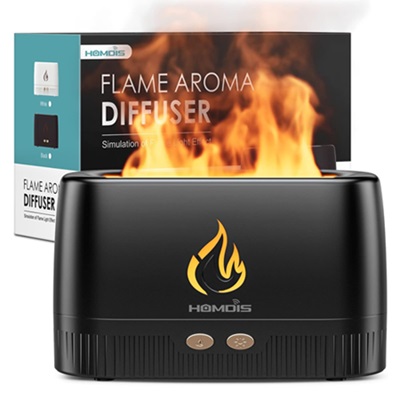 The HOMDIS Essential Oil Diffuser offers a unique and soothing experience for anyone seeking relaxation and tranquility. Versatile and portable, this diffuser serves as an aromatherapy diffuser, mist humidifier, mood light, and night light all in one. Whether in your home, office, yoga studio, or bedroom, it elevates the ambiance while improving air quality.
With its natural flame effect, it mimics the warm ambiance of a sunset lamp, creating a serene atmosphere in any space. The option to switch between soft and fierce flame modes adds versatility to the experience.
Refilling this diffuser is hassle-free, thanks to the top-fill design and transparent inner tank, which makes it easy to monitor the water level. Operating quietly at less than 30dB, it won't disrupt your peace and quiet, ensuring a restful night's sleep.
Safety is a top priority with its auto shut-off feature, making it reliable for daily use. Crafted from food-grade PP material, it's a safe and stylish addition to any environment.
3. Rene-Maurice Electric Oil Humidifier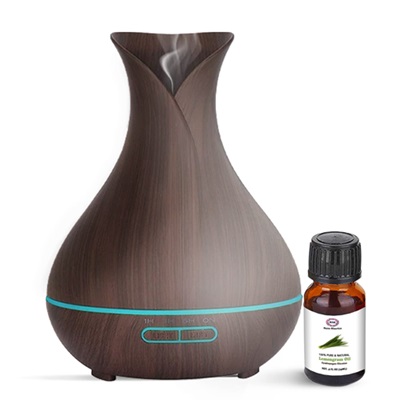 The Rene Maurice electric diffuser is not just an aroma diffuser; it's a piece of art with its unique vase-shaped design and wood grain finish.
This electric diffuser not only enhances the ambiance but also acts as a humidifier, providing dual benefits. It comes with a generous 400ml capacity and can produce up to 30ml of moisture per hour, ensuring a continuous and soothing mist for up to 12 hours. The ultrasonic vaporizing diffuser technology operates quietly and efficiently, creating a serene atmosphere.
With the option to control mist intensity and cycle through 7 mood-changing LED lights, this diffuser allows you to set the perfect mood for any occasion. It's ideal for use in your home, therapy spaces, spa, and even offices, creating a peaceful and romantic environment. Plus, it comes with a free 15ml essential oil, making it a perfect gift for festivals like Navratri, Dusshera, and Diwali.
4. Dr Trust Aroma Oil Diffuser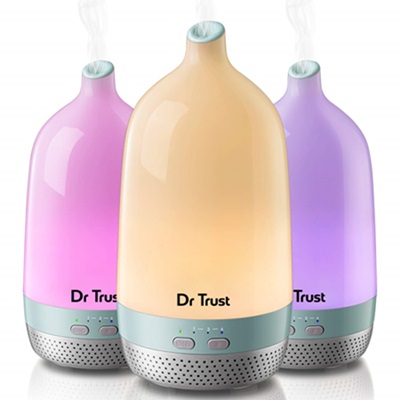 The Dr. Trust Aroma Oil Diffuser is a versatile home healthcare device that combines a cool mist air humidifier with a diffuser. With a 200ml water capacity, it operates silently for up to 6 hours, improving air quality and reducing the risk of airborne conditions.
Using advanced ultrasonic technology, it breaks down water and essential oils into fine particles, refreshing the air and eliminating odors. This diffuser offers all-round healthcare benefits, alleviating dry skin, boosting immunity, and relieving sinus issues, allergies, stress, and insomnia.
It's a safe way to enjoy the positive effects of aromatherapy without candles, making it suitable for pets and kids. The easy-to-use on/off timer offers flexibility, and the three-color indicator lights create a soothing ambiance. The Dr. Trust Aroma Oil Diffuser is a must-have for enhancing your living space and well-being.
5. Asian Aura Handcrafted Ceramic Aroma Diffuser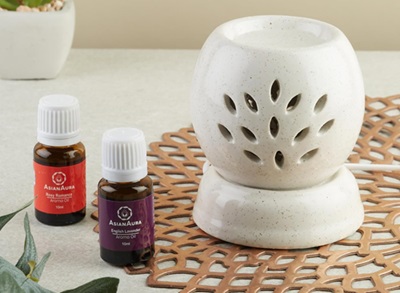 The Asian Aura Aroma Diffuser offers a truly unique blend of aesthetics and functionality. Handcrafted from high-quality ceramic, this round-shaped diffuser serves as both a decor piece and an effective fragrance distributor, making any space more inviting.
Coming in a classic brown shade and being budget-friendly, it promises an elegant and affordable aromatherapy solution for those seeking tranquillity amidst their busy lives.
The diffuser's small, lightweight, and portable size make it versatile, fitting seamlessly on your work desk, bedside table, or kitchen counter. The package includes the electric ceramic diffuser along with two bottles of aroma oils in English Lavender and Rosy Romance fragrances, each 10ml. Moreover, its halogen light source accentuates its charm.
Highly recommended for those aiming to create a serene atmosphere while being mindful of their pockets.
Conclusion
Investing in a good diffuser can boost your well-being and make your home a relaxing heaven. Whether you need a diffuser with a large water tank, extended usage time, or customizable features, there's surely one that fits your preferences. We hope that this guide will assist you in finding the perfect essential oil diffuser for your specific needs.
Related Reviews
Explore More Essential Oil Diffusers
Larrito Wooden Cool Mist Humidifiers Essentia...
67%
ASIAN AURA Ceramic Aroma Diffuser Oil,Candle ...
74%
Asian Aura Handcrafted Ceramic Electric Round...
73%
Prathna Ceramic Aroma Diffuser | Kapoor Dani ...
76%
Pure Source India Aroma Diffuser Oil (Lavende...
54%
VRPRIME 8pc Essential Oil Aroma Diffuser for ...
55%
MINISO Scent Diffusers, Home Fragrance Flamel...
HOMDIS Essential Oil Diffusers Quiet Aromathe...
78%