Himalayan salt lamps have gained immense popularity in recent years for their unique aesthetic appeal and potential health benefits. These beautiful natural lamps are carved from pink salt crystals extracted from the Himalayan mountain range, emitting a soothing and warm glow when lit. In addition to their captivating ambiance, Himalayan salt lamps are believed to have various health benefits, including improving air quality and promoting relaxation.
If you're looking to enhance the ambiance of your living space while enjoying the potential health advantages, here are the best Himalayan salt lamps available in India.
Best Himalayan Salt Lamps in India Reviews
1. Global Aroma Himalayan Rock Salt Lamp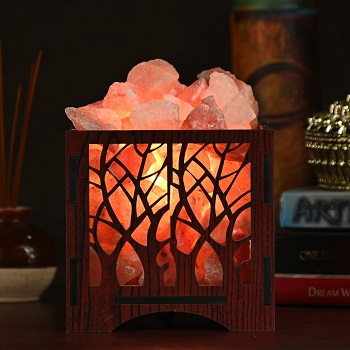 The Global Aroma Himalayan Salt Lamp is our top pick due to its striking aesthetic appeal and overall functionality. It is a unique home decor item that serves a dual purpose of beautifying your space and promoting positive energy. This salt lamp is carved from natural rock salt that is approximately 2 million years old.
The lamp is not only energy-efficient but also serves as an air purifier and deodorizer. It is believed to neutralize electromagnetic radiation, making it an ideal addition to your bedroom for promoting sound sleep.
The lamp is compact with dimensions of 13 cm in height and 12.6 cm in width, and weighs approximately 2 kg. It has a natural finish and comes with an LED light source. Despite its small size, it can make a big impact on your room's ambiance and your well-being.
In terms of pricing, it is quite affordable and offers good value for money. The package includes the Himalayan salt lamp and a power cable with a bulb holder and leads.
2. Malowal Himalayan Rock Salt Lamp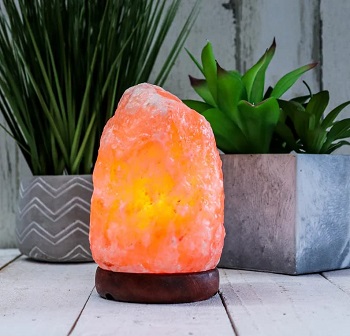 The Malowal 7-inch Himalayan Rock Salt Lamp is a versatile home accessory that offers both aesthetic appeal and health benefits. Made from salt crystals from the Himalayan mountains, this lamp emits a warm amber glow when lit, creating a soothing and comfortable environment.
The lamp is mounted on a durable neem wooden base, which is shrink-resistant and termite-resistant. It comes fully assembled and includes an extra bulb, ensuring a stress-free experience for the user. The lamp is versatile and can be placed in various spaces, such as bedrooms, living rooms, offices, spas, and hotels.
In addition to its aesthetic appeal, the lamp also serves as an air purifier by emitting negative ions into the air. It is hygroscopic, meaning it absorbs moisture from the environment, trapping impurities inside the lamp. This process is believed to reduce stress, increase energy, and provide various health benefits such as improved skin condition and reduced congestion.
3. DARSHMOTI Natural Himalayan Rock Salt Lamp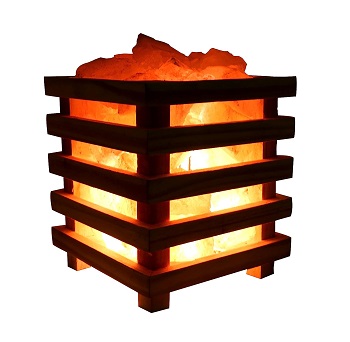 The Darshmoti Natural Himalayan Rock Salt Lamp is a product that combines beauty and wellness. It's a worthwhile investment for those seeking to improve their indoor environment and overall well-being.
Crafted with natural Himalayan rock salt, this lamp is not only aesthetically pleasing but also offers a range of health benefits. It is designed to purify the air, promote healing, and create a sense of harmony and tranquility in your surroundings.
The lamp is housed in a five-ring wooden basket, adding a touch of rustic charm to its overall appearance. It emits a warm, soothing light that can enhance the mood and create a relaxing atmosphere. This makes it a perfect choice for bedrooms, living rooms, or office spaces.
One of the standout features of this product is its versatility. It can be used as a night light, a decorative piece, or even a wellness gift. The lamp is also said to boost your mood and help you sleep better, making it a great addition to your bedtime routine.
4. Evolution Salt – Natural Crystal Himalayan Salt Lamp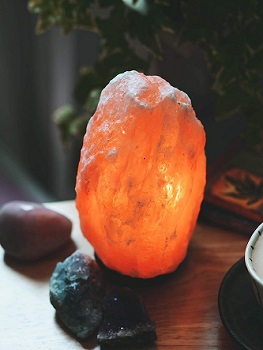 The Evolution Salt Natural Crystal Himalayan Salt Lamp is a remarkable product that brings the benefits of nature into your home. This lamp, weighing 4-6 lbs, is made from 100% pure Himalayan crystal salt, which is known for its natural ionizing properties. When lit, it emits negative ions into the air, neutralizing impurities such as allergens, dust, pollen, and pet odors, thereby improving the air quality in your space.
The lamp comes with a corded electric power source and includes a 15-watt bulb. The unfinished crystal shade and wooden base give it a rustic and earthy aesthetic, making it not just a health product but also a beautiful addition to your home decor.
5. Josan Brothers Himalayan Rock Salt lamp
The Josan Brothers Himalayan Rock Salt Lamp is a unique and beneficial addition to any room. This cylindrical-shaped lamp, weighing 1.52 kg and standing 6 inches tall, is made from genuine Himalayan salt, handcrafted in India. The lamp is not just a decorative piece, but also serves as a natural air purifier.
The hygroscopic properties of the salt allow it to absorb water molecules from the air, trapping dust and other pollutants, which can be beneficial for those suffering from respiratory issues like asthma. The lamp also emits negative ions, which can counteract the positive ions produced by electronic devices, potentially reducing stress levels and increasing natural energy.
The lamp comes with a corded electric power source and is energy efficient. Its polished finish and modern style make it a beautiful addition to any decor.
Conclusion
Himalayan salt lamps not only serve as beautiful decorative pieces but also offer potential health benefits, such as air purification and stress reduction. The lamps mentioned above are some of the best options available in India. By incorporating a Himalayan salt lamp into your living space, you can enjoy the calming ambiance and potential well-being advantages they provide. So, illuminate your surroundings naturally with one of these top Himalayan salt lamps and experience the soothing effects they have to offer.
Related Reviews
>Best Bedside Table Lamps
Explore More Salt Lamps in India
Generic Rural Kart 2-3 Kg Natural Air Purifie...
69%
Mystery & Magic of Soul 6 kg Natural Himalaya...
46%
Rural Kart 1-2 Kg Natural Himalayan Salt Lamp...
30%
Collectible India Natural Himalayan Rock Salt...
55%
Rural Kart 3-4 Kg Natural Air Purifier Ionize...
33%
Malowal 7 Inch Himalayan Rock Salt Lamp With ...
30%
Josan Brothers Himalayan Rock Salt lamp Cylin...
47%
RURAL KART 2-3 Kg Natural Air Purifier Himala...
53%