A well-chosen bedside table lamp can be the perfect addition to your bedroom, providing not only functional lighting but also enhancing the ambiance and aesthetics of your space. With the wide array of options available in the market, finding the best bedside table lamp can be a daunting task. In this article, we have curated a list of the top bedside table lamps in India, comparing their unique features and explaining why they stand out among the rest.
Best Bedside Table Lamps Reviews
1. Philips Hue Go Smart Light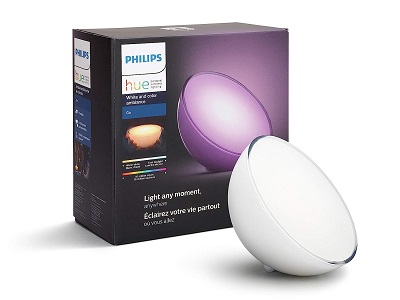 The Philips Hue Go stands at the top of our list of best bedside table lamps in India. With its exceptional features and versatility, flawless performance, energy efficiency, and overall quality, it stands out as a must-have lighting solution for your bedroom.
In terms of design, the Philips Hue Go features a sleek and modern aesthetic that blends seamlessly with any bedroom decor. Its compact size and minimalist design make it an elegant addition to your bedside setup.
One of the key reasons why the Philips Hue Go is a top choice is its smart lighting capabilities. Compatible with Amazon Alexa, Apple HomeKit, and Google Assistant, this lamp allows you to control the lighting using simple voice commands. Whether you want to adjust the brightness, change the color, or set up customized scenes, the lamp effortlessly responds to your voice, adding convenience and ease to your nighttime routine.
Its defining feature is the customization it offers: 16 million colors and tunable white light allowing personalization to an extent that is simply unmatched. Ease of setup and user-friendly Philips Hue App further cement its position at the pinnacle of smart lighting solutions.
Beyond functionality, it excels in the realm of sustainability. Its energy-efficient LED bulbs promise longevity and contribute to eco-conscious living.
The lamp's portability is another standout feature. Unlike traditional bedside table lamps, the Philips Hue Go is wireless and rechargeable, making it easy to move around and place wherever you desire.
2. Wipro 5W Led Table Lamp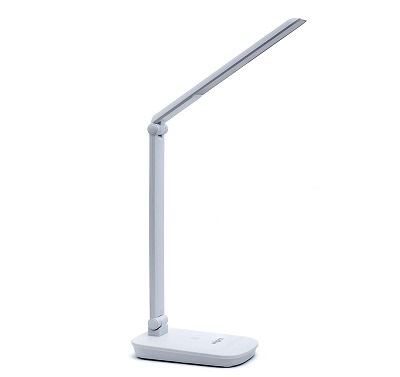 The Wipro 5W LED Table Lamp is another best choice when it comes to bedside table lamps. With its impressive features and affordable price point, it offers exceptional value for money.
One of the standout features of this lamp is its smooth dimming capability. With a seamless touch interface, you can control the brightness levels to match your requirements, offering three different settings for optimal light control. This feature ensures that you always have the right amount of light, whether you're reading, working, or simply relaxing.
The Wipro LED Table Lamp also doubles as an emergency light, thanks to its USB cable that is power bank friendly. This makes it a reliable light source during power outages or when you're on the move.
In addition, the lamp is energy-efficient, making it a sustainable choice for your lighting needs. With high brightness levels, it provides ample light while consuming minimal power.
3. Divine Trends Wooden Pebble Table Lamp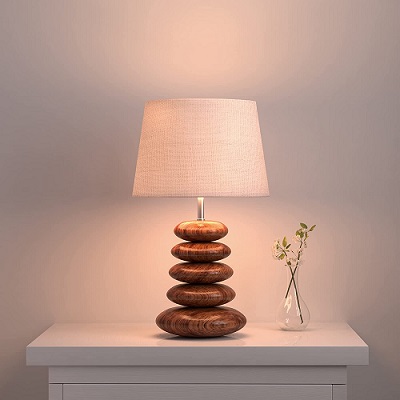 The Divine Trends Wooden Pebble Table Lamp is not just a lighting solution, but a statement piece that adds a touch of sophistication and warmth to your space.
With a height of 18 inches and a 10-inch diameter, this lamp is designed to fit perfectly in small spaces, making it an ideal choice for bedside tables, living rooms, or hotel rooms.
The lamp's polished natural wood finish and heavy base give it a rustic yet modern appeal, making it a versatile piece that complements a variety of decor styles. The on/off switch, CE-certified wiring, holder, and shade ring are all thoughtfully designed for ease of use and safety.
The lamp's cream jute shade diffuses the light beautifully, creating a warm and inviting ambiance in any room. Whether you're using LED, incandescent, or CFL smart bulbs, this lamp provides the perfect amount of light for reading, working, or simply relaxing. In addition, the Divine Trends Wooden Pebble Table Lamp is easy to maintain and clean, making it a practical choice for everyday use.
4. ExclusiveLane 'White Coiled' Arched Table Lamp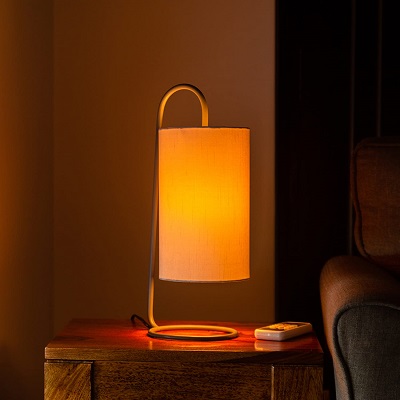 Our next best pick comes from the house of ExclusiveLane, which is a remarkable piece of craftsmanship that brings a unique blend of style and functionality to your living space.
The lamp is versatile and can be used as a bedside lamp, night lamp, or study lamp, catering to your various lighting needs. It also doubles as a beautiful table decorative showpiece, adding a touch of elegance to your room decor. The lamp's dimensions are 7 x 7 x 17 inches, making it a perfect fit for any space.
This bedside table lamp features a modern style with a shade of white and a dark grey base, fitting seamlessly into any room decor. It is made of iron and has a matte finish, which gives it a robust and stylish appearance. The lamp comes with an on/off switch for easy operation and uses an LED light source for energy efficiency.
Another standout feature of this lamp is that the shade and base are detachable, allowing for easy cleaning and maintenance. However, it's worth noting that the bulb is not included with the product.
5. Homesake Ceramic Table Lamp
The Homesake Ceramic Table Lamp is a perfect blend of elegance and functionality that adds a touch of sophistication to any room, whether it is bedroom, dining room, living room, or study room. With its antique design and golden shade, this lamp is a standout piece that enhances the aesthetics of your space.
The lamp is crafted from high-quality ceramic, ensuring durability and longevity. The glossy finish adds a luxurious touch, making it a focal point in any room. The lamp comes fitted with an imported E27 bulb holder and a linen shade, providing a warm and inviting light that creates a cozy ambiance.
One of the standout features of this lamp is its convenient on/off switch and 1.5-meter long wire, which ensures easy operation and flexibility in placement. The lamp is also easy to assemble, making it user-friendly.
6. Divine Trends Standing Floor Lamp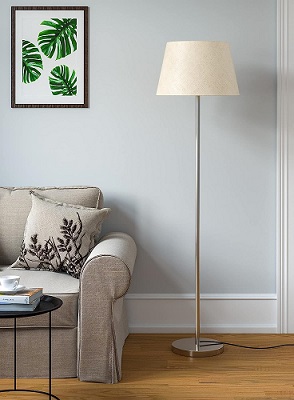 The Divine Trends Standing Modern Lampshade is a fantastic investment for those seeking to enhance their living space with a stylish and functional lighting fixture. Its elegant design, easy assembly, and exceptional build quality make it worth every penny.
Though it is not actually a table lamp but a stylish floor lamp; a versatile addition that is well-suited for various areas in a home, including bedrooms, living rooms, hallways, dining rooms, and study rooms.
Crafted with a satin nickel finish, this floor lamp stands at a height of 5ft, making it a perfect fit for both large and small spaces. The lamp is designed with a strong metal base and sturdy frame, ensuring its durability and stability.
The sleek metal frame with a matte black finish complements any interior decor, from modern to industrial styles. The lampshade itself is made of high-quality linen fabric, which creates a warm and inviting glow when illuminated. It offers a perfect balance between soft ambient lighting and functional brightness, making it ideal for reading or creating a cozy atmosphere in the room.
The lamp is equipped with a CE certified wiring holder and shade ring, ensuring safety and reliability. The on/off foot switch adds to the convenience of use. In addition, the lamp is compatible with LED, incandescent, CFL, and smart bulbs, offering flexibility in terms of light source.
7. Art Street Multi-Legged Side Table Lamp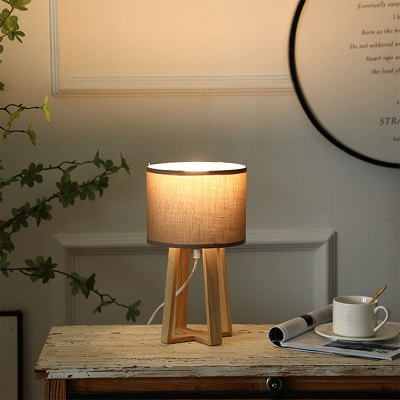 The Art Street Multi-Legged Side Table Lamp is a stylish and functional addition to any living space. Crafted with a natural wood frame, this lamp exudes a modern aesthetic that can complement any decor style. The lamp measures 5D x 18W x 32H centimeters, making it compact enough to fit on any side table or desk.
One of the standout features of this lamp is its unique lighting effects. The well-made lampshade and base work together to create an eye-friendly lighting environment without any flickering or buzzing, making your surroundings bright and comfortable. The lamp also features a durable, polished finish, ensuring it can withstand the test of time.
The high-quality base of the lamp is made of durable material, allowing it to be safely placed anywhere, even around children and pets. However, it's worth noting that the lamp is not dimmable.
Conclusion
In conclusion, choosing the best bedside table lamp can truly transform the atmosphere in your bedroom. This article has provided a detailed insight into the most stylish and practical options available in India in 2023, each bringing a unique flair to your nighttime sanctuary. So, go ahead and select a lamp that best reflects your style, serves your reading habits, and enhances your sleep routine.