In this digital age, work and leisure activities often go hand in hand with technology. With devices such as laptops, tablets, and smartphones, it is now more convenient than ever to work and play on-the-go. However, often times these devices are lacking in one important aspect: lighting. This is where portable USB LED lights come in. Whether you are working in a dimly lit coffee shop, reading a book in bed, or camping in the great outdoors, these versatile lights can provide the illumination you need to get the job done.
In this article, we will explore the best portable USB LED lights available in India, highlighting their features, benefits, and why they stand out from the rest.
1. Swapkart Portable USB LED Desk Lamp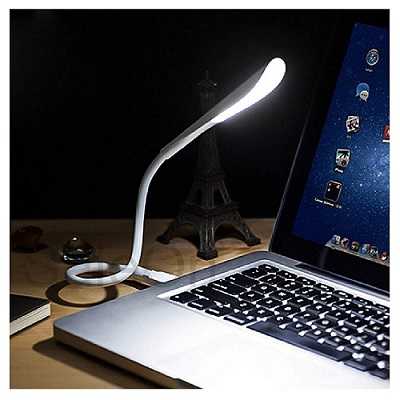 The Swapkart Portable USB LED Light is a compact and practical lighting solution that aims to provide convenience and versatility in various situations. Designed with a flexible gooseneck, this LED light can be easily adjusted to any angle, allowing you to direct the light precisely where you need it.
The lamp is made of silicone and acrylonitrile butadiene styrene, materials known for their durability. It also has a polished finish, giving it a sleek and modern look.
One of the standout features of this USB LED light is its portability. With a sleek and lightweight design, it can be effortlessly carried in your bag, making it an excellent choice for travelers, students, or anyone on the go. Its compatibility with USB ports ensures that you can use it with power banks, laptops, or any other USB-enabled device, providing flexibility in terms of power source.
The lamp is equipped with 14 high-brightness LED lights that provide a super bright white light. These LEDs have a long life expectancy of up to 10,000 hours, ensuring the lamp will serve you for a long time.
In terms of brightness, the SWAPKART Portable USB LED Light offers a decent illumination level. While it may not be the brightest LED light on the market, it provides adequate lighting for reading, working, or creating a cozy ambiance. The soft and flicker-free light emission ensures a comfortable and eye-friendly experience, even during extended use.
One of the standout features of this lamp is its power efficiency. It consumes less than 40mA, making it a super-saving power device. The lamp is powered by a standard USB plug, which you can plug directly into your USB port to power it.
2. Storin 28 LEDs Portable Flexible USB LED Light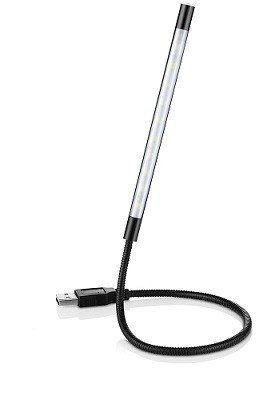 Next on our list comes the Storin 28 LED Flexible USB Computer light designed to provide efficient illumination for various tasks.
One of the notable features of this product is its wide range of compatibility. It can be connected to any USB port, making it suitable for use with laptops, power banks, desktop computers, and other USB-enabled devices. This versatility ensures that you can enjoy the benefits of this LED light in various settings, whether it's studying, working, or reading.
In terms of brightness, the Storin 28 LED Flexible USB Computer Light delivers a satisfactory level of illumination. The 28 LED bulbs provide ample light for focused tasks without causing strain on the eyes. The cool white light emitted by this LED light creates a pleasant working environment, making it suitable for prolonged use.
The USB LED light has excellent build quality, ensuring durability and longevity. The flexible gooseneck stays in place securely, even with frequent adjustments. Moreover, its lightweight and compact design makes it highly portable, fitting effortlessly into your laptop bag or backpack.
3. SaleOn USB Lamp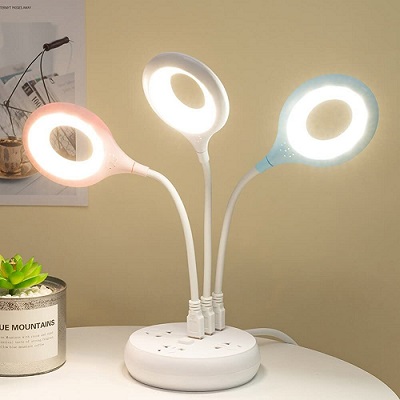 The SaleOn Desk Lamp is a versatile and user-friendly lighting solution designed for a variety of uses. With its touch switch on/off feature and three levels of brightness, it is perfect for use with laptops and power banks, providing eye protection and no heating issues.
The lamp is equipped with a super bright white light, with a long-lasting LED lamp life expectancy of up to 10,000 hours. Its flexible metal bellows allow for rotation and free bending, adjusting the angle without the need for clamps or glue, making it flexible and convenient.
The lamp is powered by a DC 5V input and comes in a sleek white color. The pillar is made of silicone hose, making it durable and flexible. It is ideal for reading, studying, working, and in office or bedroom settings.
4. Digilio USB Plug-in Mini LED Bulb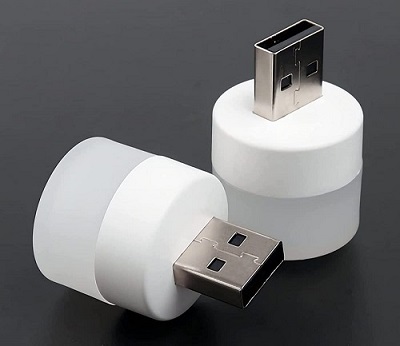 The Digilio USB Night Light is a compact and portable lighting solution that is ideal for various settings such as bedrooms, bathrooms, nurseries, hallways, kitchens, and even outdoor use.
It is designed with a soft light feature that provides eye protection, making it suitable for activities like reading, breastfeeding, or simply creating a calming atmosphere for sleep.
The Digilio USB Night Light is also highly portable. It's a plug-and-play device that can be powered by any standard 5V USB device, such as a power bank, mobile charger, computer, or laptop. This makes it a versatile lighting solution that you can use anywhere, anytime.
5. Storin Mini Portable USB Light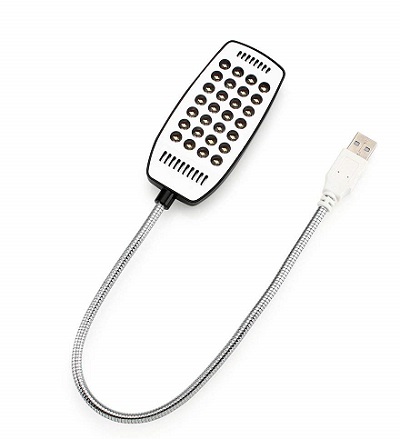 The Storin 10-LED USB Metal Black Desk Lamp is a small, portable lamp that is perfect for travelers or anyone who needs a flexible light source.
First and foremost, the design of this lamp is sleek and modern. The black metal finish adds a touch of elegance, making it visually appealing. The compact size is perfect for small spaces, yet it provides ample lighting for any task. The adjustable gooseneck allows for easy positioning, so you can direct the light exactly where you need it.
The lamp has 10 LEDs that emit a bright and focused light, which is perfect for reading, writing, or working on intricate tasks. The three brightness levels cater to different lighting preferences and can be easily adjusted. Additionally, the lamp features a color temperature range from warm to cool white, allowing you to create the ideal ambiance for any situation.
One of the standout features of this lamp is its USB-powered functionality. It can be conveniently plugged into any USB port, whether it's your laptop, power bank, or wall adapter. This feature makes it highly portable and eliminates the need for bulky adapters or cords, perfect for people on the go.