Just as the moon laces the night sky with its radiant glow, casting ethereal shadows and painting a tableau of tranquillity, wouldn't it be dreamlike to encapsulate this captivating spectacle within your own living space? Fortunately, with the advent of moon lamps, you can now own this celestial orb's miniature version that promises to bring the moon's enchanting luminescence to your home. These lamps are perfect for creating a relaxing and peaceful atmosphere in your home, especially in the bedroom.
In this article, we'll explore the top moon lamps available in India, highlighting their unique features and aspects. Whether you are looking for a minimalist design or a more intricate one, there is something for everyone.
Best Moon Lamps in India Reviews
1. EDUTECH 3D Moon Light Night Lamp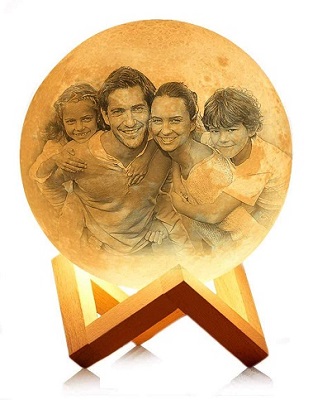 The EDUTECH 3D Customized Personalized Moon Lamp is a truly exceptional lighting accessory that adds a personalized touch to any space. It combines the beauty of lunar-inspired lighting with the personal touch of customization. Its realistic texture, warm glow, and ability to be tailored to your preferences make it a standout choice for adding a unique and meaningful element to any space.
One of the standout features of this lamp is its 3D printing technology, which meticulously replicates the intricate details of the moon's surface. The texture and realism of the lamp create a captivating and immersive experience. Furthermore, the lamp offers a warm and comforting glow, perfect for creating a cozy atmosphere in any room.
What sets this moon lamp apart is its customization option. You can personalize the lamp with a photo, name, or any design of your choice, making it a thoughtful and memorable gift for loved ones or a delightful addition to showcase your own creativity.
The EDUTECH 3D Customized Personalized Moon Lamp is rechargeable, ensuring hassle-free wireless operation. The long-lasting battery allows for extended periods of illumination, and the lamp is equipped with a touch control for convenient brightness adjustment.
2. DesiDiya 3D 16 Colors Moon Night Lamp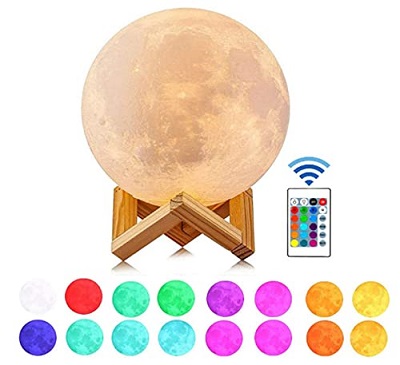 The Desidiya Rechargeable Moon Lamp is a highly acclaimed lighting accessory that has garnered numerous positive customer ratings on Amazon and for good reason. This moon lamp offers a delightful combination of functionality, convenience, and aesthetic appeal. It is meticulously crafted with utmost attention to detail, resembling the real moon.
This lamp offers an impressive array of lighting options to suit your mood and preferences. With a total of 16 lighting colors at your disposal, you can effortlessly create the perfect ambiance for any occasion. Whether you desire a soothing warm white glow, a vibrant burst of color, or anything in between, this lamp has got you covered.
Additionally, the Desidiya Moon Lamp features four light conversion modes: flash, strobe, fade, and smooth. The flash mode creates a dynamic and energetic lighting effect, while the strobe mode delivers a pulsating burst of light. The fade mode gently transitions between colors, creating a subtle and elegant ambiance. Lastly, the smooth mode offers a seamless and continuous flow of color changes.
It also comes with a remote control, allowing you to easily adjust the brightness and select from various lighting modes. This feature offers versatility to adapt the lamp to different settings and moods.
Another standout feature includes its rechargeable battery, providing the convenience of wireless operation. With a long battery life, it ensures extended periods of illumination, allowing you to enjoy the enchanting glow without interruption.
3. Grab Classy Moon Light Lamp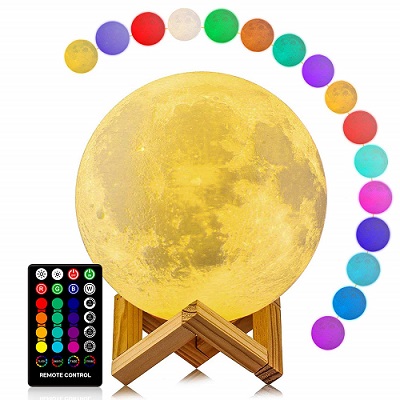 The Grab Classy Moon Lamp captivates with its exquisite design and thoughtful intricacy. With its realistic texture and multicolor option, it offers a unique and visually stunning illumination experience. Whether you're looking to create a cozy ambiance or add a touch of magic to your surroundings, this moon lamp is an excellent choice that will captivate both guests and residents alike.
Crafted with precision using 3D printing technology, the GrabClassy Moon Lamp replicates the moon's surface with stunning accuracy, showcasing its craters and valleys in intricate detail. The textured surface creates a captivating visual effect, elevating the lamp's overall aesthetic appeal.
What sets this moon lamp apart is its ability to emit multicolor light (16 colors). With a simple touch, you can effortlessly switch between warm yellow, cool white, and a range of vibrant hues. This feature allows you to adapt the lamp to different moods and occasions, creating a dynamic and immersive lighting experience.
The GrabClassy 3D Moon Lamp is rechargeable, offering the convenience of wireless operation. Its long-lasting battery ensures extended periods of illumination, allowing you to enjoy its ethereal glow throughout the night.
4. RUCON 3D Moon Night lamp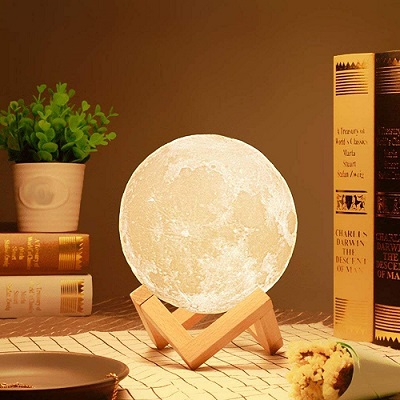 The Rucon 3D Moon Lamp is another best choice that stands out for its elegant design and soothing color-changing feature, creating a tranquil ambiance in any space. Whether used as a decorative piece or a functional light source, this moon lamp brings a sense of serenity and sophistication to your surroundings.
Crafted with meticulous artistry, the Rucon Moon Lamp features a textured surface that replicates the moon's craters, providing a realistic and immersive visual experience. The lamp's wooden base adds a touch of sophistication and enhances its overall aesthetic appeal.
One of the standout features of this moon lamp is its colors changing option. With a simple touch, you can cycle through a variety of colors, creating a captivating and dynamic lighting effect. Whether you want to create a calming atmosphere with soft pastel hues or add a vibrant burst of color, this lamp offers versatility to suit your preferences.
This lamp also features a touch sensor for easy brightness adjustment, allowing you to set the perfect illumination for any occasion. Its rechargeable battery ensures wireless operation and offers long-lasting usage.
5. Refulgix Moon Lamp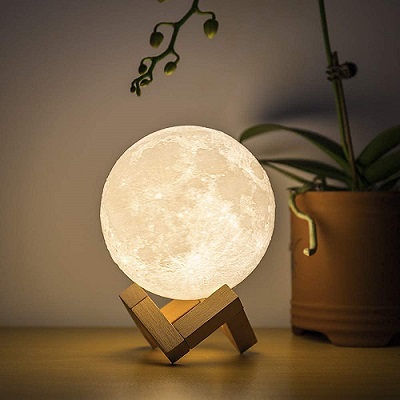 Whether you seek a calming night light, a mesmerizing décor piece, or a unique gift, the Refulgix Moon Lamp Night Light enchants with its celestial elegance, casting a radiant glow that illuminates your space with celestial charm.
Measuring 4.7 inches in diameter, this moon lamp is perfectly sized to fit on a bedside table, bookshelf, or as a captivating centerpiece. Its compact dimensions make it portable, allowing you to effortlessly move it from room to room, transforming any space into a celestial sanctuary.
Crafted with eco-friendly PLA materials, this moon lamp embraces sustainability while radiating elegance. Its sensitive touch control feature allows you to effortlessly cycle through seven different colors with a simple tap. Additionally, after the fourth tap, the glowing moon light gently fades away, creating a serene ambiance in your space.
This moon lamp comes with a rechargeable battery ensuring wireless operation and providing extended hours of illumination. The touch control feature allows for easy brightness adjustment, enabling you to set the desired lighting intensity for any occasion.
Factors to Consider While Purchasing the Best Moon Lamp
Before purchasing a best moon lamp, there are a few factors that you need to consider:
1. Material and Build Quality
Most moon lamps are made of eco-friendly PVC or PLA materials. Check for a lamp that is durable, non-toxic, and environmentally friendly.
2. Battery Life
Consider the battery life of the lamp. A good moon lamp should have a battery life ranging from 8 to 30 hours on a full charge.
3. Color Modes and Brightness
Depending on your preference, you might want a lamp with multiple color modes and adjustable brightness. Some offer just white and warm yellow, while others offer up to 16 colors.
4. Charging Method
Most moon lamps come with a USB charging port. Check if the charging method is convenient for you.
5. Size
Moon lamps come in different sizes. Choose the size that fits best with your room decor.
Conclusion
In conclusion, moon lamps are a great way to bring a bit of the night sky into your own home. They not only provide light but also add a unique, calming element to your room. The options we've gone through are some of the best available in India. Whether you want a lamp for a peaceful night-time atmosphere, a reading light, or just something different to talk about with friends, there's a moon lamp out there for you. So why wait? Pick your favourite moon lamp and add a little bit of the moon's magic to your home.
Explore More Moon Lamps
3D Moon Lamp 7 Colour 15 cm Changeable Sensor...
55%
NYTK RETAIL 3D 7 Color Changeable 3D Moon Lam...
50%
PRIMESKY® 3D Moon lamp Night lamp with Woode...
78%
RUCON® 3D Moon lamp Night lamp 7 Multi Color...
57%
BERO 3D Printing Moon Lamp/Lunar Moonlight La...
72%
Desidiya 3D 7 Color Changing Moon Night Recha...
70%
CRENTILA Moon Night Lamp Star Master Led Ligh...
71%
SVH® Rechargeable 3D Moon Lamp 7 Color Chang...
40%