Drinking copper water has numerous health benefits and is a practice that dates back centuries. While copper vessels are ideal for this, copper water purifiers are becoming more and more popular now. What makes them best is the goodness of copper along with various purification systems so that you can get clean and healthy drinking water. And so, almost every Indian home is searching for the Best Copper Water Purifiers to reap their amazing benefits.
But, the market for the best copper water purifiers is filled with countless options, making it difficult to choose the right one. Thus, we have researched more than 50 water purifiers with copper and selected the top 10 best models for your needs.
A copper water purifier is good for your health, but is it really necessary? Is there anything special about them compared to standard water purifiers? And what are the benefits of using them? We will clear all your doubts in our Article. So, keep reading!
Best Copper Water Purifiers (Quick List)
Best Copper Water Purifiers in India- Reviews
1. HUL Pureit Copper+ Mineral RO + UV + MF Water Purifier
Best Overall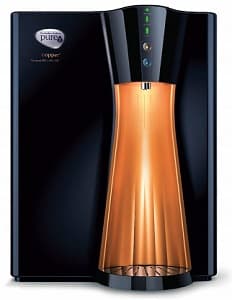 As for our top pick, we recommend this model from HUL that comes with so many sophisticated features, making it a superior purchase in all ways. The model offers excellent purification, a large capacity tank, and the best copper technology to give you healthy and safe drinking water.
Specifications
Dimension and Weight: 35 x 44.7 x 36.1 cm; 9.5 Kg
Color: Black
Purification Technology: 7-Stage advanced purification with RO+UV+MF+Mineral Cartridge
Storage Capacity: 8 L
Purification Capacity: Up to 28 L Per Hour
Warranty: 1 Year
Key Features
A very eye-catching and attractive design dominated by a premium black finish gives this unit a unique appeal to complement your kitchen decor.
Its 7 Stage Advanced Purification with RO+UV+MF ensures that you will get 100% purified water all the time.
The model is also equipped with copper-charge technology that charges water with 99.8% pure copper. Thus, you will always get the precise amount of copper in your drinking water. Additionally, besides copper, it helps retain trace minerals such as calcium and magnesium, which are essential for healthy body and mind development.
One of the best features of this copper water purifier is its purification speed (28 l Per hour). This speed is decent enough to cater to a large family or if you have frequent gatherings at your home.
This purifier has a dual water dispensing system- one for RO water and the next for Copper charged water. So, you can choose the one you like. In addition, there is a manual tap fitting placed on the right side of the unit that will let you dispense the purified RO water in case of power outages.
Another decent feature of this best copper water purifier is the large water tank capacity of 8L. It ensures enough water storage to serve you and your family members with purified drinking water.
Cleaning copper vessels are full of hassle, but not with this unit. The model is featured with a smart copper auto cleaning feature that automatically detects and initiates the cleaning of copper to deliver fresh copper water all the time.
Pros
Sturdy and durable construction
An excellent option for a big family
The taste of water is nice
The manual tap option works excellently in case of power cuts
Cons
High maintenance cost
Expensive
No other color options are available
2. Aquaguard Aura RO+UV+MTDS Copper Water Purifier
Runner Up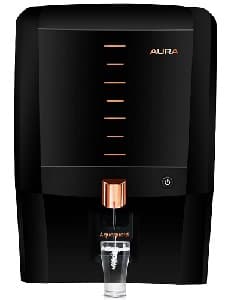 When it comes to water purifiers, the name Aquaguard always strikes first to your mind. So, our runner-up pick belongs to the same brand, which promises to offer fresh, pure, and healthy drinking water with the goodness of copper and minerals.
Specifications
Dimension and Weight: 25.1 x 31.6 x 46.2 cm; 8.86 Kg
Color: Black
Purification Technology: 8 Stage advanced purification with RO+UV+MTDS
Storage Capacity: 7 L
UV Lamp: 11 Watts
Warranty: 1 Year
Key Features
The model filters water in eight stages to offer you the highest purity level in your drinking water.
It comes with RO+UV+MTDS technology (RO to remove dissolved impurities and UV to remove harmful microorganisms). The unique MTDS technology or Manual TDS controller enhances the taste of water as you can adjust the taste according to the source of water.
In addition, Aquaguard Aura is equipped with Mineral Guard Technology, which helps keep water rich in minerals such as calcium and magnesium.
As we are discussing the best copper water purifiers, this model consists of a copper cartridge in its filter. The cartridge dissolves copper ions into the water to give you the benefits of copper enriched water.
Another unique feature of this water purifier is its advanced UV e-boiling technology that takes place with the help of a UV lamp present in the purifier. And this helps to kill germs like bacteria and viruses like the same way you do by boiling water on the gas stove.
The storage capacity of water is 7L that is decent enough to serve small to medium-sized families.
Pros
High-end design
The metallic finish and chic black color gives it a decent look
Excellent purification with added benefits of copper
UV e-boiling technology is a nice feature
Best for borewell, tanker, and other hard water sources
Good for water with TDS level up to 200
Cons
A lot of water wastage
Customer service is not satisfactory
3. Livpure Zinger Copper RO+UV+UF+Mineraliser Water Purifier
Most Smart Copper Water Purifier
The Livepure Zinger is another best copper water purifier on our list that stands out for its smart features and sophisticated look. It is the best RO water purifier based on the amount of water that it saves per year compared to others. In addition, it can purify water to the highest level without compromising taste or essential minerals. What sets it apart from other models is the mobile app connectivity that lets you use its features and track different status with ease.
Specifications
Dimension and Weight: 34.5 x 24 x 49.5 cm; 8.1 Kg
Color: Maroon and black
Purification technology: 7-Stage advanced purification with RO+UV+MF+Mineral Cartridge
Storage Capacity: 6.5 L
Purification Capacity: Up to 15 L Per Hour
Warranty: 1 Year
Key Features
It comes in a lovely maroon color body with a smooth finish. The color and design of the model complement your kitchen decor.
Featuring HR70 technology, this one has the ability to recover around 70% of drinking water, thus, saves excess water wastage.
It involves a 7-stage purification process (including RO, UV, and UF) to clear impurities, keep insects or microbes away, and eliminate harmful chemicals from water to ensure safe and pure drinking water.
The additional mineralizer of this water purifier offers mineral-enriched water (magnesium, calcium, sodium, and potassium) that not only boosts your immunity but also enhances the taste of water.
The inclusion of the Copper cartridge works as an added layer of purification and offers you the benefit of copper enriched water.
Its in-tank UV sterilization system and insect-proof storage tank help to keep the purified water pure at all times, preventing any contamination after filtering.
One of the best features is its compatibility with the Livpure app allowing you to smartly check your daily and total water consumption, filter life indicator, fault status, alerts, and warnings, and generate customer calls.
It also comes with an LED display. It allows you to track all the key information on the display screen at any time, whether it's UV sterilization, leakage, or app connectivity.
Pros
Nice design and build quality
It can purify water from any source – tap, tank, and bore well
Easy installation
It saves water from getting wasted
Auto flush and leakage sensor is a nice feature
Cons
The outlet point is very narrow and dispenses water very slowly
4. Prestige Tattva 2.1 Copper Water Purifier
Best Gravity Based Copper Water Purifier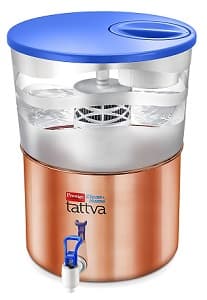 If you don't want to spend much, then this non-electric water purifier with copper technology is the best bet at all. With unique filtration methods, the model also practices storing water in a copper container like the traditional method to offer pure and healthy water to consume.
The best part is that you don't need electricity and a running water supply to operate it; that saves extra from your pocket.
Specifications
Dimension and Weight: 31 x 31 x 39 cm; 2.9 Kg
Storage Tank Capacity: 16 L
Filtration Capacity: 9L/Hour
Warranty: 1 Year
Key Features
It is the perfect combination of advanced filters and a copper storage unit to give you the healthiest and pure drinking water.
Prestige Copper Tattva 2.0 uses an all-natural advanced FACT (Fibrillated Absorbent Cellulose Technology) filter that purifies the water in three stages. Thus, it removes up to 99.99% of harmful bacteria, protozoa, and cysts from the water to make it safe and clean.
The filtered water is stored in the copper container that again kills remaining bacteria or germs due to its natural microbial properties. Plus, it offers additional health benefits of copper.
Its decent 16 L capacity ensures that you will never run out of drinking water. Moreover, the non-electric operation allows you to always have access to pure drinking water.
This water purifier can filter up to 9 litres of water per hour. Though this may be a little slow filtration rate to accomplish the water needs of a large family, however pretty enough for medium to large sized families.
Pros
Available at an affordable rate
Very easy to clean and requires less maintenance
No chemical is used during filtration
Overflow protection ensures less or no water wastage
Cons
5. Remino Copper + Alkaline RO Water Purifier
Best Budget Pick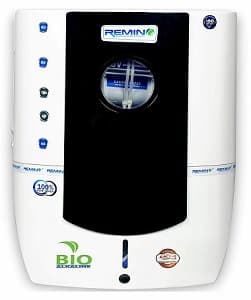 If you are searching for the best copper water purifier at an affordable rate, investing in this model from Remino is a great deal. The low price doesn't mean that it lacks quality and performance; you will get pure, fresh, tasty, and healthy drinking water.
Specifications
Dimension and Weight: 36 x 24 x 18 cm; 9 Kg
Color: White and black
Purification Technology: 8-Stage advanced purification with RO+UV+UF
Storage Capacity: 12 L
Warranty: 1 Year
Key Features
Its elegant design in white and black color combination looks elegant and appeals to your kitchen interiors.
The unique combination of copper filter and alkaline filter offers their maximum benefits. The copper filter delivers copper-rich water, and the alkaline filter improves the taste of water while maintaining the right pH level in the water.
The inclusion of RO, UV, and UF technology ensures to deliver you fresh and pure water always.
It has a large water storage tank capacity of 12 L that means you will never run out of pure and fresh water on your demands.
The model also comes with a water level sensor that shuts off the unit automatically when the water tank gets full. Thus, it saves energy too.
Pros
A budget-friendly product
Water taste is good
Easy to install
Awesome customer service
Suitable for all water sources
Cons
Concept of Copper RO Water Purifier
The copper RO water purifier is a modern technology that not only features multiple purification stages (UV+RO+UF) but also infuses your water with copper elements. Generally, when all the purification stages are completed in an RO water purifier, finally, the water is charged with copper to provide you the benefits of copper in purified water.
Importance of Copper Element in Drinking Water
Copper is an essential trace mineral that is vital to human health. Besides antimicrobial properties, it is anticarcinogenic, antioxidative, and anti-inflammatory. It aids digestion, enhances immunity, improves the health and appearance of the skin and hair, and boosts overall health and well-being.
It also helps prevent cardiovascular disease by lowering blood pressure and cholesterol levels. In addition, drinking pure water with high amounts of copper can help reduce your risk of developing Alzheimer's disease or dementia later on in life.
Benefits of Using Copper RO Water Purifier
Copper water purifiers are increasingly becoming popular because of the high level of purification they offer. The numerous benefits of copper water purifiers include:
It kills all the microorganisms, molds, fungi, algae, and bacteria present in the water that could be harmful to the body. Thus, it makes the water perfectly fit for drinking.
It offers the right amount of copper in every glass of water.
Many advanced copper RO water purifiers come with an intelligent auto cleaning feature that cleans copper and ensures fresh dispensing of it in every glass of water. Therefore, reduce the hassle of cleaning copper vessels which is a tiresome task. (Copper is a reactive metal that is strongly oxidized when in contact with oxygen, so copper vessels develop a black or green film over time, which is difficult to clean).
Drinking copper RO water keeps your heart healthy and controls hypertension.
It improves your digestive system and makes your immune system strong.
Many models of Copper RO Water Purifier also come with dual dispensing features. So, you can choose between normal RO water and Copper RO water as per your need with just a touch of the button.
Conclusion
We hope the above list should help you make the right choice when buying a copper water purifier.
As our personal recommendation, HUL Pureit Copper+ Mineral RO + UV + MF Water Purifier is the best purchase in terms of its features, performance, durability, and price.
Let us know if you have any queries or suggestions in the comment section down below. We'd love to hear from you!
Related Reviews
Buy Copper Water Purifier Online
Aquaguard Aura UV+UF 7L storage water purifie...
39%
Akua Beat Body Protective Cover for Hindustan...
50%
Aquaguard Marvel NXT RO+UV+Taste Adjuster(MTD...
41%
HUL Pureit Copper+ Mineral RO + UV + MF 7 sta...
31%
KENT Supreme Copper RO+UV Water Purifier | Go...
29%
Livpure Bolt Copper+UV+UF Water Purifier for ...
37%
Livpure Zinger Copper NXT RO+UV+UF+Mineralise...
36%
Aqua Active Copper 10-L, Alkaline, RO+UV Wate...
67%