Automatic Soap Dispenser is now not only the decorative piece for your bathroom but a must-have device to maintain hygiene. Yes! From the last few months, we all are focusing on maintaining hygiene to avoid the exposure of deadly Coronavirus. And the best way to keep viruses and bacteria at bay is, of course, the frequent hand washing.
Though using a Hand Sanitizer is the quickest cleaning solution to get rid of germs, bacteria, and viruses, the same using soap and water to clean your hands is also very effective. But sharing the same soap can be riskier. To ensure the contactless cleaning of your hands, Touchless Automatic Soap Dispenser Machine is the most ideal solution.
Touchless dispensers, automatic dispenser, or motion-activated dispenser, whatever you call, these are now becoming very popular for using hand soaps and hand sanitizers.
What is a Touchless Automatic Soap Dispenser?
Sharing the same soap bar for washing hands, or even touching the handle of soap dispenser increases the risk of cross-contamination. Having an automatic soap dispenser in your bathroom solves this problem.
Like the name, the automatic soap dispenser delivers the right dose of foam or liquid hand soap, allowing you to scrub your hands thoroughly. The biggest benefit of using these dispensers over the manual soap dispenser is that you can use them without even touching them. Here, you don't need to pump the machine with your hands like you do with the regular soap dispensers.
All you need is to keep your hand underneath it, get some soap, and wash your hands. So, isn't it an easy hand cleaning tool?
Get more detailed and descriptive information on Touchless Automatic Soap Dispenser, by heading to our Comprehensive Buying Guide on it.
7 Best Touchless Automatic Soap Dispensers In India
Best Touchless Automatic Soap Dispenser In India Reviews
Now look at the complete reviews of the above listed models along with their specifications and buyers feedback, to make an informed purchase.
1. Kent Touchless Soap Dispenser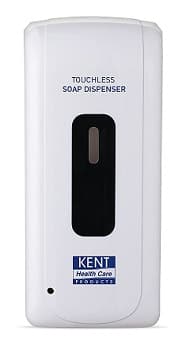 The top on our list is this Kent automatic soap dispenser that is a crowd favorite, not only for daily home use but also for commercial uses like shopping malls, hotels, restaurants, and other public places. Its transparent liquid sanitizer compartment is easily visible and is pretty easy to install and use. The compartment also has a wide opening, so messy refills are not a big deal.
It comes in a wall-mountable design that makes the bathroom sink or kitchen counter mess-free. There come two display LEDs that indicate on/off status and dispensing in progress.
It includes a sensitive ultrasonic sensor with a range of 1 to 6 inches, which dispenses the sanitizer within 1-30 seconds as soon as you keep your hands under it. Plus, with the large storage capacity of 1000 ml of sanitizer, there is no need to refill the machine that often.
The model is compatible with any type of soap as well as hand sanitizer, including alcohol-based too, for quick and easy hand-disinfection.
Key Features
Large 1 L capacity
Wall-mountable design
Ultrasonic sensor for hands-free operation
Two display LEDs
Suitable for liquid soaps, disinfectant liquids, hand sanitizers
High precision disinfection
Waterproof
Buyers Feedback
Looks cool and elegant
Large capacity for soap and hand sanitizer
Easy to install and use
Transparent tank makes the soap level easily visible
Suitable for public places such as offices, hotels, hospitals, medical institutions, schools, etc.
Cons
2. Deerma Automatic Hand Soap Dispenser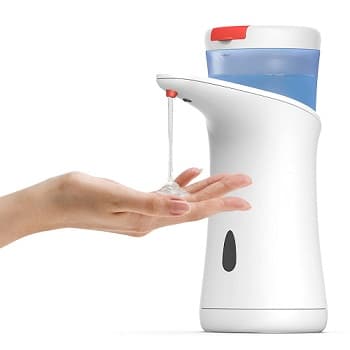 The next on our list is Deerma automatic soap dispenser that is very convenient as well as stylish one. Its streamline finish with the glossy appeal adds a touch of grace wherever you keep it. This one is a countertop model that is good to use in kitchen and bathroom countertops. Plus, it is also ideal for public places like schools, offices, hotels, restaurants, airports, etc.
This hand soap dispenser comes with a capacity of 250 ml that is great enough to use for a small to medium-sized family. And so, there is no need for frequent refilling.
Featuring an accurate infrared motion sensor, it dispenses the soap automatically in just 0.2 seconds to kill germs and microbes from your hands.
The model also features five different soap levels that you can easily activate by pressing the + or – button present at the top of it. This way, you can select the desired volume of soap you want in every stroke.
The very best part of this touchless soap dispenser is that it is compatible with any kind of liquid soap, foam soap, or hand sanitizer. You can also use it for dispensing shampoo, body lotion, or shower gel.
Key Features
Capacity 250 ml
Five levels of adjustable soap volume
Premium-quality design
Easy no-touch operation due to high sensitivity infrared sensor
Runs on 2 AA batteries
Energy-efficient design
Compatible with any kind of liquid soap, hand sanitizer, shower gel, or shampoo
Pros
Stylish design
The transparent tank displays the soap level very easily
The touchless design makes hand washing easier and avoids bacteria and viruses cross infection
Works with any kind of soap
Cons
No waterproof design, so don't immerse it in water or flush it under running water
3. Total Home Wall Mounted Touchless Soap Dispenser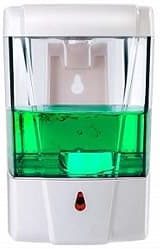 The next is this wall-mountable touchless soap dispenser from the brand Total Home. However, it can also be used as a countertop dispenser as per your convenience. It comes in a large capacity of 700 ml. This makes it a favorite choice for not only homes but also office spaces, restaurants, hotel rooms, parlors, etc.
Its appealing modern design, along with the transparent tank, will be a great addition to any bathroom or kitchen sink.
This automatic soap dispenser features smart-motion infrared sensor technology that offers no-touch and easy to use operation and can be activated only when needed. It senses your hand within the range of 4 inches and automatically discharges the liquid soap when you keep your hands beneath it.
The other best feature of this touchless dispenser is its two adjustable volume settings. It allows you to control the amount of soap you want per stroke, thus avoids excessive spillage and wastage.
The model runs on 4 AA batteries that you need to purchase separately. There is also an LED light indicator that alerts you when the battery needs replacement.
Key Features
700 ml large capacity
Wall-mountable design
Can be placed on countertops too
Two-level adjustable volume control
Sensor Range: 1-10 cm underneath the sensor
Compatible with liquid soap, shampoo, or shower gel
High sensitivity infrared sensor for absolutely touch-free operation
Security lock
LED Indicator
Pros
Looks stylish and elegant
Soap level is easily visible due to the transparent tank
Made up of durable ABS material
Ensures no wastage and messes
Energy-efficient
Cons
4. Dolphy Automatic Soap & Sanitizer Dispenser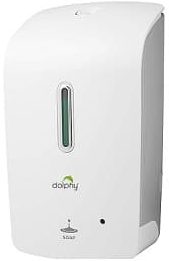 Enjoy the convenient and clean way of using soap by bringing this automatic soap dispenser from the brand Dolphy. It is again a quality product on our list with a lot of awesome features.
What makes you love this soap dispenser is its ultimate build quality and sophisticated design for a graceful appeal. Plus, the wall mountable design ensures easy access to anyone. The model is great to use in your household, office, hotels, restaurants, shopping malls, etc.
This one comes with an intelligent motion infrared sensor that offers no-touch and easy to use non-sensitive operation without excessive spillage. Even the innovative non-drip design ensures no wastage or countertop mess. Also, there are two adjustable volumes of soap to get the desired amount of it whenever you use it.
The next best thing about the product is its massive capacity of 1000 ml that is ideal for long term usage without the need for frequent refilling. Even the 4C size batteries are long-lasting, making the product ideal for continuous use.
There comes a visual window at the front, allowing you to view the contents easily. Thus, you can easily know when to refill it. The model is also compatible with any type of liquid soap, shampoo, or shower gel.
Key Features
Capacity 1000 ml
Unique wall-mountable design
Durable finish
Rustproof body
Smart motion infrared sensor technology
Touch-free delivery of soap
Big window to see the liquid level
Low battery indicator LED light
Compatible with a variety of liquid soaps, sanitizers, shampoo, shower gel, etc.
Pros
Classy design and appeal
Durable ABS material construction
Battery works for a decent time
Quality of the product is outstanding
Easy to install and use
Cons
5. Oak Mist Contactless Sanitizer Dispenser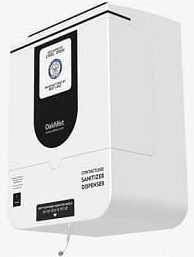 It is one of the latest models, great to use for dispensing alcohol-based hand sanitizer. The complete touch-free operation makes it an ideal buy for your home use as well as commercial use in these sick days.
The Oakmist contactless sanitizer dispenser comes in a cool and trendy wall-mountable design. The other best part of this product is its extremely huge tank capacity of 5 l that is pretty good enough for commercial uses, even ideal for large families. The capacity ensures no frequent refilling of the sanitizer in it.
There comes a window at the front level showing the status of the sanitizer remaining in the machine. If it gets empty, the model includes a wide opening at the tank, so you can easily refill it without any mess.
This automatic sanitizer dispenser features an ultrasonic sensor for no-touch delivery of the sanitizer that is entirely safe to use. It starts dispensing when you place your hands at the sensor and stops as soon as you remove your hands from there. There are two display LEDs to indicate on/off status and dispensing in progress.
The model dispenses 4-5 ml of sanitizer in each use and can work well for approx—1000 hand sanitization cycles. Plus, the nozzles at the bottom create a mist, ensuring both the hands are sanitized properly with no wastage at all.
Key Features
Large Capacity of 5 L
Unique Wall Mountable design
Ultrasonic sensor for complete touch-free operation
Contactless dispensing unit
Aerated mist based formula
Two display LEDs
Window on the front panel to show the level of sanitizer
Compatible with any types of hand sanitizers
1-year manufacturing warranty
Pros
Looks elegant and stylish
Strong and sturdy construction
Large capacity makes it good for highly used areas like shopping malls, hospitals, etc.
Easy to install and use
Cons
6. Generic Wall Mount Automatic Soap Dispenser
Now, this is again one of the best rated automatic soap dispensers around, from the most trusted brand Generic. This one is an excellent buy if you prefer to use foam soap. The model ensures less mess with minimal wastage of soap every time you use it.
With its smart and appealing design, it surely adds a touch of grace to any modern kitchen or bathroom, while maintaining the hygiene too. It comes with the capacity of 500 ml, that offers you up to 900 hand washes for each refill.
This touchless soap dispenser comes with a stand making it steady and stable on any sink or kitchen countertop. The best part is that it is wall-mountable, that is an excellent option if you want to save counter or sink space. As a bonus, the wall mounting option also reduces the risk of splashes or leaks that can damage the product.
Featuring a unique and smart motion infrared sensor, the model dispenses the exact amount of soap when you keep your hands beneath it without actually touching the dispenser. There are two volume settings for dispensing the soap, including dosage of 0.6 ml and 1.2 ml that you can set accordingly.
The dispenser runs on 4AA batteries that are energy-saving and making the product ideal for prolonged usage.
Key Features
Capacity 500 ml
Both for wall mount and countertop use
ABS plastic base with Polyethylene Terephthalate Bottle
Suitable for foam soap
Runs on 4AA batteries
Two volume settings
Transparent bottle for a clear view of the soap level
Pros
The stylish design matches your home decor
Durable construction
Easy to install and use
Ideal for kitchen, bathroom, office room, clinics, etc.
Cons
7. Octus Non-Contact Soap and Hand Sanitizer Dispenser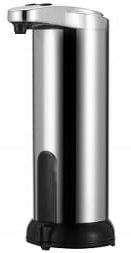 This ultra-slim and stylish automatic soap dispenser by Octus is our next best choice to maintain hygiene at a budget-friendly price tag. Its stylish, ultra-modern stainless steel design makes it a great addition to your home. The model is not ideal for your home only but also suitable for various places like hotels, restaurants, clinics, etc.
It comes with a great motion detection using an infrared sensor that is ideal for quick and easy soap dispensing absolutely touch-free. Plus, the capacity of 400 ml, refuses frequent refilling.
What you love about this automatic soap dispenser is its waterproof design, and the base stand to prevent wetness. The battery compartment also comes with two layers of protection against water-saving it from any damage due to water.
Another lovable feature of this non-contact soap and sanitizer dispenser is its handy LED indicator. It shows you when it is on and dispensing, and even if it is low on power.
The model runs on 4 AAA batteries that ensure efficient operation of the device and guarantees prolonged usage as well.
Key Features
Capacity 400 ml
High-end modern design
Stainless steel body
Works on the infrared sensor for touch-free operation
Moisture-proof and anti-corrosive
Waterproof base and rubber seal design prevents battery from damage
Pros
Ultra-modern and beautiful appearance
Very durable due to stainless steel construction
Waterproof design
Very convenient and easy to use
Cons
How to Choose the Best Automatic Soap Dispenser? (Buying Guide)
Why Choose Automatic Soap Dispensers for your Home?
You might have seen the automatic soap dispensers in hotels or fancy restaurants, but in this challenging time where we all are facing the pandemic Coronavirus, the touchless automatic soap dispenser is a must-have gadget for our homes too.
In today's modern society, we are at more risk of exposure to bacteria, viruses, and harmful microbes, especially at public places like hospitals, restaurants, cafes, coffee shops, etc. but also at our homes too.
No matter the place where you are, an automatic soap dispenser maintains your hand hygiene and prevents infections, germs, viruses, and microbes.
The latest models of touchless automatic soap dispensers for your home are very convenient and easy to use. You can easily install them in your bathroom, kitchen, near the washbasin, or kitchen sink. So, it is accessible to everyone in the home. Moreover, they also come in an amazing visual appeal looking modern and appealing.
How Automatic Soap Dispenser Works?
This innovative tool lets you clean your hands very easily without pushing any button. It works on an infrared sensor. So, when you keep your hands beneath it, the tool automatically senses it and spritzs out a few drops of soap or sanitizer for effective cleaning of your hands. Some of the models also come with the feature to adjust the amount of soap or sanitizer to come out in each use. Some are also compatible with a variety of liquid hand soaps or sanitizers types.
Benefits of Using Automatic Soap & Sanitizer Dispenser
It is hygienically very safe to use as it offers a touchless wash. No need to use the dirty hand wash pump if you have an automatic soap dispenser at home. It avoids spills and touches.
Good for commercial places like hotels, restaurants, shopping malls, etc.
It delivers the standardized dose of hand soap or sanitizer. These soap dispensers come with adjustable volume settings, so you can set the volume of the soap or sanitizer according to your preferences. It allows the soap or sanitizer to last longer and thus reducing the wastage of the product.
The biggest benefit of automatic soap and sanitizer dispenser is that it eliminates the common contact point from where the germs can be transferred.
These are very easy to install and use.
The automatic soap dispensers are eco-friendly.
It includes long-lasting rechargeable batteries for long term usage.
Most automatic dispensers include an LED indicator that will alert you when the batteries are low.
The automatic soap dispensers are kids-friendly too that even letting them enjoy washing their hands.
Automatic soap and sanitizer dispenser comes with a modern, sophisticated look that can match with the faucet or sink.
Types of Automatic Soap Dispensers
Counter Mount Automatic Soap Dispenser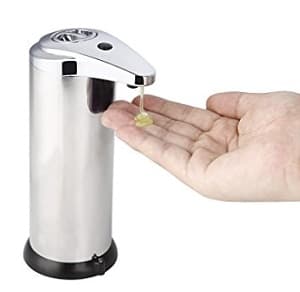 These are also known as free-standing dispensers that can be placed easily on the countertops. You can easily place them in your restroom, kitchen, or even in your office, making it easily accessible for everyone. These are powered by the battery and convenient to use.
Wall Mount Automatic Soap Dispenser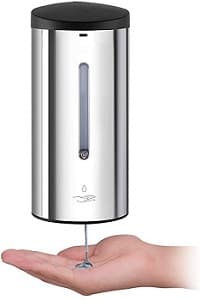 Like the name, these soap dispensers can easily get installed on the walls of your kitchen, and bathroom, etc. for usage. These look very cool and trendy in your home. These are also battery operated and come with appropriate control options.
Manual Soap Dispenser Vs. Automatic Soap Dispenser
The manual soap dispenser works by pushing a button to dispense the liquid soap, and no battery is needed for that. On the other hand, the automatic soap dispenser works by sensing the motion using infrared sensors and requires battery for their operation.
Automatic soap dispensers offer better control over the user's portion size than the manual one.
Automatic soap dispensers are expensive over the manual dispensers.
The automatic soap dispensers are safer in stopping contamination among users due to its touchless operation over the manual dispensers.
Features to Look For Before Buying an Automatic Soap Dispenser
1. Capacity
The automatic soap dispensers come in various sizes to cater to the needs of a small household, big family, or even commercial uses. You can choose the right size, depending on your usage needs. The capacity determines that you don't need to refill the dispenser often.
If you have a small family, you can go for a small capacity soap dispenser. For the large family, you may go for a slightly larger capacity that fulfills your needs. But for the commercial uses like in the hotel rooms, restaurants, or shopping malls, the bigger capacity soap dispensers are perfect.
However, you can choose the desired size option, as listed.
| | |
| --- | --- |
| 500-700 ml | Ideal for a small family |
| 1 L | Good for regular small homes, hotel rooms, etc. |
| 1.5 L | Ideal for a slightly large family |
| 2-10 L | This capacity is best for clinics, shopping malls, restaurants, etc. |
2. Installation Area
Counter mounted soap dispensers can be placed easily on the countertop wherever you want, including your restroom, office room, or kitchen. But if you are going to opt for a wall-mounted model, you must consider some important points. Make sure that there is enough area between the soap dispenser and your sink for easy accessibility. Also, install it at an appropriate height that can be easily accessible to your kids too.
For small restrooms and kitchen, you may opt for the space-saving units.
3. Soap Volume Adjustability
It is one of the very important features of an automatic soap dispenser, which allows only that much amount of soap to your hands that you have set for the soap volume. The feature ensures no more wastage of the soap or sanitizer.
4. Ease of refilling
It is advisable to choose the models with wide openings so that you can easily refill them with the liquid or foam soap. It avoids spillage of the soap while you are refilling it.
5. Compatibility with soap
Not all the dispensers are compatible with all types of soaps. Some work with only foam soaps, and some are compatible with only the branded ones. So, you can choose the model that may be compatible with all types of liquid soaps.
6. High Capacity Batteries
I am sure you all want a dispenser that fits for daily and heavy usage. And the usage fully depends upon its batteries. Most of the touchless soap dispensers operate on three or four AA or AAA batteries. These are easily rechargeable via USB and offer an impressive number of uses when fully charged between three to five months. Keep in mind that a premium battery can increase the lifespan of the automatic soap dispenser for up to three years.
7. Sensor Distance
Sensor distance plays a significant role in automatic soap dispensers. But this distance varies from model to model and be measured in inches. So, it will be a really great pick if you find the one that can sense fastly. Before buying the dispenser, check for the inches that it can sense your hand.
8. Ease of Cleaning
Choose the one that must be rustproof and easy to clean, using the damp cloth. It is advisable not to wet it with water for cleaning. It thus ensures the durability of the soap dispenser.
Some Tips for Cleaning and Maintenance of Touch-Free Soap Dispensers
Use an only damp cloth to clean the touchless soap dispenser.
Never clean it under running water, even don't immerse it in water.
Use only fresh and high-quality foam or liquid soap in it.
Clean the soap container properly before each refill.
These soap dispensers are for indoor use only, so never expose them onto the direct sunlight.
Take out the battery and pour out the soap fully when not in use for a long time.
Never reflect any bright source at the sensor from below.
Conclusion
Automatic or touchless soap dispensers are one of the best investments for promoting hygiene and protection against germs, bacteria, and viruses. These stop the cross-contamination of germs and viruses because of its unique touchless operation, and thereby reducing the diseases or sick days. We have reviewed the latest and best touchless automatic soap dispensers for your home use as well as commercial use.
Also, the buying guide we have covered on it will ultimately help you choose the right one for maintaining a hygienic environment.
If you feel anything is missing or want to share your feedback or suggestions regarding the blog, please write to us via the below comment section.
Read Related Reviews
Buy Related Products Online
BATH GURU Abs Wall Mounted Shampoo Sanitizer ...
54%
BATH GURU ABS Plastic Wall Mounted Soap Shamp...
61%
Bathoyum 350 Ml ABS Wall Mounted Liquid Soap ...
71%
Bath Guru ABS 350 Ml Handwash Soap Shampoo Sa...
50%
SPC Empty Unbreakable PET Plastic Liquid Soap...
52%
EMOH ROCED Handwash Liquid Dispenser Bottle f...
45%
Wagmine Automatic Shampoo Dispenser Liquid So...
30%
Maikcq Automatic Sanitizer Dispenser PVC Sens...
57%