Viral diseases like the common cold, smallpox, measles, flu, or the famous COVID-19 (Coronavirus), which took thousands of lives, can be dangerous and life-threatening. The first thing you should do is wear a mask, better an N95 mask if you see these types of diseases are spreading around you.
Though wearing a mask is not enough, you should also use alcohol based sanitizers and gloves. If you are traveling to crowded places and dealing with patients, you should also consider wearing gowns.
In this post, we have researched and made a list of best N95 masks that you should wear when dealing with pollution, viral or bacterial diseases. You might have seen people wearing regular surgical or anti-pollution masks, but it is not effective when dealing with deadly viruses like COVID-19. Please note that wearing an N95 mask or any type of other mask does not save you from coronavirus. But wearing the N95 mask makes a safety layer around your mouth and nose which is most sensitive to any viral diseases.
We have covered the buying guide below the review. This buying guide helps you to understand what types of N95 Mask you should buy in India.
List of Best N95 Mask in India
N95 Mask
Features
Filter Layers
Nasher Miles Unisex N95
Read Review
Washable, Reusable, Comfortable,
Five layers with carbon activated
CHECK PRICE
3M 8210 N95
Read Review
NIOSH approved, Nose clip,
Three layers
CHECK PRICE
Capitol Venus N95
Read Review
Non-Woven Fabric, Exhalation valve
Three layers with carbon activated
CHECK PRICE
Venus V 4400 N95 Mask
Read Review
NIOSH Approved, PM0.3
Three layers
CHECK PRICE
Grin Health N95 Anti Pollution Mask
Read Review
Nose clip, Exhalation valve
Five layers
CHECK PRICE
Urbangabru N99 Mask
Read Review
N99 Mask, soft material
Four layers
CHECK PRICE
Mediweave KN95
Read Review
ISI approved, High quality, Nose clip
Three layers
CHECK PRICE
Reviews of Best N95 Mask India
Let's read the detailed review of each model listed above. It will help you in getting more details of each of them, and help you in making better purchasing decisions.
Note:
If these masks are not available(due to coronavirus outbreak). Click
here
to view the latest entries on amazon
1. Nasher Miles Washable and Reusable N95 Face Mask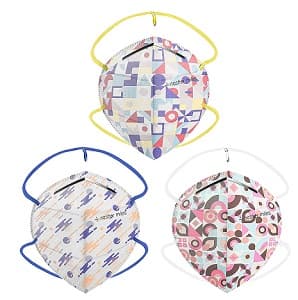 Nasher Miles masks are one of the best N95 masks currently available in India. As claimed by the makers, they can filter particulate matter of 0.3 micrometers and above, which indicate that these are the good mask to use when dealing with pollution or epidemic diseases.
Generally, wearing an N95 mask makes breathing difficult, but this respirator comes with two exhalation valves, which make it easier to breathe while running, jogging, cycling, or doing gym.
As per the description, this mask protects you from allergens, dust, smog, some bacteria, and viruses, making it usable in more types of conditions.
The company claims that it is designed carefully by the team of doctors, and it has the five layers of filters with activated carbon advantage. These filters can be replaced and washed if needed.
This mask has two shells, inner and outer. The outer shell is washable and reusable and can last 18 to 24 months, depending upon the usage. The inner shell (the actual filter) is not washable and should replace it after 2 to 3 days usage. You can buy extra filter packs by contacting the seller.
One thing that some individuals may like about it is that it comes in multicolor, which makes it stylish and fashionable, so it is an added advantage for those who want to maintain style.
It is made of cotton, which makes wearing comfortable, even for a longer duration.
Key Features
Washable and Reusable
Suits best for Indian climate
Comfortable to wear
Activated Carbon Layer
The filter can be replaced
Availability of multiple sizes
2. 3M Particulate Respirator 8210 NIOSH Approved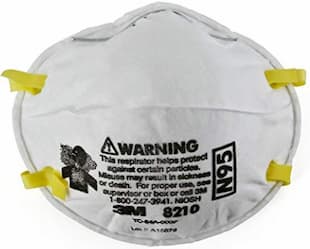 3M is a well known multinational brand, specialized in making different types of masks and respirators. We highly recommend any product from them, because they produce high quality and genuinely approved products.
This mask is NIOSH (a US governing body) approved, and of the best quality. It has two stretchable braided straps with welded dual point attachment.
It has a cushioning nose foam for comfort over the nose when wearing and also has an adjustable nose clip to fit it tightly to provide maximum safety. Lightweight design helps to wear it for a longer duration without feeling any irritation or itching.
3M's uses its exclusive technology to make N95 respirators with microfiber filter media, which is electrostatically charged to ease the breathing process.
Wearing this respirator may help to reduce the inhalation exposures from airborne biological particles. It greatly helps from particles that float in the air from sweeping, grinding, and any other dusty operations.
You can comfortably wear it along with other items like glasses, protective eyewear, or any hearing aids.
People use it for 2 to 3 months depending on its usage, but the company suggests it is a disposable item, So one should dispose of it after one time usage.
It is also not recommended to use on kids.
Key Features
Made by 3M
NIOSH approved
Adjustable Nose clip
Cushioning nose foam
Advance electrostatically charged microfiber filter
Extremely lightweight
View on Amazon View on Flipkart
3. Capitol Venus N95 Particulate Respirator with Exhalation Valve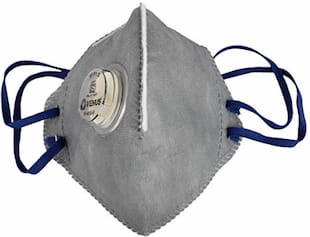 Venus is an Indian company specialized in making safety masks. They are selling different types of masks in Indian and European markets. Their masks have lots of variety and can be purchased online easily.
Since there are lots of masks in the market and not all masks are N95, it's challenging to find an authentic N95 mask. We have selected the best models, but still, we recommend checking twice before making the final order.
This mask is made of multiple layers; the outer layer is made of non-woven premium quality fabric. The second layer has a filter with activated carbon, and the last layer has absorption cotton with electrostatic.
This mask is suitable for protecting yourself from dust, ash, fog, haze, exhaust, smokes, pollution, bacteria, and in some cases viruses. It is useful in filtering out PM 2.5 particles.
This mask fits well with most adults, and it has a nose clip that helps to fit on any face. Earloop is made of elastic so that you can adjust it according to your needs. It also has an exhalation valve, which makes breathing easier.
Key Features
Non-Woven Fabric
Three layers of filter
Carbon activated filter
Sealed tight around the nose
Exhalation valve
View on Amazon View on Flipkart
4. Venus V 4400 N95 Mask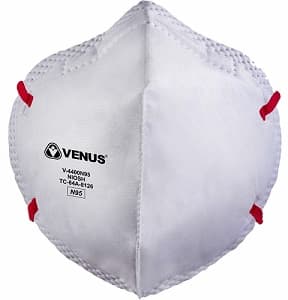 Venus V 4400 is a new mask in the market, and it is NIOSH approved. This N95 mask is made of clean and healthy materials that are harmless.
With three layers of filters, it can protect you from the harmful particulate matter of level 10, 2.5, and even 0.3. The outer layer protects from PM10. The second layer stops bacteria, viruses, germs etc. and the last layer, which has activated carbon filters, provides safety against smoke, exhausts, pollen, and similar harmful gases.
It has four components: filter box, respiration valve, mask, and elastic earloop. You can easily replace the activated carbon filter, which makes this mask convenient and durable.
Key Features
Can filter PM 0.3
Three layers of filtration
Look stylish and fashionable
NIOSH Approved
Activated carbon filter
5. Grin Health N95 Anti Pollution Mask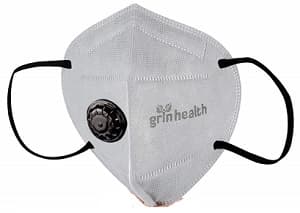 The Grin Health mask is another good N95 mask. It protects from air pollutants, dust, smog, virus, and bacteria. The additional layer of activated carbon filter protects you from potentially harmful chemicals and toxic gases.
It is made of good material. You can wash the outer layer and replace the inner layers with the new one. It has a nose clip for a tight seal around your nose and an exhalation valve for making breathing easier.
The mask is white and one elastic ear loop of blue color, it looks elegant. According to the seller, it has five layers of filter, which is yet to be confirmed.
Key Features
Five Layers of filter
Made with high-quality material
Exhalation valve
Nose clip
Make tight seal around mouth and nose
6. Urbangabru N99 Mask with four-layer protective filters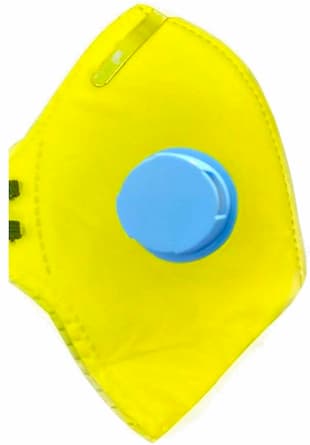 Urbangabru is a well-known brand in men's fashion. This mask is N99, a better classification than N95. We are covering mostly N95 masks here, but N99 is even better in protecting you against aerosols and other particulate matters.
The material used is polyester, which is soft and comfortable to wear for a longer duration. It has a large vortex breathing valve so that you can breathe without difficulty. The design of the mask helps to cover the mouth, nose, and chin of adults or kids. It also has softly rounded ear loops that fit comfortably around the ear.
Urbangabru N99 mask is made of non-woven material with microfiltration and evenly created small pores to stop air particles from entering inside. The four layers of filters protect the wearer from microorganisms, smog, automobile gases, dust, PM 2.5, PM 0.3, and other infectious particles.
You can wash and reuse. To clean the mask, just dip in warm water, leave it for some time, and then soak it under the sun.
One downside is that the filter is non-removable
Key Features
It is N99 Mask
Breathing Valve
Made of soft material
Four layers of filter
Advance air circulation vent
7. Mediweave KN95 (Equivalent to N95) Mask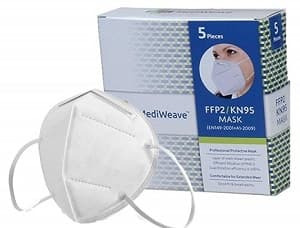 Mediweave KN95 mask is one of the good N95 masks available in the market. It is ISI approved, filters out harmful and toxic air pollutants, vehicle exhaust, pollen, fumes, and smoke. This mask is suitable for people doing any kind of outdoor activities like cycling, running, and hiking.
One should also use an N95 mask when he is suffering from any kind of disease which spreads due to sneezing, coughing, or touching, like COVID-19, common flu, etc.
The outer layer is made of a premium quality non-woven fabric, the second layer has the filter with activated carbon, and the third layer has double static absorption cotton for comfort.
It is a universal size mask, and because of the stable nose clip, it fits any type of adult's face. The nose clip tightens the gap present near the curved area around the nose and makes a tight seal, which is useful in preventing air pollutants.
It has a good quality elastic earloop, which adjusts according to your head size and holds the mask tightly. The breathing valve at the front side helps in breathing easily and prevents the formation of fog over wearing glasses.
Key Features
ISI approved
High quality
Three layers of filter
Activated carbon
Nose clip
Elastic earloop
Buying Guide of N95 Mask – How to Select Best N95 Mask?
What is N95 Mask?
Face masks like N95 also known as respirators are the protective equipment and used to protect the wearer from inhalation of infectious airborne particles
The NIOSH (National Institute for Occupational Safety and Health), a US government body, defines the term N95. N stands for Not resistant to oil, and 95 means the efficiency level in percentage. Total approved filtering respirators have nine classifications. Read about them here.
N95 Can block 95% of airborne particles which are 0.3 μm (Micrometer or microns) or higher in diameter.
How N95 mask works?
N95 masks cover the nose and mouth of the wearer. It is made of fibers that are twisted and curved to stop and absorb the harmful and contaminated air having dust, microorganisms, and other air pollutants.
Is N95 mask effective against Coronavirus?
The short answer is NO. But it creates some layers of securities which help viruses in spreading. According to research, Coronavirus is transmitted from person to person, and it is not aerosol, i.e., it does not float in the air by itself like most of the flu viruses are. When an infected person wears an N95 mask, it effectively stops the transmission of viruses present in droplets of excretions due to coughing or sneezing.
When an uninfected person wears an N95 mask, he reduces the possibility of inhaling the virus due to sneezing or coughing by the infected person.
One more important point is when you wear an N95 mask, you reduce the chance of rubbing or touching your mouth or nose, which is very risky.
So if a pandemic like a coronavirus is at the peak, you should wear masks to reduce the risk of transmitting diseases.
How long can N95 be used?
There is no definitive answer. But through what we have researched, In India, people usually use it for 1 to 3 months. The health governing bodies from the US suggest to use it one time and not for more than 8 hours.
But considering the price and availability, you can use it for at least one month. If you are using it very often and for a longer duration, consider replacing it sooner.
How long you can use the N95 mask also depends on its usage. For example, if you are doing any kind of hard work like running, going to the gym, or you are breathing heavily for any reason, consider replacing it sooner.
If elastic that wraps around the heads gets loosen due to frequent use, consider replacing it because once loosen, it can not seal tightly the mouth and nose area to prevent harmful and contaminant air particles.
Also, stop removing and wearing the mask frequently, because doing this contaminates it. Ideally, once removed, you should dispose of it, but when there is a shortage of or affordability problems, you should use it multiple times.
Surgical mask VS N95 Mask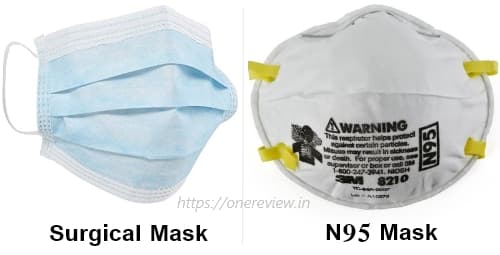 In India, the most common available mask is a surgical mask, and it is easily available in hospitals or medical shops. Here is a comparison of N95 and Surgical mask
Surgical Mask
The design of a surgical mask prevents the covering of the nose and mouth tightly
It Saves healthy wearer from blood splash, harmful chemicals splash, body fluids, or large air particles
Surgical Mask prevents the transmission of disease from the infected wearer due to accidental coughing or sneezing to nearby people
Dispose of the surgical mask after one use
Not approved by NIOSH
N95 Mask
These are designed to cover the nose and mouth tightly and sealed properly to filter the microorganisms in air greater than 0.3 microns
Use N95 masks when common influenza and diseases are spreading in nearby surroundings. It also reduces the chance of getting infected due to virus spread diseases
Generally, the infected person does not use this mask. Virally infected people can wear it to protect family and friends who come in contact frequently; this way, it stops the further spreading of disease.
People use N95 masks for a longer duration.
Approved by NIOSH
What are the precautions when using an N95 mask?
If the wearer has any medical conditions which make breathing difficult like cardiac or chronic respiratory, he should not wear it, better consult with their doctor. N95 masks make breathing more difficult and increase the heart rate.
Some models of N95 mask come with valves for exhalation, making breathing easier a bit, but it also has its downside.
Who can use the N95 mask?
The design of N95 masks help to seal the nose and mouth area of the wearer tightly, and it mostly fits on adult people's faces. Children and people having facial hair like beards or long moustaches will struggle to get a tight seal around their mouths, So they shouldn't use it.
Can we use a general mask if N95 is in shortage?
If the situation is worse, and you can not arrange an N95 or higher mask in cases of an outbreak like coronavirus, you should not hesitate to use what you got. General or surgical masks, as stated above, are mainly for the infected person to stop the spreading of diseases. Still, you can use it to avoid touching your mouth or nose, which is very dangerous when dealing with such outbreaks.
N95 Mask FAQs
What does the N stand for in N95?

NIOSH classifies respirators in three categories N, R and P. N stands for Not resistant to oil, R stands for Resistant to oil (One time use) and P stands for oil Proof (Use for a longer duration is acceptable).

What does the 95 stand for in N95?

95 is the efficiency percentage of the filter used in a mask or respirator. It means 95% of airborne particles greater than 0.3 micrometers get filtered.

Does wearing an N95 mask make breathing difficult?

Yes, wearing an N95 mask may increase the breathing, and you may feel some problem, that's why some masks provide an exhalation valve which helps in breathing when wearing it.

What size of PMs can an N95 mask filter?

An authentic N95 mask can filter Particulate Matters (PM) as small as 0.3 microns or greater. So It is safe to assume N95 masks protect you from PM10, PM2.5, and PM0.3.

What doesn't an N95 mask protect against?

N95 masks do not protect against vapors, smoke, or harmful gases. Examples of such gases are carbon monoxide, methane, organic solvents, formaldehyde, etc.

What does an N95 mask protect against?

It protects against mists, fumes, dust, smoke particulates, aerosolized droplets, and other particulate matter. It also provides safety against biological particles like bacteria, viruses, pollen, spores, allergens, mold, and animal dander.

What is the limitation of an N95 mask?

Men with beards and mustaches face problems in wearing N95 masks because they prevent in making a tight seal around your nose and mouth. Also, it does not properly fit children. Patients having breathing problems like asthma or cardiovascular disease should not wear it.

How long can an N95 mask be used?

NIOSH suggests not using it for more than 8 hours. But in a country like India, people are using it for a longer duration, around three months.

Is the N95 mask washable?

It also depends on the type of N95 mask, some N95 masks allow to replace the filters, and the outer shell is washable. But not all masks have this facility.

How to wash an N95 mask?

If your mask is washable, then you should dip it in warm water along with some liquid detergents and soak it for over the night. The next day, dry it under the sun.
Final Words
We hope you liked our blog and can choose the best N95 mask as per your budget and requirement. Also, we tried to cover important questions and information related to buying the N95 mask. If you have any questions or confusion, write below in the comment section, we will try to answer as soon as possible.
Read Related Reviews
Buy Best N95 Mask Online
Daluci Anti Pollution N95 Reusable Unisex Non...
85%
SISO N95 5 Layer Face Mask FFP2 Reusable/wash...
75%
HYDRISE Non Woven fabric(Pack Of 12(Black) Pr...
70%
Careview Anti Pollution Cotton N95 Reusable U...
67%