Frequent hand sanitization is one of the best ways to stay safe from the coronavirus, which has terrified all the people globally. Not all the hand sanitizers, but the best Alcohol based hand sanitizers are proving to be great for protection against this dreadful disease.
India is also in the grip of this pandemic disease. But, this is not the time to panic. With some precautionary measures we can keep us safe from getting infected.
Check for the full information on coronavirus Protection here.
The best precautionary measures against Coronavirus protection include wearing a mask, washing your hands with soap and water, and sanitizing your hands frequently. That's why there is a sudden rise in the demand for coronavirus masks (especially N95), Hand Washes, and Hand Sanitizers.
Here, we are going to discuss some of the best Alcohol based hand sanitizers in India. But before going to the reviews of the best brands of hand sanitizers, check out the Complete Buying Guide on Hand Sanitizers.
Note: For the hand sanitizer to effectively kill germs, it needs to be at least 60% alcohol to be safe from Coronavirus. Look for a 60-95% alcohol concentration, and avoid non-alcohol hand sanitizers.
Best Alcohol Based Hand Sanitizers in India
Read the review of our best picks of hand sanitizers with alcohol content below.
1. Lifebuoy Alcohol Based Germ Protection Hand Sanitizer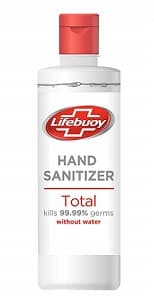 The brand Lifebuoy is the most preferable choice for almost all Indian households from ages. And so this alcohol based germ protection hand sanitizer comes to the top of our list.
The lifebuoy alcohol based hand sanitizer offers a convenient and hygienic way to make your hands germ-free. You don' t need water or rush to the wash basin for cleaning your hands. Just have a drop of it and apply to your palm until absorbed.
It includes 70% alcohol to kill all harmful germs, bacteria, and viruses. This gel sanitizer has a proper composition of isopropyl alcohol and ethyl alcohol that provides best protection against harmful microbes anywhere and anytime.
The best part of this hand sanitizer is that it not only kills germs but also boosts your immunity for up to 10 hrs. You can opt for various fragrances including lemon fresh and care variants as per your choice. It is also available in 30ml and 50ml on-the-go packs.
Key Features
Fight germs and cleanse your skin
Moisturizes your skin
Soft and gentle on hands
Boosts immunity to fight germs for up to ten hours
No residue left after rubbing
Small packs fits easily in your pocket
Non-sticky
Nice fragrance
Suitable for both children and adults
2. Oriley Advanced Hand Sanitizer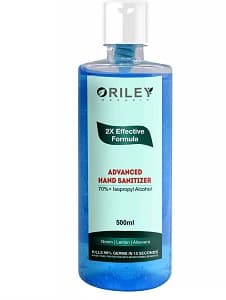 With the high level of isopropyl alcohol of 70% , this hand sanitizer from Oriley is our another best pick to stay safe from Coronavirus. Plus, the addition of neem, aloe vera, and lemon takes care of your hand and keeps it soft and moisturized. This hand sanitizer is ideal for every place, whether it is traveling, camping, public transport, or even at your phone or computer. The small bottle of this hand sanitizer allows you to easily carry it with you anywhere.
Key Features
Instant hand sanitizer for full germ protection
No need to wipe or rinse
Non-sticky
Causes no skin irritation
Long-lasting protection from germs
Soft on skin and suits every skin type
Ideal for hospitals, schools, offices, gyms, etc.
Convenient flip-cap avoids leakage
3. Palmolive Antibacterial Hand Sanitizer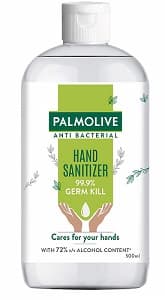 Get rid of the harmful germs, bacteria and viruses by rubbing this alcohol based hand sanitizer from Palmolive. With the high level of alcohol content (72%), it is highly effective in killing microbes from your hands. It comes in a refreshing citrus fragrance keeps your hand freshens and germ free for long hours.
Being gentle on skin, this one creates no itchiness, no redness, and even it is no more harsh on skin. The handy bottle size allows you to carry it anywhere with you. Thus, it allows easy protection on the go.
Key Features
Hygienic hand disinfectant
72% Alcohol Based
Soft and gentle on your skin
No redness and itchiness
Non-sticky
Do not leave any residue after rubbing
4. Dabur Alcohol Based Hand Sanitizer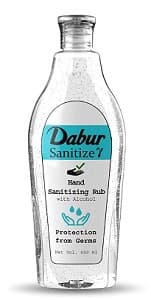 Dabur, the other most trusted Ayurvedic Indian brand offers this new range of hand sanitizer that can kill 99.9% of germs, bacteria, and viruses in a more natural way. This highly effective alcohol based hand sanitizer contains 60% alcohol contents and offers protection inside your home, at your workplace, in the playground, and wherever you are.
Using this hand sanitizer results in no itchiness, no skin-irritation and no redness. It effectively moisturizes your skin and prevents excessive dryness from your hands.
Key Features
Offers 99.9% germ protection
60% alcohol based
Soft and gentle on hands
Nice fragrance
ISO certified
Safe to use on various skin types
5. SterloMax Alcohol-based Hand Rub Sanitizer and Disinfectant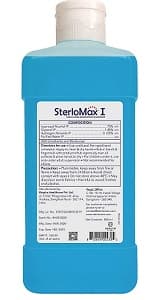 This alcohol based hand disinfectant from the brand SterloMax is great to use for home and office use. It is also a great buy for clinics and hospital use. The sanitizer is absolutely pure, hygienic and effective in the current outbreak situation of Coronavirus.
SterloMax hand sanitizer is ready to use and doesn't need water. You can use it conveniently and frequently whenever you need it. The only downside is that it is not ideal for kids.
Key Features
75% Isopropyl Alcohol Based
Pure, hygienic and effective
Long-lasting antimicrobial activity up to six hours
Moisturizes your skin
Safe on all skin types
6. Dettol Instant Hand Sanitizer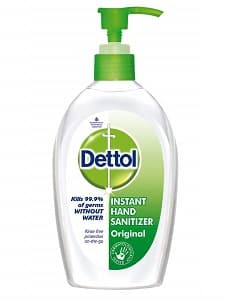 Dettol is one of the most trusted disinfectant brands serving since 1933. This Dettol hand sanitizer can give you safety and protection against harmful germs and microbes. The basic ingredient is alcohol that makes it very effective in sanitizing hands, if used properly as per instructions.
Recommended by the National Integrated Medical Association (NIMA), this formula always keeps you and your loved ones safe and protected anywhere and anytime. It comes with the classic Dettol fragrance that keeps your refreshed every time. You can choose from three different fragrances, including Original, Floral Essence, and Spring Fresh.
Key Features
Bottle with pump dispenser ensures ease of use
Hygienically safe
Kills 99.9% germs, bacteria, and viruses
Causes no irritation on skin
Non-sticky
Mild fragrance
Rinse free
Safe for all the skin types
7. Himalaya Pure Hands Sanitizer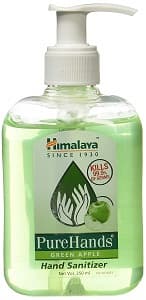 Himalaya pure hand sanitizer is absolutely an excellent choice for full hand hygiene. The sanitizer consists of coriander oil, hrivera, Neem, and Ushira as its active ingredients to offer perfect cleansing of hands for general hygiene maintenance. It can kill 99.9% germs, thus offering you full protection from any infection and disease. It comes in various fragrances like lemon, litchi, and green apple.This gentle sanitizer is very soft on your skin and moisturizes your palms.
Key Features
Protection everywhere at home or on the go
No oxidative damage to skin
No itchiness and redness
Provides cooling effect on hands
Nonsticky
Nice fragrance
Free from harmful chemicals
8. Greenviv Natural Instant Hand Sanitizing Gel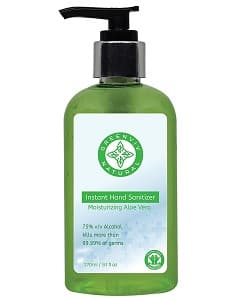 The Greenviv natural instant hand sanitizing gel is fast, effective, and safe sanitizer to fight germs, bacteria, and viruses anywhere and anytime. It includes 75% alcohol with aloevera gel and glycerine that not only removes harmful microbes but also moisturizes your skin gently. It also includes essential oil that infuses a sweet aromatic fragrance on your hands after every use.
Key Features
75% isopropyl alcohol to kill 99.9% germ, virus, and bacteria
Aloevera gel and glycerine to moisturize your skin
Soft and gentle on skin
Natural essential oil for aromatic fragrance
Safe to use on various skin types
9. Vitro Hand Disinfectant Hand Sanitizer

The Vitro hand disinfectant is an alcohol based hand sanitizer. It includes the ingredients isopropyl alcohol, ethyl alcohol, aloe-vera juice, aqua, glycerine, mentha-oil, and fragrance. It can cleanse your hands anywhere and anytime. This hand sanitizer can kill 99.9% of bacteria, fungus, and viruses and protect you against various diseases. Available in the handy and attractive bottle, it can be easy to carry anywhere and easily fits in your pocket as well.
Key Features
Effective disinfectant to kill germs, bacteria, and viruses
Safe to use on various skin types
Very handy to use anywhere and anytime
Requires no water for application
Keep your hands soft, smooth, and fresh
10. Palmist Pocket Hand Sanitizer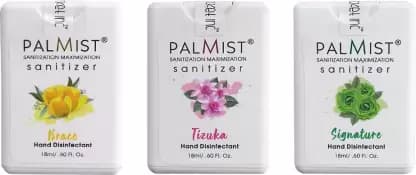 This alcohol based hand sanitizer is the best one to use on the go. The pocket-size makes it convenient to carry it anywhere without any hassle. It helps you to get rid of 99.99% germs from your hands and keep it sanitized for longer hours. This hand sanitizer is designed with an easy sprayer that comes with mist, thus ensures the ideal dosage for killing germs. It also combines the perfect blend of tulsi, neem, aloe vera, and lemon for a nice fragrance with anti-bacterial and anti-viral properties.
Key Features
Available in Sachets (1 ml, 1.5 ml), bottles (50 ml, 200 ml) and Sanitizer sprays (18 ml)
Herbal blend of tulsi, neem, aloe-vera, and lemon
Exotic fragrance
Travel and pocket-friendly
Kills 99.9% germs and other microbes causing diseases
Nonsticky
Moisturizes your skin
Hand Sanitizer Buying Guide
What is Hand Sanitizer?
Keeping your hands clean is the best way to stop the spread of germs. However, cleaning your hands with soap and water is the most effective way, but sometimes it is not possible to use this way. In this case, a hand sanitizer is proving to be much more effective. The best part is that you can use it anywhere and anytime, even also if no water is available.
Hand Sanitizers are the liquid used for killing the micro-organism on your hands. Thus, it prevents the spread of bacteria and germs.
According to CDC (The Centers for Disease Control and Prevention), rubbing your hands with hand sanitizers containing at least 60% alcohol will be very effective in case you are not able to wash your hands.
The alcohol-free sanitizers are not effective in killing the germs that cause coronavirus. Therefore, making these microbes inactive, it is recommended by WHO to use alcohol based hand sanitizer.
Types of Hand Sanitizer
1. Alcohol Based Hand Sanitizer
The hand sanitizer that contains at least 60 to 95 percent alcohol content in it is called an Alcohol based hand sanitizer. The alcohol it includes are isopropyl, ethanol, and propanol. It effectively kills all the microbes, bacteria, and viruses. And therefore, the hand sanitizers with alcohol content are very effective for deadly coronavirus protection.
Pros:
The alcohol based hand sanitizer works immediately and effectively in order to kill bacteria and most viruses
Alcohol based hand sanitizer reduces much flu like contagious diseases like coronavirus
Alcohol content leads to dryness on your skin, so most of the alcohol based hand sanitizers also come with moisturizer to reduce skin dryness and irritation
Small bottles are convenient, portable, easy to use on the go
Cons:
Alcohol based hand sanitizer is not ideal for kids as it is harsh on their skin
The use of one with high levels of alcohol concentration can lead to acute alcohol poisoning in children and adults
Inflammable
2. Alcohol-free Hand Sanitizer
Alcohol-free hand sanitizers use various contents like ammonia, silver, iodine, chlorine, triclosan, or essential oil to kill germs from your hands. It is less harsh on your skin over the alcohol based hand sanitizers.
Pros:
Alcohol-free sanitizers come in water-based foam
Non-toxic and non-inflammable
Soft and gentle on hands
Good for kids
Cons:
Alcohol-free hand sanitizers are not able to kill all types of germs, bacteria, and viruses
They do not dry your hands completely instead create little foam after rubbing hands
How to Use Hand Sanitizer correctly?
Take the adequate amount of sanitizer that will cover your hand completely. Then rub it over your finger and palm for a few minutes. Also, make sure to distribute it under your nails, on your wrists and the backs of each hand. When your hands are dry, you are good to go. The procedure reduces the growth of bacteria, viruses, fungi, and other microbes in your hands. Thus, it prevents the infection and sickness caused by them.
Keep in mind not to wipe off your hands or rinse your hands after using the sanitizer, as it will destroy the effect of sanitizer.
But remember, if your hands are greasy or heavily -soiled, only sanitization is not effective. You must wash your hands first with soap and water and then use the sanitizer in the correct way.
Note: Inadequate amount or wrong application can lead to growth of germs and microbes, resulting in infections and sickness.
How to make your own Alcohol Based Hand Sanitizer?
With the growing cases of COVID-19, the hand sanitizers are overpriced and are out of stock too in the market. In this case, if it is not available, you can make your own alcohol based hand sanitizer at home.
Mix 2/3 cup of 99% rubbing alcohol (isopropyl alcohol or ethanol alcohol) and 1/3 cup of aloe vera gel. You can also add five to ten drops of essential oil to add fragrance to it. Then pour the mixture into a spray bottle or liquid soap dispenser. Use it when needed.
Features to Look for Before Buying Hand Sanitizer
Which Hand Sanitizer is better- Alcohol-based or Alcohol-free?
We have already discussed above about the pros and cons of both types of hand sanitizers. As we are facing the coronavirus spread, it is better to go with alcohol based hand sanitizers. But, for your kids, it is better to choose the one that is alcohol-free.
Is it safe to use?
Don't choose the sanitizer that comes with harmful chemicals, as it can cause skin irritation and discomfort. Before choosing the best one, first check the ingredients and then assess whether it is comfortable on your skin or not. Pick the one that is soft on your hand and protects you from a skin infection.
Check for the variants
Hand sanitizers come in various variants suiting various skin types (dry, oily, and normal). So, choose the one that best suits your skin type and doesn't harsh on your skin.
Check for the Expiry Date
All the hand sanitizers are marked with the expiry dates and are effective for one-two years of their manufacturing dates.
In case of alcohol based hand sanitizers, it is very much essential to use the one that has not expired. Since alcohol is volatile in nature, it makes it evaporate slowly, and thus the sanitizer can't be able to kill the germs, bacteria, and viruses, effectively.
Always invest in the Good one
Don't waste your money in buying the cheap hand sanitizers, as they don't kill germs, bacteria, and viruses effectively. Even they also do not suit your skin. So, always choose the good quality hand sanitizer.
Conclusion
Due to the Coronavirus outbreak, personal hygiene is the top priority among people all over the globe. Washing and sanitizing hands are the best preventive measures that will keep you safe from the deadly virus.
We have detailed here the complete buyers guide on how to choose the best hand sanitizer. Also, we have reviewed the best alcohol based hand sanitizer to fight COVID-19. Hope the details we have covered will let you choose the best one.
Read More Reviews
Buy Sanitizer Online
Savlon Surface Disinfectant Spray Sanitizer, ...
37%
Lifebuoy Germ Protect Alcohol Based Hand Sani...
Dettol Original Germ Protection Alcohol based...
1%
SterloMax 80% Ethanol-based Hand Rub Sanitize...
43%
Savlon Surface Disinfectant Spray Sanitizer, ...
13%
Himalaya Pure Hands | Hand Sanitizer - 500 ml...
20%
QUARANT 80% Alcohol Based Instant Hand Saniti...
64%
Lifebuoy Antibacterial Germ Kill Spray, No Ga...
32%