Are you planning to set up a new office or to renovate an existing one? Investing in office furniture is the first thing that may come up in mind. Among the pieces of furniture essential in every office are office chairs. But how can you find the best chairs for the office?
Office chairs not only improves the interior appeal of an office but also ensures working comfortably. Thus, investing in high-quality office chairs must be on the priority list. It's not an easy task finding the right office chairs. This post will help you in making a smooth and easy search for the best product.
Key Takeaways
Below is a summary of this entire best chair guide (TL;DR Version) to help you make a quick decision if you don't want to read the whole guide.
As per our research and review, we recommend Sihoo Mesh Back Office Chair. It is the best in class with high positive feedback from past users.
The INNOWIN Parker is our second best recommendation. Strictly it is a gaming chair, but it leaves behind any ordinary office chair in terms of comfort and advanced features it provides.
An office chair is directly related to your health, so we don't recommend compromising even an inch when buying a good office chair. Check for lumbar support, headrest, armrest and quality of the material used in making it.
List of Best Chairs for Office in India
Below is quick tabular glance of your top picked best office chairs.

Office Chair
Key Features
Warranty
Maximum Weight
SIHOO High Back Mesh Office Chair
Read Review
Mesh Back
Variable ergonomic adjustment
Adjustable Lumbar Support
3 Years
150 Kg
CHECK PRICE

INNOWIN Parker High Back Office Chair
Read Review
3 Color Options
Back-tilt
Armrest
Lock Mechanism

1 Year
120 Kg
CHECK PRICE
Green Soul Ergonomic Office Chair
Read Review
5 Colors Option
Office & Gaming Chair
Advanced Feature
3 Years
135 Kg
CHECK PRICE
Ellbell chromium steel c100
Read Review
Metal Base
Headrest Support
Breathable Contoured Mesh Back
1 Year
105 Kg
CHECK PRICE
Featherlite Medium Back Desk Arm Chair
Read Review
Synchro-Tilt Mechanism
Trusted Brand
Adjustable Armrest
3 Years
150 Kg
CHECK PRICE
GreenSoul Leatherette Executive Office Chair
Read Review
6 Colors Option
High-quality Upholstery
Executive Office Chair
3 Years
110 Kg
CHECK PRICE
INNOWIN Leather Executive Premium Office Chair
Read Review
Limited Edition
Centre knee Tilt Mechanism
Ashwood Body Frame
1 Year
150 Kg
CHECK PRICE
SAVYA Home Apex AM-5002
Read Review
Budget Friendly
Lumbar Support
Class 4 Pneumatic Gas Lift
1 Year
120 Kg
CHECK PRICE
INNOWIN Jazz Mid Back Mesh Office Chair
Read Review
Mesh Back Rest
Lumbar Support

1 Year
120 Kg
CHECK PRICE
Savya Apex Crusader Office & Gaming Chair
Read Review
Headrest & Lumbar Support
Adjustable Armrest
Gaming and Office Chair
1 Year
140 Kg
CHECK PRICE
Sunon Office and Computer Chair
Read Review
Lumbar support & Headrest
Mesh Back
Metal Base
NA
115 Kg
CHECK PRICE
Best Chairs for Office Review
1. Sihoo High Back Home & Office Chair (Best Overall)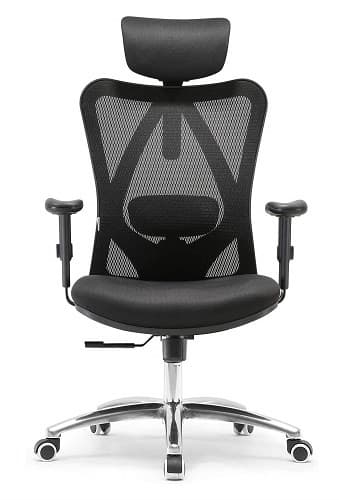 Breathable Mesh Chairs are the trendiest addition to any office or home for a comfortable working environment. And when it comes to ergonomic, durable, and multifunctional working chairs, the brand Sihoo always comes first. So, our top pick belongs from the house of the same brand that is not only a designer version but also comes with a host of unique features for a comfortable prolonged sitting experience. Best of all, it is easy on your pocket too as on your back.
Key Features
Design and Build Quality: Its professional and independent design in an elegant black color blends perfectly with any working environment. In addition, it has a silver steel frame, including the wheelbase, along with black castor wheels giving it a more appealing look. Moreover, the high-quality material construction makes this mesh chair highly durable and long-lasting.
Breathable Mesh Back: It is a standout feature that sets it apart from the other chairs we have mentioned here. Its premium backrest is designed with mesh fabric that keeps you cool and comfortable if you sweat a lot as the air circulates perfectly through the tiny holes.
Variable Adjustability Options: With a wide range of adjustability options, this office chair is suitably best for almost any user. It has provisions for headrest and armrest adjustments, seat height adjustment, backrest tilt and recline; all give you a customizable sitting experience.
Adjustable Lumbar Support: Featuring an adjustable lumbar support mechanism, this chair offers ultimate comfort without any back pain, even after long hours of sitting. The reason behind this is its smart backrest configuration that takes up the shape and curvature of your spine and provides maximum comfort.
Padded Seat: It features a cushioned seat that perfectly balances softness and support. Plus, the W-shaped design of the seat maintains a good posture while also relieving pressure under your legs and thighs.
Maximum Weight Capacity: The maximum weight capacity of this chair is 150 Kg that we think is pretty good enough to accommodate almost any user.
Pros
Comfortable design and sturdy build
Nice lumbar support adjustability
Almost everything is adjustable for the most comfortable sitting
Very easy assembly
Budget mesh chair
Cons
2. INNOWIN Parker High Back Office Chair (Runner Up)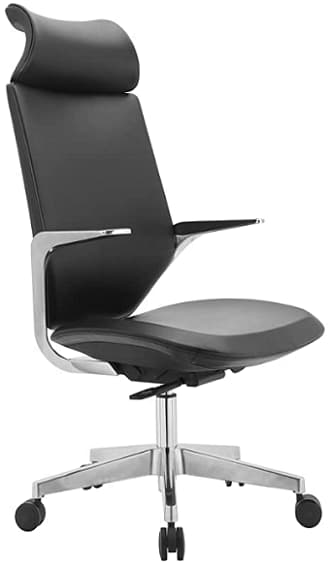 This Innowin Parker is an executive chair built using premium materials. It has sleek structures yet durable and sturdy. This chair is deemed to be one of the most ergonomic office chairs in India. It boasts excellent features and an exquisite appearance. The deep seat of this chair provides full support not only for the upper body but also for the lower part.
Key Features
Lock mechanism: It has a lock lever usable for locking the vertical height after adjusting to your comfort.
Comfortable seat: The wooden frame makes it robust yet lightweight. The seat is wider than other brands, making it comfortable to sit even for longer hours. The lumbar support of this chair is perfect, and the seat is covered with leatherette upholstery.
Easy to assemble: Putting together the parts is an easy job. Since the instructions provided in the manual are explained step by step, it does not require technical know-how.
Higher weight capacity: The base of this office chair is made of sturdy material. Thus, it can hold a maximum weight capacity of 150 kg.
Adjustable seat: The class 3 pneumatic seat adjustment allows you to adjust and extend its seat height at your convenience.
Smooth movement: 50mm casters let you move the chair from one place to another smoothly without making noise and scratching or damaging the floor.
Ergonomic headrest and lumbar pillow: The ideal chair should have the support to reduce shoulder or neck pain during years of sitting. The ergonomic headrest and lumbar support pillow are made to target these major areas of discomfort.
Pros
The black leatherette fabric makes an elegant appearance
The foam backing improves the comfort levels
The caster wheels are of high quality and enable effortless movement
Cons
The armrest is not adjustable
Little expesnive
3. Green Soul Multi-Functional Ergonomic Office Chair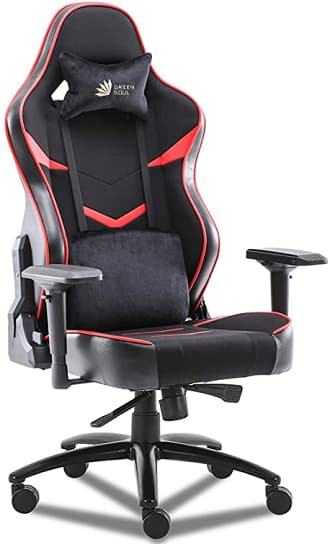 Green soul GS-734US is strictly a gaming chair, but its great ergonomic design is better than most office chairs. The level of comfort and feature you get here easily outclass any office chair. These chairs are getting popular in Europe and the US and replacing the office and executive chairs rapidly. We are sure that the Indian customer will also do the same.
We have included it because it is one of the best ergonomic gaming chairs, which could be a perfect replacement if you are planning to buy an office chair.
Key Features
Breathable soft fabric: The premium fabric used is soft and breathable, allowing air to pass through for comfortable sitting. So no heat is build-up on your backside due to air circulation.
Body Frame: The internal body frame is built with strong metal for durability. It has a large size frame for various sitting positions.
Headrest and Backrest Support: The chair has a fixed headrest pillow and a comfortable lumbar pillow. It allows the head to lie on its soft padded upper platform. The headrest pillow and the lumbar support are detachable. Thus, it allows for making some adjustments for added ease.
4D Adjustable Armrests: The first thing is that its armrest is made with polyurethane carbon and padded perfectly for good grip and soft touch. Second, you can adjust its direction in 4 directions, up and down, front and backward, left and right, and angled left and right. This feature makes it absolutely comfortable.
Advance Mechanism: It has a deer mechanism, which makes reclining, seat height adjustment, and locking extremely enjoyable and comfortable. You can lock at any recline position. The backrest can be tilt from 90 to 180 degrees to lay at any position with the help of a lever provided at the right side.
Metal Base: The black coated heavy metal base looks extremely good. It has a class 4 pneumatic gas lift base to adjust the height. 60mm PU dual caster wheels make it easy to glide.
Pros
3 Years warranty.
Available in 4 colors.
No animal part is used.
360 degrees swivel.
Velour, PU leather, and memory foam for upholstery work.
Lumbar and Neck Pillow.
15 degrees rocking.
Adjustable armrest.
Cons
Marginally costlier, but the quality is better.
Not suitable for people over height 6 feet.
4. Ellbell chromium steel c100 – Budget Pick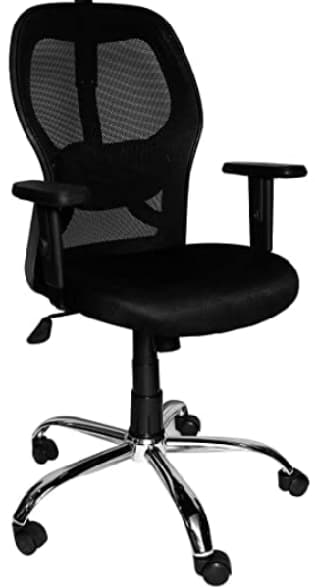 Cellbell office chairs are the best in business, and Cellbell c100 is no exception. For this price range, it has a headrest, ergonomic design, and high-quality upholstery work. Its elegant look easily blends with your office decor. Let's see its key features in detail.
Key Features
Strong Body Frame: It has a strong fiber frame body with a breathable mesh at the backrest for better air circulation.
Armrest Adjustment: The armrest is made with durable material and you can adjust its height for maximum comfort for your hands.
Mechanism: The chair uses a tilt mechanism with a knob below the chair to control the tension. There are 2 levers, one for adjusting the height (up to 5 inches) and the other for locking the recline position (90 – 120 degrees).
Metal Base: The heavy-duty 26 inches non-rustable metal base with chromium finish. Wheels are attached with 55mm nylon casters.
High-Density Seat Padding: The seat upholstery has a mesh cover and it's over 2 inches thick for the long sitting duration.
Easy Assembly: You have to install it on your own by following the instruction manual. You can contact customer care to get more help through video for installation purposes.
Lumbar Support and Headrest: It has adjustable lumbar support with the help of a knob provided at the backside. You also get a headrest with height adjustment and a tilting feature.
Pros
360 degrees swivel.
Rocking back and forth.
Pneumatic Hydraulic system.
Maximum weight capacity of 105 Kg.
1 year limited warranty.
Good after sale service.
Cons
Not suitable for taller people.
Adjustable height is not enough.
5. Featherlite Contact Project Medium Back Desk Arm Chair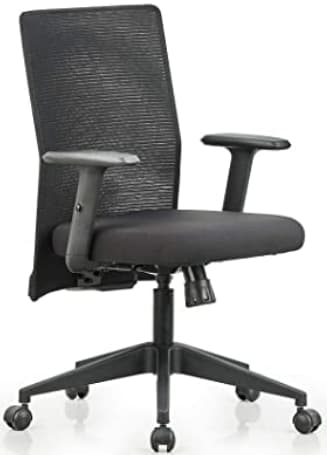 The Featherlite brand is the most sought after brand for the best office chair in India. Their office chair is popular in India because they make office chairs that are ergonomic and long-lasting with ultimate comfort experience. Usually, the Featherlite chairs are expensive, but this one will fit in your budget. Sitting on this chair for long hours is never an issue because of the following useful features.
Key Features
Mesh backrest: The backrest is made of mesh to ensure good airflow and avoid your back getting sweaty.
Lightweight construction: It is built of lightweight material that fits best with modern office settings, but at the same time, it is durable.
Maximum weight capacity: The maximum weight capacity is 150 kg, which is more than enough for Indians.
Well-constructed seat: Both backrest and seat are made with hot-pressed 12mm plywood, which ensure durability. It is fixed with high-quality imported T-Nuts, which feel comfortable when sitting.
Synchro Mechanism: The synchro mechanism, also known as the Synchro-Tilt Mechanism, allows to adjust both the recline and upright position together automatically.
Upholstered seat: The seat is upholstered with quality fabric to offer optimum comfort.
Assembly requirement: It is easy to assemble the chair as it comes with an instruction manual.
Pros
Trusted Brand
Easy to assemble
High-quality material
Good seat height
Adjustable armrest
Good value for the money
150Kg Weight capacity.
Cons
Some people find Synchro Tilter hard to adjust
6. GreenSoul Vienna High-Back Leatherette Executive Office Ergonomic Chair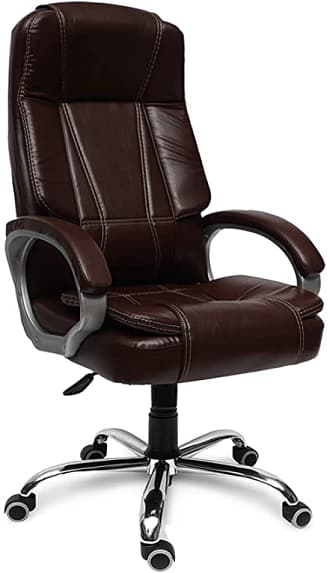 The list of the best office chairs is incomplete without mentioning an executive office chair. This Green Soul's Executive office chair is a good option when you want to work continuously without feeling tired and exhausted.
Key Features
Soft-Padded Handle: The chair is padded with soft layers of foam all through its curved and stylish armrest. Thus, it allows comfort while resting the arms on the handle.
High-quality Upholstery: The manufacturer uses thick cushion padding matched with unique upholstery craftsmanship. The soft leather PVC makes the chair an excellent resting piece of furniture in the workplace.
Spine-Shaped Ergonomic Back: We need to lie back at a comfortable backrest while sitting. This chair is crafted based on the human spine's shape to allow maximum back comfort while sitting.
Strong 5 PU Castors: It has a strong chromium finish metal base. Also, the 5 heavy-duty PU Casters help in moving the chair smoothly and quickly.
Multi-function: You can recline and uplift with the help of the lever present downside the sitting pad. The pneumatic cylinder is smooth, and you can spin it 360 degrees. One can move around easily and with no hassle.
Strong Frame: The chair's frame is built with solid wood and covered with thick and soft padding to provide adequate support to your back and shoulders.
Pros
Available in 6 colors.
Executive class and quality.
Support over helpline and email.
An industry leader in making office chairs.
Durable and Robust design.
Cons
Limited city delivery option.
The reclining option is a bit tricky.
7. INNOWIN Pure Leather Executive High Back Premium Office Chair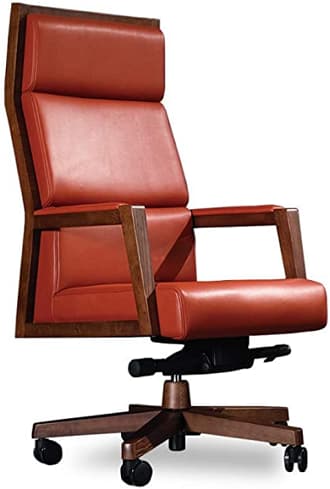 Before you read further, we want to warn you that this chair is a premium class, high-quality, expensive chair.
It is a limited edition high back executive office chair for the rich. The body frame is made with Ashwood, commonly used in the lumbar industry for its properties like shock resistance, lightweight nature, strength, and attractive aesthetics. The upholstery cover is pure quality leather.
Key Features
Limited Edition: This is a limited edition premium high back office chair for those who like to bring glory to their office or home.
Elegant design: The design and style give your royal feeling when you sit in this chair. Not only the design, but the manufacture has taken care of the lumbar support and comfort it provides to your back.
Frame Material: The frame of this limited edition chair is made with expensive highly-durable Ashwood, which gives beautiful aesthetics look.
Upholstery: It uses genuine and pure leather for cover and moulded PU foam with a density of 45 for the seat. The armrest has the same leather cushioning.
Base: The base uses the same Ashwood with 60mm castors having nylon wheels for smooth rolling.
Reclining and height adjustment: The class 4 Pneumatic gas lift mechanism allows you to adjust the seat up and down. The knee tilt mechanism lets you recline the chair while keeping the feet flat on the ground.
Customizable: The manufacturer can customize the color of the leather and some other detail at your request.
Pros
The maximum weight load is 150 Kg.
Premium look.
High-quality wooden frame.
Centre knee tilt mechanism.
High back.
Cons
Very expensive.
Assembling could be challenging as you need to do it by seeing the video.
8. SAVYA Home Apex AM-5002 Apollo Medium Back Office Chair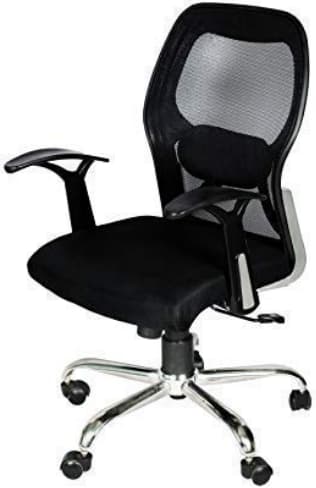 This model from SAVYA is a basic office chair with moderate quality at the lowest possible price. It has a simple design with a classic style. We recommend it for the individual who wants to use it in their home office to make it a relaxing and inspiring environment. It easily blends in and makes your office beautiful with its simple and stylish pieces.
Key Features
Thick Padded Seat: It has 2 inches mesh seat cushion, providing sitting comfort even for long hours. The padding is thick, dense, and shaped perfectly for the optimum sitting experience.
Swivel with tension knob: Just like other chairs, you can spin this chair 360-degrees. The tension control present at the bottom helps you to control the tilt position.
Pneumatic Gas lift: Equipped with a class 4 pneumatic gas lift, you can adjust the height up to 5 inches with the help of a lever. The same lever can be used to lock the tilt position.
Nylon Castors: With the chrome-plated metal base and dual wheel nylon casters, you can glide it smoothly without scratching the surface.
Lumbar support: Rotate the lumbar support knob clockwise or anti-clockwise to get the desired comfort for your back.
Material: Made with Ergonomic Copolymer, the back is outlined by black mesh for air passing. The armrest is made with robust and durable plastic.
Pros
1-year warranty.
Compact design.
Can uphold 100 Kg weight.
Inexpensive and budget-friendly.
Offers high-quality performance
Durable and dependable
Provides long and comfortable service
Cons
No headrest.
You need to assemble yourself.
9. INNOWIN Jazz Mid Back Mesh Office Chair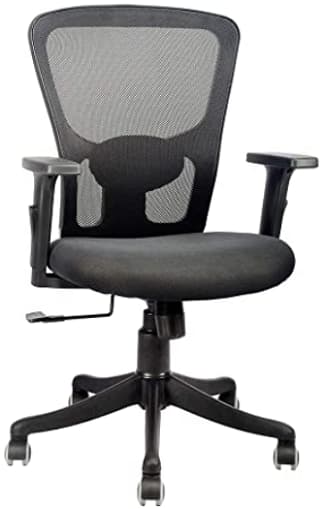 If you care about your back, shoulders, and legs, you should buy the best ergonomic chair for your office or home. The INNOWIN Jazz mid back is the perfect choice to get relief from back and shoulders pain or hand and leg cramps happening due to sitting job. Let's see some of its key features.
Key Features
Lumbar Support: This chair is designed with lumbar support and a comfortable backrest to make the lower back feel easy. The knob provided at the backside can adjust the curve and height of the lumbar support.
Frame Material: Contoured by the glass-filled nylon structure, it has breathable mesh to feel relax in hot summer conditions. The seat is made with high density moulded foam and covered with mesh fabric. The armrest is made with polypropylene.
Mechanism: You get a single lock synchro-tilt mechanism to adjust the reclining position and height of this chair. It has a class 3 pneumatic gas lift for height adjustment. You can also adjust the height of the armrest.
Glass-filled Nylon Base: It has a glass-filled nylon base with 50mm nylon castors for a strong base that can hold up to 120 kg of weight.
Two variants: It has another variant with additional headrest support.
Pros
Customer support is the best.
It has a 360-degrees swivel.
Maximum weight capacity of 120 Kg.
Easy assembly with just a 2 step process.
Comfortable cushion.
Breathable mesh material.
Adjustable height for the armrest.
Cons
10. Savya home by Apex Crusader XI Office & Gaming Chair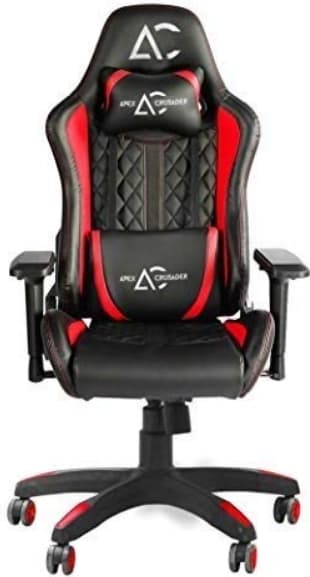 When purchasing an office chair, it is necessary to consider the comfort it offers along with its aesthetic look. A chair that has good appeal can improve the ambiance inside the office. This Savya gaming office chair can be the right option if you are looking for the best chair for office in India.
Key Features
Ergonomic design: This office chair features an ergonomic design. The metal frame provides comfort and stability.
360-degree swivel: The 360-degree swivel option present in this model allows reclining the chair at 90 to 180 degrees, plus you can adjust the seat height and customize the armrest, which is a useful feature.
Alloy style large casters: The alloy casters prevent damaging the floor. The Smooth-rolling and heavy-duty casters provide high mobility and excellent stability.
Lumbar cushion: Aside from the headrest pillow, this office chair has a lumbar cushion that supports the lower back and avoids pain while sitting for a long period. Its broad seat allows a comfortable sitting position without sinking into the pads.
Easy to assemble: You can easily assemble this savya home gaming chair with the instructions available in the user's manual. Putting together all the parts is simple because all the necessary tools and hardware are in the box.
Comfortable soft seating: It has a thick cushion to ensure outstanding comfort. The soft PU leather covers the seat, making it non-slip. Thus, it guarantees coziness while working.
Class 4 Pneumatic Gaslift: It enables control of the swivel mechanism. It also allows rocking the chair using the single lever or tilt it up to 170-degree.
Pros
High-quality material
Easy to put together
Optimum comfort level
High-quality built hand rest
Cons
Not recommended for over 100 kilos weight
11. Sunon Office and Computer Chair High Back
Sunon office chairs have simple designs but oozing with useful features. The ergonomic features make this office furniture user-friendly. The manufacturer guarantees the product is made of high-quality materials; thus, durability is ensured. If you are on a low budget, this office chair is the right choice. It is cheaper than other products, yet also guarantees durability.
Key Features
Fixed lumbar support: The lumbar support is ergonomic. It hugs your back to prevent lower back pain. The backrest's curve contour helps to align your body and lift the spine even when working for a prolonged time.
Ergonomic headrest: The curved headrest ensures neck support. It is adjustable either up or down and tilts back and forth for a comfortable head position.
Adjustable armrest: The armrest is not only adjustable but also covered with thick and soft PU leather. It offers comfortable arm support and is adjustable according to your preferences.
Legs and casters: The leg base is made of solid metal with a chromium finish for durability. It does not make noise because the casters are flexible and roll smoothly.
Thick mesh back: Resting your back for a long hour is relaxing. Thanks to the thick mesh, you don't have a sweaty back during summer. The air can freely flow on the back part of the chair.
Simple to install: Since the product comes with a user's manual, putting together each part is so simple. Assemble the chair with ease by following the manual.
Excellent quality: Manufactured with durability in mind. The heavy-duty build can accommodate up to 113 Kg maximum capacity.
Pros
It is budget-friendly.
Comfortable back support.
Good quality and sturdy product.
Easy to assemble.
Adjustable armrest.
Cons
The leaning option is not present
Best Office Chair Buying Guide
An ergonomic and high-quality office chair is essential whether you are working in an office or at home. Otherwise, low quality may cause health issues. Selecting the right chair for the office can make your workday focused and productive.
Key Features to Consider Before Buying an Office Chair
1. Adjustable Height
It is important to ensure comfort when sitting for long hours while working. With this, the seat height is one factor to think about. A chair with adjustable height guarantees to keep your thighs and hips aligned. It reduces the risk of developing back and hip strain.
A high chair may cause sliding when leaning forward to reach the desk. It will cause poor posture. If the seat is too low, you may develop lower back pain. It's because your hip is lower than your knees. To ensure long-term comfort, a chair with adjustable height is the best option.
2. Seat Dimension
When picking an office chair, we recommend the one that can accommodate your body size. The seat dimension must not be too narrow or roomy. A deep chair can make you hunch forward. If the seat is too wide, it will be hard to reach the armrest.
To find the right chair, measure first the width and length of the seat before buying it. Or, when viewing online, see the dimension on the listing page.
3. Tilt Control
Another essential factor in selecting a chair for the office is the seatback angle. There must be a tilt control so that you can adjust the seatback. It is necessary to prevent back pain from sitting for an extended time.
Experts recommend using a chair that is slightly reclined to protect the spine. Thus, tilt the back of the chair or at least 110°angle. Check and try the tilt control before purchasing the chair. Do extra research to find the best one.
4. Armrest Options
The chair's armrest offers support to the arms, preventing discomfort in the forearms, shoulders, and neck. That is why check the height of the armrest if it suits the level of your arm. Otherwise, you can experience tension in the shoulder muscles if the armrest is too high. Discomfort in the wrists and forearms if it is too low.
Your arms and wrists must be level with the keyboard to avoid muscle tensions. There are office chairs with adjustable armrests. It allows adjusting the angle or width of the armrest for customized comfort.
5. Mobility
Office chairs with swivels allow mobility while sitting. The wheels enable us to shift direction or move from one place to another. But make sure the moving parts are of high quality to withstand daily use. If it is difficult to determine the durability of the parts, the best thing to do is read helpful reviews. Make sure that the seat has a lock to ensure stability.
6. Padding and Materials
The construction and upholstery of any furniture vary. It is true with office chairs. That's why it is essential to check and test the materials used in constructing the chair and the padding. Sitting for long hours can make your back warm. A chair with a mesh back offers a breathable feel. Chair covered with leather material or faux leather shows a luxurious and impressive look. You can also find chairs with the firm or soft cushioning.
It is essential to consider the comfort of the product. It may feel and look great, but if it does not offer ergonomic support, then it's not a good buy.
7. Lumbar Support
Working and sitting for long hours compromises the lumbar region. Choosing an office chair with lumbar support is a must. If the seatback has lumbar support, it will prevent slouching. Thus, maintain proper spinal posture. If the chair you are currently using has no lumbar support, you can add a support cushion.
Office Chair Frequently Asked Questions (FAQs)
1. What is best office chair?

The best office chair is INNOWIN Parker Office Chair. It has adjustable lumbar support, adjustable armrest, affordable price and high build quality. If you can afford a bit more and need a complete ergonomic chair with a headrest and advanced features, we recommend Green Soul Monster Ultimate (S) (GS-734US).

2. What is the best office chair for sitting long hours?

Sitting all day on a chair can put a strain on your back, neck, and shoulders, causing severe pain in these areas. Therefore, it is best to choose the office chair that will promote the natural curve of your spine when you sit on it. It also must have the right support for your weight and height. And most importantly, choose the one that has adjustable back support, so it may not strain your back if you sit for prolonged hours.

3. How much does a good office chair cost?

The price depends on several factors. The most notable are build quality, features, branding, material and mechanisms. In India, the quality office chairs that ensure better comfort and support range from Rs 7000 to Rs 20,000. Though some high-end models can go beyond Rs 50,000, the choice depends on your need and budget.

4. Should I get an office chair or a gaming chair?

Both types of the chair come with their own benefits. The latest standard office chair comes with a number of adjustments to accommodate various body shapes, heights, as well as pain. Even they are simple and easy to use. Contrary to this, the gaming chair features a contoured ergonomic design with a tall backrest, thick padding, and adjustable arms, providing you ultimate comfort.

A gaming chair is a better option over the standard office chairs for prolonged usage as they offer better back and neck support while sitting.

5. What's the difference between an office chair and a task chair?

The Task chair is actually a variant of the office chair that is also known as steno chairs. These are low backed chairs that come with or without arms and are very functional to suit a variety of activities and body types. Having a simple design, the task chairs are very functional and promote good posture.

6. Why are desk chairs so expensive?

The cost of an office chair or desk chair depends on several factors. If you need a durable chair, that means every part of it should be made with the highest quality standards. That's why if you want to get a durable chair, be ready to spend a little extra money. If the chair offers more features, it is going to be expensive. The finish of the chair impacts the price. Thus, if the chair is made of high-quality material, especially the finish or the upholstery, the price will double.

7. What is the ideal office chair to prevent back pain?

The ideal chair for an office that can prevent back pain must feature lumbar support. The depth and height of the lumbar support should be adjustable. This way, you can adjust it up or down your back. The lumbar support must be stiff enough to sustain the spine and lower back.

8. Can office chairs be repaired?

Yes, the parts of the office chairs like the lift mechanism, caster wheels, chair base, lift cylinder, and tilt control system can be repaired or replaced. Make sure to check the warranty on these parts, as it will save you from paying the additional cost for the repairing or replacement.

9. Where can I buy nice office chairs?

You can buy good office chairs both online or offline. If buying offline, make sure to purchase only from a reputable store that offers quality and branded items. And if you are purchasing it online, you can consider the best options from various online stores like Amazon, Flipkart, Pepperfry, etc. These online stores offer the best quality office chairs from reputed brands.

10. Should I have an armrest on my office chair?

Yes, it is better, because an armrest on an office chair ensures proper placement of your arms when you are working on a computer, Thereby it relieves from the strain on your shoulders and wrists so that you can work for long hours comfortably.

11. Are mesh office chairs better?

The most significant selling point of a mesh office chair is the ample airflow that keeps your back cool. So in summer, when you sit for a long time, it keeps you comfortable and relaxed. Moreover, mesh office chairs are easy to clean and maintain. They are portable compared to a leather office chair.

12. Should I invest in an office chair?

Yes, investing in a good office chair offers decent ergonomic sitting, so you can easily work for long hours without any strain in your back, arms, neck, and hip. Thereby, it enhances your mental mood and working proficiency.
Conclusion
If you spend most of the time sitting in an office chair, we recommend purchasing the best one. It will help you carry out your job a lot easier without compromising your health. Pay attention to the functionality of the chair. There are a wide plethora of choices available, making it challenging to find the right buy. We recommend INNOWIN Parker Office Chair if you are planning to buy a new chair for your office.
With the thorough reviews cited above, we think you get enough knowledge to choose the best chair for your office. Pick the one that is not only complementing the office environment but also promotes health. Working for long hours is tiresome and can adversely impact our health. Thus, we must pay attention to the features that can prevent developing back pain and bad posture.
Read Related Reviews
Buy Best Office Chair Online
beAAtho® Verona Mesh Mid-Back Ergonomic Desk...
60%
CELLBELL Desire C104 Mesh Mid-Back Ergonomic ...
48%
Green Soul Seoul Office Chair, Mid Back Mesh ...
31%
Green Soul® Jupiter Superb Office Chair, Hig...
49%
Green Soul® Vienna Premium Leatherette Offic...
48%
SAVYA HOME Apollo High Back Ergonomic Office ...
69%
Kepler Brooks Office Ergonomic Chair | 3 Year...
44%
CELLBELL Tauras Lite C100 Mesh High Back Offi...
50%