Wireless Printers are very trendy these days as they reduce the hassle of dealing with messy wires. These can also be easily set up anywhere, either in your home or office, making it a convenient printing device. Some hi-tech models of wireless printer also feature both Wi-Fi and Bluetooth connectivity making them more flexible and versatile devices.
But, are you having a hard time finding the best wireless printer in India because you are overwhelmed with the many options available? You don't need to do so. This guide is for you. Through our research, We have picked up the best printer with latest feature and technologies that you can buy.
It doesn't matter if you are a stay-at-home mom, a stay-at-home worker, or a busy medium-sized business owner. There is a printer for everyone in this review.
If you are confused on what to look before buying, then read our comprehensive Buying Guide on printer which will make your purchase decision much more easier.
7 Best Wireless Printers For PC, Mac and Mobile Devices in India
Wireless Printers
Printer Type
Connectivity
Supported Page Size
Canon Pixma G3010 Wireless Printer
Read Review
Ink Tank
Wi-Fi, USB, Canon Selphy App
4.0"x6.0" till A4 / Letter / Legal / A5 / B5
CHECK PRICE
HP Laserjet Pro M126nw Wireless Printer
Read Review
Laser
Wireless, USB, Ethernet, HP ePrint App
A4, A5, B5, envelopes, post cards
CHECK PRICE
Canon PIXMA E3370 AWireless Color Printer
Read Review
Ink Jet
Wi-Fi, Wifi-Direct, USB
4.0"x6.0" till A4 / Letter
CHECK PRICE
HP OfficeJet Pro 9010 Printer
Read Review
Ink Jet
Wi-Fi, Wifi-Direct, USB
-
CHECK PRICE
Canon IP110 Colour WiFi Printer
Read Review
Ink Jet
Wi-Fi, USB
A4, A5, B5, Letter
CHECK PRICE
HP Laserjet Pro M17w Wireless Printer
Read Review
Laser
WiFi , USB 2.0
A4, A5, A6, B5, C5, DL, postcards
CHECK PRICE
Brother DCP-L2541DW Multi-Function
Read Review
Laser
USB, Ethernet, Wi-Fi, Wi-Fi Direct
A4, Letter, A5, A5(Long Edge), A6, Executive, Legal, Folio, Mexico Legal, India Legal
CHECK PRICE
Best Wireless Printer Reviews
1. Canon Pixma G3010 All-in-One Wireless Printer (Best Overall)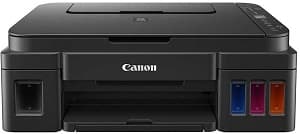 This is the best value for your money.
It's not perfect, but it does everything pretty good. It prints, scans, and copies all in color. Since it offers borderless printing, it's great for school projects and general home to small office use.
A lot of printers tend to jam a lot. You will rarely have to spend the extra hassle to fix this printer. If you run into a problem, then Canon offers great support. Or you can go on Youtube because there are plenty of videos on this printer. It's a very popular choice for a reason. You and your kids will find it easy to use.
Honestly, the biggest selling feature is its reliability. The cartridges will last over 6,000 pages! Yes, if you end up printing that much in a year, you won't have trouble finding ink. You can go to your local store and buy the ink for a reasonable price. I hate trying to take more than 10 minutes to find something that I need. If you are impatient like me, then you will totally appreciate this convenience.
Should anyone be surprised that this printer is the best wireless printer in India? No. The longevity and its popularity make this printer stand out from all the other all-in-one wifi printers out there.
For most people, this is all you really need: simple, inexpensive, scans, and copies. The body has a premium look and finish. So, it will look nice in your home and not take up a lot of space. Overall, expect low maintenance, and therefore, lower stress levels.
Pros
Prints decent quality colored photos and text documents.
Free installation from the manufacturer. Seriously, Canon's support team is fabulous.
Never wonder if the ink is low. The ink is visible from a distance.
Long-lasting!
Connect with Ethernet, Wi-Fi, dedicated Wi-Fi, USB, PIXMA Cloud Link, or the Canon Selphy App. The cloud gives you a lot of cool features.
Cons
Does not have duplex printing.
The Windows and Apple apps are slightly different.
2. HP Laserjet Pro M126nw Multi-Function Wireless Laser Printer (Runner Up)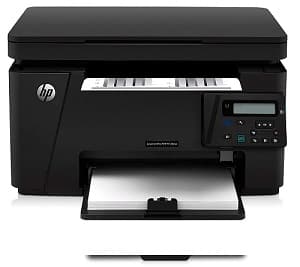 More and more people are working from home right now. If you only intend to print, scan, and copy documents for professional work, then this is the best laser printer on the market right now.
The reliability is unmatched compared to other laser printers on the market. The maximum recommended monthly page limit is 8,000. Just wow! That's a lot of paper. Expect to use this printer for a couple of years at least. But there are more reasons to love this printer.
It is ENERGY STAR certified. That means it does not use a lot of energy. The printer will automatically turn off after not doing anything for a while.
In fact, you won't need to turn it on. You can hit the print button, and the printer automatically will turn on and print. A lot of printers somehow do not have this feature. It's really a big deal when you can find a printer that does this … however unfortunate that may be.
Lastly, you can print on the front and back side without manually inputting the paper back into the tray. Once again, this is another method of how this printer helps the environment and brings convenience to your life.
Pros
Perfect for home offices and small businesses.
High volume printing! Print to your heart's content.
Best feature: Duplex printing support. That means you can print on both sides of a single page.
Can edit the size, brightness, and other parts of the document with the print settings.
Connect with HP ePrint, Apple AirPrint, Wifi, USB, ethernet, and dedicated Wi-Fi.
Cons
The display screen does have an LCD screen. So, it's recommended not to put the printer near a bright window.
No ADF scanning. That means you cannot scan multiple documents automatically.
It only prints in black-and-white.
3. Canon PIXMA E3370 All-in-One Wireless Color Printer (Best Budget Pick)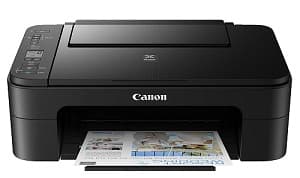 This wireless printer is for the people who need a printer, and that's it. There is nothing wrong with that. I remember my grandparents only printing out coupons every other month. Maybe I would print out an essay a few times per year when I was in school. I can totally see my grandparents buying this printer because they love bargains.
This is not just any cheap wireless printer. The quality is surprisingly really good! When you print something out and look at it, you don't realize that it comes from a cheap printer. You'd think it came from a decently priced one. That's what makes this printer such a bargain. No one expects it to be, but it simply is.
If you don't have a big budget and you only plan to print a few pages out every month, then buy this and move on with your life.
Pros
A cheap wireless printer for people who just need a printer.
Ink is also cheap and easy to find.
Color and Black-and-white printing.
Auto-power on and off technology.
Connect with Ethernet, Wi-Fi, dedicated Wi-Fi, USB, PIXMA Cloud Link, or the Canon Selphy App, Canon Print Service.
Cons
It is a bit noisy. But if you are not printing a lot, then this does not really matter too much.
A bit difficult to set up. You can call support, and they can help you out.
4. HP OfficeJet Pro 9010 All in One Printer (Best Printer for Office)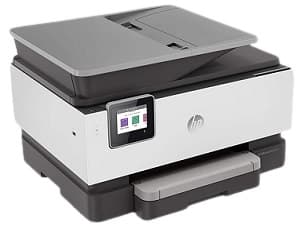 Just wow! This wireless printer packs a punch in a lot of areas!
Are you worried about your security? Don't be with this wireless printer. It'll check for viruses, malware, and unauthorized access.
Tired of doing the same tasks over and over again? You can create shortcuts to pick up the speed. This is in the Smart Task management section.
Do you need to print on the front and back of a single page? That's right; you can print both sides with this printer.
Do you have 35 pages that you need to scan and don't want to manually put the page as well as on and off the scanner? Not many wireless printers do this, but this one does it.
Oh, and are you just plain lazy? Why not ask Alexa to print out a document you need? Oh, your printer isn't compatible with Alexa, that's right! Well, this printer is compatible!
Okay, most wireless printers for office use don't have any of these features. These are all awesome features for businesses and only a couple of people at home. But this is the wireless printer to buy if you need these features.
Pros
Voice-enabled printing. Use Amazon Alexa and Google Assistant to print something out. You may not want to tell a 5-year-old about this feature, though.
Connect with Apple AirPrint, Wi-Fi, dedicated Wi-Fi, HP Smart App, USB.
Great business-oriented features: A3 Printing, duplex printing, and ADF scanning.
Cons
5. Canon IP110 Color WiFi Single-Function Inkjet Printer (Portable & Best Photo Printer)

If you are on-the-go and need to print something out for a client real quick, then this is what you want. It will fit inside of your backpack. You don't need to hook it up to anything to make it work.
Out of all the other wireless printers on this list, this printer will provide the best quality image. If you're a hobbyist photographer or artist, then this is worth buying because you won't find something cheaper with such great resolution.
Pros
Superior photo quality than most common printers available.
Portable! Travel with it! You can put a battery in it or hook it up to your car.
Connect with Pixma Printing Solutions (PPS) / Pixma Cloud Link, Wireless Pictbridge, Wi-Fi, AirPrint, Google Cloud Print, Canon Print App, and Dedicated Wi-Fi.
Cons
It only prints. It does not scan or copy.
6. HP Laserjet Pro M17w Single Function Wireless Printer (Best Laser Printer)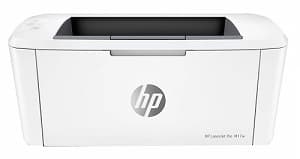 This is a very simple wireless printer. It does not have all the bells and whistles of the others. But it's affordable and lovely to have. This is for the person who needs to print out a lot of business documents without the hassle of the bigger printers for businesses.
It's also great for coupon lovers. Sometimes barcodes smudge while printing, especially if they are small. This printer gives a very clean, crisp barcode or text every single time. After all, printing is its only job!
Pros
Easy installation.
Can prints up to 8,000 pages per month. That's a lot, a lot of pages!
Connections with HP Smart App, Wi-Fi, dedicated Wi-Fi, CD/DVD drive, USB, Google Cloud Print, Apple AirPrint
Cons
Print only. No scanning or copying.
Must use fairly frequently, or else the ink will dry up.
7. Brother DCP-L2541DW Wi-Fi Laser Printer (Best Multifunction and Scanning Printer)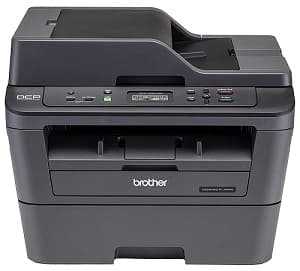 This is definitely for professional use. If you run a medium-sized business and need a lot of scanning, copying, and printing, this is a fabulous option. In fact, buying this could definitely save your employees a lot of time and hassle.
You can connect the printer to your phone using the Iprint services, use your Wi-Fi or the dedicated Wi-Fi, ethernet, or USB.
Pros
Prints very fast and has a 35-page document feeder.
Print envelopes, labels, and thicker media with a dedicated feeder.
The company can install the printer for you if you need assistance.
Cons
Costly ink and replacement parts.
Can be a tad loud for some people. But if it is in a busy office, you probably won't hear it.
How to Choose the Best Wireless Printers? (Buying Guide)
Printers have a lot of features nowadays. Before you jump in and buy a printer with all the bells and whistles and end up spending a lot of money (for no reason), read this first.
Important Points to Note While Choosing a Printer for Yourself
If you don't need a feature, then buy a printer without the feature. You will save a lot of money that way.
Sometimes a feature does not have to be the best on the market. If your kids are printing out colored photos, then you don't need the best picture quality. So, you simply just need to buy a printer that prints colored photos.
If you are a hobbyist photographer, then you should definitely choose a printer with superb picture quality.
If you work in an office and only need to print out word documents, you may not even need the printer to have color.
A printer for a home office is different from a printer for a medium-sized business. Consider what you will be doing on a daily basis.
If you are not faxing something, then you should only buy a printer with a fax for one reason. The reason is simple. The printer meets all your other needs and wants and comes at a good price compared to other printers.
You don't need to spend days trying to find the best wireless printer in India. Don't make buying a printer more complicated than what it is. If you like the features and the size of the printer, then just buy it.
Types to Choose from- Inkjet, Laser, or All-in-One
Inkjet Wireless Printer
Fond of printing photos or images? If yes, then an inkjet printer is the best option for you. These types excel at printing the combination of text, graphics, and photos with vivid colors and high contrast as well. Various topmost brands like HP, Canon, and Brother, etc., comes with a wide range of wireless inkjet printers that you can choose as per your preferences.
Laser Wireless Printer
If printing text documents is your only concern, investing in a laser printer is the best deal. Some models can print only black and white texts, while some are capable of printing colored texts and graphics as well.
The best part of the laser printers is that they are very affordable, offer good print speed, and provide per page prints at a lower cost than the inkjet printers. But, on the downside, these printers are not suitable for printing photos.
All-in-One Printers
These are multi-functional printers that not only prints but also can scan and fax as well. The All-in-one printers are available in both laser and inkjet variants that you can choose according to your needs.
These types are the ideal ones for your home use as it is the most cost-effective option rather than purchasing the printer and scanner separately. Plus, it also saves a lot of space.
What to look for before buying a Wireless Printer?
1. Resolution
The resolution of the printer determines the clarity of the text or image and is measured in DPI (Dots Per Inch). This feature shows how good a printer is at creating high resolution and high detail images. The one with a higher DPI will print a clearer image than the one with a lower DPI.
2. Printer Speed
The speed of the printer is measured in terms of PPM for the text documents means Pages Per Minute. And for the photos, it is measured in IPM means Images Per Minute. This feature is much important to consider if you are searching for a printer for your workplace. Though, the feature is not very crucial for home printers unless and until you need to print a lot at once.
3. Duty Cycle
The duty cycle determines how many pages a printer can reasonably expect to print per month. The factor is vital to consider if you run a busy office with lots of printing needs, though not essential for the home use, where printing is done occasionally.
4. Inks and Toners Cost
For any workplace, even for your home use, the hard copy requirement is obvious. And so consequently, considering the inks and toners cost is again an important concern. You can measure the ink cost through per page printing, but its efficiency depends upon the design and the model of the printer. The point to be noted is that, the more efficiently your printer uses ink, the lower will be the printing costs.
5. Pricing
Price matters a lot after all, it determines your budget. Choosing the one that comes with all the necessary features you want, in your set budget is the wise deal. However, the best wireless printers in India range around Rs 3000 to Rs 50,000 that you can choose depending upon the features you want. Some high end models can costs more above this range as they come with more smart features. So, choice is yours…
6. Warranty
The warranty and after sales service is another more important consideration while choosing a wireless printer for your use. It saves you from paying any extra cost on its repair or maintenance if any issue occurs. Generally, the wireless printers come in the warranty range of 1-2 years.
Best Wireless Printers with Different Features
1. The Best Wireless Laser Printer for Duplex Printing
Do you want to print on both sides of a single page? If the answer is yes, then you need duplex printing.
This is an option for people who want to save costs and trees. Teachers typically love this feature because they are printing out a lot of documents for their students.
The best choice for this feature is HP LaserJet M126nw. It is a relatively inexpensive printer that many people love for home office work. This is a must-have wireless printer for teachers especially.
Other best options for duplex printing are:-
HP OfficeJet Pro 9010
Brother DCP L2541DW
2. The Best Wireless Printer with ADF
ADF is an awesome feature, but not too many people need it. This is a life-saver if you work in a lawyer's office.
So, what is ADF? It allows you to scan multiple documents at the same time!
All you have to do is insert the paper in the slot, and within a minute, all the documents will appear on your computer or phone.
Be mindful that the HP OfficeJet Pro 9010 allows for borderless printing, while the Brother DCP L2541DW is for someone who needs an upscale business printer.
3. The Best Wireless Printer with a Scanner
Most people will only need to scan a document or two. If you fall in this category, then you should definitely look at each wireless printer to see which best suits your other needs.
Overall, the Canon G3010 gets the job done and is the best overall printer.
If you need a crisp scan, then the HP LaserJet M126nw is a great option. Definitely choose this if you are professionally scanning documents and working in a professional capacity at a small office. Other best options are:-
HP OfficeJet Pro 9010
Brother DCP L2541DW
4. The Best Wireless Printer with a Copier
How many documents do you want to be the same?
If the answer is 150 documents then, HP LaserJet M126nw is the best overall choice.
If you think that's a ridiculous number and you only aim to print out 6 copies, then you can opt for the Canon G3010 instead. Other best options with this feature are:-
Canon E3370
HP OfficeJet Pro 9010
Brother DCP L2541DW
5. The Best Wireless Small Printer
Look at everything you got. How much empty space do you have? How much empty space do you want to have?
Not too many people enjoy clutter. For that reason, plenty of people are looking for a small, compact printer.
The Canon IP110 is the best option. It is really, really small! You could fit it inside of your backpack. However, the downside is that you can only print with it.
The Canon G3010 is an all-in-one printer and very compact. This means that it will print, scan, and copy. You could probably bury it underneath your paperwork if you forget about it for two weeks.
Now, HP LaserJet M17w is more of a medium-sized printer, but it delivers extra features that you may miss with the other two printers. Most people aren't going to miss these features, though. If you absolutely need duplex printing and ADF, this is the printer for you.
Maybe you don't want to spend a lot of money, but still want color and an all-in-one. You definitely don't have a lot of room either for even a medium-sized printer. Canon E3370 is the cheapest option among this list. It's not just a cheap wireless printer. It actually prints pretty good too!
6. The Best Wireless Printer with a Battery Option
Sometimes traveling with a printer is necessary. Sales people tend to be on-the-go and need to print out documents for their customers. The best solution is having a printer with a battery option and DC to AC connection.
The Canon IP110 meets these requirements, in addition to being small and lightweight.
7. The Best Wireless Printer for Colored Photos
Woo! Look at this photo! With a maximum color dpi of 9600 x 2400, the Canon IP110 blows the competition out of the water. Seriously, you could hold up these photographs, and people won't be able to see the difference between real life and the photograph.
The Canon G3010 offers great picture quality in color as well, but keep your expectations more realistic. The same thing holds true for the Canon E3370. They are not the best, but they print out decent quality images.
8. The Best Black-and-White Only Printer
Not everyone needs to print in color. There is nothing wrong with only wanting to print out word documents. After all, that's really what most businesses need.
Any of these printers could work well for you.
HP LaserJet M126nw offers a very crisp black-and-white text, and the toner is cheap.
In contrast, the Brother DCP L2541DW is a more expensive printer and requires more expensive toner. However, it's among the best in terms of quality in its category.
9. The Best Wireless Printer with Fax
Honestly, how many people need to fax these days? Not many. But for the people who do, then the HP OfficeJet Pro 9010 is the best Wi-fi printer in India with a fax option. It comes down to a few reasons.
The printer is a lot more reliable than most other Wi-Fi printers with fax.
It has the duplex printing and ADF features that medium-sized businesses should have.
Lastly, it isn't that big. You don't need to try to make a lot of room for it. Most other printers with a fax are big and bulky.
10. The Best Wireless Printer for Legal Documents
Printing legal documents isn't only for professionals who need to print out legal documents.
Artists and photographers prefer this option too because they can print in full bleeds. If you don't know what that means, then don't sweat it because you clearly are not an artist who cares about that type of thing.
HP OfficeJet Pro 9010 and Brother DCP L2541DW handle printing for legal documents the best.
For artists and photographers, the Canon IP110 will not only print out with bleeds, but it'll print out amazing pictures.
The Canon G3010 is more for casuals and people who only occasionally need this feature.
11. The Fastest Printer to Print Books
Which printer is the overall fastest, top-quality printer? At a whopping speed of 30 pages per minute, it is the Brother DCP L2541DW! And the paper tray keeps up with speed by holding 250 pages. That's incredibly heavy duty!
However, the HP OfficeJet Pro 9010 prints drafts at 32 pages per minute. You should expect 18-22 pages outside of drafts. For that reason, this printer does not take the top overall spot.
If you are looking for something in-between the fastest printer and the slowest printer, then buy the HP LaserJet M126nw. It's a cheaper alternative. The ink is also easier to find and less costly compared to the other printers in this category.
12. A Printer with Cheap Ink
Some people go out and buy new printers every time they run out of ink because the ink costs the same amount of money. Crazy but smart, right?
You shouldn't have to do that. Every time you do, you have to reconfigure the printer to your computer and phone.
The Canon G3010's ink is very cheap. Partly because you can basically go anywhere in India and buy it. The convenience is really awesome. The cost is low. This is a no-brainer for a lot of people looking for a printer for home use.
The HP LaserJet M126nw is an alternative option. It's a laser printer, whereas the Canon G3010 is an Inktank printer. It's perfect for the worker who needs to print and scan documents during the pandemic.
This next printer should not surprise you! After all, the Canon E3370 is the least expensive printer on this whole list. The same holds true for the ink. The ink replacement is easy to find and inexpensive.
13. Wifi Printers with Borderless Printing
Printers without borderless printing will always leave some white edges around the page. Unfortunately, some people don't want the white edges when they are printing out photos or long spreadsheets. If you are one of these people, then you need a printer with borderless printing.
Just ask yourself, "Do I need the best photo printer, or do I need something that just prints borderless?" The best options are:-
Canon G3010
Canon E3370
HP OfficeJet Pro 9010
Canon IP110
14. A Printer for A3 Document Printing
Some people need an option to print A3 documents. In other words, the feature allows you to print out big pieces of paper. For such a case HP OfficeJet Pro 9010 is the best option.
Which printer fits you the best?
The Canon IP110 is the best photo printer.
The Canon G3010 prints very well and is cost-effective.
However, the Canon E3370 is the cheapest printer you can get for good quality images.
The HP OfficeJet Pro 9010 is great for office use.
Overall Display of Features
| | Canon G3010 | HP LaserJet M126nw | Canon E3370 | HP OfficeJet Pro 9010 | Canon IP110 | HP LaserJet M17w | Brother DCP L2541DW |
| --- | --- | --- | --- | --- | --- | --- | --- |
| Duplex | X | YES | X | YES | X | X | YES |
| ADF | X | X | X | YES | X | X | YES |
| Scanner | YES | YES | YES | YES | X | X | YES |
| Copier | YES | YES | YES | YES | X | X | YES |
| Small | YES | X | YES | X | YES | YES | X |
| Battery Option | X | X | X | X | YES | X | X |
| Color + B&W | YES | X | YES | X | BEST | X | X |
| B&W Only | X | YES | X | YES | X | YES | YES |
| Fax | X | X | X | YES | X | X | X |
| Legal | X | X | YES | YES | YES | X | YES |
| Fast Printing | YES | YES | X | X | X | YES | FASTEST |
| Cheap Ink | YES | YES | YES | X | X | X | X |
| Borderless | YES | X | YES | YES | YES | X | X |
| A3 Printing | X | X | X | YES | X | X | X |
Wireless Printer Frequently Asked Questions (FAQs)
1. What is a dedicated Wi-Fi printer?

Wi-Fi printers, also known as wireless printers are the device that can connect to a network without means of cables or wires. In other words, you do not need your computer to connect to your home or office's Wi-Fi to print a document out.

2. What is the difference between Laser and Inkjet Printers?

Of course, inkjet printers use ink, while Laser printers use powder to refill the cartridge.
In the long term, laser printers will most likely save you a lot of money. If you are only printing occasionally and need something cheap upfront, then an inkjet will best suit you. But keep in mind that if your are using the inkjet printers, you need to print something out on a regular basis, or else the ink dries up, and you will need to replace it.

3. Which wireless printers also connect to Wi-fi?

All of the printers listed above will connect to Wi-fi. You can use your phone with all of them as well. Some require you to use a special app, though.

4. Which ones print in color?

Please see the chart in the Buyer's Guide section. Canon IP110, Canon 3010, Canon E3370 are the best color printers.
If you need the best quality colored picture, then definitely buy the Canon IP110. You can print at a maximum color dpi of 9600 x 2400 with 1pl technology.
If you just need a color printer, then Canon is the best overall choice, especially for home use.

5. Which printers scan in color?

All of the printers with a scanning option will scan in color. Yes, including the printers that print in Black-and-white.

6. What is the best wireless printer for home use?

The best printer for home use is Canon G3010 because you can use it to print out work documents, and the kids will love printing out their pictures. The ink is cheap, and you can get it anywhere. Despite that it being a cheap wireless printer, the print quality is very good.
If you need a heavy-duty printer because you need to scan a bunch of documents one after another, then the Brother DCP L2541DW is your best option. However, for most home offices, you do not need something like this.
The HP LaserJet M126nw is the middle ground between the two other printers. It is perfect for you if you work from home and you need a simple, multi-functional printer. It will last you for a long time.
Conclusion
So, now you have enough information on the best wireless printers in India. The models we have picked are all having top-notch performance that you need for your day-to-day needs. Whether for your home use or office use, all are best. Though, our personal recommendation is to go for Canon G3010 Wireless Printer that is the best in all manner- quality, performance, and price. Additionally, our detailed buying guide will surely let all your confusions away in choosing the best wireless printer for all your printing needs.
Still, if you feel that we should add more points, please share your valuable feedback to us via the below comment section.
Read Related Reviews
Buy Wireless Printers Online
HP Deskjet 2723 Printer, Copy, Scan, Dual Ban...
24%
Canon Pixma TS307 Single Function Wireless In...
17%
RIITEK PeriPage A40 Pocket Printer; Wireless ...
27%
Canon PIXMA E477 All in One (Print, Scan, Cop...
17%
HP 720 WiFi Duplex Printer with Smart-Guided ...
25%
HP Smart Tank 750 All-in-One Printer, Wireles...
13%
PeriPeri Mini Thermal Printer, Inkless Blueto...
51%
HPRT MT800 Carbon Tape Printer Portable Print...
20%