Manual sewing machines are quite popular in almost every Indian homes and tailor shops from the years to enhance your stitching creativity. But the technology in sewing machines has sustained to progress over the years. That's why many Indian homes and tailor shops are now opting for the Electric Sewing Machines to lessen the burden of using a manual one. Computerized Sewing Machine is one such wonderful version of electric sewing machine that comes with many smart features to showcase your stitching creativity.
Computerized sewing machines, are also known as digital sewing machines that works like a computer. It comes with a processor inside the machine and also includes various software that controls various components of the machine like needle bar, feed dog, and tension discs, etc. This way, it simplifies your stitching and embroidery tasks.
Using a modern product with advanced features will specifically provide you many benefits. So, if you would like to raise your sewing skills, you should give a try to computerized sewing machines.
Although the Computerized Sewing Machines are costly but it is absolute value for the money because of its hi-tech features and ease of use. Moreover, these programmed machines are more accurate for hemming and very easy to use.
One of the best thing of these machines is that they can simply do the sewing for you. You just need to input the pattern and stitch style on the monitor and put in the fabric, the rest is up to the machine.
The computerized sewing machine also comes with a display screen. This screen displays the types of patterns and stitches you have already saved, so you can easily choose the preferable one. It also shows you the progress of your work by simply displaying it on the screen.
Want to know how to choose the best one? Get an in-depth information on it in our Comprehensive Buying Guide Section.
5 Best Computerized Sewing Machines in India
Best Computerized Sewing Machines Reviews
1. Bernette Sew & Go Computerised Sewing Machine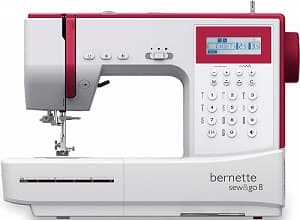 If you are looking for a top model computerized sewing machine, then Bernette Sew & Go suits best to your need. This digital sewing machine eases your sewing task in a professional way. Doesn't matter you are a beginner or professional; it has all those features which you wish for.
Counting the features, it comprises 197 unique stitch patterns together with 1 eyelet, 1 alphabet stitch, and 7 buttonholes stitch. The maximum sewing width of stitching is 7mm, and length is 5mm with a full rotation drop-in hook system.
You can stitch neatly with a sewing speed of 850 SPM. It has three stitching speeds, and you can easily manage the speed with a slider in it. For needle movement, there is a button to remain up and down while stitching.
The machine includes an attractive LCD screen for simple and easily readable interface and a bright LED light. What's more exciting is that it makes home sewing easy, effortless, and creative at the same time.
It helps in crafting neat stitches, clear patterns, and letters. Synchronized use of the On & Off button, as well as a smooth foot pedal, gives additional relief for works. It has manual thread tension adjustment with an automatic needle threader.
Excluding this, the machine also enfolds speed regulator, twin needle capability, automatic bobbin winder, and other locking function. The feed dog drop facilitates freehand embroidery, quilting, and other attractive needlework. It also encloses a soft cover to wrap the machine and protect it from dirt and dust.
The best part of this machine is its memory buttons. You can set a combination of stitch patterns and beautiful alphabets via memory. Get this best sewing machine at a very attractive and affordable price for your sewing creativity.
Key Features
LCD screen for the proper vision of different settings done while stitching
LED light and 197 built-in stitch patterns with various characters, signs, and alphabets
Auto threader
No foot control and operated with start & stop button
Speed regulator to control the speed
Direct stitch selection using buttons
Automated memory provides a combination of patterns
Feed dog drop for free motion quilting and embroidery
Full rotation drop
In hook, the system offers 5 mm zigzag sewing length and 7 mm sewing width
Pros
Ultra-smooth working on different fabrics and neat stitches
Precise stitching gives your designing on the fabric a professional touch
Clear-cut and easily readable interface
It has options to change and manage length as well width of the stitching
It has numerous built-in stitch patterns. Alphanumeric stitching is very useful and creative
The auto stop button will repeatedly stop stitching after the given name or a remark stored in memory
The 3 Stitching speed can be controlled with a slider
There is a specific button to keep the needle up and down
Cons
The product is good, but the customer service is not satisfactory
2. Bernette Sew & Go 7 Computerized Sewing Machine
Again from the same brand Bernette, the model Sew & Go 7 is the most recent and advanced computerized sewing machine. From simple sewing tasks to heavy-duty projects, you can do all simply using this digital sewing machine. Thus, for its amazing features and performance, it comes as our second-best pick.
It's a fully computerized embroidery machine that offers almost every sewing essential for decorating fabrics. You can transform your design in a matchless way by using this advanced sewing tool. It has outstanding features that raise your creativity in making garments and accessories to the next level.
You will get the maximum embroidery area for your specific needlework and i.e., 10″ x 6″ (260 x 160 MM). It is sufficient for huge sewing projects. You will get a huge space to implement your imagination. With more than 200 exclusive designs set up, you can put the desired logo or theme to your desired fabric area. If you want to modify any design, pattern, or logo, directly edit it on the touch screen. Isn't it very easy and advanced!!
The machine also lets you upload and save your specific design or pattern through a USB flash drive. With the advanced software modules, create your own design and make public your creativity. The machine is a little bit expensive but has tremendous advanced features. Purchase the product and make it truly yours.
Key Features
80 built-in stitch patterns
160 Stitch functions
Start/stop function for controlling the stitch process
208 Built-in embroidery designs
8 presser feet
Maximum speed of stitching: 850 SPM
Pros
Maximum embroidery speed of 850 stitches per minute provide an efficacy and rapid results in amazing needlework
Computerized Embroidery with 208 unique embroidery designs enhances creativity in designing
Easy and simple editing of designs by using the touch screen
You can upload your own design via USB flash drive
It's a brand-new product launched in the market with faultless features
Cons
Quite expensive for home use
3. Brother FS 101 Computerized Sewing Machine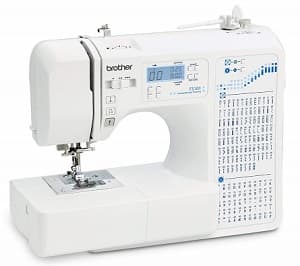 Brother is the most trustworthy brand for manufacturing sewing machines from years. With their expertise in advanced technology, the manufacturer adds everything in the product, which makes it number one and reliable.
With a lot of good customer ratings and awesome performance at a pocket-friendly price tag, the model FS101 is our next best pick. If you are seeking for a product that minimizes your sewing effort, then this model is perfect for your sewing needs.
The particular product has 100 in-built stitches with 55 alphanumeric stitches. You can choose the style you want to use in your fabric with one-step buttonholes in 8 different ways. Plus, you can also select the direction to stitch or embroidery in the fabric.
The model FS 101 from Brother provides a wonderful access of possibilities for creative tailors and dress designers. It gives a wing to most newbie sewers. If you operate a computerized machine for the first time, this one will offer user-friendly features. Instructions are very simple and easy to understand. The in-built needle threader is very convenient, and the stitch comes out very neatly on the fabric.
The bobbin system is very good with a quick set plus bobbin winding speed. While sewing different fabrics, you can also manage the length and width of stitch according to your choice. It provides 850 or more stitches per minute, and that's a very good speed. With a 7 point feed system, you can run smoothly on different fabrics from soft silk to thick denim or velvet. This machine is good for basic to advanced level sewing. So, for sure, it is will be an intelligent selection!!!
Key Features
100 In-Built Stitches
8 different One-step buttonholes
Automatic Stitch length & width control
850 SPM with 7 point feed
Built-in needle threader
2 years warranty
Pros
Light-weighted and handy
User-friendly and great build quality
Bobbin system is very good
It can stitch almost every kind of fabric
You can use all type of snap-on footer
55 alphanumeric stitches for creativity in fabric
Cons
The only downside of this machine is its speed. It needs to run slow on thick fabrics.
4. Usha Janome Dream Maker Computerized Sewing Machine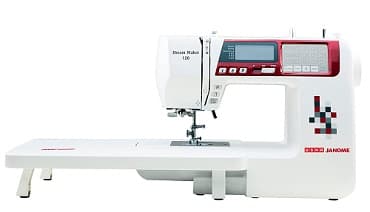 Based on Japanese technology, the manufacturer Usha has been popular for years. You can blindly trust the product and get happiness forever. People who love crafting unique apparels can create their world with this amazing digital sewing machine.
It's user-friendly, and extraordinary features harmonize your sewing skills to the extent. Usha Janome Dream Maker fully automatic sewing machine enables you to modify and express your imagination & creativeness. It includes 120 built-in stitches and alphabets.
This particular machine bundles up many key features which is very functional for beginners as well as professionals. It includes a resourceful LCD screen with a rapid navigation system. The functional features of this machine include direct stitch selection, automatic thread cutter, speed control slider, 7-piece feed dog, locking stitch button, and many.
It has an innovative mirrored editing feature for perfect and neat needlework. The power consumption of this model is 35 watts, with an operating voltage of 220-240 volts.
The tool is preset for up to 50 different combination patterns. It has a maximum stitch width of 7 mm with a maximum stitch length of 5mm. You can sew your desired fabric without the foot control by using the Start/ Stop button that has a variable speed control.
The package includes 1 sewing machine, an Instruction manual, and 18 free accessories such as 12 different foot control, Bobbin, Needles, thread Spool, Screwdriver, Extension table, Seam ripper, etc. Free Demo is also provided in some selected cities. You can make a call to the service provider for a detailed demonstration of the machine and its features.
Key Features
Attractive backlit LCD screen with precise data and touchpad for easy navigation
One-step buttonholes in 7 different variants
Built-in one hand needle threader with a built-in thread cutter and twin needle guard
Manual thread tension adjustment
Memorized needle up/down button with down as default setting
Start/stop button and easy reverse button with stitch pattern memory capability
7-piece feed dog and speed control slider
Auto declutch bobbin loop
Mirror image option for stitch patterns
Extra high presser foot lift
Flat full rotating hook bobbin system
Maximum stitch Length: 5mm, Maximum Stitch Width: 7mm
Extension table and 18 other accessories inside the box
Pros
A flawless automatic sewing machine
Light-weight and handy<
It is very easy to use and includes 18 sewing accessories, which is very functional
Demo can be scheduled from the service providers, which is very beneficial in understanding in detail the features of the machine
The extension table is quite helpful for huge projects
Mirrored editing as well as the proper line up for up to 50 unique combination patterns
Cons
Design size setting can be tricky, but overall you will get neat and clear stitches
5. SINGER 9985 Quantum Stylist Touch Computerized Sewing Machine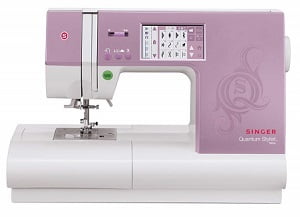 For every level of sewing, you can trust the most popular brand, 'Singer,' the best sewing machines manufacturer. The maker of the company invent this portable sewing machine to facilitate people showing their creativeness with the innovative technique of sewing.
Singer 9985 Quantum is the most advanced computerized sewing machine for home use. It has 960 unique built-in stitches that are fully adjustable. For your specific sewing needs, you can change it accordingly. With this advanced automatic sewing machine, you can achieve huge projects too in a professional way. It offers you a neat and perfect stitch with essential, attractive, and stretch needlework for every sewing project.
Whatever is in your mind, you can transform it into your desired fabric with this outstanding portable sewing machine. You can craft easily definite fun projects, party dresses, baby apparel, handbags, and much more sewing crafts with this machine. It has 13 fully automatic one-step buttonholes. The length and width of the stitch is also adjustable. Flexibility in features enhances your creativity in making fashion garments.
The machine includes various accessories that are very functional. It encloses All-purpose foot, pack of needles, auxiliary spool pin, zipper foot, buttonhole foot, bobbins, spool pin, thread spool caps, darning plate, seam ripper, soft dust-cover, lint brush, etc.
Key Features
Automatic stitch length and width selection
Built-in needle threader
13 Fully automatic one-step buttonholes
80 Built-in stitches
Power: 74 Watts
Pros
Sturdy and durable
Advanced features eases big sewing projects
The metal bobbin case is sturdy and long-lasting
Cons
Many complaints that the spring of the needle threader is not working after a few usages.
How to Choose the Best Computerized Sewing Machine? (Buying Guide)
Before buying a modern and, of course, costly appliance, there are many questions arriving in mind. Are they useful? What are its benefits? Features to look for before buying & many other queries.Though, you need not to worry to make out what's the best computerized sewing machine to buy. We have enclosed a proper buying guide about the automated sewing machine. Just keep reading and distinguish between the best one according to your needs.
Things To Consider Before Buying a Computerized Sewing Machine
1. Features
Features are very important in a computerized sewing machine. Even though the major function of the machine is sewing, but other features are also there in some advanced models. And computerized sewing machine must have extra features other than stitching only. Or else, there is no point in having a manual machine or computerized one. Opting for a sewing machine with amazing needlework, hemming, embroidery, or quilting is thus advisable.
2. Number of Stitches
It is the most important thing to reflect on while purchasing a computerized machine. There are many automated machines which have plenty of stitch patterns. The machine which has the most stitch patterns are not always helpful. Make sure it has at least one basic stitch pattern that you usually apply on fabrics.
For your convenience, it is suggested to check two basic stitches: Straight stitch and Zigzag stitch. You can finish almost every sewing project with these two basic stitches.
For huge and professional projects, you can also consider other stitch patterns as well. Including Zigzag and straight stitch, Buttonhole, Blind Hem stitch, Knit stitch, stretch stitch, and utility stitches are also very functional.
3. Price
It's a very smart decision to buy a decent sewing machine that is not very costly. For this, you need to be a little bit explorer because a costly machine doesn't always satisfy your requirement. Hence, it's better to pick a quality product that meets your requirement. On the other hand, buying a cheaper sewing machine will also create problems later. Hence always try to find an exclusive machine with better quality.
Always prefer to buy from a trustworthy manufacturer. They will provide a beneficial deal for sure. You will get the original product at a discounted price as well. And original sewing machines are more long-lasting and ongoing that definitely shrink down the repair and replacement cost.
The best quality computerized sewing machines ranges from Rs 18,000 to Rs 45,000. Some hi-tech models even go beyond this range.
4. Trial of the Machine
Practically testing the function of an automated sewing machine is always a sensible decision. By using different types of threads, you should try stitching with every mentioned pattern in different patches of fabric. A profound analysis of stitch precision, noise, and needlework quality should also be analyzed.
5. Size of the Machine
It is clear from starting that a professional and a beginner's choice are poles apart. And so, the size of the sewing should also be considered as per your accessible working space. Modern sewing machines are usually light-in-weight and have reliable size. Therefore, always consider buying a modern sewing machine than traditional ones. If you have a small working space, it is suggested not to buy out-dated machines which are heavy and occupy a large space as well.
6. Purpose of Sewing
Computerized sewing machines are available in different ranges and have multiple features and functions. Depending on the kind of your job, prefer the machine that is exactly you need. Unlimited features are in no use if you are just a hobbyist and beginner. If you don't want to grow your career in tailoring, too expensive and boundless featured automated machines are just a waste.
Task-specific sewing machines are ideal for those who willing to carry out specific tasks. These automated sewing machines portray a number of detailed stitch varieties. You can also get done heavy duties as well.
Choose a less complicated programmed machine if you take on light duties. An average and common computerized sewing machine is recommended for those who are determined to alter dresses, sewing blankets, and clothes.
7. Sewing Speed
Who doesn't want a quick and finished task!! The same with sewing machines, speed matters…In general, the sewing machine's speed is measured in SPM (stitches per minute). Some of the High-end models can do 1000 or more stitches per minute. And this would be a great feature to consider. With automated machines, you can also control the speed if you wish to slow down the machine.
8. Weight
Huge and bulky sewing machines would never be a choice of beginner. A large-sized computerized sewing machine is appropriate for sewing workshops only where you can just fix it at a place and create incredible creations.
There are many portable computerized sewing machines are available for home use. The best part is that you can use it in another part of your house also. Due to its lightweight feature, it can be transferable and manageable easily. Hence, weight is the major concern if you would like to buy a machine for home use.
9. Special Features
For more convenience in stitching, you need to look for a machine that has remarkable features included. Some of the special features comprise:
Adjustable speed control
Automatic needle threader
Needle position adjustment
Automatic thread cutter
Free arm
Knee lifter
Lighting
So, all the above-mentioned factors are very important to consider if you are planning to buy a computerized sewing machine. By assessing these, you should be able to get the best one for your requirement and, of course, for the budget you have.
Uses of Computerized Sewing Machine
It is a very common question coming in almost every sewer's mind when a mechanical sewing machine can stitch every dress material and can do better with almost every fabric materials, then what is the purpose of having a costly computerized sewing machine. Computerized means programmed or preset, and it may ease up the sewing task and execute everything in a stipulated format.
Modern computerized sewing machines include advanced features in which computer tends to control the motor of the machine. Together with this, the computer also manages the Feed dog, tensioning discs, needle bar movement, and other mechanical parts.
As computer organizes the entire defined parts, it also helps out the sewers' to engage in recreation with unusual stitching patterns.
With a computerized sewing machine, you can easily do more creative and big sewing projects.
Many advanced models can download preferred designs and patterns online and execute the same on the chosen fabric. How incredible and useful is that!!
Many of the sewing machines also comprise several instruction materials and guiding tips. These tutoring materials help the beginners to develop their skills straight away who have never used automated machine.
Benefits of Having a Computerized Sewing Machine
Working on a Computerized sewing machine is always very simple and dynamic. The foremost benefit of using a computerized sewing machine is the facility to craft matchless creations. Another is meticulous results in a professional way.
If you are running it in on autopilot mode, it can do extra other than stitching only. Some of the advanced computerized sewing machine also connects to the internet. When needed, it automatically downloads updates of firmware so that the machine will work more proficiently.
For new users, it is quite tough to understand that operating this sewing machine is everyone's cup of tea. Don't be scared of operating it because advanced sewing machines have simple and user-friendly instructions.
Unlike the manual sewing machine, you don't need to change variations in thread tension or shift the fabric to the foot.
Comparing with a manual sewing machine, you don't need to put extra effort; all you can apply a preset function with simply clicking the button. Select your stitching pattern, click a button, and the rest your machine can do.
Common Problems of Computerized Sewing Machines and Useful Tips
With an advanced computerized sewing machine, you need not to be troubled about labor-intensive problems. Every product has defects and imperfections. However, with such advanced machinery, you need to deal with some other issues. And with computerized sewing machines, you have to sort out software issues.
Every product has errors but dealing proficiently is the main thing. An automated machine does the entire work for you. All you need to take in hand software updates and downloads. Make sure the file you upload or update is virus-free. One deprived file can tear down all your protected files or existing works. In addition, you have to be very careful while downloading patterns directly from the internet or other sources.
All in all, the plus points of having a programmed sewing machine will always beat such errors and shortcomings.
Computerized Sewing Machines Frequently Asked Questions (FAQs)
1. What is a programmed sewing machine?

A programmed sewing machine has preset functions that basically manage and control speed and other stitching functions. It is hardly a complicated task to make buttonholes with a computerized sewing machine. You can make it by pressing a button. By means of a motor, the processor is able to control the precise speed. It facilitates the needle bar movement from side to side or up and down in the particular stitch pattern you could do with.

2. Electric or Manual, which sewing machine is better to have?

Undoubtedly an electric sewing machine works faster than a manual one. But if you are a beginner, learning on a manual sewing machine is easier because of its hand-operated straight stitch tactic. You can easily control the speed with manual machines. Alternatively, you can enhance your sewing skills with programmed featured computerized models. It is much better than manual ones but maybe costly with advanced techniques.

3. How is a computerized sewing machine superior to a manual one?

A computerized sewing machine controls the entire little mechanism so as to turn out various stitches neatly on the fabric. It has more control on the speed mechanism and has precise tension control. An automated machine can manage better with variations; it doesn't matter you are working on thick layer fabric or very delicate silk type fabric.

4. What are the top sewing machines brands?

Every sewing machine has particular features and performances. The topmost brands include Singer, Brother, Bernette, Usha, Juki, and many others. These brands are world-famous for their durability and outstanding performances. But comparison based on brands is not an ideal approach. To choose the best one, evaluate your requirement first and then consider features and costs while purchasing for your own.

5. How free arm in a sewing machine works?

Free arm stitching allows a flawless means of access under the needle without sticking point. It facilitates the needle and the needle plate to pull out from the other parts of the machine. Moreover, it provides you more space for faultless movement. Free arm function is best suitable for stitching shirt collars, thick seems, and cuffs.

6. How to avoid thread tangling in the bobbin?

Thread tangling leads to blocking of the bobbin most of the times. To evade thread from pulling out, make sure the thread is perfectly coiled in the bobbin. Computerized sewing machine with an automatic bobbin winding function is the best way to avoid meshing threads.

7. What is the ideal measurement of stitch length?

Stitch length is completely depending on the fabric you used or the design you are going to make. Length matters and so the sturdiness of the hemming!! Long stitches are not very strong, whereas short stitches are well-built and tough to unhook. The most common measurement of stitch length is 5-7 MM and is most recommended for almost every fabric and design.

8. How durable are the computerized sewing machines?

Every product requires care and maintenance. With proper preservation and repairs, you can imagine the run-out time of the computerized model to a maximum of 5 years. All you need proper continuation and careful use. Providentially, some models may last up to 20-25 years or even more.

9. What are the common benefits of using a computerized sewing machine?

A preset or programmed machine facilitates you to craft highly structured and complicated design as well as intricate patterns on the fabric
These machines give you precise stitches
It usually includes a variety of Built-in stitches
It allows the user to download many more fashionable designs from the internet on to the computer.

10. Can you do other things while the computerized sewing machine is running?

Yes! You can, but with high-end computerized models. You can do other things while the machine is running with automated machines only. Most of the machines are available in market that does not require operator involvement during stitching. They will Start and Stop without human intervention and will smartly trim the excess thread if necessary.

11. What to do if computerized machine sewing in reverse stitching?

With electronic and computerized mode, you need to turn off the device. After a few minutes, switch back On, this will re-regulate and adjust the feed motor.
Conclusion
Using a modern and advanced product is undoubtedly a great decision, and with a computerized sewing machine, you can facilitate your effort with the precise outcome. While surfing the best computerized sewing machine on the internet, you will get most of the positive reviews from existing customers. In addition, there are many benefits of using a modern product, and the above article is just for your convenience.
If you are planning to upgrade your manual machine to a computerized one, just consider one of these programmed sewing machines mentioned above. You won't be let down with the above recommendations. If you want an overall pick, you can go with Bernette Sew & Go Computerized Sewing Machine that is best in every way.
Hope, this guide will work in choosing the best computerized sewing machine, but still if you feel we have missed anything, please do give your feedback and suggestions in the below comment section.
Buy Sewing Machine Online
Brother FS 101 Computerized Plastic Sewing Ma...
2%
Usha Janome Dream Maker 120 Automatic Zig-Zag...
17%
Bernette b38-394 Stitch Designs Computerized ...
31%
Usha Janome Dream Maker 120 35-Watt Computeri...
Singer FM 8280 Motorised Automatic Zig-Zag El...
32%
Usha Janome Wonder Stitch Plus Automatic Sewi...
23%
Pfaff Creative 4.5 Sewing & Embroidery Machin...
Singer M3305 Motorised Automatic Zig-Zag Elec...
30%