In India, Sewing Machine is one of the most important equipment found in almost every home. Stitching is one of such tasks that anyone can do easily at home on their own. Even you don't need to go to the tailor shop for every small stitching tasks. For this, the best sewing machine for home is the handiest tool.
Having a sewing machine at your home, you can simply stitch the fabric the way you want by adding creativity with small twists. Not only women but also men can do better with fabrics. To fabricate designer pieces, you need to choose from top sewing machine brands.
With advancements in technology, unlike a traditional sewing machine, the best tailoring machine has also modified so much. The best stitching machine holds up many more features and comprises several length adjustments with quite a few foot pressures to reduce hectic works.
For complete details, please go through our Comprehensive Buying Guide on How to Choose the Best Sewing Machine in India.
Top 10 Best Sewing Machines in India
Also Check
Best Sewing Machines in India Reviews
1. Usha Janome Wonder Stitch Electric Sewing Machine (Overall Best Pick)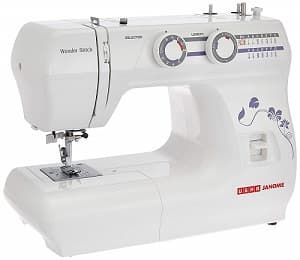 Usha, the name is complete enough to describe its popularity. It is one of the most reliable brands in India. Therefore, the model Janome Wonder Stitch from Usha comes the top of our list. It has all the most advanced features that make stitching more convenient and innovative.
With the drop feed mechanism of this machine, you can create magnificent embroidery designs by hand without a template. You can transform your work of art into a stunning success. With the help of its adjustable width dial, there is an option to modify your preferred attractive stitches.
It has various highly developed features such as automatic thread cutter on the faceplate, one-step buttonhole, and reverse stitch button option with manual thread tension control, etc. It is based on the modern conception that has been admired by many people.
Usha Janome includes seven basic stitch options and 14 various functions. It comprises zigzag stitch, rolled hemming, straight stitch, blind hem, lace fixing, zip fixing, and others. Together with these assorted functions, you can also adjust the length and width of the stitch.
Some extraordinary features include automatic needle threading, auto-tripping bobbin, sewing light, tension control system, drop feed for creative needlework, and others.
It also comes with a built-in light that provides proper visibility while sewing, even in the dim light room. The incredible auto-tripping function facilitates the user with a rational and secluded thread around the bobbin while stitching.
Despite the machine features, it is also enclosed with a helpful User manual and a DVD in the package. The booklet helps you recognize the steps and other instructions to select the feature. Plus, the warranty of 2 Years make it really a worth purchase. For any reason, if you don't like it, you can consider our next best option from Singer.
Key Features
Automatic Zigzag sewing machine
Fitted needle threader and fixed light with switch
In-built motor and manual thread tension control
Auto tripping bobbin system, triple strength stitch
13 fixed stitches with button holing
Sewing speed 860 SPM
2 years Warranty on product
Package Includes: 1 Sewing Machine Unit, Sewing accessories, instruction manual, and warranty card.
Pros
Light-weight, easy to use with regulated movement
The vibration and sound is not high as compared to conventional models
The sewing machine is easily manageable and transportable too. A handle provided with the unit is very helpful.
Twisting bobbin is very simple as compared to other machines
Foot changing is quite uncomplicated
Reverse stitch button option
Free arm with circular stitching facilitates smoothly working on machine
Cons
The machine requires a constant power supply while using. It is a non-battery operated model
Various must-in sewing tools are not there with the unit as compared to other brands
2. Singer 4423 Heavy-Duty Electric Sewing Machine (Runner Up)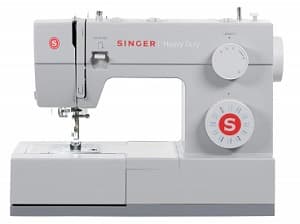 In our search list, this model from Singer got the second position for its top-notch performance. Singer is the most popular brand in India that has been manufacturing outstanding products such as sewing machines and other home appliances. It is an ISO 9001:2008 certified company that fabricates heavy duty and quality products.
If you are a professional sewer, the heavy-duty Singer 4423 is an excellent option for your sewing needs. It goes well with every fabric type from denim to canvas and gives you wonderful stitching with various designing options.
Thanks to the fully automatic 1 step buttonholer with 23 built-in stitches that offer you consistent results every time for your tailoring projects. With the help of this machine and its fantastic designing options, you will be proud to say that it's your creation!!
You will get extra-high sewing speed that obviously a great feature of this model. It offers you approx 1100 stitches per minute, which is not bad for professional sewers. It can save your time as well.
The top drop-in bobbin is very helpful for threading. It also makes it easy to keep an eye on the bobbin thread so it won't run out in the middle of fluent stitching. It has three-needle positions with adjustable stitch length and 6mm stitch width.
By adjusting the presser foot pressure, you can make easy stitching on heavy and intense fabrics too. The stainless steel bedplate allows the cloth to move smoothly over the machine.
There are 4 presser feet included with this package. All-purpose foot is for bulk tailoring orders. Button sewing foot is for adding decorative buttons. Zipper foot is for piping and zip seaming. And Buttonhole foot is for adding loops for ribbons and strips. Excluding various features, you should also appreciate the sewing assistant app. They provide assistance anytime to help you find out how to manage to sew different fabric materials and techniques.
Though the machine is pretty enough for all the beautiful creations and dress designing, if you like something more affordable, you can go for our next best option from Brother.
Key Features
Fully automatic one-step buttonhole with 23 Built-in Stitches
Automatically sew in reverse and highlight stitches
Adjustable Stitch Length & 6 mm Stitch width together with 3 needle position
Adjustable presser foot control with extra-high presser foot lifter
Top drop-in bobbin with clear view cover
Automatic needle threader
Free arm function with accessory storage
Heavy-duty metal frame as well as a built-in light
1100 SPM, 4 presser feet included
Warranty: 2 years manufacturing warranty
Package Includes: 1 sewing machine, pack of needles, bobbins, all-purpose foot, zipper foot, button sewing foot, buttonhole foot, spool caps, spool pin felt, auxiliary spool pin, lint brush, screw driver and soft dust cover.
Pros
Heavy-duty metal frame and powerful motor provides extra-high sewing speed and saves time and effort in sewing
Adjustable presser foot control facilitates sewing light as well as heavy fabric without difficulty
Built-in needle threader allows threading without eye strain and frustration
The stronger motor provides 1100 stitches per minute that help you to finish bulk orders in less time
Keep an eye on the bobbin thread supply with the help of clear view cover
Low Noise level
Cons
The automatic threader is a little clumsy and unmanageable
The bobbin case keeps rotating if not fixed properly and it makes breaking needle frequently
3. Brother GS3700 Electric Home Sewing Machine (Budget Friendly)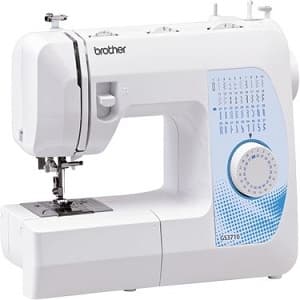 Comparing to the conventional sewing machine, the automatic sewing machine has its own benefits. These are more advanced and flexible models. Brother GS 3700 is an automatic sewing machine that offers various highly developed features in sewing.
It is the best electric sewing machine for home use that contains 71 stitch functions with 37 stitches. It means the model comprises 37 various stitch patterns and 71 utility features such as: adding zip, pico, adding button, interlock, bar tacking, etc. Now you don't need to visit tailor shop for simple hemming or small sewing needs if you know basic tailoring.
By means of this versatile sewing machine equipment, you can also learn basic stitching with multiple designing options. The automatic function of this sewing machine is itself a good instructor to become skilled at tailoring.
Coming to the features, the machine comprises a one-step buttonhole, automatic needle threader, LED light, and many other functional features.
For different fabrics, you can also adjust the length and width of stitching. Triple stitch option allows you to sew heavy fabrics too. It is quite hassle-free to hem Denim skirts or pants with this electric sewing machine. For more convenience, there is a paddle included with this model. Accessories kit and demo DVD is also there for more convenience.
Key Features
Automatic sewing
Adjustable stitch length and width
Automatic needle threader
One-step buttonhole
LED Light
71 stitch function with 37 stitches
Manual speed foot controller
Triple stitch option
Package Includes: 1 sewing machine, user manual, basic accessories with foot control.
Pros
Triple stitch function makes it possible to sew heavy fabrics such as denims, pants, etc.
LED light is very convenient to sew in dim light space as well
With its manifold feature functions, you can do pico, interlock, patch work, and rafu too
Easy to use and durable
Cons
No warranty on the product
4. Singer Start 1306 Sewing Machine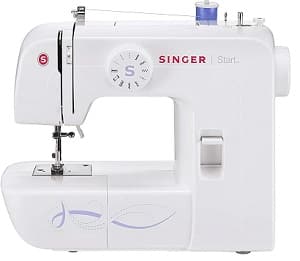 The model 1306 from Singer is an excellent place to begin sewing basics. It provides the sewist just enough features to dig up their creativity to the peak. People looking for a budget-friendly electric sewing machine can go for this model without any doubt.
Moreover, the attractive white shade makes this model more elegant and graceful.
Its parallel rows of stitching are ideal for hemming and add attractiveness to the fabric by means of simple needlework. You can make amazing buttonholes in 4 easy steps.
This sewing machine comprises 6 built-in stitches in which 4 are basic stitches, 1 buttonhole, and 1 decorative stitch. It gives 750 stitches per minute, which is quite good for working on bulk projects.
It has an LED light feature so that you can sew your dress conveniently in the dark room too. Whatever your imagination regarding designing and patterns on the fabric, you can real your imagination with better professional results through Singer Start 1306 Sewing Machine.
There is a detachable free arm sewing function in this model, which facilitates uncomplicated sewing to pant hems, cuffs, sleeves, different types of collars, and other complex areas. The three pressure feet make the majority of sewing projects easy and simple.
The all-purpose foot is for many different sewing tasks; the zipper foot is for stitching zip to the dress or adding piping in an outfit. And the buttonhole foot is intended for adding loops for ribbon or adding buttonholes etc.
Key Features
Heavy-duty metal frame with free arm convertible function
Easy threading buttonhole gives professional results
6 basic stitches: 4 primary stitches, 1 buttonhole and 1 decorative
Operating voltage: 220 volts, Power: 70 watts, extra-high presser foot lifter
Simple stitch selection along with the reverse option
Warranty on the product: 2 years
Three presser feet
Dual Spool pins for twin needle sewing
Package Includes: Buttonhole Foot, Zipper Foot, All-purpose Foot, Pack of pointed Needles, Needle plate screwdriver, Bobbins Spool Pin Felts, Darning Plate, Lint Brush, and Vinyl Dust cover.
Pros
An excellent choice for beginner from basic alterations to professional stitching
Automatic features saves time and effort by giving zigzag, straight, satin, blind hem, 4-step buttonhole and scallop stitching
3 Built-in presser feet
Preset length and width adjustments make sewing easy and simple
Threading graphs are available in print just right on the machine for quick and easy threading
Automatic tension is an added feature that makes sewing task uncomplicated
The machine includes a Darning plate for free-motion sewing
The Bad
Reverse stitching needle breaks every so often and gets stuck in the machine
The foot pedal is not so long-lasting hence, recommended to use very moderately and gently
5. Usha Janome Dream Maker 120 Computerized Sewing Machine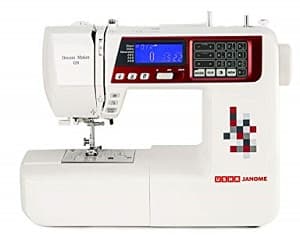 Our next best pick is Usha Janome Dream maker Sewing Machine. Based on Japanese technology, it is a computerized sewing machine that amaze you with its extraordinary features. You can create your own world and express your creativity in your much-loved fabric with different stitching alternatives.
The machine comprises endless functions and features. It has an innovative LCD screen with high-speed routing.
The machine also offers 120 Built-in stitches designs and alphabets, including buttonhole stitch with mirrored editing. There is a start/stop button for easy hand-free operation. This push button has variable speed control that makes easy your sewing experience without the foot control.
The sewing machine has a 7-piece feed dog with a speed control slider and drop feed. There is also a built-in thread cutter, including with this equipment and a locking stitch button. You can design your fabric with unlimited designing patterns with a preset series of 50 different combination patterns.
If you are hemming a normal dress or regular cloth, you can use it normally. But for extra-wide projects, it includes an extension table which makes your sewing task easy and convenient. With this piece of sewing equipment, you can get a maximum stitch width of 7 mm and fast navigation.
The manufacturer is providing free demo to the customers. You can call for a free demo so that you understand properly about its indefinite features.
Key Features
Start-stop button with backlit LCD Screen and touchpad for easy navigation
Automatic thread cutter with manual thread tension control
Built-in One-hand needle threader
7 different types of one-step buttonholes
Snap-on presser feet with extra high presser foot lift
Twin needle guard
Mirrored editing, speed control slider, locking stitch button
Easy reverse button and stitch pattern memory capability
Operating voltage: 220-240 volts, Power: 35 watts
Warranty on the product: 2 years
Package Includes: 1 sewing machine, 18 free accessories inside the package and a booklet.
Pros
It is easy to use and durable sewing machine for beginners and professionals
Start and stop button facilitates sewing fabrics with no foot control and also includes variable speed control
It is lined up for up to 50 unusual combination patterns
You can carry out endless sewing projects in no time
Handy and convenient to carry out with you other places as well
Cons
Needle threader is quite fussy sometimes
Decorative stitches size is too small regardless of maximum size
6. Usha Janome Automatic Stitch Magic Sewing Machine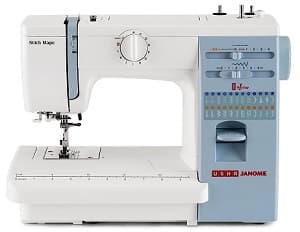 Automatic machines are in high demand these days due to its highly-advanced features and effortless sewing function. Usha Janome is an automatic sewing machine which is quite durable and value for money.
Operating this machine is very easy for beginners, but if you feel some trouble while operating, you can get a demo and proper guidance by service person but in selected cities. It has many features that you can't overlook to make it as your choice.
The machine has automatic zigzag and straight stitch features along with automatic threading in the needle.
It comprises free arm function for circular stitching, one step buttonholing, and quite a few attractive stitching patterns. The automatic thread cutter feature makes it more efficient.
The body is very insignificant and is made of robotic plastic and aluminum die-cast. The approx weight of the machine is 10 kg, which is easily manageable.
It comprises a presser foot adjusting dial that facilitates faultless and outstanding stitch on any fabric. If you would like to enhance your fabric with amazing designs, there is a twin needle facility for more designing options together with 23 built-in stitches.
Design your fabric with this automated sewing machine and provide wings to your imagination in designing fabrics and tailoring.
Key Features
Free arm function for circular stitching
9-different stitching function: satin stitch, stretch stitching, smocking, button fixing, rolled hemming, zip fixing, and others
13 built-in stitching feature including buttonhole stitch
Light-weighted and dial type stitch pattern selector
Manual thread tension control
Warranty: 2 years on product
Package Includes: 1 sewing machine, design booklet, free machine accessories.
Pros
Easy to operate and value for money
Light-weighted product includes a carrying handle
Automatic threading in needle makes stitching easy
The machine is multipurpose and has one-step operation for buttonholes
Triple strength stitch is compatible with thick fabrics such as: denim, casement, and other heavy fabrics, etc.
Cons
The user manual may come with a more systematic illustration
Accessories provide with the package are not enough
Demo CD is also not provided with the package
7. Bernette b33 Home Sewing Machine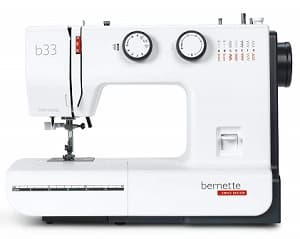 If you are looking for the best sewing machine for home use, nothing can be better than Bernette 33 sewing machine. It is well-suited for home sewing needs. Bernette is an international brand with various functional features.
As a basic model, B33 is very handy for sewers with little experience in dress designing and tailoring. The elegant design of this machine is very attractive and purposeful from outside and inside both. There are two knobs at the front of the machine. You can adjust stitch patterns with these buttons very conveniently.
This model is a motorized sewing machine that comprises 15 In-built stitches and 40 stitch functions. It is a home sewing machine that fulfills your regular sewing needs and not an industrial sewing machine. Hence, before purchasing this particular model, make sure you figure out its entire functions and features very well.
It includes a 4-step buttonhole stitch with a maximum stitch width of 5 mm. An automatic needle threader is also there for your convenience that allows you to thread the upper thread automatically. A manual thread cutter is also offered with this package. You can also get two years warranty on it.
Key Features
Motorized sewing machine with 15 in-built Stitches and 40 stitch functions
Free-arm sewing function
LED light
Automatic needle threader
4-step buttonhole
Feed –Dog drop facility
5 normal presser feet
Package Includes: 1 sewing machine, user manual, basic accessories with foot control.
Pros
Long-lasting, durable and easy to use
Well-suited for beginners to enhance their creativity in tailoring
The automatic needle threader is a good feature to avoid eye-strain
Cons
Warranty is applicable only if it is registered
Not an industrial sewing machine
8. Qualimate Portable Mini Sewing Machine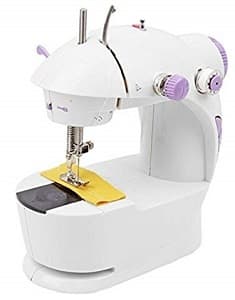 For home sewing needs Qualimate sewing machine is definitely a good choice. The product is mini in size, but its features are massive. It is perfect for small stuff sewing with typical straight line sewing function. You can craft creative baby dresses, shopping bags, apron, pouch, curtain, pillow, lunch bag, etc. with this mini sewing machine.
It has a wide application, and you can sew sleeves and legs as well of any dress. It includes a built-in lamp that provides as much as necessary brightness for sewing. Moreover, with the help of equipped thread cutter, you can easily cut the thread when you finish sewing. This portable mini size sewing machine will be the best gift for those who love tailoring.
With its practical function and elegant look, it will win your heart for sure. The machine has multiple choices of power supply too. It can be operated with electricity and battery as well. But keep in mind you prefer an adapter or batteries for power supply. And to Turn On the device use Button or Foot Pedal. The only drawback of this machine is that it not goes well with every fabric material. Hence, keep avoiding thick fabrics like denim, velvet, etc.
Key Features
Handy and portable, mini size, elegant design
Multiple choices of power supply
Easy bobbins rewinding
Built-in lamp, thread cutter, and cuff slot
Two-speed control function
Typical straight line stitch type for primary sewing
Package Includes: 1 sewing machine, 1 foot pedal, 4 bobbins, 1 needle and needle threader, 1 power adapter and user manual.
Pros
Good quality sewing machine with a compact design
The machine is light in weight and portable for easy carrying anywhere
It can be operated with electricity and battery as well
Essential accessories for stitching comes with the tool kit
You can also operate it with the foot pedal as well as an automatic button
Fast and efficient for small mending works
Cons
Not for big sewing projects
Avoid operating the machine without fabric, or else it will create an issue in bobbin
It will not give perfect stitching on heavy or thick fabrics such as denim, velvet, doormats, etc.
9. Vivir Advance Mini Sewing Machine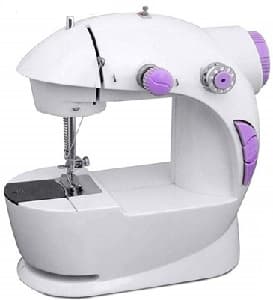 If you are not a professional tailor but want to decorate your home curtains, mats, bed-sheets, or even make dress for your kids, go for sewing machines that can fulfill your small sewing needs. For undersized budgets and home sewing needs, there is a perfect tailoring machine for beginners and is popular as Vivir Mini sewing machine.
It is very light in weight and portable. You can easily carry it and shift from one room to another.
As it is small in size, but it can give you better professional results. With the adjustable speed, you can make complex sewing very easily in a perfect way. It is a multi-purpose sewing machine in a small budget. Beginners can learn basic stitching with this device and become perfect for various home sewing projects. Now you don't need to depend on expensive boutiques for minor alteration. With this small size versatile device, you can do alteration, crafting, quilting, and many more creativity.
You can operate it with batteries and electricity both. But make sure, read the instruction manual before using the device. You need not to run the machine unnecessary without the cloth. And avoid heavy stitching fabrics like denim, lycra, velvet, etc.
Key Features
Convenient mini sewing machine with adjustable speed
Straight chain locking stitch
Operated with AC/DC power or 4 AA batteries
Built-in LED lights
Hand-free sewing with foot control pedal
Package Includes: 1 sewing machine, 1 threader, 12 metal bobbins, 1 thread cutter, 1 needle, 1 foot pedal, 1 AC Adapter, 10 threads, 1 scissors, 15 press buttons, 1 stitch removal tool, 1 measuring tape.
Pros
Stylish LED lights add beauty to the machine as well as providing convenience to watch the stitch patterns carefully
Countless sewing accessories for sewing needs
Small and portable with versatile function
Cons
No warranty or guarantee on the product
Not for heavy or thick fabric stitching
10. Kiwilon 4 in 1 Multi-Functional Electric Portable Sewing Machine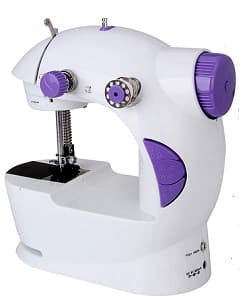 This 4-in-1 mini sewing machine is small but very functional. From simple cloth repairs to fabricating party dresses, everything you can do with this portable machine.
It's a versatile product that comprises double threads and 2 stitch control speed function. Tailoring would be easy and interesting with this mini equipment because it can help you out in learning sewing basics. And if you know stitching, then what else do you want for your home use. It runs on an electrical power supply with 4 AA batteries as well.
Make your tailoring hobby more convenient with Kiwilon multifunctional portable sewing machine. It comprises a foot pedal to easy control the machine and an adapter. It comes pre-threaded so that you need not to thread the needle and strain your eyes.
If talking about the strength of the stitch, the machine hems in a chain lock pattern so that the stitch does not uncover easily. It is suggested to read the instruction carefully before using this mini device and follow the precautionary measures so that you may run it conveniently.
Key Features
Handy and mini-size sewing machine with double threads
2 stitch control speed
Chain locking stitch
Runs on either AC/DC Power as well as operate with 4 AA Batteries
Thread cutter to cut off threads easily
In-built Focus light
Package Includes: 1 Sewing Machine, 1 AC DC adapter, 1 Foot pedal, 4 Bobbins, 1 Sewing Needle, 1 Measuring Tape, 1 Thread Cutter, 1 Needle Threader
Pros
It comes with all the necessary equipments
Stitches very smoothly and sturdy stitch on fabric with chain locking system
Foot pedal to easy control the machine
Can be carried to any convenient place
Cons
Needles can break if you make a try on stitching heavy fabrics
Irregular stitching on the selected fabric material
How to Choose the Best Sewing Machine? (Buying Guide)
It can be difficult to settle on the best sewing machine for home use & for advanced sewers because the options present in the market are amazing and devastating too. Hence, it is suggested to invest in a reasonable sewing machine that meets your requirements.
For your convenience, we have collected the entire topics like sewing machines and its types, benefits, and different features to consider along with important safety tips to buy and use a sewing machine. Read thoroughly the different topics and then choose the best for your personal needs.
Different Types of Sewing Machines
There are many types of sewing machines available in India, but the most common variants are Mechanical, Electronic, Computerized, Over Locker, and Embroidery. Get a detailed idea of these common types so that you can realize which one go well with your requirements.
1. Mechanical Sewing Machine
Mechanical sewing machines are traditional stitching equipment, which is also very popular as manual machines or tailoring machines. These are the best sewing machine for beginners within your means and can be repaired easily. It is portable too.
It comprises an integrated pusher and the changeable stitch length. Instead of the foot pedal, it may direct by hand and is power-driven by a wheel. To find the best simple sewing machine, these manual tailoring machines are the best option for beginners and hobbyists.
It is durable enough, but the only disadvantage of this machine is repeatedly threading. The mechanical sewing machine is relatively inexpensive and is the best portable sewing machine for household use.
2. Electronic Sewing Machine
Electronic Sewing Machine has many advanced features than usual mechanical machines. It has approx seven different stitching patterns like hemming, blind stitch, quilting, embroidery, smocking, and auto-tripping function. These stitching patterns are helpful for embossing, embroidery & beautification in the fabric.
Most of the electronic sewing machine models have some automatic features like thread cutting, a control panel to set style & length of the stitch, and an automatic tension setting. Contrasting to the mechanical sewing machine, it is the best quilting and embroidery machine that utilizes a motor to power up the electrical device.
Among best top rated sewing machines, electronic sewing device is compatible for a wide range of sewing needs and bulk orders. It can stitch very fast if you are proficient in controlling the device.
3. Computerized Sewing Machine
These are the most modern sewing machines linked with internet connections for safe and sound use. These highly developed programmed machines consist of a touch screen display (LCD), LED, and automatic tension setting. You can execute the entire tailoring needs with different modifiable options.
They can be lined up to stitch complex embroidery patterns, and some devices support USB ports. These ports facilitate the user to craft particular designs on the computer and then reassign to the computerized sewing machine.
It can support almost every type of textile material. Whether the fabric is silk, cotton, wool, or polyester, the garments can be designed well. For quick work, the device encloses bobbin spinners and several needles. The preset device operates exceptional features known as Autopilot Switching Mode, in which the device will manage the speed, and other sewing features automatically. For commercial use, the machine is durable and long-lasting but fairly pricey than traditional models.
4. Over-locker Sewing Machine
For professional stitching and over-locking the fabric, these types of machines are best suitable. Such devices are also called as Sergers. It has not that much sewing functions like computerized and automated machines but has exceptionally high-speed needle-work and hemming capacity.
It comprises an in-built cutter to trim the patchy ends of the fabrics. An over-locker sewing machine would be the best option to design and stitch bed-sheets, curtains, dresses, etc.
5. Embroidery Sewing Machine
To beautify the fabric with unique needlework and stitching patterns, the Embroidery sewing machine is the best choice. These machines include a presser foot for embroidery work. It is costly as compared to other machines but suitable for making perfect patterns of needlecraft in a fabric. For choosing the best embroidery sewing machine and to ease up the stitching effort, grab the best sewing machine for crafters.
Manufacturing Quality and Motor
Top sewing machine brands can ease up the sewing task, and such products are trustworthy too. The heaviness of the motor is also responsible to some extent for flawless sewing. The heavy motor has the potential for regular usage. It will be good for thicker and bulky fabrics like leather, denims, furs, etc.
It is important for a tailor or hobbyist to choose the perfect weight of the machine that is ideal for their use. Commonly, sewing machines are 7-15 kg in weight. The heaviness of the machine depends on the material used, brand, and number of accessories.
Light-weighted sewing machines are a more popular choice among customers because of its flexible options. Moreover, it's quite a trouble-free to move it to different places. The added attachments provided with the lightweight model make the sewing task easy and comfortable. You can trust in the finest price tags because they cover advanced manufacturing quality.
Stitches Count
What looks attractive, and what just you want is a widely divergent matter. Normally, straight and zigzag stitches are very common, and it is necessary for any tailor. On the other hand, for crafting fabrics to never-ending creativity, other stitching patterns are required. Some of the common patterns are:
Cross Stitch
Chain Stitch
Back Stitch
Buttonhole Stitch
Basting Stitch
Blind hem Stitch
Running Stitch and others
Speed of the Sewing Machine
If you want quick stitching, you always require a high-speed Sewing Machine. SPM (Speed Per Minute) is an important factor which cannot be neglected. Top sewing machine brands such as Singer, Usha, Brother, and Bernette provide 600 -750 Stitches per minute. It is the basic speed that is quite consistent and provides well-built stitches.
Stitching Length Adjustment
The length adjustment in stitching will provide incredible options for creativity in fabrics. To craft a teddy bear, doll, or a plaything, the shortest lengths are just right, and it guarantees firm and small stitches. In addition, longer length adjustments are ideal for quilting. The best quilting and embroidery machine has length adjustment features, and you can make attractive stitching and embroidery on the fabrics.
Sewing machine Price
The price of the sewing machines varies depending upon its types and features present. If you just want a sewing machine for basic stitching, you can go for the budget models. But for high-end sewing tasks, you might have invest in the pricier models that can fulfill all your sewing requirements with extra more features.
Sewing machines for light to medium work cost between Rs 2500 – Rs 15000.
Sewing machines for medium to high work ranges from Rs 15000 – Rs 45000. It goes more up to Rs 1,50,000 according to the features present in the machine.
Noise Level
A noisy machine is very annoying. Though some noise in the sewing machine is common, make sure to test out the functions before your buy it, so that you can judge it better how much noise it is making.
Extra Attachments
Sewing machine includes many attachments, but most of the models have extra accessories that help your sewing effort very simple and easy. Let's have a look on bonus add-on:
Thread Cutter: Automatic thread cutter is a very helpful feature for any tailor. It repeatedly cut the thread with a simple push-button.
Speed Control Regulator: Several complicated designing on fabrics or hard cloth material requires a sewing machine with adjustable speed control. Speed regulator facilitates the user to manage sewing speed as per requirement.
Needle Threader: Most of the high-end models have this mechanism. By means of the spring mechanism and a popper, this feature instinctively puts the thread into the needle hole. It helps in preventing stress on the eyes and saves time too.
Needle Position Valve: Best sewing machine for advanced sewers have a needle position adjustment feature that facilitates the garment designer to shift the needle corner to corner as per stitching requirements.
Changeable Presser Foot: A changeable presser foot consists of numerous settings that basically save the fabric from stretching or any kind of damage. This feature is very helpful in attaching zip, loops, cord, etc.
Button Holder: With the help of this feature, you don't need to adjust the fabric or dress to create buttonholes. The automatic button holder feature simply creates perfect buttonholes by twisting a knob.
Bobbin Thread Lift: It takes the bobbin thread to the needlepoint so that the tailor doesn't need to pull it from beneath the presser foot.
Warranty
A good sewing machine should be able to give you years of reliable and good service. For this, considering the waranty on sewing machine is very much important. It is always better to invest in a sewing machine model that will offer good warranty and after sales support. So that if anything goes wrong with the machine, you can get it repair without extra cost. Most of the sewing machine brands offer two years warranty on their product, some even more for up to 5 Years.
Hope, the above features are helpful enough to choose the best quilting and embroidery machine. Go for a heavy-duty sewing machine that lasts long. If you are just a hobbyist and doing stitching occasionally, then it is recommended to avoid costly ones. There are various cheap sewing machines in India that can meet with your requirements. Hence, analyze your requirement first, then opt for one.
Safety Tips for Using a Sewing Machine
For beginners, it is possible that they are not aware of the entire features of the product very well and how to use it flawlessly. Though there are manuals provided with every single model, if you know the necessary safety tips already, it would be helpful. Some of the safety guidelines are mentioned below:
Demo and Installation: Proper installation is very important to avoid any damage to the machine as well as using it properly. For high-end models, a free demo is offered by the manufacturer, which you should definitely get it. It can save your time to fix it properly.
Read Manual thoroughly: It is recommended to study the user manual before setting up the mechanism. Most of the tabletop sewing machine or embroidery sewing machines have their exceptional features with several safekeeping instructions. To avoid any issue or fixing mess, look into the instruction booklet.
Unplug and Close the Machine with Cover: After the use unplug the machine all the time. It keeps you safe from any harm or injury. If you have kids, they can get hurt while trying it. Hence, you should close the appliance at all times and avoid keeping this electric device on standby mode.
String of the Sewing Machine: Frequent usage of the sewing machine leads to damage of the cord. Repeated uses can cause rupture due to a little pressure. So, you need to check the cord from time to time.
Keep Accessories at its Suitable Place: The sewing machine encloses many sharp and pointed items. Hence, it is really necessary to keep needles, scissors, and other pointed stuffs in the accessory box to avoid harm while picking them up.
To keep in mind the above safekeeping instructions, you can do well with your best portable sewing machine. To avoid getting into an issue, use a hand sewing machine safely and keep away your kids when in use.
Cleaning and Maintenance of Sewing Machine
Servicing and cleaning make any machine or equipment to work smoothly. Servicing depends on the type of work performed on the sewing machine and how frequently you operate the machine. Cotton strands and fabrics generate extra lint while sewing on your machine. Hence, it over and over again requires cleaning and maintenance.
Moreover, the lubricants can become dry with time when not in use for a long time, so it will require cleaning and servicing.
Here are few important tips for the celeaning and maintenance of sewing machine:-
Always keep your sewing machine covered using a dust cover or hard case to avoid dust build up.
Remove the parts that needs cleaning like needle, presser foot, slide plate, throat plate, bobbin case, etc. Then clean them thoroughly to remove all lint and stray threads. It will make your machine efficient in performance.
You can also use the compressed air to remove lint from all these parts.
Change the needles frequently.
Always take out the power plug when you are not using the machine.
Oil or lubricate the internal moving parts of the machine at regualr intervals so thatit runs smmother and longer.
Annual professional servicing is also very important for better performance of the sewing machine.
Benefits of Using Sewing Machine
To design a perfect DIY dress for any event, having a sewing machine at home is necessary. All you need to buy raw fabric and craft it the way you want. There are plenty of options for the best sewing machine for home use. Formerly, hand sewing machine is very popular in India, but the recognition of hand sewing machine is falling day by day. And thus, the Electrical sewing machine gets the credit gradually. Let's have a look at some major benefits:
Creativeness:

If you like playing with fabrics and craft something unique designs, then having a sewing machine will definitely a good choice. Designing and creativity with fabrics is an art, and with this talent, you can make colorful dresses for your kids and impress your family members with unique outfits. There are a variety of stitching options to choose from like back stitch, running stitch, zigzag stitch, and many more. Various customizations and a variety of decorative stitching become very easier with top sewing machine brands.

Handy and Useful:

The best silai machine reduces human effort and comprises a number of stitching options to craft different fabric materials like cotton, denims, silk, leather, wool, etc. The heavy-duty sewing machine is faster than normal hand-stitched sewing. For simple alteration of length or hemming a skirt or denim, you need not to visit tailor shop and give an unreasonable price. All the basic stitching can be done in your home. It is easy to operate and maintain, but make sure to follow all safety measures before using it.

Part-time or full-time earning:

It is one of the biggest advantages of having a sewing machine. If you are a newcomer and a hobbyist, you can easily start a dress boutique at a nominal cost. You can buy colorful or shimmer fabric from the market and make a beautiful dress or gown. All the housewives who have enough time to show creativity with fabrics can rely on the sewing machine and get bigger rewards for sure.

Men can also get some benefits in the sewing profession. They can use their spare time to receive some extra money as well. Therefore, a sewing machine can easily provide you with a source of earning as well. For professional set up, you should prefer Automatic or computerized sewing machines as it reduces the strain on the spinal cord while operating for a long time.
Sewing Machines Frequently Asked Questions (FAQs)
1. What are the necessary accessories and items required with the sewing machine for stitching?

The must-have items are:

Measuring tape
Scissors
Pins
Chalk
Steam Iron
Seam Ripper
Thimbles
Spool Huggers
Bobbin organizer
Sewing gauge

2. What should you seek out before purchasing a sewing machine?

Weight and Size of the machine
Mechanical or electronic as per your requirement
Bells and high-pitched
Stitch options
Budget
Warranty and service
Easy maintenance and cleaning

3. What are the best economic and low-priced sewing machines in India?

Below are the best sewing machine as per our research

4. Which sewing machine is better, Usha or Singer?

Both the machines are metal built with a strong body and solid internal parts. They equally are strong and long-lasting, but Usha Janome provides better design and added features comparatively Singer sewing machine.

5. Can I do quilting with a regular sewing machine?

With circular stitching feature and free-motion foot, you can simply do quilting; if your machine includes these features, you can use it for quilting. If this feature is missing in your selected model, then you can buy a standard darning foot to quilt.

6. Which one are better-traditional sewing machines or newer models?

You can blindly faith on older sewing machines. Anyone can start basic stitching and learn awesome needlework on an old sewing machine. Older sewing machine models are fairly economical and do better than newer models. However, newer models have more advanced and improved features.

7. What to do if the sewing machine runs heavily?

When the dirt or lint gets involved between the teeth, it may trouble stitching. The machine needs regular cleaning and oiling so that it runs smoothly.

8. How to resolve the issue if machine skips stitching?

If machine skips stitching, it's is due to improper placing of the needle. Another reason would be lacking of the pressure on the foot. Hence, you need to place the needle properly to avoid bouncing stitching.

9. How to avoid needle ruptures?

The needle breaks frequently due to many reasons. You may be using incorrect size needle or worse quality thread, or maybe you are pulling the cloth vigorously while sewing or the needle may be placed in the wrong way.

10. Why bobbin thread breaks again and again while sewing?

The reason may be improper rolling of the thread in the bobbin case, or it may be fixed unevenly, or else the tension of the bobbin thread is too stretched.

11. Which is the better thread for a sewing machine?

A polyester thread is a very common and multi-purpose thread and is widely available. It comes in different color options. It is not only suitable for machine stitching but hands stitching as well. It's durable, and elongated quality makes it ideal for weaving the fabric, and it will go well with most fabric materials.
Conclusion
The above description is all based on the best sewing machine in India and its features. The usefulness of the sewing machine is endless. Hence, to choose the best for your need, calculate your budget and check sewing machine price with the above thorough research on best sewing machine reviews. After understanding our top picks and their features along with its benefits, you can find the best one for your need, of course.
Personally speaking, being a part-time dress designer, my choice is the Usha Janome Wonder Stitch Electric Sewing Machine. It has all those features like height adjustment, in-built stitches, and creative needlework that is really amazing for any type of sewing work.
Hope, the reviews of top-rated sewing machine models and the comprehensive buying guide will surely ease your buying decision. Further, for any queries, or suggestions, please write to us in the below comment section.
Buy Sewing Machine Online
Akiara - Makes life easy Mini Sewing Machine ...
37%
Vivir Sewing Machine For Home Tailoring With ...
60%
AZRMOH Electric Handy Stitch Handheld Sewing ...
60%
IGNITO Electric Handy Stitch Handheld Sewing ...
Singer Promise 1408 Automatic Zig-Zag Electri...
29%
CHILLAXPLUS mini sewing machine, stitching ma...
48%
Usha Janome Dream Stitch Automatic Zig-Zag El...
4%
NEGROBLANCO Electric Handy Stitch Handheld Se...
54%