When it comes to your health, especially the health of your spinal muscles, comfort matters most. But, sleeping on poor quality or wrong mattresses may result in stiff muscles and chronic back pain.
The Wakefit Orthopaedic Memory Foam Mattress is a dream come true for anyone who has trouble getting a good night's rest. It's designed with orthopaedic support in mind, and it's one of the highest-rated orthopaedic mattresses available in India. Built to help reduce back and neck pain, this mattress will make sleeping easy again.
Quick Highlight
Among its various range of mattresses, the Wakefit Orthopaedic Memory Foam Mattress offers the best comfort, support, and protection for your body. In addition, it relieves pressure points, provides exceptional spinal alignment, and cradles your body during sleep.
Specifications
Type: Memory Foam
Firmness: Medium Firm
Mattress Material: Memory Foam, 7 Pressure Zone Foam, High Resilience Foam
Cover Type: Removable Zipped External Cover
Warranty: 10 Years
Design and Construction
The Wakefit Orthopaedic Memory Foam mattress is designed in three different layers to provide ultimate support to different parts of your body.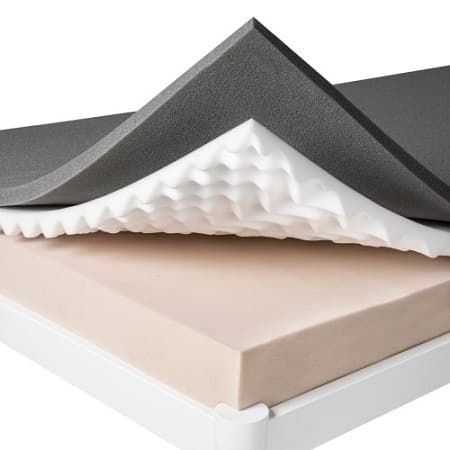 1. Next-Gen Memory Foam Layer
The top layer is the next-generation memory foam that contours the shape of your body. It also helps in relieving the pressure points, which allows your body to relax, relieve pain, and wake up feeling refreshed and rejuvenated.
2. 7-Pressure Zone Layer
Next comes the differential 7 Pressure Zone layer that doubles up to align your spine and provides the right support to different parts of your body. A distinctive feature of this new 7 pressure foam layer is its ability to allow good air circulation across the mattress. Thus, it reduces the heat build-up on the surface and allows you to sleep cool and comfortable throughout the night, even on hot summer days.
3. High Resilience Layer
Finally, the base foam, which provides a firm support to the entire mattress construction.
Premium Quality High GSM Spun Knitted Outer Cover
The mattress is covered with a high-quality and zipped breathable cotton fabric cover which is easily removable. It not only protects your mattress from any accidental spills or stains but also enhances its appearance. And since it is removable, you can wash it either with your hand or in the washing machine for easy cleaning of it. In addition, the fabric is breathable to ensure that there is proper airflow into the mattress, and you can sleep comfortably.
Size and Thickness
The Wakefit Orthopaedic Memory Foam Mattress comes in four different sizes to fit a variety of beds.
Single
Diwan
Queen and
King
All the above-mentioned mattress sizes are available in different dimensions too; to suit specific bed sizes.
For more details on bedding sizes, you can check their official website.
The best part is that they also provide Custom Size Mattresses depending on your needs. Just share your bed size details, and they will customize the suitable size mattress to fit your bed.
When it comes to thickness, they offer a variety of options. You can choose the mattress height from 5-inch, 6-inch, 8-inch, and 10-inch; depending on your personal preferences.
Wakefit Orthopaedic Memory Foam Mattress Price
The price range of Wakefit Orthopaedic Memory Foam Mattress starts from Rs 6,700 and goes up to Rs 12,000, depending on size and thickness. They also provide exciting card offers, discounts, and coupon codes to avail their mattress at discounted prices (if you are buying from their official website). You can also buy it from Amazon and Flipkart.
Key Features of Wakefit Orthopaedic Memory Foam Mattress
1. Durability
The higher foam density construction makes it durable and long-lasting.
2. Better Support
The firmer base foam offers better support to the spine.
3. Comfort
Its memory foam construction helps in contouring your body shape; thus providing maximum comfort and relief while sleeping.
4. Dual Side Usage
This mattress is usable on both sides. However, it's recommended to sleep on its white side to maintain good posture and stay cool. You can also use its grey side for sleeping if you need more firmness.
Also Check Best Reversible Mattresses
5. Temperature
The differential pressure zone layer allows better airflow and high breathability and thus creating a stable temperature throughout the night. So, you can sleep peacefully, even in extremely hot conditions.
6. Motion Transfer
The mattress absorbs the motion of one sleeper and completely isolates it so that the other sleeper doesn't get disturbed while sleeping.
7. Hygiene
The outer cover helps in absorbing sweat and preventing it from reaching the foam surface. This helps in maintaining freshness and hygiene for a long time. Plus, it has a zipper on it to easily remove it and wash it to retain freshness and a clean appearance.
Is Wakefit Orthopaedic Mattress good for couples?
Many of you wonder whether Wakefit Orthopaedic Mattress is suitable for couples or not? The answer is Yes! With no motion transfer, this orthopaedic memory foam mattress from WakeFit is an ideal mattress for couples who are looking for a bed to share.
It is specifically designed for couples which offer zero partner disturbance. The mattress absorbs the movement of one partner when they toss, turn, or slide in and out of the bed, and thus completely isolates the motion. As a result, it ensures that the other partner will sleep peacefully without any disturbance.
Another thing that makes this mattress best for couples is that it accommodates all kinds of sleeping positions. It doesn't matter what sleeping positions you and your partner take; you will both remain comfortable without disturbing the other.
How is Wakefit Orthopaedic Memory Foam Mattress Best for Pain relief?
The best feature of Wakefit Orthopaedic Memory Foam Mattress is its body contouring property. It adapts to your body shape, ensuring no pressure points are created on your back, neck, shoulders, and hips. It also distributes your bodyweight uniformly, so you may not experience any kind of pain in different parts of your body.
How Wakefit Orthopaedic Mattress lets you sleep cool?
The Wakefit Orthopaedic Memory Foam Mattress integrates a CoolFit foam placed above the next-generation memory foam allowing you to sleep cool and comfortably. This CoolFit foam has an open-cell structure that prevents the heat absorption from the body while sleeping. It also allows adequate air circulation to manage heat and let you sleep cool and restful.
Conclusion
In conclusion, Wakefit Orthopedic Mattress gives every sleeper a comfortable and hassle-free sleeping experience. The design of the mattress is thoughtfully made to provide exceptional spinal support and a plush surface for maximum comfort. In addition, the mattress uses multiple layers of temperature-controlled materials to create a comfortable sleep environment.
For an exceptional user experience, Wakefit also provides free shipping and a 100-night free trial with a 100% money-back guarantee.
Related Reviews