Reversible Mattress, also known as the Flippable Mattress, Double-Sided Mattress or Two-Sided Mattress, is now becoming very popular as it offers you dual comfort from both of its sides. It means you can use both the sides of the mattress as per your convenience and preferences. These mattresses offer a suitable sleeping surface on each side. In this blog we have written about the best reversible mattress or flippable mattress brands and their full reviews so that you can decide upon to choose the best.
Whether you want to switch from your existing mattress or want a new one due to some other reasons, the purchasing decision is not as simple as you think. You must have to consider a lot more factors like support, comfort, price, durability, and a host of other features. So, for your ease and convenience, we have also covered a well researched buying guide on Choosing The Right Mattress in details.
What are the Reversible Mattress?
Reversible Mattress comes with their both sides to use as the fresh surface for sleeping. The best part is that some of them come with the same level of firmness on both sides, that is really a great point to enhance the life span of the mattress. And on the other hand, some come with the different firmness level on each side to accommodate people with different sleeping styles and preferences. So you can choose your preferred sleeping surface by investing in a single mattress only.
5 Best Reversible Mattress in India
Best Reversible Mattress Reviews
Now here comes the detailed review of our best picked models of the reversible mattress.
1. Wakefit Dual Comfort Mattress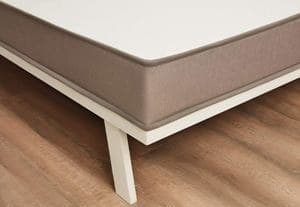 The Wakefit dual comfort mattress is our top pick because of its exceptional quality, comfort, and premium looks. This two-layered mattress is designed to give you the experience of enhanced comfort on both sides. Being soft at one side and firm on the opposite side, the mattress lets you choose the best sleeping surface as per your need. Also, the hard surface is ideal for winters and the soft one for summers.
The construction of the mattress includes soft foam for that cloud-like fluffiness and the high resilience foam at the base for firm support. And this also supports your spine very well to get you rid of the orthopedic issues. The higher density of the foam in its construction enhances the life span of the mattress. Plus, the comfortable, breathable fabric cover on the mattress ensures the better airflow to give you the ultimate level of comfort while sleeping.
Key Features
Dual comfort reversible mattress
Medium Soft and Medium Firm on opposite sides
Soft foam and High Resilience Foam
Premium quality, high GSM spun polyester fabric outer cover
3 Years of manufacturing warranty
Zero Partner disturbance
Available in variable sizes
Pros
Very beautiful and classy in looks
High-quality mattress
Very comfortable and relaxing mattress
Light in weight that makes it easy to move around
Suitable to use for all age groups
Great for both summers and winters
Cons
The outer cover is not removable, so cleaning and maintenance of the mattress is quite difficult
View on Amazon View on Flipkart
2. Furny Reversible Hybrid Mattress, Medium Firm & Soft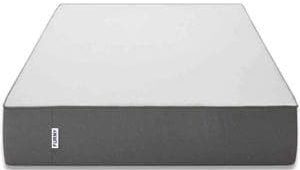 Comfort, luxury, and durability is all that describes this reversible mattress from the brand Furny. No matter which side you sleep, but this mattress offers only a comfortable and quality sleep at night, so you wake up rejuvenated and fresh every morning. The mattress is medium firm on one side and medium soft on the other so that you can use your preferable side accordingly.
When it comes to design, the mattress has a solid construction of comfort foam and support foam along with the support and breathable fabric. The comfort foam lets you adjust the preferable firmness option as per your need. Also, it provides you added comfort and allows you to sink in for a restful and comfortable sleep. The base layer is designed with high resiliency support foam that adjusts to your body shape and thus providing you relief from orthopedic problems like neck pain, back pain, hip pain, shoulder pain, etc.
The base layer is covered with the support fabric that enhances more softness and comfort to the mattress. And the most important is its outer breathable fabric layer that enhances the better air circulation to provide you the more healthy and comfortable sleep at night. So, overall, this mattress is a perfect combination of the right amount of firmness, perfect amount of bounce, and the right amount of density to offer you excellent sleep assurance.
Key Features
Reversible mattress with dual comfort
Medium firm and medium soft on the opposite sides
High-density foam
Premium quality breathable cotton fabric
Maintains the natural S shape of your spine
Anti-slip layer
30 Nights free trial
10 Years of manufacturing warranty
Available in variable sizes
Pros
Excellent quality and nicely built
Very much comfortable on both sides
Durable
Provides the right amount of firmness, bounce, and density for a comfortable sleep
Worth for the price
Cons
3. Comforto Duplex | Firm and Soft Dual Comfort Reversible Foam Mattress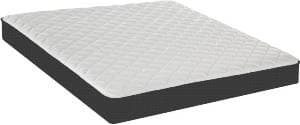 The Comfort Duplex can also be your best choice if you are searching for the best reversible mattress at a pocket-friendly price. This mattress combines both luxury and value and promises to give only the comfortable sleep at all. The mattress offers dual comfort with medium soft on one side and medium firm on the other so that you can choose between your preferred firmness level for a quality sleep.
It is designed with high-quality soft foam and the base layer of high-quality support foam for comfort and great support. And the mattress is covered with the quilted fabric for the plush feel. This mattress is also designed in such a way to provide great orthopedic support, means if you have any orthopedic issue, like back pain, hip pain, shoulder pain, or neck pain, this mattress is really a great choice.
Key Features
Reversible dual firmness
Medium Soft and Medium Firm Mattress
Different sides give different comfort
Exquisite edge and smooth line
Both side quilted cover for plush surface feel
Provides ultimate orthopedic support
No heat
Zero partner disturbance
11 Years Warranty
Available in variable sizes
Pros
Looks premium
Quality wise the mattress is really awesome
A lightweight and supportive mattress
Good for orthopedic issues
Very much comfortable on both the sides
Durable
Value for money
Cons
View on Amazon View on Flipkart
4. Sleepwell SleepX Dual Mattress – Medium Soft and Hard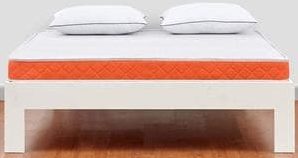 Want to sleep well, then this dual mattress from Sleepwell is an absolutely great pick. The Sleepwell SleepX dual comfort mattress with flippable design offers you the freedom to choose between the preferred sleeping option, whether hard or soft. The mattress has a multi-layered core structure for luxurious comfort. You can flip over the mattress to choose your preferred sleeping surface as it is medium firm on one side and soft on the other.
The mattress construction includes high resilience foam and the base of rebonded foam for ultimate support and comfort, as well as knitted top fabric for maximum air flow. The top and bottom of the mattress are also quilted with a sheet having the thickness of 16mm with an infill of PU foam that allows optimal support and extra comfort. Keeping in mind the health and hygiene of you, the mattress also comes with Neem Fresch Technology that keeps you fresh and hygienic all the time while you sleep on it.
Key Features
Reversible mattress with double comfort
Medium firm on one side and soft on the other
High resilience foam and rebonded foam
Knitted top fabric
Air mesh fabric on the sides for better air circulation
Soft PU foam in quilting offers desired comfort
Soft knitted fabric for a plush feel
Added thickness for extra support and comfort
3 Years Warranty
Available in different bedding sizes
Pros
Quality of the mattress is outstanding
Looks good and elegant
Offers better spine alignment and back support
Very comfortable on both sides
Suitable to use for all age groups
Keeps you fresh and hygienic
Cons
View on Amazon View on Flipkart
5. Centuary Double Sided Reversible Mattress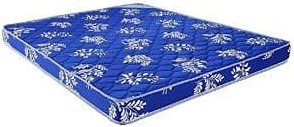 Centuary mattresses is one of the leading bedding brands in India with the aim to provide you better and comfortable sleep every time. And this foam mattress from the brand Centuary also comes in a flippable design that allows you to flip and rotate your mattress to sleep on the preferable side. The mattress stands out perfectly in terms of quality and durability.
This flippable mattress is designed with the high resilience foam core along with the PU foam quilting. Plus, there also comes the micro fabric outer cover finishing for more comfort and also looks premium. The Centuary Flexi HR mattress is very soft offering you the extra bouncy feel while sleeping on the mattress. So, rediscover the power of sleep with this comfortable and premium mattress at all.
Key Features
Flippable design
Perfect body shape adaptability
High resilience foam core
Soft micro fabric quilt cover
Better air flow throughout the night
Extra bouncy
5 Years of Manufacturing Warranty
Available in different bedding sizes
Pros
Quality of the mattress is very good
Super soft feel
Premium quilted fabric cover adds extra elegance to the mattress
Good for lightweight people
Cons
The mattress is very soft, so causes back pain
Its outer cover is non-removable, so cleaning and maintenance is pretty difficult
Why Choose a Reversible Mattress?
There are so many reasons to choose a flippable mattress. Have a look at the below-mentioned points to know about the features of a reversible mattress that makes it an ideal choice for us.
Longer Lifespan
The reversible mattress comes with a longer lifespan because flipping over the mattress can help to prevent the sagging of the mattress and thus extends its lifespan.
Comfort
The reversible mattress offers you double comfort due to its comfort layers and padding layers on both sides. Thus, you can get the luxury of two sleeping surfaces in the same mattress.
By the way, flipping over your mattress will help in maintaining a consistent level of comfort and performance, and thus keeps your mattress in good condition for a long time.
Versatility
The flippable mattress provides you the luxury of sleeping with different firmness levels on each side. Either you can choose the medium firm side or the softer depending upon your preferences. Also, the harder surface is ideal during winters, and the softer side is good for summers. And this way, the single flippable mattress can meet the sleeping needs of a wide range of people.
Great value for money
The double-sided mattress comes with the same cost as one-sided mattress but offers you a double benefit. These are also very durable. So, these are absolutely a great value for money.
Conclusion
That is all about the review of the best reversible mattress in India. Investing in these mattresses is really worthy as we have clearly detailed above the benefits of using such type of mattress with dual comfort. So, pick the one of your preferred choice and have a comfortable night sleep at all.
But, if you feel anything is missing in the blog, please share your feedback or suggestion in the below comment section.
Read Related Reviews
Buy Reversible Mattress Online
SPINEHEAL MATTRESS Foam 3 Inch Dual Side Reve...
50%
Centuary Mattresses Sleepables 6-Inch Double ...
55%
Livpure Smart Vital Duos Reversible HR Foam M...
37%
Sleepwell Dual PRO Profiled Foam Reversible 5...
25%
duroflex LiveIn 2 in 1 Reversible Soft & Firm...
59%
Livpure Smart Duos Reversible HR Foam Mattres...
37%
Centuary Mattresses Joy 4-inch Single Size Or...
34%
MOROFEEL 2 Inch Dual Comfort Reversible Folda...
56%