Are you wake up with pain and stiffness in your neck every morning? Well, undoubtedly, it means your quality sleep is disrupted every night. Though there are many causes of neck pain including accidental injury, spinal arthritis, wrong sleeping position, or working all day along on your desk over the laptop, etc. but a wrong mattress and pillow can worsen the condition more. So, choosing the right mattress and right pillow can create a big difference to make you feel comfortable from chronic neck pain issues.
But, it is very difficult to find out the best one as variable options are available in the market as well as online. In this article we will talk about the best mattress for neck pain and their full reviews, so that you may invest in the right one.
7 Best Mattress for Neck Pain in India
On the basis of above mentioned consideration, we have compiled here the list of best mattress for neck pain.
Best Mattress For Neck Pain Reviews
Now get dive into the full review of our best picked models, to make your buying decision easier.
1. Wakefit Polyurethane Dual Comfort Hard and Soft Mattress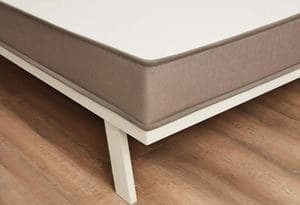 This mattress from Wakefit is our top choice featuring uncompromising quality, amazing comfort, and great orthopedic support. It offers only a restful, comfortable, and pain-free sleep. No matter whether you have a sore neck, back pain, or stress, it is an ultimate solution to all these issues.
This dual comfort mattress is usable from both the sides according to your comfort level. One of the sides of this mattress is medium firm, and the other one is medium soft, so you can choose the best preferable side accordingly.
The mattress is designed with soft foam and high resilience memory foam. A premium quality cotton fabric quilted cover is also there that offers the protection to the mattress and also enhances its appearance. Plus, it provides cool and comfortable sleep all over the night.
Key Features
Dual comfort mattress
Reversible mattress
Soft foam and High-density foam
Medium firm and medium soft on opposite sides
Premium quality, high GSM spun polyester fabric
10 days replacement
5 years warranty
100 nights trial
Available in variable sizes
Pros
Premium quality mattress
Its reversible feature is amazing that means you can use its both sides
Beautiful and classy look
Very good for back pain, neck pain, and pain in other areas of the body
An affordable sleeping solution
Cons
The upper cover is available in white color only, so it requires a lot more cleaning and maintenance. Also, the cover is non-zippable, so quite challenging to clean
View on Amazon View on Flipkart
2. Furny Orthopedic Mattress, Responsive Memory Gel Foam Mattress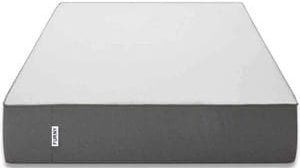 Here comes the next best mattress for neck pain from the brand Furny. Even not only the neck pain, but it is also good for other orthopedic issues like back pain, joint pain, shoulder pain, etc. The mattress helps to maintain the natural S shape of the spine and distributes your body weight evenly. So, you can wake up pain-free every morning.
This mattress is designed in six layers for unparalleled comfort. The base layer of support fabric adds softness and support to the mattress. Then there comes the layer of high resilience support foam that ensures to adjust automatically to your shape. After that, there is a layer of cool gel-based memory foam that contours around your body curves and alleviates stress and pressure points across the entire body. Also, it offers you the cool sleep all over the night. Then there is a layer of comfort foam followed by anti-slip layer. The final or outer layer is of breathable fabric that creates a healthy and comfortable sleep environment. And the best part is that there comes a zippable outer cover that you can easily remove to clean or wash out as per your convenience.
Key Features
Cool gel-based memory foam mattress
Medium soft feel
Made with high-density foam and memory foam
Premium quality quilted cotton fabric
Removable zipper outer cover
Comfort with the right level of firmness
30 Nights Free Trial
10 Days Replacement
20 Years warranty
Available in variable sizes
Pros
Great mattress in terms of quality
Provides superb orthopedic support
Very much comfortable
Not too soft, not too firm
Provides natural spine alignment
Allows pressure relief
Reasonable price range
Cons
3. Euro Dreams Orthopedic Memory Foam Mattress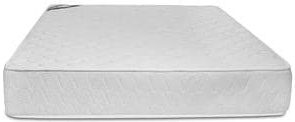 The Euro Dreams orthopedic mattress is one of the great choices for getting comfort, relaxation, and most importantly, a blissful sleep at night. This luxurious mattress is equipped with NASA technology based memory foam that automatically senses and shapes itself to your body contours. And thereby offering your body the balanced level of support while sleeping on it. Also, it relieves all the pressure points and alleviates stress across your entire body, that makes you fall easily asleep. And so, you wake up pain-free and fresh every morning.
What is extremely best about this mattress is its temperature sensitivity feature that stimulates the body temperature and offers a cool and comfortable sleep. Moreover, talking about the design, the mattress really feels premium. With the outer zipper fabric cover, the mattress is very easy to clean and maintain. Plus, the anti-bacterial and anti-allergic qualities of the fabric offers the hygienic sleep at all.
Key Features
Memory Foam Mattress
High-density polyurethane foam
Excellent body contouring
Luxurious knitted fabric with chain stitching
Anti-bacterial and anti-allergic fabric
Good motion isolation
Zero partner disturbance
10 Days replacement
5 Years Warranty
Available in variable sizes
Pros
Great design and quality
Amazing orthopedic support
Balances the body weight evenly
Comfortable
Budget-friendly mattress
Cons
4. Wake-Up Ortho Memory Foam Mattress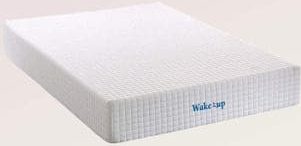 The Wake-Up ortho memory foam mattress offers you the amazing orthopedic support and comfort for a restful night sleep. The mattress has the ability to contours to the body curvature, and thus, you will get the balanced level of support. This way, it helps in relieving all pressure points and alleviating stress across your entire body.
Also, with an amazing cooling technology, this mattress absorbs and redistributes your body heat and maintains an optimum sleep temperature so that you can sleep blissfully at night.
It is designed in four layers. The base layer is made up of high-density support foam. Then a layer of memory foam, and then a layer of cool foam to keep you cool while sleeping. The upper layer comes with the cotton fabric cover for a soft and comfortable feel. At the bottom, the mattress comes with a fabric layer that has anti-skid properties to make it stable on the bed or floor.
Key Features
Orthopedic memory foam mattress
Molds according to your body curvature to keep your spine aligned
Suitable for back pain and neck pain
Made in two layers- Memory Foam and high-density support foam
Anti-skid fabric layer at the bottom of the mattress
10 Years of manufacturing warranty
10 Days easy replacement
Available in different sizes
Pros
Quality is excellent
Very much comfortable
It's the perfect hard touch with the memory foam adjusting with your spinal cord
Great for all orthopedic issues
Cons
The upper cover is not removable, so cleaning and maintenance is pretty difficult
5. Springtek Ortho Memory Foam Mattress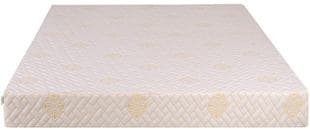 The Springtek ortho is another great mattress for neck pain with memory foam and high-density foam construction. The mattress offers you amazing back support and alignment with the ultimate level of comfort so that you can sleep peacefully.
It is designed in three layers, including the base layer with medium firm support, the middle one is the transition layer and the top layer of memory foam for orthopedic support. This top layer ensures to distribute your body weight evenly and thus relieves the pressure points around your spine and shoulders. And thereby, it provides you ultimate comfort from neck pain and back pain. Plus there also comes a removable zipper outer cover that not only looks premium but also ensures easy cleaning and maintenance of the mattress.
Key Features
Orthopedic mattress
Designed with memory foam and bonded support foam
Medium Firm
Zero partner disturbance
10 Days replacement
5 Years of manufacturing warranty
Available in variable sizes
Pros
Quality wise, the mattress is awesome
Very cozy and comfortable
Suitable to use for all age groups, even best for kids too
Provides great orthopedic support
Easy to lift and set up
It perfectly fits your body shape while sleeping on it
It has the right amount of softness
Economical price range
Cons
Complaints of sagging at the edges
View on Amazon View on Flipkart
6. Coirfit Euphoria Normal Bonnell Spring Mattress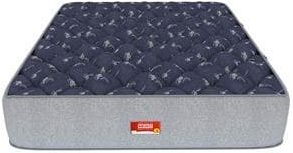 If you want an affordable mattress to get rid of orthopedic issues, the CoirFit Euphoria Bonnell spring mattress is for you. It offers uncompromising quality, amazing body support, and outstanding comfort. This spring mattress is designed to offer adequate support to any type of sleepers. Its coil spring construction with cushiony foam provides the maximum and right amount of support to your spine, so no pain at all in your back, neck, joints, or shoulders, etc.
And if you are a hot sleeper, this mattress is the best option. It acts as a heat dissipator and makes you sleep cooler. When it comes to design, this mattress is constructed in six layers including the base layer of premium Belgium jacquard fabric, PU foam quilt, Magno alloy tempered ortho springs covered with Thermo Turkish Felt, then again PU foam quilt and Belgium Jacquard Fabric. The ultimate design and construction of this mattress give you the comfortable and restful sleep at night.
Key Features
Spring Mattress
Medium Firm Mattress
Contours to your body shape
Offers the right spine alignment
Provides cool sleep
Zero Partner disturbance
Available in variable sizes
10 Days replacement
Pros
Great quality mattress
Very comfortable and suitable for posture
Provides great orthopedic support
The right level of firmness
Good for hot sleepers
Cons
Not ideal for old age group and kids
7. Boston Organic Natural Latex Mattress
For neck pain, latex works very well, and so we came up here with one of the top latex mattresses from the brand Boston. The mattress is designed with 100% pure organic natural latex along with organic cotton wadding quilting that offers light, soft, and feather feel with good insulation. There also comes an exclusive organic Tencel fabric cover that is extracted from wood, which is more absorbent, softer, and cooler.
The mattress conforms body support and ergonomics to relieve stress from the spine, neck, hips, and shoulders. The best part of this mattress is that it is anti-fungal, hygienic, self ventilation, and anti-dust mite. Therefore you will get only comfortable, hygienic and restful sleep with this mattress.
Key Features
Natural organic latex mattress
Organic cotton wadding quilting to offer light, soft and feather feel
Good insulation
Organic Tencel fabric cover that is more absorbent, softer, and cooler
Restricts the growth of mites in bedding
Excellent moisture absorption
Hygienic
Self ventilation
10 Days replacement
7 Years of manufacturing warranty
Available in variable sizes
Pros
Organic mattress
Quality of the mattress is very good
Offers absolute relaxation to muscles
Good for neck pain, back pain, shoulder pain, and hip pain
Very comfortable
Cons
What Causes Neck Pain?
The main cause of neck pain is spinal misalignment. But how this misalignment occurs? As discussed above, we have already mentioned about the accidental injury, spinal arthritis, wrong sleeping position, or working all day along on your desk over the laptop, etc., are some of the main causes of spinal misalignment, which in results creates neck pain. But an improper pillow and wrong mattress can also create painful curvature. So, it is very much important to choose the mattress that can keep your spine in alignment to get away from the orthopedic issues.
Which Mattress Is Good For Neck Pain?
Although the mattress that keeps your spine in alignment is an appropriate choice for getting rid of the neck pain. Here are some of the best mattresses based on their types that are good for neck pain.
Memory Foam Mattress
The Memory Foam mattress is considered to be the most ideal choice that has the ability to contour the best to your body, and it also keeps your spine properly aligned. And so, it is a good option for people suffering from neck pain and great for side sleepers too. The best part is its construction that comes with the layers to distribute your body weight evenly. It also provides excellent airflow for comfortable night sleep.
Latex Mattress
Again an excellent choice for side sleepers as well as back sleepers, the latex mattress is somehow the same as the memory foam mattress. The only difference between them is their construction. Latex mattress is made up of the sap from the rubber tree and is generally expensive. But, it offers you the cooler sleeping experience with amazing comfort and softness.
Hybrid Mattress
The hybrid mattress is a combination of coil construction and latex or memory foam or both to offer you the more balanced sleeping experience. The base layer of pocketed coil offers strong edge support and the flat, as well as even surface, provide you relief from pain and aches. And the memory foam or latex layer provides you the comfortable cushioning and close conforming for the targeted pressure relief.
Innerspring Mattress
An innerspring mattress is another great choice for all orthopedic issues, whether it is back pain, neck pain, or pain in any other areas of your body. For all stomach sleepers, these mattresses are amazingly ideal. It has a good contouring effect on your body and doesn't allow your body to sink too far in the bed. And thus, it alleviates your neck pain and back pain.
The Connection Of Neck Pain With Your Sleeping Positions And Pillows
Well, your sleeping position plays a very important role in keeping your spine in alignment. Different people have different sleeping behaviors. But, the best and easiest position for the neck is sleeping on your side or on your back. By the way, sleeping on your tummy is not an ideal position as it creates strain on your neck. The reason behind this, if you sleep on your stomach, your back gets arched, and your neck gets turned to the side, which causes neck pain most of the time. But it is also a fact that your sleeping position can't be changed very easily. And here comes the role of a proper pillow for better alignment.
On the other side, the right pillow with different sleeping behaviors also controls your neck pain. So, here are some of the important considerations of the pillows for people with different sleeping positions.
For back sleepers, a rounded pillow is the best option that supports the natural curve of the neck. Also, a flatter pillow offers cushioning to the head.
For side and black sleepers, a feather pillow is also a good option that easily conforms to the shape of your neck.
Various cervical pillows are also available now constructed with memory foam that aids in proper spinal alignment.
To get a more detailed idea on choosing the right pillow, please check our blog on Best Pillows for Neck Pain.
Some Other Important Tips
Choose a pillow that can easily conform to the contour of your neck and head.
Don't use too high or stiff pillow as it keeps your neck flexed overnight resulting in morning pain and stiffness.
If you prefer side sleeping position, choose a pillow that is higher under your neck than your head, as it keeps your spine straight. And thus, it alleviates your neck pain.
If you are on a ride in a plane, bus, or car, etc., a horseshoe-shaped pillow is a great choice to support your neck.
Conclusion
That is all about the best mattress for neck pain in India. These orthopedic mattresses are absolutely a great buy if you have a sore neck, back pain, hip pain, shoulder pain, or any other orthopedic issues. Well, we have detailed each and every point, so that you can pick the best mattress depending on your budget and preferences. But still, if you feel something is missing in the blog and also for any of your suggestions, feedback, or queries, please do share with us in the comment section below.
Read Related Reviews
Buy Best Orthopedic Mattress Online
Wakefit Orthopedic Memory Foam Mattress 6-Inc...
30%
Springtek Dreamer Orthopedic Mattress | 30 Ni...
65%
duroflex Livein Orthopedic - Pressure Relievi...
52%
Wakeup Memory Foam Mattress | 10 Year Warrant...
45%
Duroflex LiveIn Duropedic - Doctor Recommende...
52%
Kurl-On Mattress | Mattress King Bed, Orthope...
11%
Wakeup Dual Comfort Orthopedic Mattress | 10 ...
61%
Livpure Smart Ortho Duos Reversible Dual HR F...
17%