A good sleep is very much important that takes a counterpart in keeping you healthy. And like the right mattress, choosing the right pillow can make a great difference in offering you a better sleep. In fact, the pillows with adequate level of support and pressure relief will definitely improve your sleep quality and provide more comfort while sleeping. Nowadays, neck pain is one of the most common problems in adults because of our wrong choice for the pillows and also our awkward sleeping positions. So, welcome to the blog that covers the best pillows for neck pain or cervical relief.
For more in-depth information on pillows for neck pain, please read our Buying Guide Section.
7 Best Pillows for Neck Pain or Cervical Relief
So, here is the quick list of the best pillows for neck pain or cervical pillows that will surely offer you a comfortable sleep. Whether you prefer side sleeping, back sleeping, or stomach sleeping, a perfect pillow for everyone is out there.
Best Pillows for Neck Pain – Reviews
Here is the detailed review of each of the model we have listed above, so that you can get more clear idea about them.
1. Grin Health Ultra-Luxury Memory Foam Cervical Orthopedic Pillow
The Grin Health cervical pillow is one of the great options for getting relief from neck pain. Its contour wave design promotes correct sleeping posture. It means, the pillow keeps your neck parallel to the sleep surface and in-line with the lower spinal area. And thus supports your head and neck in proper alignment that improves the comfort level. The pillow is ideal for all sleepers type whether it is back, side or stomach sleepers.
This cervical pillow is designed with the ultra-soft high-density memory foam that shapes to your body and provides you the relief and support to alleviate neck pain. It's another big plus is its organic bamboo fabric, and extra-breathable micro vented cover that offers you advanced cool comfort. Plus, it is naturally antimicrobial and resistant to mold, mildew, bacteria and dust mites, which is another great benefit.
This pillow is available in three sizes including Small, King, and Queen so that you can choose your preferred size option.
Key Features
Advanced design to support your head, neck, and spine
Special memory foam with advanced ventilation pore technology
Organic bamboo fabric cover for a cooler sleep
Microstop anti dust mite
Contour wave design
Slow spring back
Impact absorption
Ventilation and moisture absorption
Pros
Good quality pillow
Very comfortable
Bamboo fabric based cover feels really soft
Good for allergy sufferers
Cons
View on Amazon View on Flipkart
2. The White Willow Orthopedic Memory Foam Cervical Pillow for Neck Pain Relief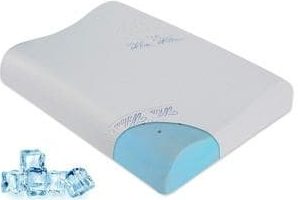 This cervical pillow from the brand White Willow is another great choice that ensures to provide you right comfort and matches easily to your preferred sleeping position. It is designed in such a way that upholds the head and neck by distributing the weight evenly. And thus, this contour pillow eases your neck pain and shoulder pain issues.
It comes in five different sizes including X-Small, Small, King, Queen, and Standard. So you can choose the preferred size option. Plus, the different height options are also available to choose between the higher lobe and the lower lobe depending upon your comfort level.
When it comes to the thickness or loft, this cervical pillow comes with various loft options that vary upon person to person based on their sleeping position, head size and height, overall body size and height, as well as the shoulder width. And the best part is that you can have the option to choose from six different color options including white, green, multi, off white, ivory, and blue.
The pillow features cool gel infused ventilated memory foam that enhances cooling comfort while sleeping. It means the gel material inside the memory foam pad keeps your head cool and provides the ultimate relief from pain and aches. This orthopedic memory foam pillow also comes with a Jersey fabric inner cover and luxury soft removable outer cover. The inner cover protects the inner foam for longer use. And on the other hand, the soft removable outer cover ensures the consistent airflow and keeps the pillow fresh. Plus it is also hypoallergenic and antimicrobial. Moreover, the pillow is also ideal for travelers with such a lightweight design.
Key Features
Unique shape
Contour design
Cooling gel infused memory foam
The outer cover comes with a zip that is easy to clean
Inner cover to protect the inner foam
Optimal balance of support and pressure relief
High performing conformance and durability
Non-temperature sensitive technology
Honeycomb open cell technology
Eco-friendly
Blue-ice technology
Pros
Great for neck pain relief
Compact, travel-friendly memory foam pillow
Comfortable and durable
It is great for side sleeping position
The gel keeps the pillow cool to provide you ultimate cooling comfort
Different size options can let you choose the preferred one
Cons
View on Amazon View on Flipkart
3. Mediflow Waterbase Pillow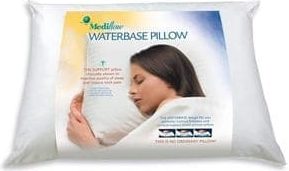 If you are searching for the water pillow, the Mediflow Waterbase pillow is the best choice out there. This pillow offers a great support system letting you adjust the exact level of firmness you need. And that is what makes you sleep soundly and comfortably, even with no neck pain at all, whatever your sleeping position is. The waterbase support of this pillow takes the pressure off your neck and head by distributing your body weight evenly when it moves.
The pillow is designed with the water base attached on to the bottom. And the water chamber is completely covered by a thick layer of polyester filling that offers the cushioning comfort to your head. The outer case is designed with 100% high count cotton that feels so soft and smooth. You can easily fill the chamber with water by removing the outer cover, and the tight seal on the water section keeps water fresh up to a year without any need of refilling. The outer case of the pillow is easily washable to clean it out.
This one is ideal for side sleepers, back, sleepers, and stomach sleepers to offer you the best night sleep. It comes with an inner water chamber that you can fill with water depending upon the desired level of precise comfort. If you are a side sleeper, you can fill the water up to the height that can keep your head level with the back for comfort. On the other hand, if you prefer back sleeping or stomach sleeping, you can lower the height of the pillow so that your head is not forward out of line or pushed backward.
Key Features
100% cotton cover
Side, back, and stomach sleeping support
Hypoallergenic materials
Water center and soft polyester padding for superior comfort
Extra large for complete support
Fluid movement for total support
Easy machine wash and dry
Pros
Great to alleviate neck pain
Large pillow with plenty of surface space to accommodate side sleepers
Good for pregnant women too
Easy care and healthy ambiance
Filling the water in chamber is very easy
Firmness can be customized easily from soft to medium to firm
Cons
It is little heavy as compared to other cotton or foam filled pillows
Expensive
4. JSB BS52 Orthopedic Memory Foam Cervical Pillow for Neck Pain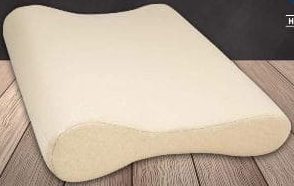 Sleep well with this memory foam cervical pillow for neck pain from the well-known healthcare brand JSB. Its B shaped design with two levels of height caters the requirements of different users. Plus, this design makes you enjoy the backward bent position with no stiffness and pain in your neck. And with two color options including beige and skin, you can choose the one matching your living spaces.
Its contour design keeps your neck and head streamlined and thus ensures relief if you are suffering from cervical spine problems while sleeping. The pillow is designed with high-quality memory foam with super soft light fabric to provide you the utmost comfort. You can easily roll it out for easy storage when not in use. And its outer cover is easily removable to ensure ease of cleaning.
Key Features
Orthopedic memory foam cervical pillow
Ergonomically designed to provide firm support while sleeping
B-shaped design with two height levels
Super soft light fabric
High-quality memory foam
Removable cover
Pros
Great in terms of quality
Nice one for those suffering from spondylitis
Keeps your neck straight and relaxed
Very cozy and comfortable
Easy to clean due to its removable outer cover
Reasonable price range
Cons
Not available in different sizes
5. Tynor B-19 Cervical Universal Pillow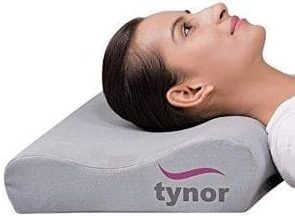 The Tynor B-19 cervical pillow is another great choice for the people suffering from neck pain or cervical spondylitis. Its contour design keeps your neck in the slight hyperextension position while sleeping to relieve from the stress and strain. Not only it relaxes you from the neck pain, but also from prophylactic aid, geriatric care, back pain, and snoring induced apnea.
The pillow feels extremely comfortable with very smooth contours. Plus, there are two different heights on the two sides that can easily accommodate both short and long neck. Its soft fabric cover gives you the ultimate nice feel and touch while sleeping. And it can be easily removable and washable to support hygiene. The best part of this cervical pillow is that it comes in only one universal size that fits all person.
Key Features
Made with PU foam with optimal density
Maintains the neck in slight hyperextension and provides muscle relaxation
Ergonomic design
Two different heights on two different sides
Soft fabric cover
Long functional life
Good resilience
Universal size fits all people
Pros
Quality is awesome
Good aesthetics
Durable
Great for cervical spondylitis, neck pain, shoulder pain, and back pain
Soft and comfortable
Easy to clean
Price is very reasonable
Cons
View on Amazon View on Flipkart
6. Dr. Relief Neck Pain Relief Cervical Soft Pillow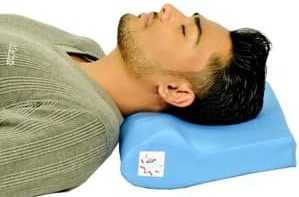 This cervical contour pillow is best for neck arthritis and offers you the utmost relief, excellent flexibility, and superior comfort against the neck pain. It is perfect for side, back, and stomach, all sleepers type.
What we extremely like about this pillow is that it uses magnetic therapy to relieve you from neck pain, frozen shoulders, cervical orthopedic problem, and stiff neck. It comes with eight permanent magnetic strips that are placed close to the body in order to cause bones to heal faster, relieve pain and induce other therapeutic effects.
When it comes to design, this one uses memory foam material. So, if you are a side sleeper, it keeps your body aligned and supports your neck by allowing the foam to fill in the gap between shoulder and mattress. On the other side, if you prefer sleeping on the back, this cervical pillow prevents your head from being pushed too far forward with your chin forced toward your chest. And if you are a stomach sleeper, it keeps your head from bending backward. And thus it provides relief from neck pain in all the sleeping position.
The outer cover can easily be washable using soap and water only. No machine wash is preferable, that is the only downside I think this pillow has.
Key Features
Uses magnetic therapy to get you relief from neck pain, frozen shoulders, cervical orthopedic problem, and stiff neck
Perfect for side/back/stomach sleepers
Full-size contour pillow
Ergonomic design
Soft memory foam
Removable outer cover
Pros
Ergonomically designed
Quality of the pillow is very good
Best for the people suffering from cervical spondylitis or cervical pains
The magnetic therapy works really great
Very comfortable
Cons
Some people complaints that it is quite hard
Not supports machine wash
7. Starvin Velvet U Shaped Neck Pillow
Sleeping in an upright position leads to neck pain and shoulder pain. This Starvin U shaped neck pillow is basically the pillow for travelers that delivers everlasting comfort while traveling in a car, train, or plane.
It is designed with the super soft poly fiber interior that conforms closely to your neck and shoulder for a personalized fit. Its outer part has been designed with the velvet that feels so soft and comfortable.
This pillow can configure itself to the shape of your body and regains its shape once the pressure is relieved. And the best part is that you can easily pack it with you, thanks to its lightweight design.
Key Features
Supersoft poly fiber inner material
Velvet outer body
Perfect for travelers
Soft and extremely comfy
Pros
Quality wise, it is really good
Comes with outer cover to easily carry it along with you
The upper velvet clothing is so soft and smooth
The cushion is well built
Very useful while traveling
Cons
Complaints of the small inner neck
How to Choose the Best Pillow for Neck Pain? (Buying Guide)
Why Neck Pain occurs?
Neck Pain, the term is more likely very common in most of the people because of our wrong sleeping positions. Waking up with a neck pain really occurs if you are not using the right pillow while sleeping and of course the awkward sleeping positions is one of the real cause. Some prefer side sleeping, some prefer back sleeping, some are stomach sleepers, and some have the habits to sleep on shoulders. But sometimes you don't find a comfortable position for your head and neck that somehow causes neck pain.
But choosing the right pillow will surely help you in alleviating your neck pain and shoulder pain.
Types of Pillows For Neck Pain
1. Memory Foam Pillows
These pillows are designed to conform to the head, holding it in the place. The memory foam pillows are made up of polyfoam material with both shredded or solid pieces. These are the very best option to alleviate neck pain as most of the cervical pillows are made from this material.
2. Feather Pillows
These pillows are ideal choice for the people who can change their sleeping positions frequently. These are lightweight and soft, filled with outer feathers of ducks and geese. It usually conforms closely to the sleeper's head and neck providing comfort while sleeping and comes with adjustable loft.
3. Latex Pillows
The latex pillows are the ideal choice to alleviate pain and pressure in the neck. It comes filled with solid latex that offers close conforming and great support. But on the downside, the loft can't be adjusted which is a great limitation.
4. Buckwheat Pillows
It is filled with buckwheat hulls and comes with an adjustable loft. These pillows provide good support for most, but on the downside, their excessive firmness creates issues for some sleepers
5. Water Pillows
These pillows come with interior water chambers and are now becoming the most popular choice for those suffering from neck pain. You can fill and drain water accordingly in these pillows to achieve different lofts depending on your comfort level. Most of the water pillows also come with padding made with polyester or foam providing you extra cushioning for comfort.
Choosing the Right pillows for Neck Pain Depending Upon your Sleeping Position
For Side sleepers
The one who likely has the habit of side sleeping should choose a higher pillow to support their spine. In most of the cases, the side sleepers suffer the neck pain due to misalignment of the spine. So, the pillow that is elevated under the neck and lower below the head works best to reduce neck pain.
For Back Sleepers
A dual pillow system that includes both rounded and flat mechanism works extremely best for those who sleep on their back. The rounded pillow provides the support on the neck, and the flatter pillow offers cushioning for the head and thus helps in alleviating the neck pain. Even a low pillow is better in this case. It is also advisable to place a pillow under your knees to reduce the strain on the lower back.
For Stomach Sleepers
This is the worst sleeping position as it causes back arch and the head turn, which in result creating stress on your neck. So, the best thing you must consider is to change your sleep position. But if it is not possible, a flat pillow is the option. Moreover, it is also advisable to support your hips and abdomen that maintains the natural inward curve in your lower spine.
Sitting Up Sleeping Position
Most of the time, we use this sleeping position while traveling in a car, bus, plane, or any other public transportation. And in this case, horseshoe-shaped travel pillows are ideally best. These are small pillows that support your neck and prevent you from falling forward towards your seat.
Tips:
Don't use the pillow that is too high and firm as it doesn't allow the comfort to your neck while sleeping
Also, avoid the pillows that are too flat as it puts strain on your neck
Things to Consider Before Purchasing the Best Pillow for Neck Pain
1. Material used
This is the foremost feature to consider when you are going to invest in a good pillow to alleviate your neck pain issue. We have already discussed above the different materials used in neck pain pillows. But if you want best, we will recommend to invest in a memory foam or feather pillows. Water pillows are also very best for reducing the neck pain.
2. Size
Size also matters while buying a pillow. Considering the size, the Standard one comes with the dimension of 20W" x 26L", the Super Standard in 20W" x 28L", the Queen Size for 20W" x 30L", and the King Size in 20W" x 36L". Furthermore, you also have the option for small size that comes in a dimension of 20W" x 12L". For travelers, there comes the travel pillow with different sizes and shapes that you can choose accordingly.
3. Shape
Considering the shape of the pillow is also very much important if you suffer from neck pain. The one with a curved surface is an ideal choice. The curved surface pillows are also known as cervical pillows, or orthopedic pillows can easily contour with the shape of your body. These pillows do a decent job of filling the space between your neck and the mattress. And thus it relieves your neck pain.
However, the even surface pillows including feather pillows and memory foam pillows are also ideal that contour to your neck and head and thus providing you comfort and support while sleeping.
4. Thickness or Loft
When it comes to thickness, the pillows can fall in three main loft categories that include:
Low loft that are less than three inches thick
Medium Loft that are three to five inches thick
And
High loft that are more than five inches thick
You can choose the thickness accordingly that makes you feel more comfortable.
5. Care and Ease of Cleaning
This feature I think doesn't relate to relieve your neck pain, but for a healthier and more pleasant sleep, you must consider this feature. Go for the one that comes with an easy to remove, washable case. Also, check for the inner core that can easily get cleaned either by washing in a machine or wipe clean using a damp cloth. And this increases the longevity of your pillow.
Conclusion
So, finally wrapping it up, I would like to say that it is very much important to choose the right pillow if you are facing neck pain and shoulder pain. The list we have made for the best pillows for neck pain are all the great options while providing you luxury and comfort at the same time. Check for the full review of each one and then decide which one ideally suits you. And if you think anything is missing in the blog, or want to suggest anything, feel free to share with us in the comment section below.
Read Related Reviews
Buy Cervical Pillows Online
Rylan Memory Foam Pillow,Orthopedic Pillow fo...
33%
Anshelite India™ Premium Orthopedic Contour...
83%
SILENCIO Neck Stretcher for Neck Pain Relief,...
68%
Sleepsia Cool Gel Contour Cervical Orthopedic...
77%
Zoliva Cervical Memory Foam Pillow, for Neck ...
64%
Bellemain voltonix Memory Foam Pillow,Orthope...
62%
HACKMOOR Cervical Traction Device for Neck Pa...
65%
Earth Rated Memory Foam Pillow,Orthopedic Pil...
53%