In the evolution of kitchen appliances, choppers have undergone a significant transformation to meet the varying needs and preferences of the consumers. And the wireless electric choppers have taken the culinary world by storm. These portable devices contrast markedly with their full-sized counterparts and the traditional manual choppers, combining the best of both worlds to cater to the modern, fast-paced lifestyle.
Wireless electric choppers, emerging as the middle ground between these extremes, offer the convenience and portability of manual choppers and the precision and efficiency of electric choppers, without the constraint of cords or the need for a continuous power supply. They are typically compact, easy to use, and versatile, making them ideal for a range of kitchen tasks from chopping and mincing to pureeing.
In this comprehensive guide, we will explore the best wireless electric choppers available in India, delving into their features and advantages to help you make an informed decision about which one suits your kitchen needs best.
Best Wireless Electric Choppers Reviews
1. Rico Rechargeable Wireless Electric Chopper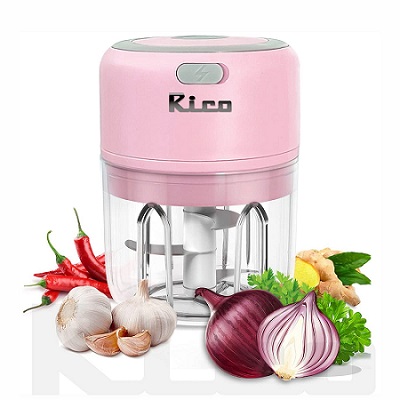 The Rico Japanese Technology Rechargeable Wireless Electric Chopper emerges as the top product on our list, known for its seamless blend of advanced technology and robust performance.
This compact chopper is a powerhouse of efficiency, armed with a potent 30-watt motor and ultra-sharp 304 stainless steel triple blades, ensuring optimal performance. It promises swift processing of a myriad of ingredients in just 10 to 30 seconds. It's USB rechargeable, boasting a durable 1300 mAH lithium-ion battery, which upon a full 3-4 hours charge, sustains up to 30 uses.
Ease of use is another notable feature of this device; a simple load of the ingredients and a touch of a button accomplish mincing in seconds. Its portability is unparalleled, making it a travel-friendly companion. Cleaning and maintenance are equally hassle-free with top-rack dishwasher safe components and easy assembly.
In essence, this chopper is a convenient and efficient choice for modern kitchens, meeting diverse culinary needs with precision and ease. Furnished with a reliable 1-year Rico warranty and superior after-sales service, it is available across over 12,000 pin codes in India.
2. InstaCuppa Rechargeable Mini Electric Chopper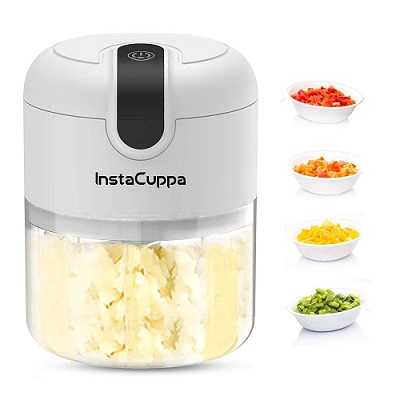 The InstaCuppa Rechargeable Mini Electric Chopper surfaces as another prime contender on our list, earning considerable customer acclaim for its seamless functionality and user-friendly design. This device is a blessing for those who prioritize health and nutrition, allowing for the swift and efficient chopping of fruits and vegetables.
Equipped with a formidable 45W motor and sharp stainless steel blades, it offers a time-efficient solution to kitchen chores, processing ingredients within 30 to 60 seconds. It's a simple, stress-free companion in the kitchen, with an easy operational mechanism—just load the ingredients, secure the lid, and press ON.
Its compact, lightweight design complements an on-the-go lifestyle, proving to be a perfect companion for picnics, vacations, or office, making healthy snacking effortless. The chopper is also available in two capacities, 250 ml and 350 ml, catering to varied needs. Cleaning is equally uncomplicated, with top-rack dishwasher safe components.
3. BlendLife Mini Electric Chopper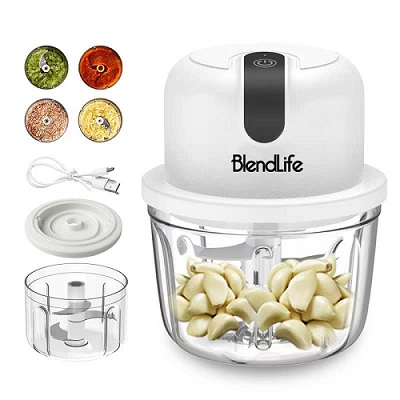 BlendLife Mini Electric Chopper stands out as an epitome of technological innovation and user-friendly design. This chopper brings forth the freedom from continuous power connections, providing extensive cordless usage for over a month with just a 3-hour charge. It also ensures simplicity and efficiency, allowing users to undertake multiple culinary tasks with just one touch, saving time and energy.
Its versatility is noteworthy, enabling users to chop, mix, and puree a variety of ingredients with ease, offering a gateway to a plethora of culinary explorations. With its 350ml capacity, it becomes an ideal choice for light food preparations and is a boon for creating delicious baby food, sauces, and dips.
Safety is meticulously integrated into its design, featuring Child Safety Lock and magnetic suction induction device to ensure secure operation. The low-noise, low-consumption 45-watt motor ensures that your kitchen remains a place of peace and focus.
Its lightweight and compact structure make it an ideal travel companion, suitable for small kitchens, RVs, and camping, providing culinary convenience wherever you go. The incorporation of waterproof, BPA-Free materials is a testament to its commitment to health and safety, offering easy cleaning and safe food preparations.
4. Wonderchef Zippy Rechargeable Electric Cordless Chopper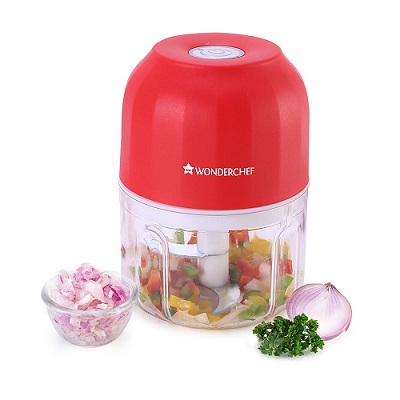 Wonderchef, a brand renowned for its innovative kitchen appliances, brings forth the Zippy Rechargeable Wireless Electric Cordless Chopper, enhancing its distinguished portfolio.
The chopper is meticulously designed for cordless operation, offering unprecedented freedom and flexibility in the kitchen, untethered by cords or proximity to power outlets. Its built-in USB rechargeable battery adds a layer of convenience, allowing charging from multiple devices, thus eliminating dependence on disposable batteries.
With sharp blades coupled with a potent motor, it guarantees efficient and precise chopping, effortlessly processing vegetables, nuts, and more, making it a time-saver in the kitchen. It is endowed with a durable 1200 mAh Lithium-Ion battery and an efficient 30 W motor, providing 25-30 chopping cycles post a 3-4 hours charge.
The compact, lightweight design of this vegetable chopper makes it a portable companion, suitable for travel and small kitchens, without compromising on space. The chopper also prioritizes user safety with features like a secure locking mechanism to prevent accidental activation during operation.
In addition, it offers easy-to-use controls and minimal storage space occupation, ensuring a comfortable, hassle-free chopping experience. The product comes with a reliable 1-year Wonderchef warranty and commendable after-sales service, ensuring peace of mind.
5. Balzano Rechargeable Mini Electric Chopper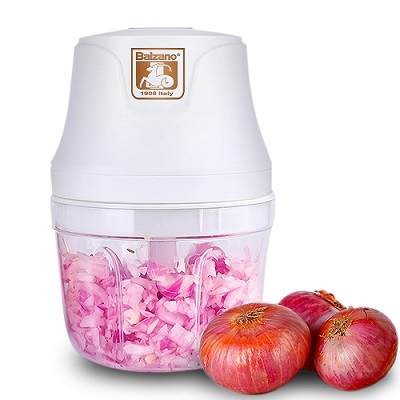 This electric chopper from Balazano is a harmonious blend of convenience, efficiency, and safety, designed to enhance the culinary experience. It's a culinary boon, making everyday cooking faster and easier with its powerful 30W commercial-grade DC motor and three self-sharpening surgical-grade stainless steel blades, chopping anything in just 10 seconds.
The product also features a 350ml food-grade bowl offering 40% more space and is empowered with a long-lasting, USB rechargeable 1200 mAH lithium-ion battery, allowing around 60 to 70 uses per charge.
In addition, it ensures user safety with a dual safety touch mechanism and an automatic 20 seconds cut-off. Compact and portable, it is versatile for settings like camping and offices and promises easy cleaning with dishwasher-safe components.
6. Lifelong USB Rechargeable Electric Chopper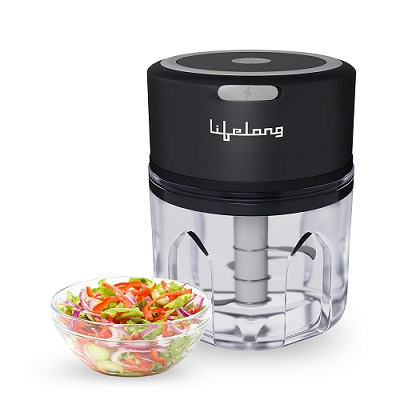 Next on our list comes the Lifelong USB Rechargeable Electric Chopper that stands out with its powerful motor and three stainless steel reinforced blades, ensuring superior everyday kitchen performance.
Constructed with food-grade materials and a waterproof body, it promises hygiene and ease of cleaning with detachable parts that can be washed separately, leaving no food residues.
The one-touch operation brings smartness and simplicity, allowing a quick start/stop of the chopping engine. It also offers safety locking and guarantees to chop anything efficiently with its stainless steel blades, making it a practical kitchen companion.
7. HomePuff Wireless Electric Chopper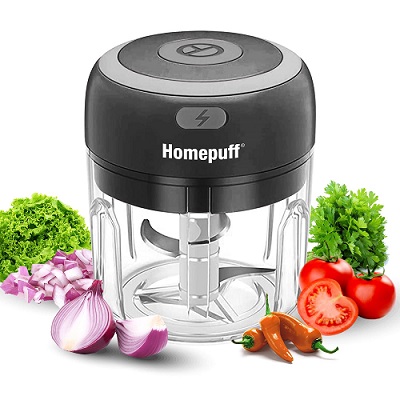 Now last but surely not least, the HomePuff wireless electric chopper epitomizes precision and convenience in one single unit. It features a waterproof, unbreakable body, anti-slip base, razor-sharp blades, and one-touch operation for swift chopping of various ingredients.
Its portable and rechargeable nature, facilitated by a USB charger, adds to its versatility, making it a quintessential appliance for domestic and travel purposes. The chopper, with its 250 ml capacity, also serves as a waterproof storage container, maintaining the freshness of the food.
Safety is elevated with a magnetic safety lock, and a 6-month warranty ensures post-purchase security, embodying a blend of innovation and reliability.
Benefits of Wireless Electric Choppers
1. Compact and Space-Saving
One of the standout features of wireless electric choppers is their compact size. Unlike full-sized electric choppers, which can take up valuable countertop space, wireless choppers are designed to be small and easily stored in a kitchen cabinet or drawer. This space-saving design makes them ideal for kitchens with limited space.
2. Cordless Freedom
Perhaps the most appealing aspect of wireless electric choppers is their cordless operation. While full-sized electric choppers require a power outlet and often have bulky cords, wireless choppers are powered by rechargeable batteries.
3. Portability
Wireless electric choppers are not just confined to the kitchen; they can be used anywhere, making them perfect for outdoor gatherings, picnics, or even while traveling. Their portability ensures that you can chop and blend ingredients wherever you need them.
4. Easy to Clean
Wireless electric choppers typically have fewer components and are easier to disassemble, making cleaning a breeze.
5. Efficiency and Speed
Despite their compact size, wireless electric choppers are surprisingly powerful and efficient. They can chop, mince, or blend a variety of ingredients quickly and evenly, saving you time and effort in the kitchen.
What to Look for When Buying a Wireless Electric Chopper?
Battery Life: Check the battery life to ensure it can handle your typical cooking sessions without frequent recharging.
Capacity: Consider the chopper's bowl size to ensure it can accommodate the quantities you usually work with.
Blade Quality: Check for sharp and durable blades that can handle various foods.
Safety Features: Look for safety mechanisms like child-lock, blade lock, or anti-slip base for secure operation.
Ease of Cleaning: Opt for a chopper with dishwasher-safe parts for easy cleaning.
Attachments: Some models come with additional attachments (e.g., slicers, shredders). Assess if these are beneficial for your needs.
Portability: Ensure it's lightweight and easy to handle for both indoor and outdoor use.
Charging Options: Check if the chopper offers USB or AC charging and how long it takes to charge fully.
Warranty: Review the warranty to understand the manufacturer's support in case of issues.
User Reviews: Read user reviews to gauge real-world performance and reliability.
Price: Compare prices among models with similar features to get the best value for your budget.
Conclusion
A good wireless electric chopper not only enhances the cooking experience but also introduces efficiency and creativity in the kitchen. In a busy, fast-paced life, having a dependable and efficient wireless electric chopper can make a substantial difference in meal preparation and overall lifestyle. Hope the listed products will help you choose the best one suiting your needs and preferences.
So, choose wisely and enjoy the myriad benefits of having the best wireless electric chopper in your kitchen arsenal.
Related Reviews
Explore More Rechargeable Electric Choppers
Supvox® Chopper for Kitchen Electric, Rechar...
34%
InstaCuppa Rechargeable Mini Electric Chopper...
33%
Wonderchef Zippy Rechargeable Wireless Electr...
44%
LOMESH Electric Mini Garlic Chopper, Portable...
51%
MEMOXY Electric Mini Garlic Chopper| Portable...
30%
Heria 4 In 1 Food Processor Electric Vegetabl...
50%
4 in 1 Electric Food/Vegetable Chopper Multif...
80%
Aapeshwar Intelligent Electric Garlic Machine...
55%