If you're a fan of Indian cuisine, you know how essential garlic is in creating those rich and flavorful dishes we love. However, mincing garlic can be messy and time-consuming, leaving us with sticky fingers and a strong aroma. Luckily, there's a solution: the garlic crusher. This handy kitchen tool makes mincing garlic a breeze, allowing you to enjoy the aromatic essence without any hassle.
With so many garlic presses available on the market, it can be overwhelming to choose the right one for your needs. But don't worry! We've got you covered with a comprehensive guide to finding the best garlic crusher in India. We'll explore the top-rated options, considering factors like functionality, durability, and ease of use.
So, let's get started!
1. IKEA Koncis Garlic Press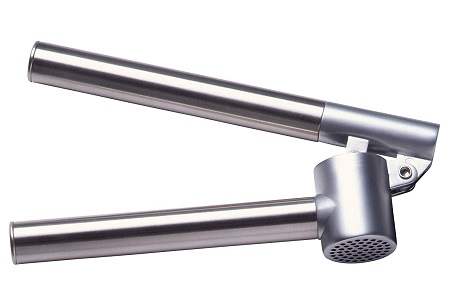 The IKEA Koncis Garlic Press is a revelation in the realm of kitchen gadgets. Constructed from stainless steel, this tool exudes both aesthetic appeal and endurance, making it an indispensable piece for any kitchen enthusiast. One of the most striking features is its ability to press unpeeled garlic cloves. Gone are the days of tedious peeling – simply pop the clove in and press away.
However, the true genius of this tool lies in its removable insert. This feature not only makes it simpler to clean compared to traditional garlic presses, but it also ensures that you can remove any residual garlic with ease, guaranteeing a flawless performance every time.
The Koncis is also designed with practicality in mind. Dishwasher-safe, it offers a fuss-free cleanup after your culinary adventures. Its ergonomic design proves to be a thoughtful addition, preventing hand fatigue during extended use.
Performance, style, and convenience blend seamlessly in the IKEA Koncis Garlic Press, making it our top choice among kitchen tools. Whether you're a seasoned chef or an enthusiastic home cook, this garlic press will elevate your kitchen experience. With the Koncis, every meal can be a gourmet delight right from your home kitchen.
2. Zyliss Susi 3 Garlic Press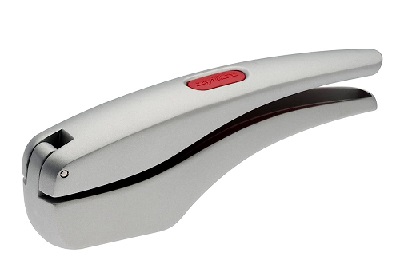 The Zyliss Susi Garlic Press is another indispensable kitchen tool that delivers on its promises. Made with sturdy cast aluminum, this garlic press effortlessly and quickly minces garlic without the need to peel the cloves beforehand. This feature alone saves a significant amount of time and effort in the kitchen.
The lightweight ergonomic handle of the press makes it easy to grip and use. With just a simple squeeze, you can easily mince garlic or ginger without straining your hand. The generous size hopper is another standout feature, as it can accommodate large garlic cloves without the need for any pre-cutting. This is particularly convenient when you're in a hurry or dealing with oversized cloves.
Cleanup is a breeze with the Zyliss Susi Garlic Press. It comes with a built-in cleaning tool that fits perfectly into the holes of the press, allowing you to quickly remove any remaining garlic residue. The press is also dishwasher safe, although hand washing is recommended to ensure its longevity.
One of the best aspects of the Zyliss Susi Garlic Press is the 5-year manufacturer guarantee provided by Zyliss. This guarantee gives you confidence in the product's durability and quality.
3. Safersky Garlic Crusher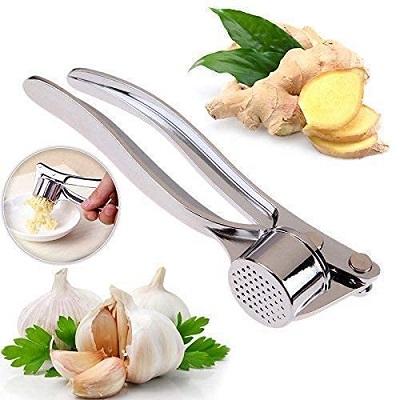 The SAFERSKY Garlic Crusher is a fantastic addition to any kitchen, offering both functionality and durability. Made from high-quality stainless steel, this garlic crusher is built to last and withstand the demands of daily use.
One of the standout features of the SAFERSKY Garlic Crusher is its ability to crush garlic finely and evenly. It works just like a lemon squeezer, and with a simple press, it effortlessly breaks down garlic cloves into small, consistent pieces, ensuring maximum flavor extraction in your culinary creations.
The product eliminates the need for manual mincing or chopping, making your cooking experience more efficient. Whether you're a professional chef or a home cook, this tool will undoubtedly become a staple in your kitchen.
The high-quality stainless steel construction ensures that the garlic crusher is both sturdy and easy to clean. It is resistant to rust and corrosion, guaranteeing its longevity even with regular use. Simply rinse it under running water or toss it in the dishwasher for quick and effortless cleaning.
4. Diniva Garlic Crusher Presser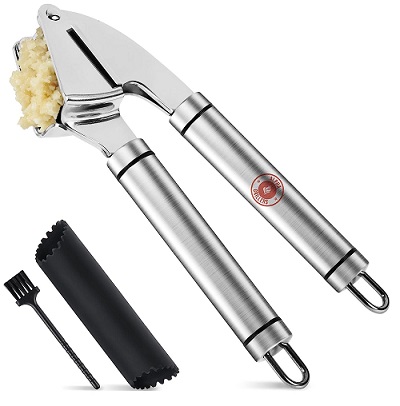 The Diniva Garlic Crusher Presser Peeler is a convenient and efficient kitchen tool that simplifies the garlic preparation process.
One of the standout features of the Diniva Garlic Crusher is its dual functionality as both a crusher and a peeler. It simplifies the process of crushing and peeling garlic cloves in one go, saving valuable time and effort. With a simple press, it effortlessly crushes garlic into fine pieces, allowing for optimal flavor extraction in your dishes. The integrated peeler eliminates the need for tedious manual peeling, making the preparation process quick and hassle-free.
The ergonomic design of the Diniva Garlic Crusher ensures a comfortable grip and easy operation. The handles provide a firm hold, and the crushing mechanism requires minimal effort, making it suitable for users with varying hand strengths.
The high-quality construction of this garlic crusher is another standout aspect. Made from durable materials, it can withstand the rigors of regular use without losing its effectiveness. It is built to last and resistant to rust and corrosion, ensuring the longevity of the device.
Cleaning up after using the Diniva Garlic Crusher is a breeze. The non-stick surface prevents garlic residue from clinging to the crusher, allowing for quick and easy cleaning. Simply rinse it under running water or toss it in the dishwasher for a thorough clean.
5. we3 Garlic Press Crusher Cutter Mincer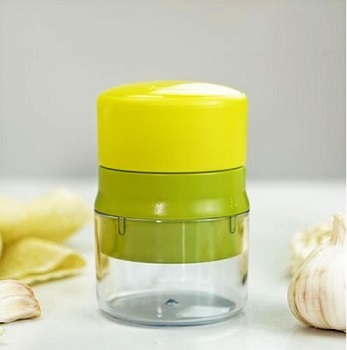 The we3 Garlic Press Crusher Cutter Mincer stands out as an exceptionally convenient and versatile addition to our list. When it comes to meal prep, time is of the essence, and the we3 MARXpro garlic crusher understands that. With its efficient design, meal preps have become a breeze. With a simple press, this crusher swiftly and effortlessly crushes and minces ingredients, putting you in control of the desired results.
The manual press of the we3 garlic crusher offers a hands-on approach that allows for precision and customization. Not only is it perfect for mincing garlic, but it also performs exceptionally well with other ingredients. Whether it's mincing ginger, crushing nuts, or grinding herbs and spices, this crusher tackles it all with ease.
What sets the we3 Garlic Press apart from others on the market is its easy cleaning process. The press features a removable chamber that allows for quick and thorough cleaning. With a simple rinse under running water, the tool is ready to use again without any lingering odors or residues.
6. Baskety Garlic Press Garlic Crusher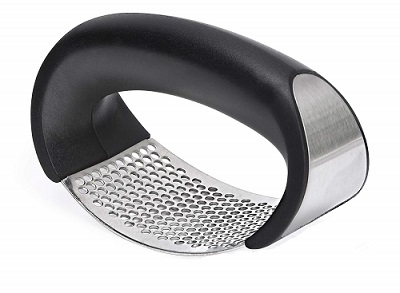 The Baskety Garlic Press Garlic Crusher offers convenience and efficiency when it comes to garlic and ginger preparation. The thoughtful design of this garlic press prioritizes comfort, making it easier and faster to squeeze garlic or ginger, even for those with weaker grips or small hands.
Crafted from premium stainless steel, the Baskety Garlic Press is not only durable but also corrosion-resistant, ensuring longevity without the worry of rusting or breakage.
Unlike traditional garlic crushers, the Baskety Garlic Press introduces a new and innovative method. By utilizing a slight back and forth rocking motion, this press effortlessly crushes and minces garlic with ease and speed.
One of the standout features of this garlic press is its easy cleanup. The garlic is collected directly on the surface of the press, eliminating the need for extra dishes to clean. This not only streamlines the cleaning process but also ensures that no garlic goes to waste. Additionally, the compact size of the press makes it highly portable and easy to store, taking up minimal space in my kitchen.
7. Vendere Garlic Presser
The Vendere Garlic Presser is a fantastic kitchen tool made of stainless steel. It has a comfortable handle and a unique design that makes squeezing garlic or ginger easy, even if you have a weak grip.
What makes it special is the rocking motion that cuts prep time in half. It cleverly collects the minced garlic on its surface, so you don't have to clean up the extra mess. It's small, easy to carry, and can be stored easily.
The best part is that it doesn't waste any garlic – the included scraper ensures that no minced garlic is left behind. Cleaning it is a breeze too, either by rinsing it under the tap or putting it in the dishwasher. It's a user-friendly, efficient, and convenient tool that every kitchen should have.
Related Reviews