Corn can be a delicious and nutritious addition to any meal. Whether you're grilling corn on the cob or adding it to a salad or soup, there's no denying its versatility. However, removing the kernels from the cob can be a messy and time-consuming task. That's where a corn stripper and peeler comes in handy.
But with so many corn strippers and peelers on the market, how do you know which one to choose? Don't worry – we've got you covered. In this blog post, we'll take a closer look at some of the best corn strippers and peelers available in India to make your selection process easier.
Why You Need a Corn Stripper and Peeler?
Corn strippers and peelers are handy kitchen gadgets designed to remove corn kernels from the cob effortlessly. They offer several advantages, including:
Convenience: Using a corn stripper or peeler makes the task of removing corn kernels quicker and less messy than doing it by hand.
Safety: These tools are designed to protect your hands from sharp corn husks and kernels, reducing the risk of injury.
Efficiency: Corn strippers and peelers extract the kernels efficiently, minimizing waste and ensuring you get the most out of your corn cob.
Versatility: Many corn strippers come with multiple settings, allowing you to adjust the size of the kernels based on your cooking needs.
What to Look For in a Corn Stripper and Peeler?
Before getting into the list, let's explore some important factors you should consider:
Material: A corn stripper or peeler made from stainless steel or high-quality plastic is ideal for durability.
Ease of Use: Look for an ergonomic design that ensures comfort and efficiency.
Cleaning: It should be easy to clean, preferably dishwasher safe, but at least easy to rinse and dry.
Versatility: Some strippers offer dual functionality, being able to strip and peel.
Price: Balance your needs with your budget.
Reviews and Ratings: Always look at customer reviews and ratings before making a purchase.
Best Corn Stripper and Peeler Reviews
1. Newness Corn Stripper Peeler
The Newness Corn Stripper Peeler is a game-changer for anyone who enjoys cooking with corn but dislikes the tedious process of removing kernels from the cob. What sets this tool apart is its sturdy 304 stainless steel construction, promising durability and longevity. But the real magic lies in its functionality: the sharp, serrated blade makes quick work of any corn cob, stripping it cleanly and effortlessly.
Featuring a built-in cup, it neatly captures the kernels as they're stripped. This eliminates the usual mess and makes transferring the corn to a pan or bowl incredibly convenient. It also has a remarkably user-friendly design; just insert the cob, twist, and you're done—no fuss, no mess.
Cleaning is also straightforward, with parts that disassemble quickly for a thorough wash. If you're looking to simplify your kitchen tasks without compromising on quality, the Newness Corn Stripper Peeler is an investment well worth making.
2. Fshow Corn Peeler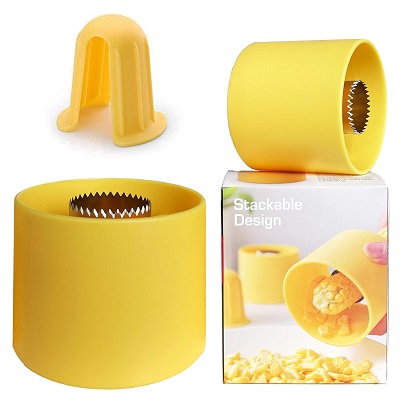 Next on our list is the Fshow Corn Peeler that is an invaluable tool for anyone looking to streamline the process of preparing corn. Featuring two sizes in one set, this versatile kitchen gadget accommodates cobs of varying dimensions, reducing waste and enhancing efficiency. The newly upgraded design boasts sharp blades that strip kernels with ease, leaving minimal residue on the cob.
One of the standout features of this product is its dual functionality as both a corn stripper and cutter, offering users greater flexibility while reducing the need for multiple kitchen tools. This efficient design minimizes mess and simplifies the cooking process, making it an ideal addition to busy kitchens.
Ease of cleaning is another major advantage; the tool disassembles effortlessly for thorough washing and is also dishwasher-safe. All in all, the Fshow Corn Peeler is a well-thought-out and practical kitchen accessory that makes corn preparation hassle-free, quick, and efficient. Highly recommended for anyone seeking to optimize their cooking tasks.
3. Toriox 2-in-1 Cob Corn Stripper Peeler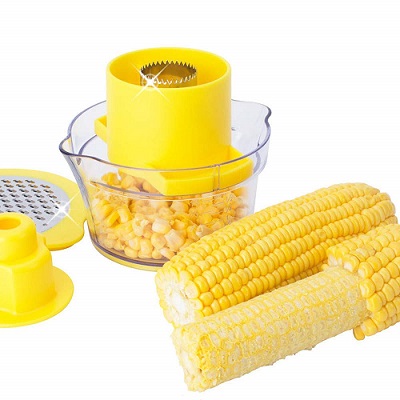 The Toriox 2-in-1 Kitchen Tool offers a comprehensive solution for corn preparation. This multi-functional device not only strips corn off the cob efficiently but also features a built-in measuring cup and grater, adding layers of convenience and utility to the kitchen experience. The sharp blades make quick work of corn stripping, reducing time and effort significantly.
Designed with versatility in mind, the built-in measuring cup is a clever feature that takes the guesswork out of recipes requiring precise amounts of corn. The added grater functionality enhances its utility, making it an all-in-one tool for various culinary needs.
The product's durable construction ensures longevity, and its ergonomic design maximizes user comfort. Disassembly is quick and straightforward, facilitating effortless cleaning, and it's dishwasher-safe for added convenience.
4. Zyliss E950030U Corn Stripper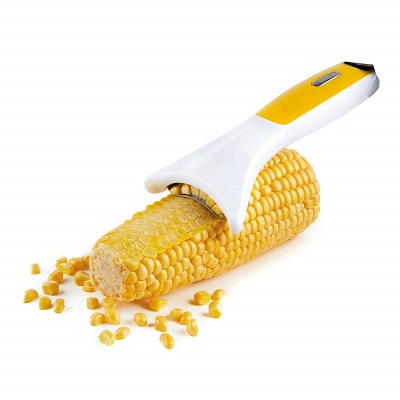 The Zyliss E950030U Corn Stripper is an exceptional kitchen tool that prioritizes efficiency and user comfort. Engineered with a high-grade stainless steel serrated blade, it works quickly to remove kernels from the cob. The speed and precision of the blade translate into reduced kitchen time and less waste, ensuring that you get the most out of each corn cob.
The ergonomic handle design adds another layer of convenience, facilitating comfortable use during repetitive tasks. This thoughtful feature allows users to tackle multiple cobs with minimal strain, making it ideal for both everyday meals and larger gatherings.
Safety and hygiene are also well-addressed; the stripper is crafted from BPA-free ABS material, minimizing health risks. When it comes to cleaning, this tool doesn't disappoint. Just wash it under the running water and you are good to go for the next usage. The product is also dishwasher-safe, simplifying the cleanup process.
5. MYYNTI Plastic Corn Peeler Stripper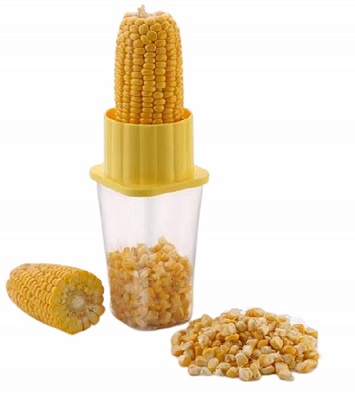 The Myynti Plastic Corn Peeler offers a blend of functionality and convenience, ideal for those looking to simplify the corn preparation process. Most importantly, the product does not cost much, making it an accessible choice for households on a budget.
Featuring a built-in container, this corn stripper captures kernels directly, significantly reducing countertop mess and making for easy transfer to cooking vessels.
One of the key features that sets this peeler apart is its ease of use. The device allows for the cob's easy removal by a simple twisting and pushing motion in one quick action.
Made from durable plastic, the device is lightweight yet sturdy, designed for regular use. The blades are sharp and effective, ensuring that kernels are stripped cleanly off the cob with minimal waste. Despite its plastic construction, the peeler seems built for longevity, a balance of quality and affordability.
Another standout feature of this tool is its ease of cleaning. The unit disassembles without a hitch, and the container and blade components are dishwasher-safe, making cleanup a breeze.
Related Reviews
Explore More Corn Stripper and Peelers
FRENYEAR Stainless Steel,Plastic 1 Corn Thres...
53%
F Falkiya Cutter Stripping Kernels Remover wi...
60%
Kruvad Corn Cob Stripper Peeler Cutter Stripp...
51%
KDR Plastic with Steel Blades Corn Remover Ke...
90%
VEDETIC® Corn Cob Stripper Peeler Cutter Str...
76%
ScentRose zalak Corn Peeler with 2 Masala Spo...
70%
FLAWISH Corn Stripper Stainless Steel Corn Cu...
48%
Black Olive Corn Stripper Corn Seeds Remover ...
53%