In the fast-paced world of modern kitchens, food preservation has become a paramount concern. The vacuum sealer machine, a versatile kitchen appliance, has gained immense popularity for its ability to extend the shelf life of food items, reduce waste, and enhance the overall freshness of stored goods.
In India, where food is an integral part of culture, finding the best vacuum sealer machine is crucial. In this comprehensive guide, we will explore the top vacuum sealer machines available in India, their features, and what to consider when making your purchase.
Why Invest in a Vacuum Sealer Machine?
Vacuum sealer machines are indispensable kitchen tools for various reasons:
Prolongs Freshness: Vacuum sealing removes air from the packaging, preventing oxidation and bacterial growth, thus preserving the freshness of food items.
Reduces Food Waste: By extending the shelf life of perishable items, vacuum sealers help reduce food wastage, which is a significant concern globally.
Cost-Effective: Buying in bulk and vacuum sealing portions for later use can save money in the long run.
Enhanced Flavors: Vacuum sealing can intensify flavors and marination in foods.
Space Efficiency: Compact packaging enables efficient use of storage space in your kitchen or refrigerator.
Factors to Consider When Choosing a Best Vacuum Sealer Machine
Sealing Strength: Look for a vacuum sealer with adjustable sealing strength to accommodate different types of food items.
Compatibility: Ensure the machine works with a variety of vacuum bags, including custom-sized and reusable options.
Ease of Use: User-friendly controls and clear instructions are crucial, especially for first-time users.
Maintenance: Consider models with removable and dishwasher-safe components for easy cleaning.
Price and Warranty: Compare prices and check for warranties to ensure value for your money.
Best Vacuum Sealer Machines Reviews
1. FoodSaver VS0150 Sealer PowerVac Vacuum Sealing Machine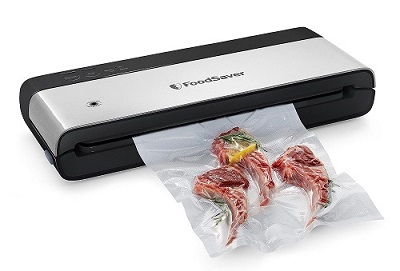 If you're looking for a reliable and efficient vacuum sealer, the FoodSaver VS0150 PowerVac Compact Vertical Vacuum Sealer is a game-changer for food preservation! The machine is incredibly user-friendly, with intuitive controls that make vacuum sealing a breeze even for beginners.
What sets this machine apart is its powerful suction capability. It effectively removes all air from the bag, ensuring that your food stays fresh for a longer period. This is particularly useful for bulk shoppers or those who like to meal prep in advance. The sealing process is quick and efficient, providing a tight, secure seal that prevents freezer burn and spoilage.
The machine features a vertical storage design that saves space on your countertop, and also comes with a roll of vacuum seal bags and a few quart-sized bags to get you started.
The VS0150 Sealer has two settings for sealing dry and moist foods, and it creates a strong, airtight seal that helps to keep food fresh for up to 5 times longer than traditional storage methods. It also has a built-in drip tray to catch any liquid that may be released during the sealing process.
2. Nesco Deluxe Vacuum Sealer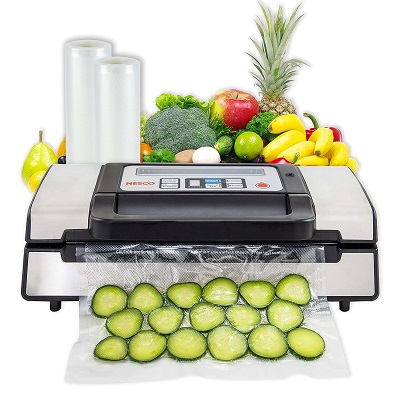 If you are looking for a versatile and powerful vacuum sealer that is easy to use, the Nesco Deluxe Vacuum Sealer is a great option. It is a bit expensive, but it is worth the investment if you are serious about preserving food.
The Nesco vacuum sealer offers a variety of sealing options, including dry and moist modes, and its powerful vacuum pressure ensures an airtight seal every time.
One of its standout features is the adjustable sealing time that allows you to customize the seal depending on the type and thickness of the bag material. The built-in bag storage and cutter are convenient, adding an extra layer of efficiency to your food storage process.
What sets this vacuum sealer apart is its durability and build quality. It's a robust machine that feels like it's built to last. The included starter kit with bags and rolls is a nice bonus, too.
Overall, the Nesco VS-12 Deluxe Vacuum Sealer is a fantastic investment for preserving food and reducing waste.
3. Oriley Vacuum Sealer Machine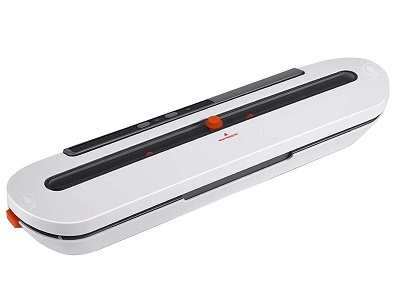 If you're seeking a reliable, versatile, and aesthetically pleasing vacuum sealer, the ORILEY Vacuum Sealer Machine is the perfect choice. It combines functionality with style, making it a top-notch addition to any kitchen.
Operation is a breeze thanks to its fully automatic design, complete with soft touch-type digital buttons and LED indicator lights. This makes the sealing process smooth and uncomplicated, even for those who aren't tech-savvy. With options for both dry and wet modes, you can customize the sealing based on the type of food, thus ensuring optimal preservation.
One of the standout features is the one-button sealing method. A single long-press is all it takes to activate the strong suction and create an excellent seal. This simplicity is complemented by its energy-saving capabilities, which include an intelligent temperature control system that adjusts the sealing time based on the ambient temperature, thereby improving heating efficiency and reducing energy consumption.
Another unique feature is the variety of color options available, allowing you to choose one that matches your kitchen decor or personal preference. However, it's not just about looks; this machine delivers exceptional performance. It effortlessly creates airtight seals, keeping your food fresher for longer.
4. Upscale Vacuum Sealer
The Upscale Vacuum Sealer is a robust, commercial-grade machine that simplifies your food preservation tasks at home. With a sleek, high-end stainless steel finish that exudes elegance, this sealer isn't just functional but also a stylish addition to any kitchen. The food-grade material used ensures safety and is LFGB approved.
One of the standout features is its multifunction settings, which allow for different sealing modes (Moist & Dry, Standard or Soft). This gives you the flexibility to seal everything from meat and seafood to fruits and vegetables. Plus, it also reduces the food marination time from overnight to just 20 minutes! With a sealing time of 5 minutes, it's quick and efficient.
Another best part is its built-in bag cutter with a marker pen for easy labeling, making it convenient to cut and mark vacuum bags as needed. The package even includes a vacuum bag roll, sized at 15cmX10m, to get you started right away.
Overall, this machine offers convenience, versatility, and efficiency, backed by a 1-year warranty. It's a highly recommended investment for anyone serious about food storage and preservation.
5. Humsure Vacuum Sealer Machine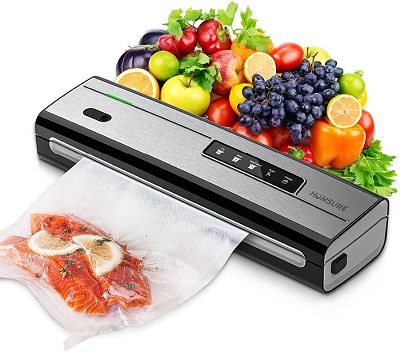 The HUMSURE Vacuum Sealer Machine is a game-changer when it comes to food preservation and space-saving. This powerful device keeps your food fresh up to 5 times longer compared to traditional storage methods, thanks to its superior suction capabilities. No more worries about food spoilage or frostbite; this machine is designed to tackle both efficiently.
What sets it apart is its flexibility in sealing modes—Dry for solid foods and Moist for foods with a liquid volume of less than 10 ml. It even comes with an accessory canister hose, broadening its range of applications.
One thing you will surely love is its manual Pulse mode which is perfect for delicate foods where you want precise control over the vacuuming process.
Its speedy operation, capable of vacuuming a bag in just 15 seconds, and the ability to handle 50 bags in one go make it an invaluable addition to any kitchen. The device's ease of use is evident from the positive customer feedback it has received, making it a trusted choice for those looking to simplify their meal prep and food storage.
Related Reviews
Explore More Vacuum Sealer Machine
INKBIRD INK-VS02 Vacuum Sealer Machine with S...
63%
HETARMI ENTERPRISE Vacuum Sealer Machine, Aut...
44%
Hetarmi Enterprise Vacuum Sealer Machine, Aut...
44%
Krevia 2in1 Electric Vacuum Sealer for Food S...
65%
LIMBANI BROTHERS™ Automatic Vacuum Sealing ...
HASTHIP® Vacuum Sealer, Automatic Food Seale...
31%
PARATPAR MALL Household Kitchen Fresh Keeping...
33%
INKBIRD Vacuum Sealer Machines,80kpa one-touc...
57%