Are you tired of using many options to relieve migraines, dry eyes, bulge eyes, and other eye problems? Even after investing in many other eye care products, you had no promising result? This is where the Best Eye Massager comes in.
But since there are thousands of electric eye massagers out there on the market, it makes it hard for consumers to choose one that will be the best for them.
For your convenience, our team has researched over 100 models out there and brought down the top 7 best eye massager models that will surely meet your needs. Save extra expenses on parlors for deep massage therapy and give yourself a comforting and peaceful eye massage at your home with any of the given top-rated reviewed products.
We have also covered a detailed Buying Guide to let you know better how to choose the best eye massager for your needs and what factors are important to consider before purchasing the one.
Best Eye Massagers (Quick List)
7 Best Eye Massagers (Reviews)
1. RoboTouch Digital Eye Massager
Overall Best Eye Massager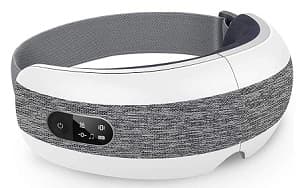 Dry eyes, dark circles, headaches, and eye strain are all now common issues amongst people. The reason is their hectic schedules and the maximum amount of time they spend on computers. Investing in this electric eye massager from Robotouch is the best bet to deal with these issues.
Robotouch eye massager can help you sleep without stress by comforting your head and nearby areas around the eyes. Moreover, its gentle warmth improves the blood flow around the eyes. What's more, is the adjustable vibrations and air pressure that helps in eliminating dark circles, wrinkles, eye strain, and offers better comfort and relaxation to your eyes.
Specifications:
Material: Plastic
Color: White
Item Weight: 600 g
Power source: Battery Powered
Key Features
RoboTouch Eye Massager features gentle vibrations, air pressure, and heat to provide the most comfortable warm-up of the skin round about the eyes.
The soft skin-care lining and ergonomically designed body give no strain on the nose.
It has four different modes that effectively reduce eye pain and headaches, improve blood circulation, lessens chronic eye pain, and recovers sleep quality.
The other mode comprises Energy mode, Relieve mode, Relax mode, and sleeping mode that you can choose accordingly.
It has one-button control to adjust the On/Off button and different massage modes. Thus, operating the device is as simple as a cakewalk.
You can time your massage sessions with the in-built timer of 10-20 minutes.
The integrated heating pads provide hot compression between 104 and 107 degrees F (400C-420C), which helps proper blood circulation and eases the optical nerves. This heat compression assists in removing dark circles as well.
The flexible, comfortable, and soft fabric inside the band gives maximum comfort to your facial skin. The headband of the device is also adjustable so that it can fit nearly everyone's face shape.
It is small, lightweight, and foldable to 1800 so that you can carry it in your handbag very easily while traveling. RoboTouch offers ultimate comfort, and due to its lightweight, you don't even sense the burden around your eyes.
The rechargeable lithium-ion battery provides maximum portability.
Pros
Easy to use and operate
Great relief from migraines, headaches, eye fatigue, puffiness, dark circles, and dry eyes
Multiple modes of massaging with soothing music
Suitable temperature for calm and comfort
Comfortable air pressure with adjustable vibrations
It covers almost the entire area around your eyes
Value for money
Cons
2. JSB HF103 Eye Massager
Best Eye Massager with Heat, Vibration and Music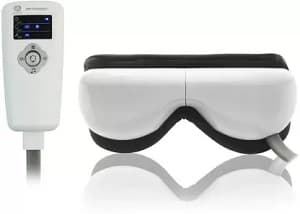 A perfect blend of heat and vibration, this eye massager from JSB is one of the best investments for a relaxing and soothing eye massage. It is ergonomic and attractive that allows fast and effective relief from tired and painful eyes as well as from headaches. Plus, its compact design lets you calm down your eyes on the go.
Its best attribute is the combination of gentle infrared heat and vibration massage that relieves mental strain and stress. Plus, the device involves significant rubbing, patting, and massaging of the face and eyes, as well as nearby areas for eyes to be rejuvenated.
Specifications
Color: White
Item weight: 800 g
Material: Plastic
Power source: Corded Electric
Warranty: 1 Year
Key Features
JSB's stress relief eye massager combines warmth with vibration, which is a pleasant way to relieve head and eye pain.
The unique foldable design and its portability make it usable anywhere you desire.
It also comes with a soft music feature while taking massage that again soothes you while relaxing your tired eyes.
It consists of a large adjustable head strap to fit all sizes and get rid of mental stress.
The easy one-button operation with all the functions makes it easy to operate. Each function works nicely, and you can keep tracking your sessions of different modes with the help of display.
It just gives you spa-like relaxation at home and lets you overcome insomnia, eyestrain, headache, and migraine.
Using the In-built timer, you can plan your massage to 10-15 minutes based on your schedule.
Pros
Moderate air pressure and vibration massage
Mild heating for warmth
Customized controls
Adjustable head strap
Onboard music and earphone jack
Foldable to 180-degrees
Use wirelessly anywhere
Recharge with laptop or power bank
Cons
There is no temperature control for heating
You can't add music of your choice. Only in-built music is applicable
3. Touch Beauty Anti-Aging Eye Massager
Best Eye Massager for Wrinkles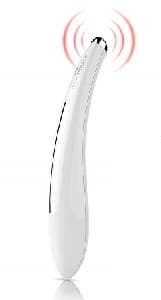 To reduce the effect of aging and wrinkles, investing in this eye massager from Touchbeauty is absolutely a fair deal. Moreover, lots of good customer reviews about the product and its affordable price tag make it one of the best eye massagers on our list.
This simple device offers a 420C warm temperature healing method that helps pores opening for better absorption of creams. The regular use of this eye massager increases blood circulation, revitalizes your eyes, brightens your skin, and consequently removes wrinkles. Hence, if you are low on budget but looking for the best anti-wrinkles device, this sleek eye massager fits your needs.
Specifications
Material: Metal
Color: White
Item weight: 90.7 g
Power source: Battery-operated
Key Features
The best thing about this device is its sonic vibration that helps in reducing dark circles and eye bumps due to sleepless nights and spending a long time on screen. It enables the delicate skin, especially under the eyes, to revitalize and refresh for a brighter appearance.
A blend of 40-degree warm massage with sonic vibration opens skin pores and helps better absorption of eye cream.
The high-frequency vibration increases blood flow and effectively reduces eye fatigue.
The smart sensors switch allows you to hold the metal part on the wand to start the massage. It is perfect for use around the eyes, mouth, nose, and forehead.
It is perfect for a trip as it easily fits in your cosmetic bag or handbag. The sleek and portable design is good enough to take anywhere. Additionally, the sleek rod consists of a protective cap to cover the metal head. When not in use, you can cover the massage head.
Pros
Compact and lightweight
Sleek design and comes with a protective cap
Smart sensors switch
Easy to operate
Based on sonic vibration technology
Reasonably priced
Cons
4. Touch Beauty TB-1583 Sonic Eye Massager
Best Eye Massager for Dark Circles

Getting rid of dark circles under your eyes is now an easy-peasy job using this eye massager from Touchbeauty. This simple sonic eye massager is smaller in size that lets you target specific areas around the eyes. Thus, it offers the best results in diminishing dark circles (under-eye dark spots) and weakening wrinkles. Even more, its affordable price tag fits everyone's pocket.
Specifications
Material: Metal
Color: Silver
Item Weight: 90.7g
Power Source: Battery-powered
Key Features
Featuring a high-frequency vibration along with a 40-degree warm massage, this eye massager improves the appearance of dark circles, wrinkles, and puffiness around your eyes.
Its ergonomic design fits comfortably in your hand so that you can use it conveniently.
It comprises sonic vibrations that help protect your facial skin from sagging or aging by increasing blood flow with 10,000 per minute vibrations.
The 40-degree warm treatment helps open skin pores and allows the face cream or serum to go through better.
One of the best features of this device is its Smart touch switch sensor technology. It ensures automatic operation when the massage head contacts the skin, and the hand gets in contact with the smart sensor simultaneously.
Not only is it sleek, portable, and compact, but it is also one of the lightweight handheld eye massagers that weigh just 90.7 g. Being lightweight is a plus point in portability, but massaging with a lighter eye massager is just more satisfying.
It has a protective silver case which is durable and safe to store for trips.
The versatile design of this eye massager works best on cheeks and lips as well.
Moreover, it is a hypoallergenic tool, so you can use it around the eyes every day without worrying about experiencing any allergic reaction.
Pros
Sleek and portable
Lightweight and handy
It comes with a protective cap
Affordable pricing
Visible results in a couple of days
Cons
It is a non-electric rechargeable device. It would be best if you carried spare batteries to power it on when getting discharged.
5. Zureni White Quartz Under-eye Massager Roller
Best Eye Massager Roller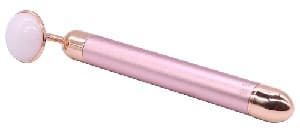 Seeking the best eye massager roller?? Your search ends here because the Zureni White Quartz eye massager is the ultimate tool to relax your eyes and provides a warm relaxation to them. It comes with various benefits like improving blood circulation, reducing puffiness, fine lines, wrinkles, and enhancing the absorption of skincare products. Plus, it is also best for massaging hard-to-reach areas.
Specifications
Color options: 4 unique colors to choose from: White Quartz, Black Obsidian, Green Aventurine, And Rose Quartz
Item Weight: 80 g
Power source: 1 AA Battery required
Handle Diameter: 15mm
Frequency: 6000 rotations per minute
Key Features
This under-eye massager roller is based on high-frequency vibration technology to stimulate blood circulation. Better blood flow leads to promote collagen production and helps to remove wrinkles, fine lines, and dark circles.
Besides, its compact design makes it user-friendly and allows hassle-free operation. You can use this roller on your face before putting on makeup. It significantly tightens your pores and makes your skin firm and rejuvenating.
Jadestone therapy is good to achieve your skin goals with natural care.
The high-frequency electric vibrations include 6000 vibrations/min that can release aching capably and loosen up the muscle.
Pros
Sleek eye massager roller with stylish finish body
Easy On/Off switch for operation
Results in healthy and glowing skin
It helps stimulate blood flow, enhance collagen production, and reduce fine lines, wrinkles, and dark circles effectively
Compact and waterproof design
Reduces dryness, relieves fatigue, alleviates skin redness, and reduces facial dropsy
Affordable and available in 4 different color options
Cons
6. Miniso Eye Massager
Best Eye Massager for Sleep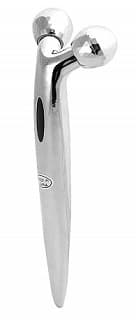 Sleepless nights are not acceptable if you work hard or give stress to your eyes. Your eyes deserve better warmth and wellness and for relaxed sleep, and this MINISO eye massager proves best for better sleep. The eye massager is absolutely skin-friendly and made of high-quality ABS material that causes no harm to your eyes.
Specifications
Material: Acrylonitrile Butadiene Styrene
Item Weight: 40 g
Key Features
This eye massager is a handheld massager made of high-quality ABS material. An ergonomically and portable designed body is ideal for pressing stressed muscles from different directions.
What makes it the most excellent choice is its gentle rolling technique that can remove edema and tighten your skin proficiently. It is beneficial in reducing stress, improving blood circulation, and cozy relaxation. Moreover, Miniso eye massager is a wonderful tool to burn fat around the eyes to look attractive and charming.
Since it offers high-intensity massage, it is best for relieving pressure and tiredness around the eyes.
Pros
The device is super smooth and handy
Easy to use and durable
Handheld massager providing eye massage all-around anytime, anywhere
Waterproof body
Easy to carry in a handbag or makeup kit while traveling
Cons
The massage intensity is not adjustable
7. Breo iSee4 Wireless Digital Eye Massager
Best Digital Eye Massager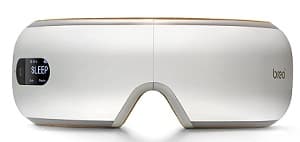 This model from Breo is one of the best digital eye massagers on our list. In spite of being expensive compared to the other models we have discussed, we definitely recommend it for the features it offers.
It uses gentle vibration, microprocessor-controlled air pressure, and heat compression technology with soothing music for more relaxation. And being wireless, it is good to take with you wherever you want.
Specifications
Color: White
Item Weight: 318 g
Power Source: Battery operated
Key Features
It is a stylishly designed super-soft cushiony headband eye massager that provides a pleasant effect to your eyes while massaging.
Its material is super flexible & breathable that fits well on your eyes. Additionally, you can fine-tune the stiffness of the headband according to your size and comfort.
It comes with three different massage modes (heat compression, vibration, and soothing music) that help you loosen up your stressful eyes in just 15 minutes. The gentle vibration massage helps to relax your muscles around the eyes, improves blood flow and sleep quality. Moreover, the built-in music player with pre-recorded jingles and wonderful nature sounds help you lighten up right away.
The best feature of the device is its easy operation. The power button is easily accessible on this device. In addition, this wireless device has digital settings for regulating temperature and built-in massage modes.
It is a highly compact eye massager that is foldable to 180-degree. And, the carry case with the package makes it highly convenient to carry it with you while traveling without worrying about product damage.
It also comes with a USB interface charger which you can use with its battery that is rechargeable.
Pros
Wireless digital eye massager with dual-heat compression
Manufactured with high-quality materials
Lightweight and compact
Super-soft headband with fine padding
Rechargeable lithium-ion battery with USB interface charger
Cons
How to Choose the Best Eye Massager? (Buying Guide)
It is vital to make an informed buying decision if you want the best electric eye massagers to treat eye strains and avoid early signs of aging. After thorough research, we have pointed out important factors to consider when shopping for digital eye massagers for personal use.
1. Comfort
If you use a high-frequency vibrating massager to target a sensory organ, make sure it does not harm your eyes. Whether choosing any brand, you need to ensure that it is soft & lightweight as well as made of high-quality material to prevent skin irritation.
Silicon is a high-quality material for the skin and harmless too.
Prefer wand-style massagers as these are most comfortable.
If you prefer wearable massagers rather than rollers or wand massagers, then you should look out for soft padding around the eyes for comfort on your skin. Along with that, ensure it has an adjustable head strap.
2. Adjustability
If a wearable eye massager is your choice, then make sure the model or brand you choose is bendable to the facial structure of every user. For the best massaging effect, it should have a comfortable fit so that you relax without any inconvenience. Additionally, pay attention to elastics, handles, knobs, buckles, and straps for better flexibility and easy fits.
3. Settings
You should also find out how many settings are there in your eye massager. More number of settings (including different massage modes, intensity level, etc.) enables you to adjust your massage and is definitely a better investment.
4. Ease of Use
Make sure that the eye massager comes with user-friendly features so that it can easily be operated by any age group person. You must be able to choose between multiple massage modes, heat settings, and vibrating settings. Ensure an eye massager has a customization feature that facilitates you to adjust the massage for unique needs.
5. Modes
The advanced eye massagers have different unique modes for dry eyes, migraines, dark circles, wrinkles, fine lines, etc. However, the vibration mode is the most common mode to relieve eye strain. But, other modes include heat compression, music mode, high-frequency vibration, and various options to choose from. You can tailor your massager to a particular mode as per your requirement.
6. Music
It is no secret that music is a powerful healing method, so the electric eye massagers that are paired with music enhance the relaxing effects of the massage. Some eye massagers consist of in-built nature sounds or soothing melodies that stimulate the healing benefits.
An eye massager with a Bluetooth connectivity feature is even better because it allows you to play your preferred music by connecting your phone to it. If you find this bonus feature to help you relax, you can choose digital eye massagers with a music healing feature.
7. Power Source
There are two power sources to choose from in an eye massager. Either you find it rechargeable, or you require replacing the batteries. A rechargeable digital eye massager is the most preferred choice as it runs longer once fully charged. However, you need to charge the device every day before using them.
On the contrary, battery-operated eye massagers are also a better option but require new batteries every so often.
8. Additional Features
Excluding the above-mentioned key features, there are a few more significant features of any electric eye massager. To get own peace of mind and top-notch massages, below is a list of other elements that come along with advanced digital eye massagers:
Touch controls
LCD display with different mode indications along with the battery and other indications.
Onboard music player and speaker
Bluetooth connectivity to play music
USB charging
Rechargeable battery
Different Types of Eye Massager
There are several types of eye massagers to choose from. However, every particular type of eye massager has some benefits, and based on your special concerns; you can choose the better option. So, let's get detailed information of its types:
1. Manual Eye Massagers
Manual massagers are usually sleek and lightweight and consist of a rollerball on end. You can manually move this rollerball around your eyes for just a few minutes, leading to complete relaxation.
These devices are usually meant to enhance the absorption of face cream or eye serum into the skin. Moreover, it can help reduce puffiness, eye bags, fine lines, and dark circles under the eyes.
2. Heated Eye Massagers
Heat eye massagers comprise a wand with a tip that warms up, and it helps in opening skin pores to allow creams and serum to go in the skin more easily. It helps in reducing inflammation, puffiness, and dark circles.
3. Infrared Eye Massagers
Infrared devices are like heat eye massagers but have less warmth. Massage with infrared devices helps to improve blood circulation, which leads to good eye health and better vision.
4. Wearable or Headband Eye Massagers
Wearable massager looks like regular sleep masks. But they are big in size and comprise many digital functions. These are designed for longer sessions to reinforce the eye muscles and reduce eye pain and tiredness. It works on heat, vibrations, and air pressure functions to relax dry eyes, reducing dark circles and puffiness. Besides, it can also help in headache pain.
Usually, these massagers have soft padding around the edges, so you will not get bothered while massaging sessions. They also comprise different heat settings and massage modes.
5. Sonic Eye Massagers
Sonic eye massagers use high-frequency sonic vibrations to loosen up the strain around the eyes and reduce tiredness. With heat compression, sonic massagers can help with eye bags, inflammation, and dark circles. Plus, it improves the elasticity and softness of the skin.
6. Helmet Eye Massagers
These are more similar to infrared massagers. They include a head covering, not like the headband eye massagers but a complete circlet. These devices consist of a handheld remote control to regulate the setting.
Eye Massager Frequently Asked Questions (FAQs)
1. What are the benefits of an eye massager?

An eye massager accelerates blood circulation, enhances skin elasticity, and reduces wrinkles. Moreover, it arouses the acupuncture points and relieves the nerves. Daily massaging for 15 minutes helps eliminating dark circles and eye bags caused by improper blood circulation and limited sleep.

2. What does an eye massager do?

An eye massager helps in loosening up your eyes by gentle rubbing. For better health, it lightens up surrounding muscles and the nerves also. They help the eye sockets, under eyes, cheeks, and brows to slow down the pressure points and reduce your pain.

3. Do eye massagers work for dry eyes?

Yes, an electric eye massager has a huge achievement of providing relief from dark circles to dry eyes. It can help keep your eyes healthy and protect your vision. Due to fatigue or stress, most of us feel eye strain, blurry or unfocused vision. And, with the amazing therapy modes of an electric eye massager, including vibration, compression, heating, and music, you will get relief from headaches and eye soreness.

4. Can anyone use an eye massager?

Yes, anyone can use an eye massager without worrying about any dreadful reaction. An eye massager actually helps to improve blood flow and recovers your vision. However, it does not have any harmful impact on the eyes. But make sure, if you go through an eye infection or you have just had an eye operation, you should take a recommendation from your doctor regarding eye massager usage.

5. Do massaging eyes help dark circles?

Yes, an electric eye massager effectively helps in removing dark circles. You can use a massager by gently rubbing. The pressure point movements enhance your lymphatic circulation and reduce dark circles. Regular massage brings fresh oxygen and nutrients to the area.

6. Does massage help eye bags?

Yes, massage can help contour the face, and gentle tapping brings an improved blood flow. Lymphatic drainage massages are becoming an anti-inflammatory choice to ease the muscles and reduce swelling. You can make gentle tapping motions around the eyes, which brings proper blood flow that helps in reducing eye bags.
Conclusion
We have covered almost everything essential required for buying an eye massager, and feel the above information is sufficient enough to facilitate you in deciding the right eye massager for you.
As our personal recommendation, you may go for our top pick RoboTouch Digital Eye Massager, that is an overall best choice for eye strain, dark circles, dry eyes, and temple headaches with different massage modes. However, if you want vibration, air pressure, and heat massage for eyes with a combination of soothing music, JSB HF103 is the best choice.
We would love to hear any of your suggestions and questions via the below comment box!
Read Related Reviews
Buy Digital Eye Massager Online
Breo iSee4 Wireless Digital Eye Massager with...
20%
Dr. Choudhary Magnetic Electric Eye Care Vibr...
38%
Mify™ Magnetic Electric Eye Care Vibrating ...
12%
EKIN Electric Eye Care vibrating massager dig...
19%
Relifa™ Wireless Air Pressure Vibration Mas...
30%
Relifa™ Wireless Air Pressure Vibration Mas...
30%
Relifa™ Wireless Air Pressure Vibration Mas...
30%
Relifa™ Eye Massager,Wireless Digital Massa...
30%