Setting up your home gym is now far more convenient than paying the costly fees to fitness centers or gyms. It also saves a lot of time from our busy and hectic schedules of our daily routine. Plus, it emphasizes too to take care of our health regimen. I am sure most of you have Treadmills and Exercise Bikes at your home gym, yet a more easier and smart one is the Ellipticals too.
Well, the best Elliptical Cross Trainers are the great elements to provide a full-body workout with the benefit of low impact workout experience. So, why don't you have the one?
To help you out in choosing the right and best elliptical cross trainer, we are here with our best-picked models, their reviews, and a Descriptive Buying Guide on it. So, dig deeper to find your best choice.
What is an Elliptical Cross Trainer?
Elliptical Machines, also known as ellipticals or cross trainers, let you do the workout for your cardio fitness. It mimics the exercise pattern, including stair climbing, running, or walking, thus providing you with a full-body workout to achieve your fitness goals.
This Cardio fitness equipment comes with two long handles and foot pedals and offers a comfortable exercising experience with its smooth motion. Even much more similar to the exercise bikes, it also comes with a flywheel that creates resistance. And the weight and design of the flywheel determine how smooth workout experience you get.
The very best part of the elliptical machines is that it doesn't put any stress on your joints. And that's why it is well known as low-impact workout equipment.
Top 7 Best Cross Trainers for Home
Navigating the best option for Elliptical Machines for home is a daunting task especially when there are lots of models with different features are available. Ranging from a basic machine to a standard aerobic workout or to the high-end models, which one to buy is very confusing? So, for your ease and convenience, we have rounded up here the Latest and best elliptical cross trainer machines for home that will surely make you to have your best pick.
Best Elliptical Cross Trainers in India Reviews
1. Welcare Elliptical Cross Trainer WC6055 (Best Overall)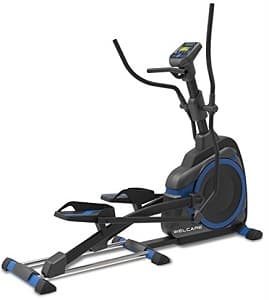 The model WC6055 from the most trusted fitness brand Welcare comes to the top of our list because of its super impressive features and performance. The first thing that we liked about the product is its extremely eye-catching design that suits both your home or the fitness centers and gyms.
It comes with a 8 Kg flywheel that not only creates a smooth resistance but offers a super smooth motion as well. It actually boosts the momentum of your speed and thus making your workout easy and effortless.
The unit also has a bigger stride length of 19 inches to offer smooth workout without impacting your knees. Its 24 levels manual magnetic resistance control lets you adjust the intensity of your workout accordingly. Even to achieve your fitness goals faster, you can choose from 24 built-in workout programs accordingly. These programs are designed by professional trainers and fitness experts to deliver superior cardiovascular workouts and fast results.
There also comes a large LCD monitor that allow you to keep an eye on your speed, distance, time, calories, and other stats. Well, all these smart features make it one of best elliptical cross trainer for both the beginners and the professionals.
Key Features
Large LCD Window Monitor
19 inches bigger stride length
8 Kg flywheel
24 Levels of magnetic resistance
24 built-in workout programs
Adjustable seat
Smooth handles
Hand pluse sensor to keep you in targeted heart-rate zone
Oversized pedals fits every user
Pros
Very comfortable to use
Easy to assemble
Offers a smooth ride
The smooth handles give an excellent workout experience
Cons
2. Aerofit Elliptical Cross Trainer HF943 (Runner Up)
This elliptical cross trainer from Aerofit comes the next on our list for its unique features and amazing performance. Wits it low impact and smooth ride, the model offers you top quality workout and so its a must have equipment for your home gym.
For a super smooth ride, this unit comes with a 7 Kg flywheel that are precision balanced. It also comes with the 8 levels of variable resistance ensuring enough customizability to you during the workout session. Even the longer stride length of 16 inches fits almost every user perfectly.
Talking about the seat, its a great fit for almost all user type due to the pop-pin seat slider horizontal and 6 steps vertical adjustments. Also, the machine has self-balancing and impact absorbing foot pedals, so no more stress on the joints only great movement. The non-slipping pedals allow more safety even if you are going for the long training sessions.
This elliptical machine also has a large LCD monitor display that shows off your time, speed, distance, calories, and scan. Also, the in-built pulse sensor on the handlebars of the machine ensures an effective cardio monitoring.
Key Features
Manual Magnetic resistance for a smooth workout
7 Kg Flywheel
16 inches natural stride length
8 levels of resistance
6 steps vertical adjustments
Non-slip foot pedals
Adjustable and comfortable seat
LCD monitor to display speed, time, distance, calories, and scan
Built-in pulse sensor
1 Year Warranty
Pros
Superb elliptical trainer in this price range
Offers an effective and smooth workout without stressing your joints
Different levels of adjustable resistance
Non-skid pedals ensure a safety workout
Cons
3. Lifeline Orbit 4 in 1 Elliptical Trainer (Best Budget Pick)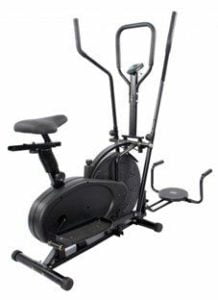 If you are searching for the best elliptical cross trainer in budget, this one from Lifeline is surely a great investment. Moreover, for the beginners, this is a best orbitrek, to reach their fitness goals. Its unique and innovatve design offers four different exercising functions, thus making it a 4 in 1 unit.
This superior quality elliptical machine includes precisely balanced flywheel that offers a comfortable and smooth motion. The best part is that it comes with dual handles that allow you to use it either as a normal cycle or an elliptical bike. Moreover, it also has a twister attached for your abs workout and a dips handle for performing pushups. So, isn't it a multifunctional exercising equipment?
The product also comes with an adjustable and comfortable seat along with adjustable moving handles and thus offers a natural elliptical motion. Plus there is a large LCD monitor that tracks your speed, distance, time, calories, and scan.
Key Features
The dual action of rowing and cycling
LCD display
Comfortable saddle
Foam-fitted adjustable handle
Micro-adjustable tension knob for strength adjustment
Provision of wheels for high portability
Pros
Decent product
Lots of tuning knobs are there to adjust the resistance accordingly that is a nice feature
Comfortable to use
Good price point
Cons
Assembly is quite difficult
4. Schwinn 430 Elliptical Trainer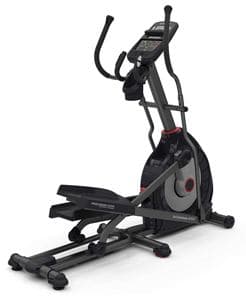 This model of elliptical machine from the brand Schwinn is quite an impressive piece of gym equipment packed with a set of features. With a strong, durable, and solid construction, this one comes with a 20-pound flywheel. In terms of good ergonomics as well as quality, and a range of workout program variety, this machine is outstanding. This elliptical machine is equipped with Precision Path Foot Motion Technology that ensures a natural running motion of the user.
The Schwinn 430 Elliptical Trainer comes with the dual track 2 LCD display that lets you monitor up to 13 feedback categories including time, distance and calorie goals. The console can also store up to 2 user profiles. It also has 22 preset workout programs including heart rate control programs, fitness tests, and custom options all you can choose accordingly. These programs even include a manual mode, two fitness tests, nine profile programs, and eight heart rate controlled workouts.
It comes with 20 levels of adjustable resistance that uses an electromagnet near the flywheel to produce resistance. Even there is also 10-degree motorized incline ramp to make your workout more challenging. To support multimedia, this Elliptical Machine console comes with a tablet-sized shelf, a USB charging port, and built-in stereo speakers.
Key Features
20-inch elliptical stride
20 Pound flywheel
Moving handlebars for total-body toning
2 user profiles
Power Incline up to 10%
20 resistance levels
Smooth magnetic braking
22 Customizable workout programs, including 9 with heart rate control
Bluetooth for sharing workout data with SchwinConnect app
Pros
Build quality is strong and sturdy
Compatible with heart rate chest straps
Great for both home use and commercial use
Smooth and easy to use
Assembling is super easy
Cons
5. Cockatoo CE03ADVANCE Smart Series Elliptical Trainer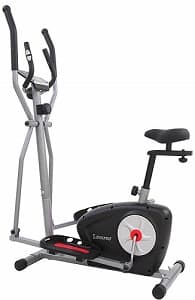 Now the next smart and best cross trainer in our list is Cockatoo CE03ADVANCE with a lot of smart features. This advanced elliptical trainer is a great buy for those who want an amazing cardio workout experience and fat burning.
It comes with the manual tension of up to 8 levels that you can change accordingly to meet your fitness goals. Equipped with the 6 Kg flywheel and 2-way bearings, it offers the quiet, smooth and maintenance free workout sessions. This one is really great exercise equipment that offers a no impact and smooth workout for both your upper and lower body.
Coming to the design part, this cross trainer comes with an LCD monitor that shows your speed, distance, time, calories burned, pulse rate, and scan. It is also featured with large, textured, and slip-resistant foot platforms that can accommodate all users very easily.
Moreover, the center handlebars ensure extra balance and safety. There also comes the built-in hand pulse sensor on to the stationary bars to monitor and maintain a steady heart rate. Plus the incorporation of transportation wheels in this elliptical machine makes it ideal to move from one place to another.
Key Features
Elliptical Trainer with manual tension
8 level tension control
6 Kg flywheel and 2-way bearing
Non-slip foot pads
Anti-skid pads to increase stability
Digital display to show speed, time, distance, calories burned, and pulse rate
Adjustable resistance dial
Built-in hand pulse sensors
Phone and tablet holder
Wheels for easy transportation
Pros
Nice build quality
Assembly is too easy
Smart aesthetic appeal
Worth for the money
Mobile and tablet holder is a nice add-on
Compact and easy to store
Cons
Mobile and tablet holder pocket must be more positive so that due to little vibration it will not slide
6. Xterra FS3.5 Steel Elliptical Cross Trainer
It is such a high quality machine comparatively at an affordable price tag than the similar versions can be a great addition to your home gym. This one from Xterra comes with great performance and ultimate durability to provide you a comfortable and smooth workout session without impacting your knees.
It comes with a large LCD screen that lets you keep an eye on your speed, distance, and calories burned. The built-in dual-grip monitor also keeps you in the target zone for goal-specific workouts. This elliptical machine has a bigger stride length of 17 inches that makes your workout smoother and minimizes the impact on your knees.
The machine is equipped with 5.6 Kg flywheel that increases the momentum of your speed and making your workout effortless. It also has 24 levels of manual magnetic resistance control that you can adjust accordingly. Plus, there are 24 built-in workout programs making your workout more challenging to reach your fitness goals faster.
The very best part is that it comes with an adjustable seat option that you can adjust according to your convenience level. The oversized foot pedals are designed in such a way that keeps your feet in place plus built-in straps increase stability.
Key Features
18 inches large screen to show speed, distance, time, and calories burned
Bigger stride length for the smooth workout
Oversized pedals
Hand pulse on handrails
Adjustable seat
5.6 Kg flywheel
24 in-built workout programs
Pros
Superb build quality
Smooth handle for an excellent workout experience
The ergonomic design keeps your workout more comfortable
Convenient to sit with its cushioned seat
Installation is super quick and easy
Multiple options to workout at such an affordable price
Cons
7. Stunner Fitness SCX-595 Elliptical Cross Trainer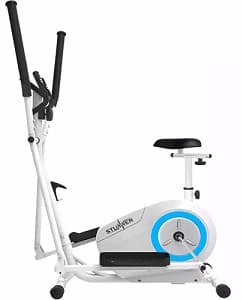 This is one of the best economical options for elliptical trainers. The Stunner Fitness SCX-595 Elliptical Cross trainer features a 5 kg flywheel providing a decent level of stability. Furthermore, it is also equipped with the dual action magnetic flywheel for a smoother motion. This magnetic cross trainer comes with 8 levels of magnetic resistance to ensure enhanced adjustability and customizability.
There comes a built-in heart rate sensor that measures the heart rate of the user. It also has a large LCD screen with 3 buttons that shows your time, speed, distance, calories burned, and heart rate. With the wheels incorporated in this cross trainer, you can easily move it from one place to another.
Key Features
Magnetic cross trainer
5 Kg flywheel
Extra large LCD screen with 3 buttons
Dual Action magnetic elliptical trainer with hand pulse
8 level resistance control
Large non-skid foot pedals
Heavy duty one piece crank system
Built-in transportation wheels
Pros
Smooth and quiet operation
Durable and compact design
Product quality is very nice
Comfortable to use
Assembly is super easy
Cons
How to Choose the Best Elliptical Cross Trainers for Home Gym? (Buyers Guide)
How Elliptical Trainers Work?
If you are a beginner and want to know how the elliptical trainers work, the following video demonstrates how to use it.
Advantages of Elliptical Cross Trainers
Now, if you think why to choose a home elliptical machine, believe me, its benefits will surely compel you to buy this best cardio exercise equipment for home.
The first and foremost thing is that you will get a full-body workout experience. It targets specific areas of your body, including arms, chest, shoulders, knees, and legs.
It is the best alternative to improve your stamina and overall performance. It allows you to lose your weight, firm your muscles, as well as build up your muscles very effectively.
As they work on various muscles of the body at the same time, you will get a more intense workout, which in result helps in burning more calories.
The elliptical cross trainers come with variable intensities to reach your fitness goals. So, if you are a beginner, you can start with a low-intensity level and then increase it gradually according to your comfort level.
One of the best benefits of cross trainers is that they are very gentle and less stressful on your joints.
Most of the elliptical cross trainers come with an inclination feature that would help targeting the stomach and thighs better.
It also provides weight-bearing exercise
The best part is that these exercise machines for home require very less maintenance.
These are quiet in operation.
Different Types of Cross Trainers
1. Manual Cross Trainer Vs. Electrical Cross Trainer
Like the name, a manual cross trainer is powered by your movement. These cross trainers do not have advanced buttons or displays to change your resistance levels; instead, they come with a manual dial to control the resistance level. The manual cross trainers are basic in features but good for a normal workout experience if you are tight on budget.
On the other hand, if you can spend some extra bucks on getting smart features and functionalities in your cross trainer, investing in an electrical elliptical would be worth it. You can easily change the resistance levels with just a tap of the button and track your health stats on the display.
2. Different Drive Systems
Front-Drive Elliptical Trainers- This is the most basic design of elliptical trainers and is the most affordable option. Here a large wheel housing is there in front of the machine that lets you experience a workout like you are climbing on the stairs. But they are quite noisy and vibrates often.
Rear-Drive Elliptical Trainers- The Rear Drive Elliptical Trainers better imitates walking and jogging. In these machines, the flywheel is positioned at the back of the machine behind the foot pedals and thus offers the most balanced and centered workout experience.
Center-Drive Elliptical Trainers- These elliptical trainers are the newest models in the market having the flywheel or drive mechanism located at the center of the machine. This one is the best option for the smooth and quiet workout.
3. 2-in-1 Cross Trainer/Orbitrek
These two-in-one machines combine the benefits of a cross trainer as well as an exercise bike in the same unit. So, rather than investing in two machines separately, you can buy this one that not only saves your space but also offers the workout experience of both the machines.
4. Electromagnetic Resistance Cross Trainers
These cross trainers use a magnetic field to control the resistance of the machine. The electromagnetic resistance cross trainers are considered to be the best option as they are smoother and less prone to problems.
5. Foldable and Non-foldable Option
Foldable Elliptical Trainers- These machines are best for those who have limited space. You can easily fold it out when not in use. Thus, it is an ideal choice for those who have a limited storage space and yet want a complete training experience.
Non-Foldable Elliptical Trainers- This is the most common type of elliptical trainers, yet no folding option is available. For the extra performance in your workout, this is an ideal choice. However, you need extra space for storage.
What to Look For Before Buying an Elliptical Cross Trainer for your Home Use?
1. Consider your space
Cross trainers are surprisingly large. So make sure that you have enough space in your home gym that can accommodate it easily. Well, these machines are expected to be between four to seven feet in length. Even some machines can extend a foot or so behind the frame; check for sure that you have twenty inches of free space on either side.
Tip: Avoid putting elliptical cross trainers in a room that gets extremely warm or cold, especially in the garage or cold rooms. By the way, if you are forced to do so, make sure to keep the machine on a heavy sheet or rug to reduce the risk of damage to the circuit boards of the machine.
2. Stride Length
So, what is the stride length, and why considering this is important?
A stride length in a cross trainer is the maximum distance between the rear of your front foot and the front of your rear foot while doing the workout. The longer the stride length, the tougher will be the workout, and most of the ellipticals come with adjustable stride length so that you can choose the comfortable one for you.
Well, choosing the right stride length also depends on your height. For average height people, the machine with a stride length of 18-inches will work fine. But, for the people with a height over 6 ft, it is better to opt for the cross trainers having a stride length of 20-21 inches. For smaller height people, they can opt for the elliptical machines as little as 14-inches stride length.
The commercial elliptical trainers come with at least 20-inches stride length to accommodate almost every user of different heights.
Tip: If you are considering buying the home elliptical machine, better to choose the one that comes with adjustable stride length so that multiple users in your family can use it.
3. Resistance Levels
The cross trainers with more number of resistance levels will of course be better than the one having fewer. Why? It is because, you can start with the lower level that is very easy and then increase it gradually that becomes more tough and challenging. This way, you can make your workout tougher to achieve your fitness goals faster.
4. Inclination Settings
Like the resistance level, inclination setting is also important if you want to get faster results. It means you can change the flat ramp of the elliptical to an incline to increase the intensity of your workouts.
5. Maximum User Weight
It is very much important to consider who will use the machine, either you only or more members of your family. So, if you are going to buy a cross trainer for multiple users at your home, make sure that it can accommodate not only height (as discussed above) but also the weight of the user.
Most of the elliptical machines for home use come with a maximum user weight of 90 Kg -130 Kg; even the high-end models go higher. But these commercial grade machines will also be highly-priced over the machines for home use. So, choose the one as per your requirement.
6. Flywheel Weight
A flywheel is one of the most important components of the cross training machine that is responsible for smooth motion as well as resistance. The more the weight of the flywheel, the better the cross trainer is. It is recommended to choose a cross trainer that comes with at least 7 Kg flywheel.
7. Display Console
How convenient will it be if you get a clear feedback of your workout and easily control your speed, resistance, or inclination? This is where a display console of an elliptical cross trainer comes to play. You can easily track your speed, distance, calories burned, and heart rate and thus stay in the targeted fitness zone. But most importantly, it should be clear and easy to control so your workout doesn't get interrupted.
Well, the budget elliptical cross trainers come only with a basic screen, the advanced features increase up the price. If you can invest in them, you will get the advanced functionalities, like fancy displays, backlit and touch screen displays, advanced multimedia systems, etc. But keep in mind these advanced features are not so essential; after all, you only need a best workout machine that is able to fulfill your fitness goals.
8. Heart Rate Monitor
Basically, the elliptical cross trainers are meant for a cardio workout, and the heart rate monitor is a great feature in the elliptical machines allowing you to be in the targeted heart rate zone. The basic models come with the heart rate sensor built-into the handlebars. Some also come with a wireless heart rate monitor used at the chest strap, which integrates with the receiver in the display panel.
9. Frequency of Use
If you are a person who loves regular exercising and for an extended period, it is highly recommended to invest in a good quality and expensive machine. So that it can withstand your heavy-duty usage without any wear and tear. The high-quality machines require less maintenance with minimal wear and tear, but these are higher on the price side.
10. Safety Features
Make sure that the handrails provide proper balance while you do the workout on it. Also, the non-slip foot pedals with raised edges are good and must accommodate easily your full foot size.
11. Bonus and Add-Ons
The advanced models come with various pre-set programs to choose your workout as per your preferences.
The one with a bottle holder, cup holder, and tablet holder is also good. Some also come with advanced features like wi-fi, a fitness tracker app, and a great variety of motivational software that can be useful as well.
12. Budget
Elliptical cross trainers are the expensive pieces, so you may consider all the important factors essential for you while investing in this home gym equipment. Well, if you need it for a basic exercise routine, you may invest in the cheaper models (but of good quality as well as brand). On the other hand, you may also choose the mid-range models or higher-end models depending upon your exercising routine as well as the extra features you want.
The good quality elliptical cross trainers range from Rs 20,000 to Rs 3,00,000. You can invest in a model suiting your budget preferences.
13. Warranty
Warranty matters as it determines the quality and durability of the cross trainer. And it is for sure, you don't love to invest in a model where you put your hard-earned money only in its maintenance and repair. So, it is recommended to always choose a branded and best quality model that comes with a specific warranty period to avoid all your worries about its care and maintenance. The good quality cross trainers come with a warranty period of 1-5 Years
Some brands also offer after-sales service and money-back guarantees for specific time intervals. So, it is very important to check all these points.
Smart Tips to use Elliptical Cross Trainer Safely
Start slow first and then increase your speed gradually
Little Resistance will always be safer
Watch your heart rate and stay in the targeted heart rate zone always while doing workout on cross trainers
Stay balanced and stable
Try to maintain proper alignment
Cross Trainers Frequently Asked Questions (FAQs)
1. What is the best cross trainer for home use?

All the models we have reviewed above are the best cross trainers for home use. But, the Welcare is best of all for quality, performance, durability, and price.

2. What are the best cross trainer brands in India?

The best elliptical cross trainer brands in India are Welcare, Cockatoo, Reach, Kobo, and Leeway.

3. Can a cross trainer build muscle?

Yes. While doing workout on an elliptical cross trainer, we engage 80% of our body's muscles. It offers a full-body workout from lower body to upper body targeting different muscle groups. It focuses on your back muscles with every pull on the handles. When you pull the handles, it works on your biceps; and when you push the handles, it works on your triceps. Also, the arm movement works on your pecs. At the same time, with your stepping motion, it works on your glutes and the hamstring muscles, quads ( the muscles located in the front of the thigh), tibial and calf muscles below your knee.

4. How do you lose belly fat on the elliptical?

An elliptical works both on your upper body and lower body, which means more of your body muscles are working at the same time; it tends to burn more calories. However, to lose belly fat using an elliptical, you can follow these smart tips:

Try high-intensity interval training.
Pushing and pulling the handles while pedaling is also very important.
Better to increase the incline and resistance gradually to get the benefit of reducing fat.

5. How long should you stay on an elliptical cross trainer?

You should try to stay on an elliptical cross trainer for 30 minutes when you're first starting out. You should add a few minutes each day and then increase the difficulty level over time.

6. Does a cross trainer burn arm fat?

Yes, a cross trainer can help you burn arm fat, especially if you add handgrips and arm exercises to your workout.

7. What should I look for when buying an elliptical cross trainer?

You must consider the features like the size of the elliptical, flywheel weight, maximum user weight, stride length, resistance and inclination levels, smart safety features, etc., while buying a cross trainer for your home gym.

8. What is better- a cross trainer or a treadmill?

Well, both the exercise equipment have their pros and cons. Both these provide a cardiovascular workout. If burning a lot of calories or building up your leg strength and speed is your primary aim, then a treadmill is a better choice. On the other hand, if you are an injury prone-person, then using an exercise cycle is a great way without stressing your joints. It also offers the benefits of a full-body workout than the treadmills.

9. Is a cross trainer worth buying?

Yes, the cross trainers are worth buying if you want a variety of exercises while using the same machine. These machines allow the user to exercise both the upper and lower body at the same time. They are a lower impact exercise compared to running and jogging, making them a great alternative for those with joint pain. Even, you will also get a good cardiovascular workout.

10. Should I use a cross trainer every day?

Using a cross trainer is a great thing, but more is never recommended as your body will get exhausted and wear down. If you want to lose weight, it's best to use a cross trainer machine at least three times a week. Even you can increase it for up to 4-5 times a week according to your caliber.
Conclusion
This is all about the best and latest models of elliptical machines for home gym. All these listed elliptical machines for home are ideal for an effective cardio workout from the comfort of your home. Now no more worries for your cardiovascular health if you have an elliptical trainer at your home. And I am sure the list we have made in this blog, will surely help you out in picking the best one according to your budget and preference. So what are you waiting for? Pick your favorite one and enjoy an amazing cardio fitness exercise…..
Buy Elliptical Cross Trainers Online
Cult.Sport smartcross Bern Bluetooth Enabled ...
60%
WELCARE Maxpro Mp 6066 Elliptical Cross Train...
50%
Welcare Elliptical Cross Trainer WC6044 with ...
52%
Cockatoo CE01 Plus Premium Series Heavy Duty ...
26%
PowerMax Fitness Eh-300 Elliptical Exercise C...
40%
PowerMax Fitness EH-760 Elliptical Cross Trai...
51%
FitnessOne Propel Orbitrek HDA 55 Best 2-in-1...
36%
Reach Evolve Elliptical Cross Trainer for Hom...
20%