Washing clothes by hand is still a common practice in many parts of India, and washboards provide an effective and eco-friendly alternative to modern washing machines. The washboard's simple design and function can make a significant difference in the cleanliness of your laundry.
Whether you are looking for a washboard for occasional use, as a backup, or for daily washing, this article has got you covered. Here, we present the best washboards available in the Indian market in 2023, carefully evaluated for durability, efficiency, and ease of use.
Why Choose a Washboard?
Before diving into our top picks, it's essential to understand why washboards remain relevant in modern Indian households. Here are a few reasons why you might want to consider using a washboard:
Cost-effective: Washboards are a one-time investment that can last for years, saving you from recurring expenses on electricity and maintenance associated with washing machines.
Water-Efficient: In regions with water scarcity issues, washboards allow you to control the amount of water used for washing, making them an eco-friendly choice.
Versatility: You can use washboards for hand washing a variety of fabrics, from delicate silk to heavy denim, giving you more control over the washing process.
Space-Saving: Washboards take up minimal space and are ideal for small apartments or homes with limited laundry space.
Different Types of Washboards
Wooden Washboards: They are traditional and are often the most comfortable to use but may not be as durable.
Metal Washboards: These are typically made of zinc, steel, or aluminum. They are durable and offer excellent scrubbing power but may rust over time.
Glass Washboards: These are sleek, modern, and gentle on delicate fabrics but can be fragile.
Plastic Washboards: Affordable and lightweight but may not offer the same durability or scrubbing power as metal or wood.
Best Washboards in India Reviews
1. DYXOO Hand Wash Board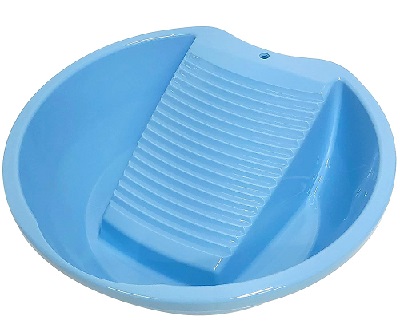 Experience the next level of convenience and durability in hand washing with the DYXOO Washboard. With its thick material design, reinforced bottom, and sturdy rim, this washboard is destined for long-lasting performance. Safety is paramount, as it is made from food-grade, BPA-free PP material that is both odorless and non-allergic.
But the DYXOO doesn't just stop at durability and safety; it takes convenience to new heights. The 2-in-1 function design combines a washboard with a basin, streamlining the hand-washing process and saving precious time. The peripheral crimping design further enhances its practicality, allowing for easy water pouring and transport.
Designed with versatility in mind, the washboard is ideal for laundering small household items, from baby clothes to scarves. Clean-up is a breeze, as the basin is easily washable after use. Add to that its compact size, fitting seamlessly into most kitchen sinks and bathrooms, and you've got a highly portable solution for home use, travel, or outdoor activities. With its 4-quart capacity, the DYXOO Washboard turns laundry day into a hassle-free, eco-friendly experience.
2. About Space Mini Hand Wash Anti-Skid Washboard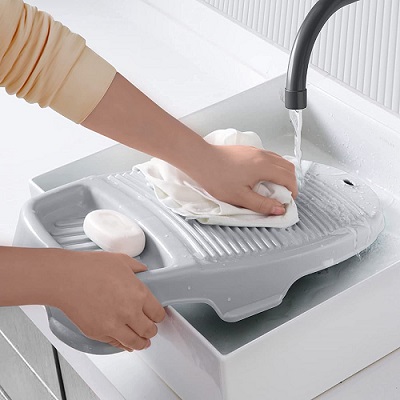 Our next best pick is About Space Mini Hand Wash Washboard. Made from premium PP material, this washboard is designed to be durable and sturdy.
What sets this best washboard apart is its noble design, featuring an independent soap compartment for easy access. Its corrugated surface is specifically engineered to tackle stubborn stains, while the smooth finish guarantees protection against fabric wear and tear. Ideal for washing small items such as baby clothes, hand towels, and face masks, this washboard is a water and electricity saver.
User convenience is maximized with a U-shaped compression on both sides for a perfect tub fit, and easy storage is assured through a hanging hole. Simply dry it in the shade after use for extended durability. Its unique shape, functionality, and minimal storage requirement make this washboard a true game-changer in eco-friendly hand washing.
3. MosQuick Rollable Foldable Laundry Washboard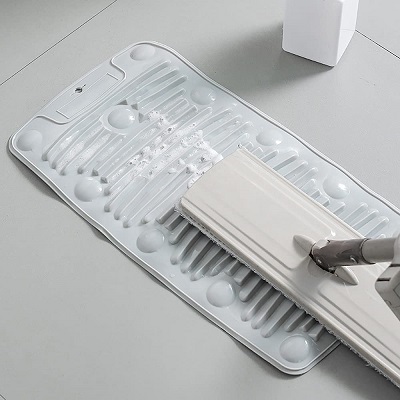 The product from MosQuick is another best washboard for your laundry routine. Made of PVC material, this washboard is not just environmentally friendly, but also gentle on your hands, making it perfect for families with babies. Whether it's diapers or baby clothes, the washboard is designed to effectively remove stains after soaking.
Storing this washboard is a breeze with its three storage options. Choose to fold it for easy carrying, hang it for convenient drying, or attach it directly to the wall. With its collapsible design, the washboard easily adheres to smooth surfaces like tiles and sinks via its 13 vacuum suction cups, offering a more convenient and compact alternative to traditional wooden washboards.
The multipurpose design extends its utility beyond laundry; it's perfect for cleaning shoe soles, mops, and even serves as a bathroom mat. Sized at 23cm x 46cm and lightweight, it's the ideal companion for travel, camping, and various outdoor activities.
4. Hasthip Anti-Slip Hand Wash Board
Optimized for small laundry items, the Hasthip Washboard becomes an essential part of a fast and efficient laundry routine. The compact size of 44x21cm makes it suitable for most sinks and washbasins. Crafted from durable PP material, the washboard is engineered for a long lifespan, resisting deformation over time.
What really stands out is the sloping board and slot design, providing stability and ease of use whether it's placed in a sink or a basin. Additionally, the built-in soap holder adds a layer of convenience, making the washing process straightforward and effective.
But the functionality doesn't end there. The washboard is also designed with storage in mind. It can easily be hung on any self-adhesive or wall hook, ensuring that this space-saving utility doesn't become another household clutter. From scarves and vests to baby clothes and towels, the Hasthip Washboard is not just an accessory but a necessity for anyone in need of an effective, convenient, and durable hand washing solution.
5. Adium Wooden Washboard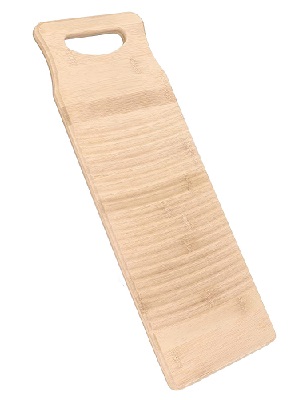 Now, last but not least, a premimum wooden washboard from the brand Adium. Although the Adium Wooden Washboard comes at a higher price point, its premium features make it a worthy long-term investment. Crafted from natural bamboo, this washboard is both eco-friendly and robust, designed to withstand wear and tear for years to come.
With a generous length of 19.7 inches, it's versatile enough to handle a range of washing tasks at home.
The washboard's wave-like texture and glossy finish are not just for aesthetics; they make the scrubbing process much more efficient and labor-saving. Its fine workmanship not only enhances durability but also makes it an ideal, practical gift for family and friends who value quality in household items.
Storage is a breeze thanks to the convenient hanging hole, ensuring that you can easily stow it away when not in use. Though it may require a larger initial investment, the Adium Wooden Washboard delivers in both quality and functionality, making it a best pick for anyone committed to a superior handwashing experience.
Related Reviews
Explore More Hand Washboards
bosig® Mini Hand Wash Anti-Skid Laundry Wate...
56%
ABOUT SPACE Mini Hand Wash Anti-Skid Laundry ...
42%
ABOUT SPACE Mini Hand Wash Anti-Skid Laundry ...
46%
MosQuick®Rollable Foldable Laundry washBoard...
57%
bosig® Plastic Washboard for Laundry,Househo...
56%
ORIGINAL MART Plastic Washboard Laundry Board...
50%
TOPBATHY Wooden Clothes Washboard Hand Wash L...
50%
Amazon Brand – Umi 1 Piece Peach Colour Min...
25%