For laundry tasks, conventional washing machines often fall short by being large, costly, and unsuitable for people with mobile lifestyles. In India, where space constraints and water scarcity are common issues, portable bucket washing machines have gained popularity as a practical, efficient and affordable solution.
The popularity of these machines is skyrocketing, primarily because of their compact size, affordability, and ease of use.
Designed for maximum convenience and efficiency, these compact machines are ideal for bachelors, students, travellers, and small families. Not only is it cost-effective, but it also consumes less electricity and water, making it an environmentally-friendly option.
In this article, we'll explore some of the best portable bucket washing machines available in India.
Why Choose a Portable Bucket Washing Machine?
Space-saving: These machines are small enough to fit into tight spaces, making them perfect for small apartments or dorm rooms.
Cost-effective: Generally cheaper than regular washing machines, these machines are budget-friendly.
Ease of use: No installation is required, and operation is as simple as filling the bucket with water and clothes, adding detergent, and starting the machine.
Mobility: Easy to move, they can be taken along when moving to a new residence or even while travelling.
Best Portable Bucket Washing Machines Reviews
1. Hilton Single-Tub Washing Machine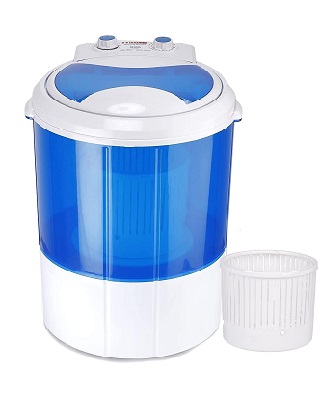 The Hilton Single-Tub Washing Machine with Spin Dryer is a game-changer for those living in small spaces or in need of a portable laundry solution. With no installation or demo required, setup is as simple as following the clear instructions in the user manual. As a semi-automatic, top-loading unit with a 3 kg wash capacity and a 1 kg dryer capacity, it offers a compact yet efficient option for handling laundry.
What makes it stand out is its incredible efficiency—washing clothes in just 15 minutes and spinning them dry in another 5-6 minutes. It's an excellent choice for baby clothes, ensuring a quick and hygienic wash.
The device's portability is further enhanced by its light weight and small dimensions, making it an ideal choice for limited spaces. Energy and water efficiency are also strong points, thanks to its low consumption levels and inverter compatibility. A built-in thermostat prevents motor overheating, adding to its lifespan.
Another best part is that it is available in a variety of color options suiting your style and preferences.
Overall, this washing machine offers a perfect blend of efficiency, convenience, and smart design. Ideal for those who value time and quality in their daily chores.
2. DMR Mini Washing Machine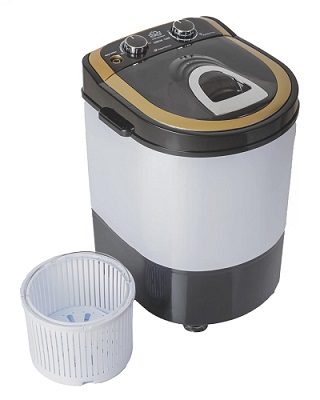 The DMR Single Tub Top Load Portable Washing Machine offers a blend of efficiency and convenience in one compact unit. With its ergonomic design, this lightweight appliance can be moved easily, making it a hassle-free choice for those with limited space. Its 1.5 kg spin basket capacity allows for quicker drying, effectively removing excess water from up to 1.5 kg of laundry.
The machine's 3 kg wash capacity can accommodate 5-6 clothes per cycle, providing a thorough and powerful wash for each item. One of its standout features is the quick wash cycle, which completes in just 15 minutes, enabling faster and efficient cleaning. This unit is equipped with both a water inlet and outlet pipe, simplifying the process of filling and draining water.
An added advantage is the 1-year free spare supply warranty, which adds a layer of security to the investment. Overall, this 4-star rated machine offers a great balance of functionality and convenience, ideal for those who need an effective yet compact laundry solution.
3. WEADFAX Foldable Bucket Washing Machine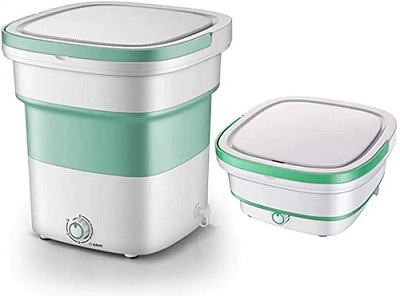 The WEADFAX Foldable Bucket Washing Machine is a perfect combination of compactness and utility, giving you a convenient laundry solution without sacrificing wash quality. This machine is an excellent pick for those with limited space or those who need an extra, smaller washer. It features a semi-automatic cleaning function, ensuring clothes come out sparkling clean without any residue or irritants, making it particularly suitable for individuals with sensitivities or allergies.
One of its standout features is its foldable bucket design. This design not only makes it convenient to use but also extremely easy to store. It can be effortlessly hung on bathroom or balcony walls and even tucked away in cabinets when not in use.
This independent unit offers uncomplicated operation, perfect for a variety of living situations such as camping, apartments, dorm rooms, RVs, and even business trips.
4. Romino Washing Machine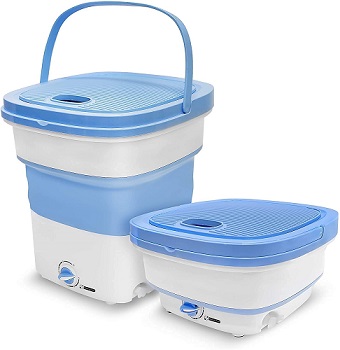 The Romino Washing Machine stands as a combination of convenience, efficiency, and compact design, all the while providing an excellent wash quality. Crafted from heavy-duty TPR and ABS materials, the unit guarantees durability.
One of its most striking features is the dual cleansing functionality. The high-frequency vibration ensures a deep and thorough clean, while the ultrasonic disinfection function adds an extra layer of hygiene, making it particularly beneficial for delicate or baby clothes. In addition, its 15-minute timer knob simplifies the washing process, automatically resetting after each cycle for ease of operation.
With a 2 kg capacity, this machine is perfect for small loads, catering especially well to singles, students, or small families. It is easy to operate and delivers a thorough clean for all types of fabric.
Aesthetically pleasing and functionally sound, the Romino washing machine scores high on user-friendliness. Its streamlined design not only complements any space but also promises easy storage and maneuverability, making it an excellent choice for small apartments, dorms, or even for travellers needing a portable option.
5. Welko Mini Portable Washing Machine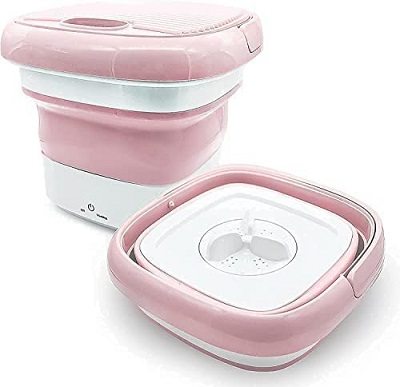 The Welko Mini Portable Washing Machine is an ingeniously designed laundry appliance that effortlessly amalgamates utility with convenience. Its foldable design transforms the unit into a compact size, allowing it to slip conveniently under stools, beds, or into storage spaces, thereby optimizing room utility to the maximum.
Not only is the machine adept at saving space, but it's also an energy and water saver. Its high-frequency vibration ensures that dirt and irritants are thoroughly removed, all while being remarkably eco-friendly. The machine comes equipped with a 3-speed timer, offering 1, 10, and 5-minute cycles, adding versatility to the washing routine.
This folding washer shines in its specialization for lighter loads such as baby clothes, underwear, and other small items. Its compactness and portability make it the go-to choice for a variety of settings—dorms, apartments, business trips, and tourism activities. Offering more than just a clean wash, the Welko Mini Portable machine delivers on both environmental consciousness and compact, functional design, making it an excellent gift or personal purchase for those always on-the-go.
Conclusion
In wrapping up the reviews of the best portable bucket washing machines, it's clear that these compact appliances are far more than just convenient—they are game-changers in the laundry world. Catering to a myriad of needs, from the eco-conscious user to the space-saver, these units boast high-performance features such as energy-saving capabilities, dual-cleaning functions, and customizable speed settings. Their adaptability makes them perfect for diverse settings, be it dormitories, small apartments, or even outdoor adventures.
For anyone seeking a blend of convenience, functionality, and modern design, investing in one of these top-rated portable bucket washing machines is a decision that pays off in spades.