As Video Doorbells are becoming a well-known item among households, more and more brands are launching multiple versions. Brand X might offer you a feature you don't want, while the feature you are looking for is too costly. Are you still confused about which one to choose among the heaps of options available? Worry no more! After months of trying and testing, our team of experts has combined a list of the 7 Best Video Doorbells available in the market today. The list comprises the products we have personally tried and found highly efficient – in terms of features, customer's reviews, and affordability.
Best Video Doorbells (Quick List)
7 Best Video Doorbells in India (Reviews)
1. Qubo Smart WiFi Wireless Video Doorbell
Best Video Doorbell Overall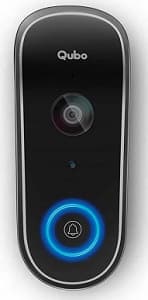 One of the most stylish doorbells available in the market – Qubo, offers a video doorbell that is best suited for your home. It is compatible with Amazon Alexa, Google, and works smoothly even on a 2 GHz internet connection. It secures your house with High-definition 1080p surveillance, with a built-in intruder alarm system. Even with 2-way communication hardware, you can talk with the visitor.
Qubo Doorbell is tiny, beautiful, and super smart! It is one of the best video doorbells overall.
Specifications
Video Resolution: High-Definition 1080p
Field of View: 140 degrees
Product Dimensions: 13 x 3.9 x 11 cm
Storage Capacity: External – upto 128 GB
Operating System: Linux
Color: Black
Key Features
Its large field-of-view allows you to see a person from head to toe.
The pre-recorded audio messages will respond automatically – in case you are not home.
The Chime comes with 36 varieties of tunes; you can select your favorite one.
Clear Night Vision ensures the safety of your house is never compromised.
Free brand installation available in all the major cities across India.
IP65 makes it stand even in extreme weather conditions. IP stands for "Ingress Protection" which is a measure of how much a product will resist against solid objects and liquids.
Pros
User-friendly
Cost-effective
Affordable
Cons
2. Okos Wi-Fi Video Doorbell
Best Video Doorbell for Apartments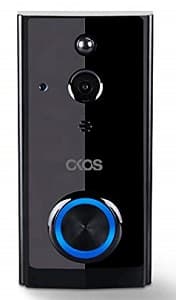 Committed to safeguarding your house from any mishap, Okos offers you a powerful Wifi Video Doorbell. This powerhouse comes with a 18650 lithium rechargeable battery, ensuring the long life of batteries. The wide-angle lens will give a large view and let you see, hear, and speak with the visitor.
It comes with tools that allow you to install your device within 5 minutes. Due to these features, this is the best video doorbell for apartment or office purposes. Also, it supports the SD storage option, as well as cloud storage.
Specifications
Video Resolution: High-Definition 1080p
Field of View: 166 degrees
Product Dimensions: 18 x 10.5 x 6.5 cm
Storage: External and Cloud Storage
Color: Black
Key Features
The presence of night and infrared vision makes it efficient every hour of the day.
To make sure the audio is clear and uninterrupted, noise cancellation is provided.
Compatible with Google and Alexa, it picks up the voice command.
A pair of batteries is provided along with the product.
IP66 keeps its working smooth in any weather.
As compared to other brands, batteries last longer than expected.
Pros
Smart design
Noise-canceling audio
Power-efficient
Cons
3. Germerse Wireless Camera Doorbell
Best Video Doorbell for Cold Weather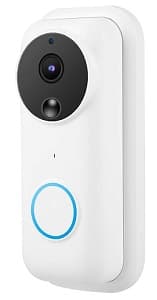 Despite being a new entry in the doorbell market, Germerse has managed to earn credibility. Their video doorbells are claimed to be designed for apartments, commercial use, and high-end residences. This doorbell is all-in-one which provides redefined high-definition footage, smart motion sensors, and multi-OS compatibility. Furthermore, it is lightweight and delicate in design; a good option for villas and corporate offices. This is not just the best video doorbell for cold weather conditions, but also the best in all kinds of weather.
Specifications
Video Resolution: Super HD 1080p
Field of View: 166 degrees
Product Dimensions: 17 x 5 x 4 cm
Storage: External SD Card
Color: White
Key Features
For a variety of doorbell chime options, it comes with 52 tunes.
Provision of two-way conversation – which lets you conversate with the visitor.
PIR motion detection system – it basically clicks the picture of the visitor and notifies you in case someone is standing outside.
Because of WDR capability, it ensures the clarity and quality never falls irrespective of any weather.
Multiple users can have access to the live footage simultaneously.
Pros
Budget-friendly
Sufficient Warranty
Low power consumption and long standby time
Cons
It can give distorted audio sometimes
4. Woliliwo Video Monitor Doorbell
Best Video Doorbell with Monitor (for elderly)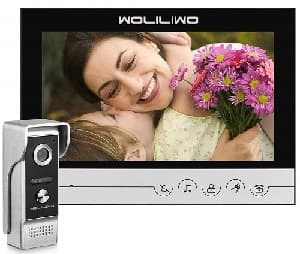 Next on our list is the Woliliwo video intercom system. Just in case you are not tech-savvy and do not prefer keeping your phone always on, this doorphone is for you. The feature makes it a best bet for elderly people in your home.
One of the best video doorbells with monitor, it comes with a 9-inch monitor, which is used for viewing and communicating with the visitor. This monitor is colored, high-definition, and gives real-time footage. The product is water-proof, oxidation-proof, and has a superior finishing. The volume, brightness, and contrast on the inside monitor, can be adjusted.
Specifications
Video Resolution: HD 720p
Field of View: 80 degrees
Monitor Dimensions: 23.01 x 16.51 x 2.01 cm
Item Weight: 1.29 Kg
Color: Gray
Key Features
The monitor is 9 inches wide which gives ultra high-resolution video.
It comes with infrared night vision hardware that works smoothly even in low-light.
As many as 25 ringtones can be selected from dedicated monitor keys.
The loud-speaker option allows you to make announcements – when installed in a workplace.
Easy functioning makes it suitable for even elderly people.
Pros
Smart and user friendly
Durable
More convenient
Value for money
Cons
Installation is difficult
5. Remo+ Wi-Fi Video Doorbell Camera
Best Video Doorbell with Free Storage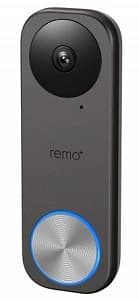 One of the tiniest wireless video doorbells on our list, the Remo+ video doorbell is packed with loads of features in its small size. Advanced features like motion detection sensors, high video quality streaming and flexible motion zones give you an excuse to change your manual, out-of-the-fashion doorbell.
It records and delivers the video in real-time. Being compatible with Amazon Alexa, Google Assistant, and IFTTT makes it a tech convenient product. With Remo Plus, you get the best video doorbell with free storage for 3 days. This deal can't get better than this!
Specifications
Video Resolution: High Definition (1536 x 1536)
Field of View: 180 degrees
Product Dimensions: 5.1 x 1.8 x 0.84 inches
Item Weight: 0.29 lbs
Color: Matte Silver
Key Features
Motion sensors are highly sensitive. It sends you a notification in case of any movement before the camera view. Also, no issues of false alerts.
The full-duplex audio system lets the 2-way conversation happen with 100% noise cancellation.
Multiple users can access the live videos and recorded footage from different devices.
Compared to other brands available, the 180-degree viewing angle makes the surveillance super-tight.
Pros
Highest field of view
It doesn't require any subscription
Compact
Durable
Cons
6. Mosfet WiFi Video Doorbell Camera
Best Video Doorbell with Cloud Storage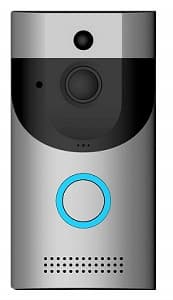 If your house is located in a sensitive weather condition area, you might want to choose a brand which ensures extreme weather resistant products. Well, Mosfet is your savior. This brand claims the smooth working of their doorbell; be it heavy rain or scorching heat. With their dedicated "Anyhome" app, you can access the stream, check old recordings, and get instant notifications. The front look is stylish and elegant! If you are looking for one of the best video doorbells with cloud storage, Mosfet is your best bet.
Specifications
Video Resolution: HD 720p
Field of View: 166 degrees
Product Dimensions: 18 x 9 x 5 cm
Item Weight: 300 grams
Color: Platinum Silver
Storage: 32 GB SD card or Cloud
Key Features
It supports 2.4 GHz internet connectivity.
The wireless range is up to 20 meters, providing the flexibility of keeping your WiFi router wherever you want.
Comes will free cloud storage space which stores the videos for 7 days.
On the SD storage system, it will automatically rewrite the oldest recordings without you having to do it manually.
It is small and lightweight; easy to mount and install.
Pros
Good wireless range
Looks stylish
Easy to install
Cons
7. Jaydear Wireless Video Doorbell
Best Video Doorbell for Intercom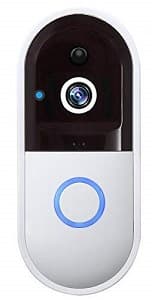 The list ends with a smart video doorbell from the brand – Jaydear. Working on low consumption technology, the durability of this doorbell can be up to 6 months. Also, its wide viewing angle keeps no corner shady or unchecked. Without any doubt, the Jaydear video doorbell is the best video doorbell for intercom.
Specifications
Video Resolution: HD 720p
Field of View: 170 degrees
Product Dimensions: 17.8 x 9.9 x 5.3 cm
Color: White
Storage: 32 GB SD card or Cloud
Key Features
The wireless range is as high as 50 meters.
Automatic loop recording ensures there is no issue of space for new videos.
PIR detection system senses if someone is approaching and sends the notification instantly.
Pros
Convenient to install
Value for money
Cons
What to look for Before Buying a Video Doorbell? (Buying Guide)
How to choose the best video doorbell is the biggest question when you need to buy it? Before you buy your video doorbell, there are some features and specifications you must consider. After all, you would not want to bring home a product you end up hating.
1. Which Type Is Best for You? (Wired Vs. Wireless Video Doorbells)
Imagine calling a technician every time something happens with your doorbell. Well, that is the case with a wired doorbell. The installation, maintenance, and servicing of wired doorbells is a challenging task. Moreover, the network of wires is sure to hamper the aesthetics of your house. You might get it cheap, but it will take a toll on your interiors' beauty and mental peace.
On the other hand, wireless doorbells are a blessing. They are stylish, super convenient, and don't ask for too much attention; mount them once and forget. They might cost a little more, but every penny will be worth it.
2. Design
Modern doorbells come in multiple designs and shapes, like oval, circular, rectangular, square, etc. Some are made up of stainless steel or plastic, while the rest of them are of fiber. You should pick according to your needs and preferences, and the Qubo Video Doorbell picks the top spot in terms of design.
3. Resolution (Both Image and Video)
Resolution is one important factor for the effective functionality of any video doorbell. The available resolution options are: 720p, 1080p and above. Here, P stands for pixels. The higher the pixels of any camera lens, the better and sharper the video and image quality will be. Lesser the quality, and you will have trouble with identifying visitors, facial recognition, or extracting important details – in the event of any mishap. Always go for a video doorbell offering more pixels.
4. Field of View (Wide-angle View)
The field of view determines how much area the camera will cover. Measured in degrees, the field of view ensures the entire porch and frontal area are monitored tightly. In case the wide-angle view is absent, you'll have some area out-of-sight, which could be an issue for the safety of the premise. Speaking of the field of view, the Remo+ Doorbell has the maximum angle (180-degree view).
5. Face Recognition Technology
Facial recognition technology identifies the visitor faster than you can. With the help of Artificial Intelligence (AI), the doorbell scans the face and notifies you whether the visitor is known or unknown. Smart biometric system browses from its database of saved videos and detects who is approaching the house. This advanced technology is the latest update in video doorbells nowadays.
6. Motion Sensing technology
Another essential feature in a doorbell is motion sensing technology. The sensors are triggered every time there is some movement before the camera. Once triggered, it'll send you a notification, or a short video clip showing the exact moment. You can adjust the settings to prevent from getting false alerts. Hence, your doorbell must have customizable motion sensors.
7. Livestream Capability
A video doorbell with a Livestream feature will let you see the live stream on your smartphone. You can view the stream in 480p quality or high-definition depending upon your doorbell. Also, you can take screenshots or record a portion of a video from the Livestream. This feature has its benefits, and your doorbell should have it. Our pick Germerse Video Doorbell is excellent for Live stream experience.
8. Night Vision
From a safety perspective, Night Vision is the most necessary feature. Without proper night vision sensors, a video doorbell is as-good-as-nothing; you will miss out on what happened at night. Or probably the video quality will be too blurred and disturbed to notice anything. The Night Vision will help in tracking down the burglar or any potential threat to the house. After using Woliliwo, we found its night vision clear and disturbance-free.
9. Wi-Fi Connectivity
Video doorbells are the latest technology product. Nowadays, they can be easily connected with Wi-Fi. Operating Range from 2 GHz to 2.4 GHz, you can select whichever suits you. However, some brands offer doorbells that are compatible with even 5 GHz. Make sure you check the connectivity range before buying the product. Nevertheless, between 2.4 and 5 GHz, you can go for either of them as most of the Wi-Fi connections fall under these categories.
10. Battery
Either your video doorbell will be powered directly, or it will be a rechargeable one. For the sake of your convenience, you should choose a rechargeable doorbell only. The capacity could be as high as 18450 lithium power. More power means more durability; no hassle of changing batteries now and then. Therefore, pay attention to the battery type and capacity if you are really concerned about battery power.
11. Weather Proof
Video doorbells are an electronic product. Any extreme change in weather can possibly become a hurdle in their functioning, as the product will be exposed to sun and rain all the time. Hence, look for a brand whose doorbell is either IP65 or IP66 weather resistant. Ensuring this is crucial for preventing yourself from calling a technician every time you encounter a heavy shower or thunderstorm.
Weather-resistant doorbells will continue working in any weather condition. For a weather-proof video doorbell, we would recommend the Okos Video Doorbell, which comes with IP66 weather-proofing.
12. Pre-buffer Feature
Since the advent of technology, more and more features are added to the latest products. The latest one in this series is – Pre-buffer feature. This feature captures the image right before the doorbell button was pressed. This image can be used for finding from which direction the visitor came. These images or footage are uploaded to the dedicated server instantly.
13. Easy Installation
Your favorite doorbell will have either of the options: DIY Installation or Installation requiring a professional technician. Most of the wireless video doorbells are super easy to install; more or less, they are plug-and-play.
However, the wired doorbells could be a heavy stone to turn. The doorbell wiring needs special procedures for the installation. Even though you will get an instructional manual along with the product, you will still have to hire a technician for this.
Hence, for your convenience, your desired doorbell should be easy to install, or the additional installation shouldn't cost too much. With that said, Mosfet battery-powered video doorbell would be our priority in terms of easy-to-mount doorbells.
14. Multi-user Functionality
Suppose a video doorbell allows only a single-user function. In that case, the notifications and rings will be sent to the dedicated device only – which can be a problem in case the person is not available. The multi-user function provides access to footage, rings, and notifications to multiple devices. Few of the newly-launched brands are offering this feature, and one of them is Germerse.
15. Storage Capacity
Because of multiple brands being present in the doorbell market, the list of features is increasing. Next is – storage capacity, which can vary anywhere from 16GB to 128GB. Some offer internal storage, while others will ask you to buy an external SD card separately. According to us, 32GB of storage would be an excellent option for any regular usage.
16. Subscription Cost
Storing your data online is gaining popularity, and so is the case with doorbells. Some of the companies offer you 3 days of cloud video storage, while others provide 7 days. Well, that's not sufficient, and you would have to purchase additional cloud storage, which could cost you between INR 220-350 per month, and you will get 200 GB of storage.
Therefore, you can choose a monthly subscription service as per your need. However, Remo+ is one of those brands that offer subscription-less operation.
17. Mobile Alerts
Mobile alert sends you an alert or a pop-up notification every time it detects a movement/activity. These movements could be someone passing by, a kid playing around, a delivery guy, etc. These alerts are important, and one must consider them before finalizing the decision.
18. Two-way Audio
It could be an insignificant feature but extremely useful in the long run. Two-way audio facilitates the conversation between you and the visitor. In the absence of two-way audio, you will hear the visitor, but not the other way around. If two-way audio is your priority, you should go for Remo+ for its crystal clear sound hardware.
19. Price
The price range of a video doorbell can vary from as low as INR 4000 up to INR 40,000 or more. The price will mostly depend upon the number of features you demand. While an entry-level doorbell with basic features might cost you INR 5000-6000, the high-functioning one with all the possible features in the world might charge INR 40,000+. Well, you would not have to punch a hole in your pocket, as a decent doorbell would cost you somewhere between INR 10,000 and INR 15,000.
20. Warranty
Most of the existing companies offer one, two, and three years of warranty. If anything happens with the product in this period, the manufacturer will assist you without additional cost. In some cases, you can get a money-back guarantee or customer satisfaction guarantee as well. However, two years of warranty is the least you should expect while purchasing.
Advantages of Having a Video Doorbell Camera at Your Home
Some of the notable advantages of a video doorbell are:
1. Safety
A video doorbell is the biggest enemy of burglars and thieves. Any burglar, before aiming at your house, would inspect the property. The moment he realizes about the security camera being right at the entrance, he would refrain from causing any harm. A video doorbell is the biggest weapon for tracking down such people. Hence, such doorbells are the biggest safety feature.
2. Checkpoint
You can be busy doing some work in the kitchen or involved in some online meeting. If you have a visitor, you would not have to walk all the way and check. With just a few clicks, you can have a conversation with the visitor, ask about their reason for visit, and respond accordingly. These doorbells are pretty helpful for someone who keeps getting delivery packages and visitors.
3. Cost-effective
A video doorbell returns every penny invested in so many ways:
It keeps your house safe from all kinds of threats.
It serves the role of a security guard day and night.
It keeps you stress-free and helps you focus on your work without worrying about your house.
It provides strong evidence in the event of any burglary.
Video Doorbell Vs. Security Camera
Compared to a video doorbell camera, a security camera works on a different mechanism. Depending upon the need, you can judge whether you need a regular video doorbell or a security camera. Some of the distinguishable features between them are:
| Video Doorbell | Security Camera |
| --- | --- |
| User friendly and easy-to-use. | Complex mechanism; needs professional. |
| Can be bought at a lower price | Comes at a high price. |
| Field of view can be less | The field of view is adjustable. |
| Give distorted images at times. | Comparatively better picture quality. |
| The cost-benefit ratio is high. | The cost benefit ratio is less. |
Video Doorbell Cameras FAQs
1. Why do you need a video doorbell camera?

For the better safety of your house round-the-clock, irrespective of your presence, you need a doorbell. These are electronically designed devices that work flawlessly, efficiently, and never compromise the security of your house. To keep yourself stress-free, you should have a video doorbell for your place.

2. Do doorbell cameras need Wi-Fi?

While 95% of the video doorbells work on Wi-Fi, it is not mandatory to have a Wi-Fi connection. Connecting with a wireless network does give you mobile alerts and notifications. But, a video doorbell will work just like a regular doorbell – in case you don't have a Wi-Fi connection. However, we would suggest you have an internet service to enjoy the maximum benefits of a video doorbell.

3. Does the ring doorbell work if the power goes out?

It depends if the doorbell is hard-wired or relies on the Wi-Fi. Although the base station has a power backup of 24 hours. Hence, the doorbell will continue working normally for a limited time.

4. Do doorbell cameras record all the time?

No. Doorbell cameras need not to do continuous recording. These doorbells come with motion sensor technology. Every time the camera detects some motion, it gets triggered and records that specific fragment. Depending upon the motion type, the recording could last from a few seconds to a couple of minutes. In this way, it saves the battery, power consumption, and video storage capacity.

5. Can I install a ring doorbell myself?

Even though the ring doorbell gives a free installation option, you can install it by yourself as well. You can either replace it with your existing wired doorbell or mount it as a wireless one; you simply have to line up your doorbell, drill holes, place your doorbell over the holes, screw-in, install the faceplate, and tighten the security screw.

6. How much does a doorbell camera cost?

The cost of a doorbell camera will be a product of a factor of its features and specifications. The range starts from 4000 Rs and goes up to as high as 40000 Rs, or sometimes, even more.

7. Can I use the ring doorbell without a subscription?

Yes. You will have all the basic features of a doorbell even without a subscription. These features are: receiving alerts when someone presses the doorbell, getting notified when the motion sensors are triggered, getting live-stream, and so on. However, if you pay for the Ring Protect plan, you will get extra features like saving videos and sharing.

8. What is the best doorbell camera without a subscription?

If you are looking for subscription-less doorbells, the best options available are:

Eufy Video Doorbell
Skybell HD Wi-Fi Video Doorbell
Hikvision DS-HD1
Remo+ Doorbell

9. Are video doorbells safe?

Video doorbells are the safest option when it comes to securing your house. These video doorbells are effective, smart, and highly functional. Not only do they let you talk to the visitor before granting access, but they also help in catching a criminal, tracking a package theft, or identifying any unwanted visitors.

10. Can video doorbells be hacked?

There haven't been too many instances where people reported about their doorbell getting hacked. Nevertheless, you cannot be too lenient. After all, it is just an electronic device, and there are potential hackers out there. As a preventive measure, you can take the following steps:

Make sure your router is updated and running on the latest firmware.
Your Wi-Fi password should be as difficult to crack as possible.
Never share your password with anyone.
Take a look at your Wi-Fi router and make sure all the connected devices are familiar.
Conclusion
A video doorbell camera is an amazing product – in terms of safety, security, features, and cost-effectiveness. We hope we cleared all your relevant doubts and guided you in every possible way.
However, based on our experience, the top 2 video doorbells would be "Remo Plus" and "Okus" Both of them have a better field of view, better resolution, more battery power, and stylish design. They are sure to be worth every penny invested.
Please drop your comments below and let us know if you have suggestions or any relevant queries. We would love to hear your opinion!
Read Related Reviews
Buy Video Doorbell Online
Qubo Smart WiFi Video Doorbell from Hero Grou...
40%
Qubo Smart WiFi Wireless Video Doorbell (Whit...
40%
BEEBIRD Wireless WiFi Video Doorbell Camera w...
40%
Ozone Smart Video Door Bell With Camera For H...
49%
AMOCAM Wired Video Doorbell Phone, 7" Video I...
24x7 eMall Smart Video Doorbell with WiFi Cam...
63%
CP PLUS Video Door Bell CP-L23 Smart WiFi Wir...
23%
AUSEK Wireless WiFi Video Doorbell Camera wit...
40%