Security cameras are frequently used in public places like banks, stores, airports as well as private homes. CCTV (Closed Circuit Television) is a popular example of this type of device.
In this article, we'll go over the Best CCTV Cameras for home and office, including comparisons of features and specifications, in order to help you find the perfect camera for your needs.
We researched more than 50 CCTV (Security camera) models and chose the top 10 based on features such as high-resolution, lightweight, and ease of use. We picked cameras that are good in both indoor and outdoor conditions, and that could be mounted on a wall, ceiling, or ceiling mount.
Best CCTV Camera in India (Quick List)
The 7 Best CCTV Cameras in India (Reviews)
1. MI Wi-Fi Security Camera
Best CCTV for Home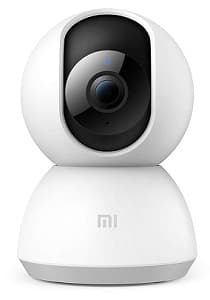 The first one on our list is a security camera by Smartphone giant – Xiaomi. Having successfully ventured into the budget Smartphone market, Xiaomi launched its security camera back in 2018. Since then, it has captured the wireless security cameras segment smoothly with its stylish, tiny, wireless cameras.
Loaded with features like talkback, Full HD, and AI motion detection, this camera packs various facets in its small size. With over 17000 ratings on Amazon, this camera is surely one of the best available in the market. So if you are looking for a tiny yet a camera with full of features, this camera could be a great option.
Specifications
Resolution: 1080p FHD
Viewing Angle: 110 Degrees
Storage: 64 GB
Camera: 20 Megapixels
Color: White
Dimension: 7.8 x 7.8 x 11.8
Weight: 239 grams
Warranty: 1 Year
Key Features
The two-way audio feature facilitates effective communication, which makes it one of the best CCTV for home. It is a good feature if you are a working professional and want to have an eye on your house right from your office.
The inverted installation allows you to mount the camera according to your preference.
Smart intruder alert notifies you in case it detects some unusual motion.
Low-light true color technology produces colored images even in low-light.
Infrared night vision makes sure no activity is unchecked at night.
Pros
Budget-friendly
Compact in size
User-friendly
Cons
2. D3D CCTV Camera
Best Wireless CCTV System for Home with Mobile Connectivity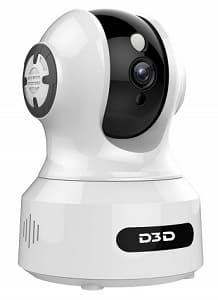 Next, we have a wireless camera from the brand D3D. Considered as one of the best wireless CCTV systems for homes with mobile connectivity, this camera gives you easy installation steps with your phone or PC. This CCTV camera is compatible with Amazon Alexa and follows voice commands smoothly. Equipped with the smart tracking system, this camera rotates in the direction of motion. It is indeed a smart security camera for the safety of your house.
Specifications
Resolution: 1080p
Storage: 128 GB
Color: White and Black
Dimension: 10 x 8 x 7 cm
Weight: 340 grams
Warranty: 1 Year
Key Features
With an inbuilt mic and speaker, you can have a conversation while being away.
Supports iOS, Android as well as PC view for larger screen display.
Comes with 2 years of warranty.
Built-in sirens can be triggered with your phone to alert family members in case you sense any suspicious activity.
Artificial Intelligence support activates features like face detection, voice detection, smart tracking, and Alexa.
Pros
Ensures high-security
The best option for home
With inbuilt smart hub, it doubles up as a complete security alarm system for your home
Good picture quality
Cons
No option to add FTP or NAS storage
3. Imou Security Camera
Best Outdoor Wireless Security Camera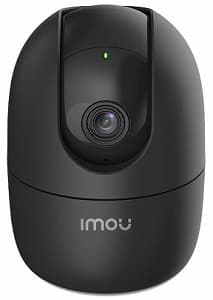 Launched in 2020, this smart, wireless camera from Imou has been a popular product for its stylish looks and design. This wireless camera is available in multiple colors and models – black, gray, and blue. Imou security camera offers you a 360-degree view, high storage capacity, and sharp image resolution. It also comes with an Ethernet port for your convenience regarding network availability. Its smart sensors are highly sensitive and capture any suspicious activity, as they can automatically differentiate between human movements and an animal's.
Specifications
Resolution: 1080p FHD
Storage: 256 GB
Camera: 20 Megapixels
Color: Range of colors available
Dimension: 10.6 x 7.7 x 7.7
Weight: 238 grams
Warranty: 1 Year
Key Features
The 360-degree view allows a panoramic view, making sure no corner stays unchecked.
More storage capacity gives space for high-quality 1080p resolution videos.
Smart motion detectors sense suspicious movements and prevent any false alarms.
Compatibility with Google Assistant and Amazon Alexa makes it convenient for you to operate.
A high range of color night vision (33 feet) captures every possible thing in low light.
Pros
High cost-benefit ratio
User friendly
Multiple colors and designs available
Looks sturdy
Smart tracking works like a breeze
Quality of video in HD mode is good
Cons
No significant cons found
4. EZVIZ Wireless Camera
Best Outdoor CCTV Camera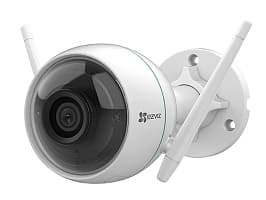 Considered as the best outdoor camera, EZVIZ wireless cameras are marking their presence since 2018. With over 1500+ ratings on Amazon, this camera offers features like audio reception, a high range of night vision, and high storage capacity. You can connect this camera with your Android and iOS devices easily. With the dedicated mobile app, you can access live streaming even on a slow internet connection. Today, EZVIZ is delivering its products to customers located in more than 130 countries.
Specifications
Resolution: Full HD 1080p
Storage: 256 GB
Color: White
Dimension: 15 x 7.2 x 7.2 cm
Weight: 288 grams
Warranty: 1 Year
Key Features
IP66 weather resistance keeps it dust-proof, waterproof and working smoothly in extreme weather conditions.
Its power antenna strengthens the connection and keeps it connected always.
More local storage helps you store your high-quality videos for 20-25 days continuously.
30 meters of infrared night vision is comparatively better than its competitors.
Allows clear two-way audio as it comes with a built-in noise-canceling microphone.
Pros
2-in 1; wired and wireless both
Powerful motion alerts
The image quality is pretty good
Cons
5. ZOSI Bullet Camera
Best CCTV for Office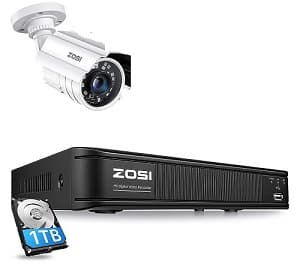 ZOSI is a well-known brand in the market of bullet cameras. These cameras are partially wired ones and come with all the necessary cables and equipment. The motion sensors are flexible and can be adjusted accordingly. Also, these large image sensors offer sharp, more vivid images regardless of the light available. Choosing a brand like ZOSI will give you access to free tech support for a lifetime.
Specifications
Resolution: 1080p
Viewing Angle: 70 Degrees
Storage: 500 GB Hard Disk
Camera: 5 Megapixels
Color: White
Dimension: 45.9 x 21 x 30.9 cm
Weight: 4 kg 750 grams
Warranty: 2 Year
Key Features
With the provision of a hard disk, there won't be a storage issue.
Compatible with Linux, iOS, Android.
The channel DVR recorder supports 4 types of camera models. You can choose according to your preference.
USB 3.0 allows faster file transfer for backup; hence, it is one of the best CCTV for office and commercial usage.
Large image sensors give more zooming without cracking the image pixels.
Pros
High-quality footage
Works flawlessly on low-speed internet as well
Easy installation
Excellent customer service
Cons
6. TP-Link Wireless Camera
Best CCTV Camera for Night Vision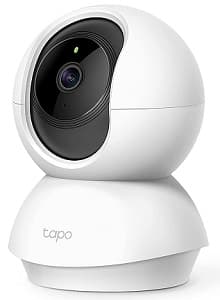 Associated with wireless adaptors and smart devices, TP-Link moved the market with its budget wireless security in 2019. This camera is loaded with smart features in its tiny body. One of the most lightweight, wireless security cameras available today, the TP-Link wireless camera is regarded as the best CCTV camera for night vision. When it comes to having 360-degree safety outside and inside of your house, this camera is just what you need.
Specifications
Resolution: 1080p
Viewing Angle: 114 Degrees
Storage: 128 GB
Color: White
Dimension: 8.66 x 8.5 x 11.7 cm
Weight: 118 grams
Warranty: 1 Year
Key Features
Super easy installation set up the camera within 5 minutes.
Swift movement of tilt and pan adjusts the view accordingly.
Night vision gives you a clear image up to a distance of 30 feet.
Built-in mic and speaker with trigger sounds help to scare suspicious people away.
Pros
Lightweight and compact design
Easy to use and durable
Budget-friendly
Cons
7. Hikvision CCTV Camera
Best CCTV for Shop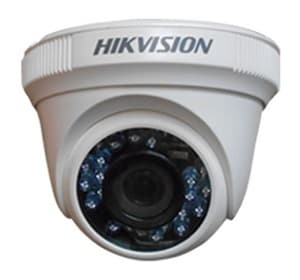 Hikvision made its presence in the CCTV camera market back in 2015. Known for high-quality security cameras for shop and household purposes, Hikvision provides all-around security solutions with its bullet and dome cameras. With an HDMI cable, you can connect these cameras with your VGA monitors. In addition, the DVR storage type lets you have more storage capacity while it gives you the option of cloud storage as well.
Specifications
Resolution: 1080p
Storage: 6 TB Hard Disk
Camera: 2 Megapixels
Color: White
Body: Plastic
Dimension: 30.48 x 30.48 x 30.48 cm
Weight: 7 kgs
Warranty: 1 Year
Key Features
With its Hik-Connect app, you can have access to live streams and recorded footage.
Easy-to-install makes it convenient for anyone to use.
Compatibility with HDMI/VGA monitors helps you access everything on your monitor/laptop.
Pros
More connectivity
More infrared LED bulbs
High DVR supportability
Cons
Too bulky in design
Requires too many cables and wires
How to Choose the Best CCTV Camera for Your Home and Office? (Buying Guide)
Before buying a CCTV Camera for your home and office, you must look for the following features to choose the best.
1. Storage
Depending upon the specifications, your CCTV camera will either have the option of an in-built SD card slot, or it would rely on an external hard disk of DVR. Multiple CCTV cameras offer storage up to 128GB. According to your needs, you can buy an external SD card of 16GB, 32GB, 64GB, or 128 GB storage.
If high-storage capacity is your priority, you should go for the DVR storage type; it offers storage up to 6 TB. However, some low-budget cameras might not have any SD card slots. We would suggest you choose a camera that comes with an internal storage option. Hikvision Security Camera seems a better fit in this case.
2. Image and Video Resolution
Most of the modern high-definition cameras are equipped with 720P, 1080P, and 4K video quality. It goes without saying that the higher video resolution is proportional to a better and sharper picture.
On the other hand, higher video resolution takes a toll on storage capacity. A camera recording in 720P video quality will consume comparatively more storage. While it wouldn't be an issue in the case of DVR, a camera relying on an internal SD card will run out of space. To overcome this issue, some cameras rewrite older files to make space for new recordings. Regardless of this fact, image and video resolution is a crucial factor while choosing a CCTV camera. We found that the Mi wireless camera gives high-resolution images and videos.
| Video Quality | Storage Consumed (1 hour of recording) |
| --- | --- |
| 720p | 0.87 GB |
| 1080p | 1.65 GB |
| 4K | 2.7GB |
3. Motion and Audio Sensor
One of the latest features CCTV cameras are offering nowadays is Motion Sensor. The motion sensor detects every unusual movement, records it, and notifies you. The recorded clip, afterward, is saved on the storage automatically. In this way, it makes sure you don't miss out on any potential threat to your house.
Similarly, the audio sensor senses abnormal sounds and alerts you before any harm is done. These features might not come with entry-level cameras. On the contrary, if you want top-notch security for your house, motion and audio sensors are worth spending on. That being said, Imou security camera is a good option under a reasonable price range.
4. Night Vision
"But how will I keep my house protected at night?" If you have similar questions, the answer is outdoor security cameras with night vision. With the help of infrared technology, a camera can identify and detect any object, person, movement, sound, etc., even at night. The range of vision could be anywhere from 20 meters to 200 meters.
Night vision is one of the most important features from a safety perspective, for all the wrongdoings and burglaries happen in the dark only. We would suggest you go for a camera that gives clear, high-definition, infrared vision at night. Our recommendation will be Imou camera for its superior range of night vision.
5. Lens Size and Sensor
It could be a new piece of information, but the field of view of your camera is inversely proportional to the size of the lens. In other words: a higher lens size will result in less field of view, which is a big drawback considering the purpose for which the camera is bought. The common lens size of a CCTV camera usually ranges between 2.8mm to 4.6mm. At 2.8mm lens size, the camera will capture 109 degrees of view. Before finalizing your purchase, pay attention to the lens size.
6. Determining the Number of CCTV Required
The number of CCTV cameras required will depend upon your floor area and the level of security you want. More cameras will ensure super-tight security in every corner and vice-versa. For this, you should conduct quick research of your entire premise, check the corners which can compromise with the safety of the place, calculate the field of view you want to be surveilled, and then decide the number of cameras that would be sufficient. If you are still dicey about it, you can also hire a professional for better advice.
7. Rotation (Tilting and Panning)
To cover a large and wide area, modern CCTV cameras come with rotation options. For a horizontal view, you can adjust the panning; for a vertical view, the tilting angle can be modified. Few of the cameras claim to have 355 degrees of pan and more than 90 degrees of tilt. Rotation is useful when you are to secure an area with varying movements at multiple angles. Either the rotations will be done manually or with the dedicated application. Hence, the higher tilting and panning becomes essential for securing a three-dimensional space. From our conducted research, TP-Link wireless camera offer a good range of tilting and panning.
8. Installation and Setup
Installation of a CCTV camera is pretty easy and quick. Now that the cameras are completely wireless, the entire process has become simplified compared to earlier times. Most of the cameras have a sticky base pad or a magnetic one; just mount it on the desired surface, and it is good to go.
However, we would recommend you to go for the screwing option for the longevity of the product – drill holes, hammer molding pins, and screw the cameras. If this sounds like a big task, do not worry! Most of the manufacturers offer free installation by their technicians. In case you have trouble installing manually, you can contact the manufacturer. Most of the reputable brands offer free installation done by their technicians.
In most cases, setting up a CCTV camera will require a few easy steps: install their dedicated application on your phone, enter your details, and scan the given QR code. That's it!
9. Two-way Communication
As the name suggests, two-way audio allows effective communication. Modern CCTV cameras have a microphone placed inside, which can be used for talking to your kids while you are out at work. It is a good feature for the extra safety and security of your little ones. After using a few of the best cameras available in the market, Zosi and Mi wireless cameras proved their worth regarding two-way audio features.
10. Weatherproof
Being exposed to sun, rain, and extreme weather conditions, your CCTV camera must be weatherproof. IP65 and IP66 weatherproofing make sure the camera stands for all kinds of weather without affecting its working. If your camera is placed outside your house, office, shop, etc., then it must have standard weatherproofing. In terms of better resistivity against weather, EZVIZ offers one of the best weather-resistant cameras.
11. Infra-Red LEDs
The reason behind a clear night vision is the presence of red LED bulbs. These LED bulbs are located on the circumference of the camera lens and are responsible for producing clearer, better picture quality even at night. Also, the higher number of these bulbs will produce extremely clear and sharp images at night. As these bulbs affect the night vision, they become important from a safety's point of view.
12. Range of Camera
The range of the camera will determine the quality of the image produced of objects which are far away from the camera lens. It is crucial for capturing tiny details, like – registration plate of a vehicle. The range of the camera depends upon the focal length of the lens and the size of the image sensor. Your desired CCTV camera should have a range of 20 to 30 meters, at least.
13. Accessories Provided in the Box
While finalizing your CCTV camera purchase, you should check all accessories you will receive along with the main unit. All such details are usually mentioned on the box, or the dealer will help you with it. The accessories you should look for are a mounting stand, cables, power screws, and power adaptors. There are some entry-level cameras that don't come with an adaptor. In such situations, you will have to bear the additional cost of the adaptor. Hence, ensure all the essential tools are provided in the box.
14. Inbuilt Hotspot (Offline Mode)
An Inbuilt hotspot is another important feature present in modern CCTV cameras. This feature reduces your dependency on the internet, as it makes the camera itself work as an internet host. In this way, you can access the live stream of the footage directly on your Smartphone without connecting to the internet. Such cameras can be identified by a small antenna attached to them, which turns into a potential Wi-Fi router. These types of cameras are important if you are buying for commercial use: shops, markets, malls, etc.
15. Outdoor vs. Indoor Cameras
You should go for indoor cameras if you want to use them at your home or office. On the other hand, choose an outdoor camera if you will be using it on grounds, markets, outside shops, roads, community spaces, airports, etc. The reason being the outdoor cameras have a large tilt and pan, making them suitable for covering a large area.
16. Wired or Wireless CCTV Cameras
Depending upon your usage, you can decide whether you need a wired CCTV camera or a wireless one. Wired cameras are usually more credible and reliable, as they are hard-wired. They are available at a lower price and connected to a DVR for storage. For longevity, durability, and affordability, choose a wired camera. However, these cameras are difficult to install, take time for setting up, and can be affected real quick in adverse weather conditions.
Wireless cameras, as the name suggests, are completely wireless. They are easy to install, tiny, and are often plug and play. Because of being wireless, they do not hamper the aesthetics of your house and maintain the overall beauty. These cameras cost a little higher than the wired cameras. Compatibility with Alexa and Google Assistant makes it even more convenient. Also, the maintenance of a wireless camera could be a little costly as it requires a high-speed internet connection and a good quality router. Consider a wireless camera if you are purchasing it for domestic purposes.
17. Warranty
Any decent camera would come with a year of warranty in most cases. You might get a three-year warranty if you choose a well-known brand.
18. Maintenance
To make sure your camera is working fine and serving its purpose, you must ensure the camera is maintained properly. Although, maintaining won't cost you any additional money. Make sure the camera lens is free from any dust, as it can affect its performance. Check that the wiring is free from any wear and tear. Look for any sign that says the camera needs rewiring.
Types of CCTV Cameras
Now that the market for security and CCTV cameras is booming, various types of cameras are launching, tailored for everyone's needs. Different types of cameras have different areas of expertise. While a wireless camera offers you convenience, a day/night camera might offer you superb image quality and can be installed in risk-prone areas. However, you should suggest going for a bulky camera if you are installing it for secret surveillance. The types of CCTV cameras available nowadays are:
1. Wireless CCTV Cameras
Wireless cameras are one of the most convenient cameras available in the market. These cameras are stylish, super handy, and easy to install; just mount, screw-in, and you are good to go. Wireless CCTV cameras are usually installed for non-commercial purposes like home, office, etc. These battery-powered cameras make sure the aesthetics of your house are never compromised.
2. Day/Night CCTV Cameras
The day/night cameras are designed for smooth functioning, regardless of the amount of light available. These cameras are the best option for the 24×7 safety of any given premise. You will get a clear, sharper, and brighter picture even at night. They record in black and white, and colored, both. Be it bright sunlight or dark night; the video recording will be of the best quality possible.
3. Network/IP CCTV Cameras
Network cameras are mostly used where you want to share the live stream of footage, via the internet, globally. This footage can be accessed from miles away from your camera through your Smartphone. The video bandwidth is altered to make the online feed reliable. Generally, these network cameras are used by business owners who are always on the move and want to check up on their business site.
4. Infrared/Night Vision CCTV Cameras
As the name suggests, these infrared cameras are specifically designed for better performance at night. A night vision camera can record and produce clear images and videos – even in pitch black circumstances. It works on infrared technology, built-in with infrared LEDs which capture the feed even in adverse conditions. These cameras are installed at high-risk areas like Banks, Govt. offices, Manufacturing Plants, etc.
5. C-mount CCTV Cameras
For securing a wider field of the perimeter, a C-mount CCTV camera is an ideal option. They have detachable lenses that can be used accordingly for varying distances. Special lenses can be fitted for a better range of view, i.e., up to 40 feet. C-mount cameras are usually bulky and large in design. These cameras can be spotted easily from a distance, which is why they act as a deterrent for any criminal activity.
6. High Definition (HD) CCTV Cameras
If super clear, the high-definition picture quality is your topmost priority, an HD CCTV camera will be one perfect fit. These cameras are known for producing ultra-HD images with extra clarity and videos, ranging from 720p to up to 4K.
All the recorded footage will be of high quality, and you'll be able to see even tiny objects in vivid detail. You will never have to worry about your picture quality being grainy or distorted. These cameras are installed in high-risk places, where the chances of a crime are high, and suspect identification will be crucial.
7. Dome CCTV Cameras
These cameras are named after the dome-shaped casing which holds the camera. These dome CCTV cameras are equally apparent in looks and can be seen from a distance. Therefore, they act as an obstacle for any potential thief and burglar.
Moreover, it is difficult to identify in which direction the camera lens is pointing, an added layer of security. These dome cameras can rotate in 360 degrees, securing as much area as possible. It can be used in shops, hotels, institutes, etc.
8. PTZ Camera
PTZ stands for Pan, Tilt, & Zoom Camera. As is described by the name, these cameras can be tilted, panned, and zoomed accordingly. Generally, these cameras are used by security teams while accessing the live feed. For reacting to a live situation and recording in a specific direction, a PTZ camera is extremely useful. Moreover, the image quality is high, making the facial recognition process easy.
9. Bullet CCTV Cameras
Bullet CCTV cameras have a unique, distinguishable design having a cylindrical shape. These cameras can observe long distances without struggling with the focal length. As these cameras are placed outside, their casing is made waterproof for smooth functioning even during rainfall, or under any similar weather condition.
Bullet CCTV cameras are highly visible, and hence, it acts as a perfect deterrent. Such types of cameras send a strong message to a passerby that the area is under tight surveillance and any potential criminal will be caught in no time.
CCTV Camera Frequently Asked Questions (FAQs)
1. Why do we need a CCTV camera?

Now that the instances of burglaries, home breaking, and shoplifting are increasing, you need to have something to keep a tight surveillance 24×7. While that's a task you cannot do by yourself, a CCTV camera will do the job. With the help of a security camera, you can focus on your work or business; meanwhile, the camera will secure your house, shop, or office continuously.

2. What are the top four features to look for when buying a CCTV system?

Considering the purpose for which a CCTV system is bought, four topmost important features you should look for are:

Resolution
Motion Sensors
Sufficient Storage
Infrared Night Vision

If your camera has all these features, you can be assured about the safety and security of your desired premise. Taking into consideration all these parameters, MI wireless camera is the best option.

3. Are home security cameras always recording?

No. Home security cameras or any other security camera have built-in motion sensors. Every time it detects movement, it starts continuous video recording. For how long the camera will record depends upon the motion type. The recording could last anywhere from a few seconds to a few minutes.

4. What is the best brand for CCTV camera?

After using several brands for a significant period and encountering every aspect, we found the MI wireless camera the best among all. Not only is the camera extremely budget-friendly, but it also has sensitive motion sensors, is stylish, light-weight, and produces high-quality pictures. Compared to other brands, MI wireless cameras clearly have an edge.

5. What is the cost of CCTV cameras?

CCTV cameras are available in a wide range. Any entry-level camera would cost you around 2000 Rs, while you might have to pay around 15000 Rs for the one with high specifications. However, if you are buying a CCTV camera for general use, a budget of 4000-5000 would be sufficient enough.

6. Which CCTV camera type is better, wired or wireless?

Without any doubt, the wireless camera is far better than the wired one. Wired CCTV cameras used to be famous a few years back. Now that everyone has access to the internet, and more and more attention is paid to the aesthetics and beauty of the place, there can't be a better option than a wireless camera.

7. Can a CCTV camera be used without an internet connection?

Yes. Your CCTV camera will continue to work normally even in the absence of a working internet connection. You might not be able to take benefit of all the features, but the basic things will keep working. For example, the camera will keep recording and saving the recorded footage on its internal memory, even if it is not connected to the internet. However, we recommend you to have a working internet connection all the time to have important features like push notifications, live streaming, etc., which are not possible without the internet.

8. How far can an average surveillance camera see?

The distance up to which an average camera can see depends upon the image-producing hardware, lens size, resolution, and sensors. An average camera can usually capture images in the range of 0-70 feet. However, if you have a professional camera with advanced specifications, this range can go up to 650 feet. Knowing how far your camera can see is important to identify if there is any blind spot.

9. What do I need to do to watch my CCTV camera on my laptop?

Firstly, you need to install the dedicated drivers on your laptop/PC. You can either download them manually or install them with a CD. Once you insert the CD, the installation process will start. After that, mount the camera to your desired location. Connect the camera to your computer through coaxial cables or USB cables. Once it is done, you will be able to access the live feed on your PC.

10. Do security cameras work as webcams?

Depending upon the specifications of your security camera, it can be used as a potential webcam. If your camera gives you the option of live viewing, you can use it as a webcam by connecting with your laptop. For this purpose, you may have to install "Virtual Camera Device" software on your system.

11. How and where are CCTV footage stored?

CCTV cameras have 3 types of storage available: Internal SD card, Cloud storage, and DVR. Internal SD card stores footage on its dedicated card; cloud storage uploads all the recorded videos on the server online; DVR has a hard disk inside where all the videos are stored. While the DVR offers high storage capacity, cloud storage and internal SD card are comparatively more convenient and easy to access.

12. Why do the CCTV cameras have red lights around them?

The red lights surrounding the camera's lens are infrared LED bulbs. These red bulbs are solely responsible for clear vision at night. The clarity, quality, and sharpness of images at night are directly proportional to the number of these red bulbs.

13. How are surveillance cameras different from security cameras?

In the context of storing the footage, surveillance cameras are the opposite of a security camera. While a normal security camera usually records the video and stores it on the dedicated server, a surveillance camera is used just for keeping an eye on your premises or assets. A security camera is generally used for conveying signals from one place to another, whereas a surveillance camera works on an IP network; it links the camera from a remote area to another assigned location.
Conclusion
After using a few of the best CCTV cameras available in the market today, we found MI wireless camera is best among all other options. This camera comes from a credible brand, is budget-friendly, has a high cost-benefit ratio, provides all the supreme features while offering a stylish look at the same time.
If you have any queries or suggestions regarding any of the products mentioned above, feel free to drop your question. We will be happy to serve you!
Read Related Reviews
Buy CCTV Camera Online
TP-Link Tapo 360° 2MP 1080p Full HD Pan/Tilt...
36%
TP-Link Tapo C210 360° 3MP Full HD 2304 X 12...
33%
CP PLUS 3 MP Full HD Smart Wi-fi CCTV Camera ...
55%
CP PLUS 3MP Full HD Smart Wi-fi CCTV Home Sec...
52%
CP PLUS 2MP Full HD Smart Wi-Fi CCTV Home Sec...
55%
MI Xiaomi Wireless Home Security Camera 2i | ...
39%
CP PLUS Weatherproof Outdoor Wired Bullet Sec...
64%
Hevalls 360° WiFi cctv security camera for h...
80%