When it comes to skincare, we're always on the lookout for the latest and greatest products to add to our routines. One such innovative and refreshing addition to the skincare arsenal is the ice roller. Ice rollers for face have gained popularity in recent years for their ability to provide a soothing and rejuvenating experience for your skin. In this article, we'll explore the best ice rollers for face available in India, and why you should consider incorporating one into your skincare routine.
What is a Facial Ice Roller?
An ice roller is a handheld device designed to roll over your face and neck. It contains a gel-filled roller head that you can freeze to provide a cooling and calming effect on your skin. The cold temperature of the roller helps reduce puffiness, soothes inflammation, tightens pores, and can even relieve headaches when used on the forehead.
Benefits of Using an Ice Roller for Your Face
Reduces Puffiness: One of the most noticeable benefits of using an ice roller is its ability to reduce puffiness, especially around the eyes. The cold roller constricts blood vessels, which can help minimize the appearance of under-eye bags.
Soothes Inflammation: Ice rollers are excellent for calming irritated or inflamed skin. If you have redness, sunburn, or skin sensitivity, using an ice roller can provide instant relief.
Tightens Pores: Regular use of an ice roller can help tighten enlarged pores, giving your skin a smoother and more refined appearance.
Improves Blood Circulation: The rolling motion of the ice roller on your skin promotes better blood circulation, which can contribute to a healthier complexion.
Enhances Product Absorption: Using an ice roller before applying skincare products can help them penetrate more deeply into the skin, making them more effective.
Relieves Headaches: The cooling sensation of the ice roller can also help relieve tension headaches and migraines when applied to the forehead and temples.
How to Choose the Best Ice Rollers for Face?
While choosing the best ice roller, keep the following factors in mind:
Material: Opt for FDA-approved materials that are non-toxic and hypoallergenic.
Ergonomic Design: A comfortable handle and smooth rolling action are essential.
Temperature Retention: Look for models that can hold the cold for extended periods.
Affordability: Prices vary widely, but there are cost-effective options that deliver excellent performance.
Availability: Ensure that the product is readily available in India, either in physical stores or through trusted online retailers.
Best Ice Rollers for Face Reviews
1. Aegon Ice Roller Massager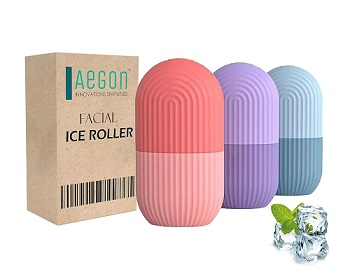 The Aegon Ice Roller Massager comes the top of our list of best ice rollers for face. The product promises an easy and efficient way to enhance your skincare regimen. With a sleek, ergonomic design, this tool is both unbreakable and reusable—ensuring you get the most value for your investment.
It is made of food-grade silicone and is BPA-free. The roller is filled with water and placed in the freezer for a few hours before use. The cold temperature of the ice helps to reduce inflammation, puffiness, and dark circles under the eyes. It can also help to improve skin elasticity and reduce the appearance of fine lines and wrinkles.
It glides smoothly over the face and provides an instant cooling effect. The best part is that you can add custom recipes for best results, offering greater flexibility in tailoring your skincare routine.
Pros
The unbreakable feature ensures longevity and durability, a big plus for frequent users.
Easy-to-clean and reusable, making it eco-friendly and cost-effective over time.
Comes in assorted colors, adding a personal touch to your skincare tools.
Easy to use
Affordable
Cons
The colors are random, so you can't choose a specific one, which might disappoint some users.
May require re-freezing frequently for longer sessions, a minor inconvenience.
2. Flynovate 3 in 1 Jade Stone Ice Roller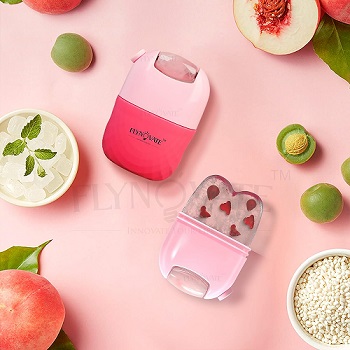 The Flynovate Jade Stone Ice Roller is a must-have for anyone looking to elevate their skincare routine. It's affordable, well-made, and delivers noticeable results.
It comes with three interchangeable heads: a jade roller, an ice roller, and a smaller under-eye roller. The jade stone feels incredibly soothing and helps with lymphatic drainage, while the ice roller is perfect for reducing puffiness and inflammation.
The build quality is excellent, with a sturdy handle that's easy to grip. Switching between the heads is a breeze, and they all roll smoothly without any squeaking. The only downside is that the ice roller needs to be frozen for a couple of hours before use, but that's a minor inconvenience for the benefits it offers.
Pros
Versatile
Easy to Use
Sturdy and durable
Suitable for different skin conditions
Soft on your skin
Cons
Needs to be freezed for sometime
A bit pricey
3. Amazon Brand – Solimo Facial Ice Roller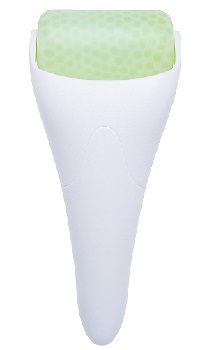 The Amazon Brand – Solimo Facial Ice Roller is a game-changer for skincare enthusiasts. Made from premium materials, this roller is not just durable but also incredibly effective. The design is sleek, and the handle is ergonomically shaped, making it comfortable to hold for extended periods.
The tool is perfect for mornings when you need a quick pick-me-up or for relaxing at the end of a long day. The roller glides smoothly over the skin without tugging, which is a huge plus.
What sets this product apart is its versatility. It's not just for the face; it can be used on the neck and other body parts too. Cleaning is a breeze—just a quick rinse and it's good as new.
Overall, the Solimo Facial Ice Roller offers excellent value for money and is a must-have for anyone serious about skincare.
Pros
Very easy to use. Just freeze and roll; no complicated instructions.
Comfortable grip for extended use.
Instant cooling sensation helps reduce puffiness and redness.
It's versatile and can be used on the face, neck, and other body parts.
Durable and long-lasting.
Easy to Clean, needs just a quick rinse under water.
Offers excellent value for the price.
Cons
Once purchased, you can't return the item.
Some users have reported that the roller is only moderate cold not chilled as a face roller is required to be.
4. ORILEY Ice Roller Face Massager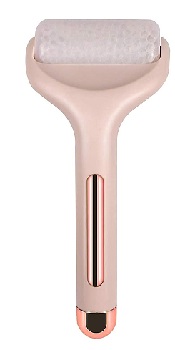 Next on our list is the ORILEY Ice Roller Facial Massager which is a standout product in the realm of skincare gadgets. Its sleek design and ergonomic handle make it a pleasure to use, and the quality of the material ensures durability.
At an affordable price, this device delivers far more than what it costs. Its ergonomic design ensures that it fits comfortably in your hand, allowing for precise control as you navigate the contours of your face.
What truly sets this massager apart is its effectiveness. With just a few minutes of use, you will notice a significant reduction in facial puffiness and wrinkles. It's like having a mini spa session at home, but without the hefty price tag.
What you particularly love is its versatility; it's not just for the face but can also be used on the neck and other areas. The massager glides effortlessly, making the experience truly relaxing. Cleaning is straightforward—a quick rinse, and it's ready for the next use.
Pros
Affordable and offers excellent value for money.
Comfortable to hold and easy to maneuver.
Noticeable reduction in wrinkles and puffiness.
No complicated setup or instructions.
Suitable for use on the face, neck, and other body parts.
Built to last, offering durability.
Cons
The product cannot be returned once purchased.
5. E-COSMOS Ice Face Roller Massager
The E-cosmos skincare ice roller is a revelation in at-home skincare. Priced at just ₹59, it's a steal for the benefits it offers. The roller is designed to improve skin by eliminating under-eye puffiness, brightening the complexion, and reducing inflammation. It's incredibly easy to use—just fill the mold with water, freeze it, and you're good to go.
The high-quality silicone material ensures durability and is also food-grade and BPA-free. The ergonomic design makes it easy to hold and maneuver across your face. What sets this product apart is its versatility—you can freeze different liquids like lemonade, green tea, or cucumber water for added benefits.
Pros
Affordable
Simply fill, freeze, and roll—no complicated setup.
Designed to improve skin by reducing puffiness, brightening complexion, and reducing inflammation.
Made of durable, food-grade, BPA-free silicone.
Can be filled with different liquids for added skincare benefits.
Easy to hold and maneuver, ensuring a comfortable skincare routine.
Cons
The product cannot be returned once purchased.
Limited Instructions and usage guidelines.
Related Reviews
Explore More Ice Facial Rollers
Ice Face Roller Silicone Facial Cube for Eyes...
72%
Aegon Ice Roller for Face | Ice Roller for Fa...
80%
Ice Face Roller Silicone Facial Cube for Eyes...
70%
MHR Ice Roller For Face Women skin glowing fa...
63%
SR Ice Face Roller Silicone Facial Cube for E...
76%
Fitness Mantra® Ice Roller for Face & Neck |...
81%
Clazkit Ice Face Roller Massager,Ice Cube Rol...
63%
Jirola Ice Face Roller Silicone Facial Cube F...
92%