Coconuts have been treasured for centuries as a versatile fruit offering delicious water and nutritious meat, making it a staple ingredient in various cuisines worldwide. However, opening a coconut can be a daunting task, as its hard shell and fibrous husk require a robust and efficient tool. Gone are the days of struggling with sharp knives or messy mishaps as modern innovations have brought forth a range of coconut openers designed to make this process effortless and safe.
These innovative gadgets promise a hassle-free and safe experience, allowing you to revel in the delight of coconut water and scrumptious meat.
In this article, we will explore some of the best coconut openers available on the market, highlighting their features, benefits, and why they have become essential kitchen gadgets for coconut enthusiasts.
Best Coconut Openers Reviews
1. Styxon Stainless Steel Coconut Opener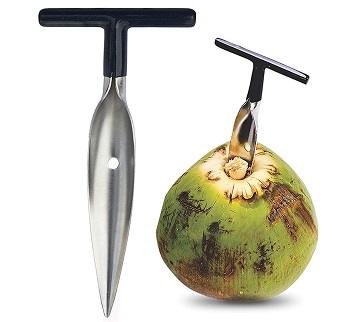 The Styxon Stainless Steel Coconut Opener is a smart and handy tool designed for easy access to tender coconut water. It features a simple 1-2-3 operation: push, twist, and drink, so you can enjoy fresh coconut water in a few seconds only.
The tool is constructed of durable food-grade stainless steel and comes with a comfortable rubber handle for easy opening. It's designed to cut through the soft husk and thin shell of young green coconuts, allowing you to either pour out the water or insert a straw.
The product has received a lot of positive customer ratings for its ease of use, sturdiness, value for money, and durability. This tool is a safe and efficient alternative to using knives or machetes, making it great for parties, bars, restaurants, homes, and more.
2. Signoraware Coconut Opener
Next on our list comes a coconut opener from the most renowned brand Signoraware which makes opening coconuts a hassle-free job. This tool is suitable for both household and commercial use, and it's highly efficient, capable of opening a green coconut in just 25 seconds.
The tool's design is not only aesthetically pleasing but also highly practical. It features an L-shaped structure that facilitates easy pressing, along with a notch that ensures stability when opening a coconut.
This coconut opener is made of food-grade, BPA-free, and anti-rust stainless steel, ensuring its durability and safety for use. It also includes a cleaning stick for easy maintenance. The tool is also dishwasher safe, making it easy to clean.
It has received a lot of positive customer ratings for its ease of use, value for money, and sturdiness. However, it's important to note that it's not suitable for hard-shelled coconuts.
3. Divinext Coconut Opener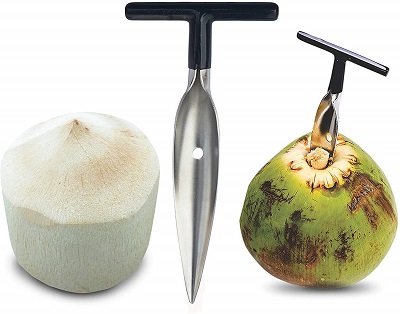 Divinext's Coconut Opener is another remarkable tool in our list for lovers of fresh green young coconut water. This unique, user-friendly product operates much like a wine corkscrew, allowing a simple and effortless opening of coconuts, even for those familiar with peeling open a bottle of red.
No strenuous hammering or excessive strength is required; a gentle insertion of the sharp, pointy part into the coconut is all it takes. It is particularly efficient with peeled Thai young white coconuts.
The thoughtful, humanized design ensures safety and comfort, with a sharp cutting edge specially treated to avoid hand scratches and an easy-to-grip silicone top eliminating any discomfort during use.
Constructed from high-quality, food-grade stainless steel, the tool is 100% BPA-free, non-toxic, and allows for no flavor transfer. It's also dishwasher safe, ensuring convenient cleaning post-use.
4. Homaxa Coconut Opener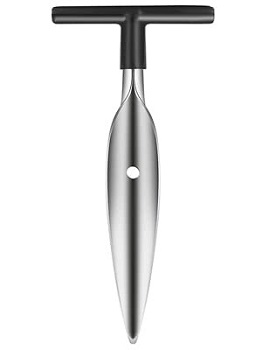 The Homaxa Coconut Opener makes indulging in the refreshing taste of young green coconuts an utter breeze. This tool, specially designed for coconuts with green husk, offers a handy, smart, and safe way to drink tender coconut water.
Equipped with a stainless steel drill cutter, it boasts a simple 1-2-3 operation—push, twist, and drink. With its easy operation, there's no need for knives, machetes, power drills, or hammers. The tool cracks an opening allowing for easy pouring or straw insertion.
Constructed of durable, food-grade stainless steel, it guarantees longevity and is dishwasher safe. The comfortable rubber handle and EZ grip ensure easy opening every time, taking the pressure off while accessing the juicy coconuts.
Whether it's for parties, bars, homes, or restaurants, Homaxa is the ideal companion for a quick, efficient, and safe coconut-opening experience.
5. Black Olive Stainless Steel Coconut Opener Tool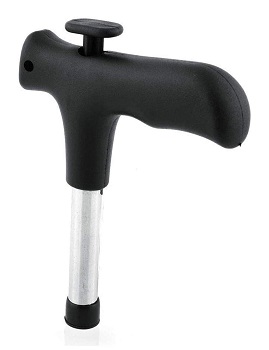 Unlock the hydrating essence of coconuts with the Black Olive Stainless Steel Coconut Opener, a tool shaped by innovation and ergonomic understanding. This piece is the ultimate coconut connoisseur's companion, making the extraction of refreshing coconut water from young, green coconuts an act of utter simplicity and joy.
Designed with precision, the opener boasts a strong, comfortable handle, promising safety and an easy grip, a true friend to your hands.
Crafted from durable, food-grade stainless steel, it is a testament to longevity, maintaining its integrity over countless coconut openings. The user-friendly operation sequence—push, twist, drink—renders knives and hammers obsolete, paving the way for a hassle-free coconut experience.
The EZ grip rubber handle acts like a gentle conductor, removing any pressure, making it a splendid choice for any coconut aficionado, be it in homes, restaurants, or exotic locations!
Conclusion
Every coconut opener listed above has been chosen based on their durability, ease of use, safety features, and customer reviews. These openers range from basic models to high-end ones, making it easier for you to choose the best one that caters to your requirements and budget.
Whether you are a cooking enthusiast who loves to add coconut to your dishes or a fitness freak who relishes fresh coconut water, investing in a good quality coconut opener can save your time and energy while ensuring safety. Choose wisely, and enjoy the myriad benefits of coconuts without the usual struggle of opening them!
Related Reviews
Explore More Coconut Openers Online
Signoraware Coconut Opener, Stainless Steel c...
3%
Clazkit Stainless Steel Coconut Opener Tool, ...
60%
Styxon/Stainless Steel Coconut Opener Tool/ K...
78%
Ramkuwar with device of R Stainless Steel Coc...
40%
Misamo Enterprise Stainless Steel Coconut Ope...
54%
Signoraware Coconut Opener Stainless Steel Dr...
3%
Qts Coconut Remover Tool from Shell, Coconut ...
51%
Home Genie Stainless Steel Coconut Opener Too...
43%