Water, the essence of life, needs to be pure, fresh, and easily accessible. In a world progressively moving towards convenience and hygiene, automatic water dispenser pumps have emerged as a necessity, especially in regions where the consumption of water from large bottles or 'cans' is the norm, such as in India. These innovative devices allow for effortless, clean, and quick access to drinking water without the need to lift or tilt heavy water containers, thereby enhancing user experience in homes, offices, and public places alike.
In this article, we will explore the best automatic water dispenser pumps available in India to let you select the one that aligns best with your needs and preferences.
Working Mechanism of Automatic Water Dispenser Pumps
An automatic water dispenser pump primarily comprises a motor, a tube, a dispensing switch, a rechargeable battery, and a mount, working in synergy to draw water from the bottle and dispense it with the press of a button. It involves three main steps:
Activation: The user activates the pump by pressing the dispensing button or switch.
Suction: The motor-driven pump creates suction, drawing water from the bottle through the tube.
Dispensing: The water is then dispensed through the outlet, stopping once the button is released or, in some advanced models, once a predetermined quantity has been dispensed.
Benefits of Using Automatic Water Dispenser Pumps
Convenience: Automatic water dispenser pumps eliminate the need for lifting heavy water bottles, providing ease of access to water.
Hygiene: Since there is minimal hand contact with water, it maintains high levels of hygiene and prevents contamination.
Portability: These dispensers are usually compact and lightweight, allowing for easy transport and installation.
Energy Efficiency: Many models come with rechargeable batteries, reducing energy consumption.
Versatility: They can be used in various settings, including homes, offices, schools, and outdoor events.
Best Automatic Water Dispenser Pumps Reviews
1. InstaCuppa Automatic Water Dispenser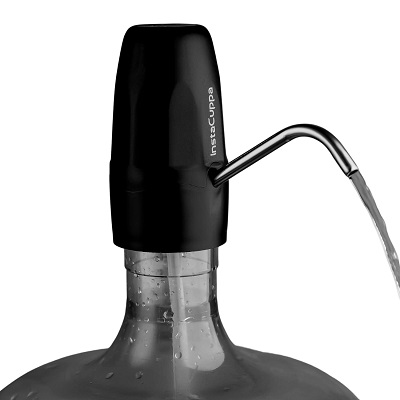 The InstaCuppa Automatic Water Dispenser is a versatile and efficient choice, ideal for various settings including homes, offices, and outdoor events. With its robust 1200mAh lithium battery, it provides long-lasting performance, eliminating the need for frequent charging, and can dispense water from 6-8 cans of 20 liters on a single charge.
It features a universal fit, making it compatible with most water cans and offering one-touch convenience, allowing easy use by individuals of all ages.
Constructed from BPA-free, high-density ABS plastic with a 304 stainless steel water outlet, it ensures user safety and eco-friendliness. Its lightweight and portable design, coupled with a child lock feature and power LED display, enhance user convenience and peace of mind.The included USB cable allows for hassle-free charging.
2. Hoteon Automatic Water Dispenser Pump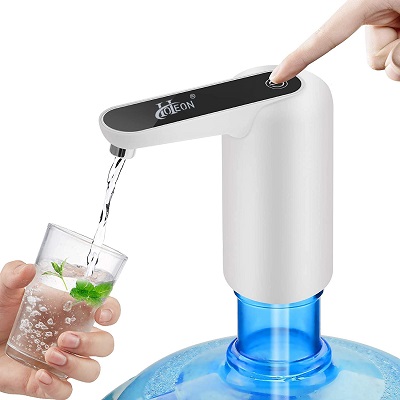 Elevating convenience and health-conscious design, the Hoteon Automatic Water Dispenser Pump stands out as a premium choice for modern water dispensing needs. Effortlessly replacing the traditional strain of bottle flipping, Hoteon offers a touch switch operation complemented by a visually appealing blue LED indicator.
Boasting a high-capacity built-in 1200mAh lithium battery, once fully charged, this pump can cater to 5-6 bottles of 20L water, eliminating daily charging hassles. Its design ensures wide compatibility, accommodating most gallon barrels.
Most importantly, crafted from BPA-free, high-density ABS plastic and food-grade silicone, this pump guarantees safe, odor-free water. Its graceful arc angle and upgraded water outlet further accentuate its appeal. Whether it's for the kitchen, office, or an outdoor event, Hoteon's water dispenser pump offers a reliable, stylish, and health-conscious water dispensing solution.
3. BLACK OLIVE Automatic Wireless Water Bottle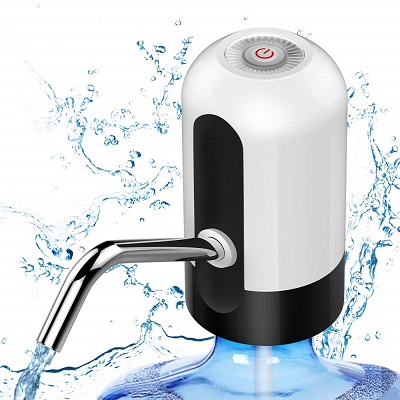 Next on our list is BLACK OLIVE Automatic Wireless Water Bottle Can Dispenser Pump. The model delivers an exceptional blend of affordability and effectiveness in one single unit
With a user-friendly one-button operation, the device seamlessly integrates visual cues: a blue light during usage, a red light while charging, and the absence of light signaling a complete charge.
Tailored for versatility, it effortlessly caters to 2-5 gallon water bottles. Backed by a powerful 1200mAh battery with USB charging, it promises consistent performance throughout the day.
Beyond its functionality, the pump underscores the importance of healthy hydration. But what truly sets it apart is its unbeatable value, marking it as one of the best budget-friendly picks available.
4. Costar Automatic Water Dispenser Pump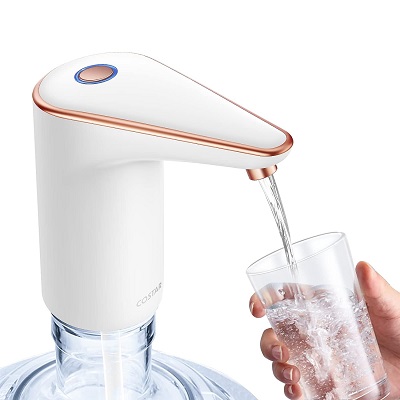 The Costar Automatic Water Dispenser Pump effortlessly embodies sophistication with its sleek and elegant design, making it a prime fit for diverse settings – from offices and homes to camping escapades and grand parties.
Its compactness paired with its lightweight nature ensures mobility, guaranteeing fresh water access no matter the location. The pump's one-touch operation eradicates the traditional hassle of bottle lifting, rendering bottle replacements a walk in the park.
Its formidable built-in 1200mAh lithium battery packs a punch, ensuring uninterrupted service for 5-6 20L bottles, thereby minimizing frequent charging cycles. Health remains paramount, as evidenced by its construction using high-density ABS plastic and a food-grade silicone tube, guaranteeing BPA-free water every time.
The USB rechargeability offers a wide range of charging options, from car chargers to power banks. Furthermore, its universal fit accommodates a myriad of gallon barrels, especially those with neck lengths under 2.16 inches.
5. KEJITUO Electric Portable Water Bottle Dispenser Pump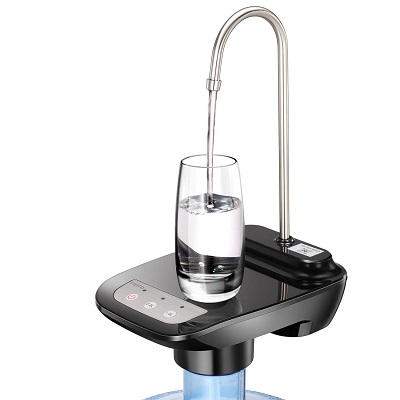 Lastly, the Kejituoo water dispenser pump is a fantastic addition to any kitchen, but its premium price places it at the bottom of our recommendations. Crafted to be universally compatible, it effortlessly fits 2-5 gallon water bottles with a neck width of 2.16 inches.
Prioritizing health, it's constructed from BPA-free materials, including food-grade silicone hose, sturdy 304 stainless steel, and high-density ABS plastic, ensuring that your drinking water remains uncontaminated.
Its robust 1200mAh rechargeable battery speaks volumes, boasting a remarkable operation time of 30-40 days post a full charge, translating to around 4-6 barrels of 5-gallon water. Adding to its convenience is the compact design, making it a reliable travel companion, be it for office, outdoor ventures, or hotels.
What stands out is its ingenious tray design, catering to hands-free usage, complemented by a 360-degree rotatable pipe. The volume control feature ensures water dispensing tailored to personal needs.
Conclusion
Investing in a high-quality automatic water dispenser pump is not only convenient but also promotes a healthier and more sustainable lifestyle. Hope, the above listed best automatic water dispenser pumps are excellent options for you to consider. So, make an informed choice and enjoy the benefits of constant supply of clean and safe drinking water.
Related Reviews
Explore More Automatic Water Dispenser Pumps Online
Konquer TimeS KTS Automatic Wireless Water Ca...
71%
Konquer TimeS KTS Automatic Wireless Water Ca...
62%
Hoteon Automatic Water Dispenser Pump for Dri...
47%
Costar Automatic Water Dispenser Pump - USB R...
76%
RiverSoft AWD-BW-1 Automatic Water Dispenser ...
71%
YETI Automatic Wireless Water Bottle Can Disp...
80%
GLUN Automatic Wireless Portable Mini Recharg...
67%
Costar Kingfisher Automatic Water Dispenser P...
82%