If you're tired of hunching over your work desk all day, it may be time to look into a new office chair. Back support and comfort are important for everyone, whether it's at your desk, a computer workstation, or at an office meeting, but for people who work sitting all day, it's especially important.
If your office chair does not provide enough support, back pain can be a huge problem. Luckily, there are great seats on the market with advanced technology that helps improve posture, support your back, and prevent injury. SIHOO High Back Office Chair is one of the highest quality home and office chairs amongst them. So we are here with the complete review of this finest chair from SIHOO.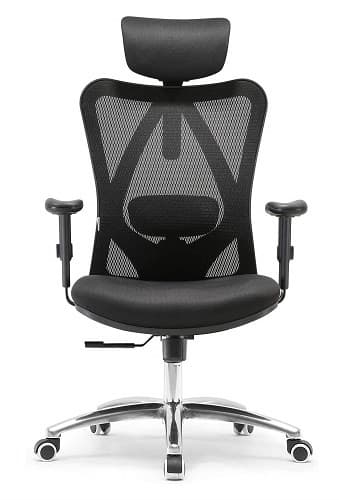 Let's begin with its design and aesthetics.
Design
The chair comes in a sophisticated and stylish design with all the quality construction materials included. Apparently, the black color body suits perfectly to every work environment, whether it is an office or home. The best part of this office chair is its mesh back that keeps air circulation at its highest and allows you to sit for long hours without feeling hot or sweaty.
Most of the parts like the chair frame, armrest, adjustable controls, etc., are made up of polypropylene material that is flexible, tough, and heat resistant, even also making the chair lightweight.
The seating is designed with a high-density sponge-filled cushion which is extremely soft and not easily distorted.
Its high backrest and high headrest are an added bonus for maximum support and comfort.
The SIHOO High Back Home Office chair combines a sturdy polished aluminum base that is highly sturdy and durable while also adding a touch of grace to the whole black framework. Lastly, thanks to the sturdy caster wheels that allow easy rolling, rotating, and moving freely while you work without any noise.
Key Specifications
Dimension and Weight: 72 x 68.5 x 109 cm; 16.82 Kg
Seat Width and Depth: 20″ x 20″
Seat Cushion Thickness: 2.3″
Seat Height Range: 18″ to 21.5″ from floor to top of the cushion
Max. User Weight: 150 Kg
Max. User Height: 5'3″ to 5'10"
Adjustability and Comfort
If you spend eight hours or more per day sitting, it's important to ensure that you're being ergonomically comfortable. Your office chair should support your lower back, upper back, neck, arms, and wrists. And this office chair from Sihoo excels at all.
In terms of ergonomics, the chair scores high on comfort with five multiple adjustments suiting different requirements.
Adjustable Back Support
First of all, the adjustable lumbar support mechanism that is configured to take up the curvature and shape of your spine while relieving the pressure from your spine, thus providing you ultimate back support even after the prolonged sitting of work. This is highly advantageous for those suffering from back pain.
Another best plus is the tilt mechanism of the mesh back that can recline up to 125 degrees and even lock into 3 positions in between to fix the backrest recline angle. This is very convenient for both resting and working.
Headrest Adjustment
To relieve tension from your neck while working, the Sihoo Ergonomic Office Chair features an adjustable headrest too, which has a 45degrees tilt angle and 3-inches height adjustability. So, you can rest your head at a comfortable adjusting position. The best part is that the headrest is detachable too, so you can detach it if you think you no longer require it.
Seat Design and Adjustment
The seating includes comfortable padding and cushioning; plus, in a W-shaped design, it allows you to sit centrally while maintaining a good posture at the same time. It also features a waterfall front design at the edge that doesn't exert much pressure on your legs and thighs, and you can easily sit for long hours without experiencing any pain.
This office chair also has the provision for seat height adjustment with the gas lift lever attached at the bottom of the seat.
Armrest Adjustment
The model has height adjustable armrests that you can adjust with the push buttons present on it. Though another high-level model from SIHOO comes with 3-dimensional adjustable armrests.
Assembly
The Sihoo High Back Home Office Chair's assembly is everyone's cup of tea. You can get an instruction manual with the purchase where simple instructions are given to put the chair together easily. It would have been better if they had provided a video for that. Nevermind, it's still easy to do.
A big plus is the extra nuts and bolts with the package allowing you to use them if you have missed some pieces. One more thing that you get is a pair of white gloves making the assembly process easier and keeping your hands free from grease.
Price and Warranty
The SIHOO office chair is competitively priced and affordable given its hi-tech features.
Offers and deals change the price from time to time. Click the below link to check the latest price on Amazon and buy directly from there.
Another best part is that SIHOO offers solid and responsive customer support along with a 3-year warranty covering easy parts replacement in case of any quality issue.
SIHOO Office Chair Alternatives
To enjoy more hi-tech features, we recommend you to invest in SIHOO's M57 Ergonomic Mesh Office Chair, M76, and M90D as you will get more adjustable armrests (in some models liftable and reversible armrest too), adjustable backrest, and better build quality.
Conclusion
In order to choose the best office chair, you need to make sure it contains all the features you need. It should be comfortable, sturdy, and should offer good back support. And as per our review based on our personal experiences, SIHOO High Back Office Chair is a worth purchase in all these aspects. It offers a better posture to help reduce back pain while sitting.
This mesh chair is well designed, durable, easy to assemble, and ideal for both office and home use. And best of all, it's easy on your pocket too.