From ancient times, yoga-practicing is the best way to soothe your mind and strengthen your body. Even in recent times, many people embrace Yoga since it helps you relax and meditate for better health.
So, if you are a passionate yoga practitioner, a Yoga Mat can be your best mate that will improve and boost your overall experience.
Since the floor can be uncomfortable to sit, it may not blend well with your practices. It's unimaginable waking up with a cranky and painful back.
Hence, a Yoga Mat is a necessary sporting equipment. It prevents you from sliding when exercising because of the rubberized grip. It protects you from injuries in case you fall to the ground during intense yoga.
Here we have a Comprehensive Review and Buying Guide of the best yoga mat in India. Keep reading as we dig deeper into the topic.
Key Points when Buying a Best Yoga Mat
When buying a yoga mat, there are some key points you need to keep in mind.
The material should be sweat resistant, easy to clean, and durable. It should allow maximum airflow to prevent bacteria and build-up of dirt.
It's vital to consider the durability of the mat since the cost should match the value of the product.
Consider the size of the mat. It should accommodate your entire body. Preferably pick a long one.
The best mat should be thick and dense to protect you from injuries. Yoga sessions can be intense, and a heavily padded mat is an ideal choice.
Lastly, consider a lightweight mat that you can carry it along during travel.
10 Best Yoga Mats in India
Best Yoga Mats in India Reviews
1. Boldfit Yoga Mat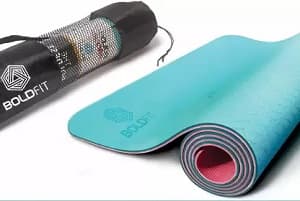 Whether you're a professional or a beginner Yogi looking for a mat to boost your yoga session, the Bold Fit Yoga Mat will uplift your spirit.
This top yoga mat is large-sized and features a dimension of 6×2 feet, ideal for different people.
From the outlook, this dual-color mat looks thin. But, the padding has a terrific thickness, and this ensures you're comfortable on the hard ground.
A free carry bag with straps accompanies your package. It makes it easy to carry your mat everywhere on the go. Best of all, the mat is lightweight, and transport won't be an issue.
We need to mention the anti-slip bottom of this mat that ensures your safety. It should give you peace of mind even when taking part in heavy sessions such as asana or light sessions such as the Surya Namaskar.
We are a big fan of the TPE material. Besides being a comforting medium, it's a durable product that will give you the best value for the money.
Better yet, the material is eco-friendly; hence you get to achieve your fitness goals and preserve the environment. Think about it!
Also, the material score grand points. The reason being, it doesn't contain chemicals, toxins, latex, PVC, or silicon. Intense Yoga sessions can be sweaty. However, this material is sweat-resistant, and you can wash it after use.
Overall this is a recommended yoga mat for people of different sizes and shapes.
Key Features
Dimensions 6×2 feet
Anti-slip bottom
Heavy padding
TPE material
Eco-friendly
Carry bag
Pros
Eco-friendly
Durable material
Large size
Padded mat
It has a carry bag
Eco-friendly, sweat-resistant and washable
Free from chemicals
Cons
2. Adidas Yoga Mat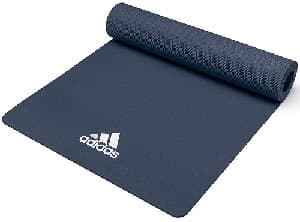 Adidas is a big name for people in the sporting industry for high-quality sporting products. Don't worry about the high price, which is way above ordinary mats. It's the best yoga mat brand in India.
We love the texture and feel of this mat as it sticks to the surface without moving. This stickiness means your hands have ample support, and your knees are comfortable.
With a thickness of 8mm, we feel that this is sufficient padding. Hence it'll protect your spine and the joint. Although sometimes, you might feel the hard floor during the static posture, the material comes in a unique design that lets you unleash all the tricks.
Despite the thinness and the compactness, you'll love the firmness of the mat. It may not be soft like some mats; however, it's ideal for Pilates exercises and yoga sessions. For this reason, we recommend it for an expert yogi.
The PVC material is, by all means, it's the best durable yoga mat, which is easy to clean. However, the only shortcoming is that it doesn't allow for airflow, which is not a good thing considering Yoga is a sweaty sport.
Overall, Adidas yoga mat is a lightweight option, and you can carry it anywhere for your sessions.
Key Features
8mm thickness
Portable
Non-slip
Versatile for Yoga exercises and Pilates
PVC (lightweight)
Blue color
Pros
Easy to clean
High quality and durable
Lightweight
Firm and compact
Non-stick texture
Cons
3. Brandvilla Yoga Mat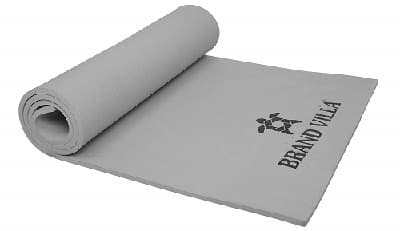 When you embark on yoga exercises and poses, you need the best mat for yoga. No need to look further. The Brandvilla is a one-size-fits-all and is all you need for your Yoga program.
Yoga is an exercise that should calm your nerves, rejuvenate you, and make you feel younger and refreshed again. However, you're bound to break a sweat, which can cause you to slip if your mat is poor in quality.
Thankfully, this item is a non-skid yoga mat, which makes you make all the moves without having to fear that you might fall and get hurt.
What we love about this mat is the Eva material. It's is extremely sweat-resistant and easy to wash.
For quality, it's the best thick yoga mat for a long-lasting service. For just a few rupees, this mat could soon be yours. The good news is that you won't order for a new mat any time soon.
It makes economic sense since it's cost-effective, as you will see the value for your money.
Are you planning on traveling? Worry not! This Brandvilla is easy to carry around whether you are going to the gym with it or you are going for a holiday to relax your mind. The package includes a carry bag for easy transport.
With many colors, this mat will surely aid your relaxation and boost your spirits when you sit on it.
Key Features
High density
Non-slip on both sides
Variety of colors
Large size of 183cm x 61cm
Comes with a shoulder strap and yoga bag
Long-lasting
EVA material
Pros
Durable
Variety of colors to choose from
Fits all sizes
Sweat and waterproof
Easy to clean
Does not press on your knees or your body
Portable
Cons
It is thin making some clients fear using it for workouts
4. Dr Trust NBR Yoga Mat with Bag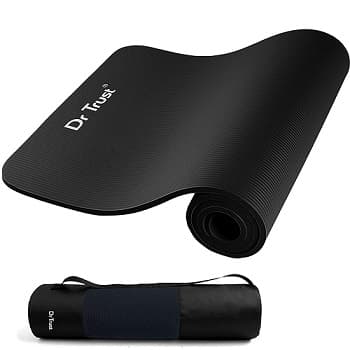 DR. Trust is a reputable brand when it comes to high-quality Yoga products. Their Yoga mat is a testimony of what the company has to offer. Although it costs more, there's more than meets the eye. As the best yoga mat for exercise, it comes in an attractive blue color.
It is ideal for Yogi, who enjoys exercising outdoors on the grass, the beach, or even on the ground. Therefore, cleanup will not be an issue. That's not all; the mat comes in a sleek black carry bag, which makes it possible to fold your travel.
The comfort that comes with this mat is out of this world. Thus, it's an ideal choice for beginners, experts, and even pregnant women.
It offers a good grip on the surface, ensuring you have a safe practice session. With this mat, you can practice warrior poses, yoga form, or heavy sessions and still feel fine.
Another feature is the double-sided texture that incorporates an upper side with soft padding while the lower side has a perfect grip.
As per size, the mat is large enough and measures 183cmx61cm with a 1.2cm thickness.
The quality of the material is top-notch, with extra resilience to endure many yoga sessions and routines.
Cleaning is easy since the material is water-resistant. Wipe off with a damp towel to get rid of oil and stains.
Key Features
Size: 183cmx61cm with a 1.2cm thickness
Black color
Double-sided texture
Water-resistant
Anti-skid texture
Pros
Easy to clean
High-quality material
Water-resistant material
Non-skid properties
Large size
Comes with a sleek bag
Cons
It's expensive
Only one color option
5. Curveit TPE MUDRA Anti-Slip Yoga Mat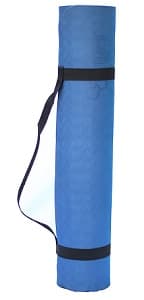 Curveit is a visually appealing mat that you can consider for your Yoga workouts. There are three different colors you can choose, depending on your preference.
Beneath the attractiveness lies a wealth of incredible features that will wow you and elevate your Yoga sessions.
If you're a beginner, this mat is the best choice to learn all the moves. As you progress further and move to an expert level, this mat will be your best companion. In simple words, consider Curviet as your lifetime Yoga partner.
This mat features an enormous size wide enough to accommodate different people of varying sizes and shapes. With a size of 6×2 feet, a tall individual can fit there comfortably. You'll love the 6mm thickness of this, which offers the best support for your knees.
It's the best yoga mat for sweaty hands with a bumpy feel on either side so that your hands hold firmly. Plus, it will hold up pretty well since its anti-wear and will not scratch, wear or tear even with regular use.
Still, at quality, the material has a closed-cell surface easy to clean. Thus this keeps away all the germs, moisture, odor, and dirt. Last, it's eco-friendly and made from biodegradable material.
Key Features
Eco-friendly
Odorless
Anti-skid
Heavy foam
Large size
Durable
Anti-tear
Available in three attractive colors
Pros
Easy to clean
Eco-friendly
Anti-skid
Anti-sweat
Large size for all people
Versatile for beginners and expert yogis
Attractive design
Cons
Package doesn't include a carry bag
Costs more than standard bags
6. YOZO Extra Thick Yoga and Exercise Mat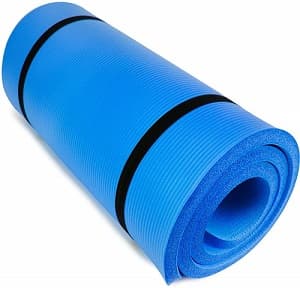 Unlike some yoga mats that come with a rubbery or plastic smell, the YOZO is odorless and friendly even when new. If you're allergic, this is the real deal, and you don't have to worry about discomfort during asana or any other skill.
You won't break the bank to get this mat since it comes at a cheap price. Yet, it's jam-packed with all the goodness of a high-end mat.
You wouldn't want sore feet or hands as you zone inside your inner flow. That is why YOZO brings to you a heavily cushioned thick yoga mat that allows you to exercise in tranquility.
The cushion is impressive, especially when doing handstands. Likewise, it's long and taller people will find it comfortable to use.
Yoga is all about inspiration, and that's what you'll get from this mat. It comes in a beautiful ocean blue color, and you have a choice of picking a black mat, albeit at a higher price.
There's a user guide for easy care and use that comes with easy to read and understand instructions.
Lastly, YOZO offers excellent support and is a safe mat since it offers a perfect grip on the floor or surface.
Key Features
Blue color
10mm thickness
User guide
Anti-skidding
Long mat
Pros
Comes with a user guide
It's thick and long
Reasonably priced
Attractive color
Anti-skid
Cons
There's no information whether it's sweat resistant
7. Roseate Yoga Mat and Exercise Mat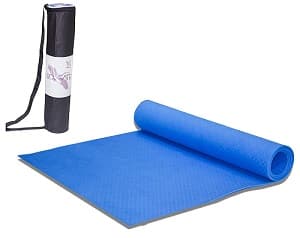 There's no need to spend a lot of money to get a durable yoga mat. This pocket, friendly mat is what you need for all your yoga poses and other exercises.
The first thing we like about this mat is the level of comfort it delivers during your yoga workouts. It's the best non-slip yoga mat, and regardless of any move or posture, it will hold steady.
You will stay ahead of the game since the foam is heavily padded and will protect your back, elbows, and knees if you have placed it on a hard surface.
A mat should make you feel good after the workouts. It shouldn't make you suffer from body aches because of the hard floor. Roseate will pamper you and let you practice in peace.
As if that's not enough, It's a travel yoga mat and comes in a lightweight design. Hence, you can go outdoors without worrying about the weight.
Even better, you won't arrive at your yoga destination, feeling exhausted. It comes with a bag, making it easy to carry and store.
The leveled surface helps keep you on balance no matter the move you make. You won't fall with a thud due to unstableness, even on rough surfaces. Tree pose is one move you can do comfortably on Roseate Yoga Mat.
Key Features
Thickness of 4mm
Good grip
Resistant to moisture
Lightweight
172cm x 60cm
Pros
Low cost
Lightweight
Comes with a carrying bag
Water-resistant
Thicker for your comfort
Spacious for all moves
Cons
8. Eco Corner Mandala Cork Yoga Mat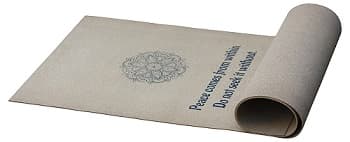 If you love beauty, you will find this yoga mat good for you. Just think about it! Would it be great if you got a real deal that will uplift your spirits as you meditate?
The Eco Corner is a cork yoga mat with a unique design. It has a state-of-the-art feel that brings calmness to your soul.
Just as its name suggests, this yoga carpet is friendly to the ecosystem. It's made of natural materials that are not harmful to the environment and are recyclable. It is safe for the environment and safe for you because you will not slide and fall because of its firm hold.
If you are used to hot Yoga, then this is a product you might think of buying. It helps keep away the sweat that can keep bacteria.
But that's not all; it's also easy to clean because all you need is a cloth and soapy water for wiping it.
Key Features
Made of rubber cork material
Resistant to bacteria
Perfect grip
Excellent cushioning
6 Feet x 2 Feet size
3 mm thickness
Pros
Friendly to the environment
Washable
Slip-resistant
Light to carry
Bacterial-free
Cons
A hard surface that may require you to place a blanket on top, more so if you have a problem with your knees
9. OZOY Extra Thick Yoga and Exercise Mat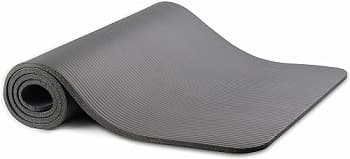 Whether a yogi or a keep-fit person, this is the mat for you. Its steady grip on the ground ensures you do all your workouts without needing to think how safe you are.
You would not want to use any mat that may cause injuries to you.
In addition, it is thick and does not hurt your body as you sit or kneel on it, especially if the ground is hard. With this mat, you will do poses for longer without slipping because the stability is good.
It is easy to travel with because all you need to do is using its strap to hang on your shoulder and walk comfortably with it because it is lightweight.
Whether you want to relax under a tree or on the beach, you can easily carry your mat anywhere for that workout moment or spiritual meditation. It would also be good when you are a new yogi and need to go for your lessons at a gym or studio.
Key Features
Skid free
Resistant to moisture
8 inch long and 24 inches wide
Wide range of colors
Made of high-density Ozoy foam
Pros
Skid-free on both sides
Long and wide for different sizes
Easily washable
Thick for maximum comfort
Perfect cushioning for your joints
Cons
Has straps but doesn't have a carry bag
10. Qatalyze Extra Thick TPE Yoga Mat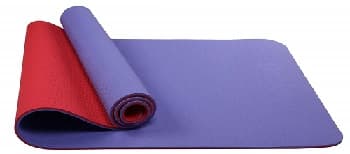 When you think of a good quality mat that will pass the test of time, the Qatalyze is the yoga mat to buy.
To begin with, it doesn't stretch, chip off, or tear even after prolonged use. This product is exceptionally thick to accommodate your body size, whether big or small.
It doesn't skid, making it best for all the yoga poses and other exercises. It can hold your weight without moving from its placed position. With this yoga mat amazon, you won't slip and fall when you sweat.
The TPE composition makes it friendly to nature. It resists sweat, which therefore keeps bacteria and bad odor away. It has bright, appealing colors that blend well with your quiet moments of meditation.
It's easy to clean with water and soap, or you can use the best yoga mat cleaner.
If you are on the move, it comes with a sling and a bag, making it easier to travel with. The bag also protects it from dust.
Key Features
Thickness of 8mm
Wide 66cm x 61cm
Two-sided good grip
Technology that prevents moisture
Made of TPE material
Last long
Pros
High quality and durable
Reasonably priced
Don't wear out fast
Thick mat and heavily padded
Ani-skid
Eco-friendly
Sweat-resistant material
Have a bag for travel
Easy to clean
Cons
How to Choose the Best Yoga Mat? (Yoga Mats Buying Guide)
Yoga mats offer you the best comfort since they act as the primary contact between the hard ground and your body.
If you're a beginner, worry less, you too can own this sporting equipment. Luckily, you need not be a professional yogi to buy the yoga mat or a yoga guru to practice. All you need is to have the desire to do it.
The mat is also a pleasant reminder of the importance of exercise. You will feel the need to use it as long as it is there. Eventually, you will be glad you did.
But choosing the right yoga mat requires a lot of considerations. Have a look at the below important factors, so that you can make the best purchase for yourself.
1. Types of Yoga Mats
Have you ever tried to do Yoga on bare ground, grass, or wooden surface? By the time you try, it will have done more harm than good. The sliding might end up causing injuries that may take you a long time to heal. With a mat, you have some level of assurance that you're safe.
Yoga mats, just like any other products, come in different forms, shapes, and sizes. Likewise, they're made of different materials and cost differently. Here, we look at the various types you're likely to encounter as buy yoga mat online.
Rubber Yoga Mats

A rubber yoga mat is the most common. It's sticky and an ideal choice if you're a person on the move.
Rubber mats are popular as they help you keep the body in place. They prevent your feet and hands from sliding as you make some poses.

PVC (Polyvinyl Chloride) Yoga Mats

If you love traveling, PVC mats are easy selections. They are light and easily portable. Also, they are easy to clean.
The disadvantage of PVC is that they are not environmentally friendly. They can emit toxins, which will not be good for your health. Also, since they're plastic, they don't allow for airflow.

Remember, the key idea of a yoga mat is to relax your body for better health. Exercise helps boost your flexibility. You don't want to combine that with toxics.

Cotton Yoga Mats

Cotton Yoga Mats are good for people who have comfort in mind. They are popular for hot Yoga for their absorption element.
They are warm, especially if you wish to make meditation lying on it other than the sitting position. The disadvantage is that the mat is bulky and would not be the best if you are a tourist person.

NBR (Nitrile butadiene Rubber)Yoga Mats

If you are in a search of quality mat for added comfort, injury prevention, and improving practice, the NBR yoga mats are good to go with. Its elasticity is very nice and these mats are heat resistant too. It comes in the thickness of 10 mm or more, thus very good for added comfort and support. Moreover, they are also very easy to clean.

TPE (Thermoplastic Elastometer)

The TPE material combines plastic and rubber polymers that can be recycled and reused without causing any harm to the environment after discarding. Thus, in a way, these are considered as eco-friendly as they also feature non-toxic, non-heavy-metals and non-irritating odor.

These yoga mats come with good elasticity and durability. Even being light-in weight , these are ideal for travel and household use both.

Jute Yoga Mats

Under the category of Eco-friendly Yoga mats, jute yoga mats are one of the best choices. It combines natural jute fiber and eco pvc that keeps you in place while doing yoga on it. They are very afforable and durable. But one thing it lacks is the comfortability. One of the best benefits of jute yoga mats is that they have anti-microbial properties for those extra-swaety practices.
2. Good grip
A good mat should not slide when using it. Imagine slipping on the mat and trying to hold your body with all your strength to avoid injuries. That would end up being a fearful activity or a conquering session for your dear body.
The yoga mat should not behave like a treadmill gone wrong where you are running out of control.
Consider an option that can stick on different surfaces on the ground for maximum comfort. If you're having an intensive session and pose, the mat should hold you without sliding.
Likewise, and when you sweat, the mat should not cause you to fall because of your very own workout.
The texture should be soft to ensure you are comfortable holding your body up while pressing your hands or feet down.
A word of caution! It should not mean that you're free to do gymnastics on the mat. You may end up in the hospital with broken bones.
3. Yoga Mat Size
The dimensions of a Yoga mat include the length, thickness, and width.
For the width, it needs to be of a depth that will be comfortable to your body.
A very thin mat might press tough on your body, making you uncomfortable while practicing Yoga. It might cause back pains if you are to lie flat on hard ground.
Kneeling on a thick mat is more comfortable compared to a thin mat. You may not relax if the mat is pressing hard on your bones. You may lose the real essence of the yoga practice of spiritual meditation.
The length should be long enough for you to fit in. When you lie on it, most of your body should be on the mat.
4. The Thickness of Yoga Mats
Every thickness size is best suited to match your comfort needs. The sizes range between 2mm for the thinnest and 8mm for the thickest. A thin mat is likely to press on your body. It can lead to aches, especially in the joints. However, too much thickness may lead to unbalance when doing some yoga poses that may cause you to fall.
Whichever size or thickness you choose, it should offer you the best comfort. Below, we explore the thickness of a yoga mat.
Thin mat (2mm thickness)
If your yoga practice involves balancing poses, you can choose a thin mat. However, it may not offer padded support and hence not suitable if you suffer from painful knees.
Standard mat (3mm thickness)
If your yoga practice involves intense workouts, the standard mat will suit you. This mat is suitable for trying various poses. It's the best mat and doesn't move with your poses. However, your bones may hurt upon pressing the hard floor.
Thick mat (6mm thickness)
It's recommended for therapy sessions for people with painful joints and sensitive knees.
Thickest yoga mat (8mm thickness)
It is a thick mat suitable for Yoga workouts and Pilates. It's heavy and not ideal for travel.
Thickness Illustration:
Mat Thickness
Yoga Practice
Thin mat (2mm thickness)
Balancing.
Not suitable for intense practice.


Standard mat (3mm thickness)
Best for intense workouts
Thick mat (6mm thickness)
Ideal for therapy sessions
Thickest yoga mat (8mm thickness)
Great for Yoga and Pilates.
Not suitable for travel.


5. Durability
The mat should serve you for a long time. The point is, you don't have to go to the shop all the time to purchase it. Without a doubt, good quality items stay for a longer period.
On the same breath, a good mat doesn't need excessive maintenance for it to remain functional.
The material used will determine how long it will last. Most of the long-lasting yoga mats are cost slightly higher because of the quality of the material.
Cotton types are excellent since they last long. Also, they easily absorb sweat when you are exercising and don't slide.
6. The Bulkiness of the Mat and Your Body Weight
If you're looking for a traveling mat, it shouldn't be heavy. It can be a nightmare trying to transport a heavy mat and may discourage you from Yoga.
Fortunately, there are travel mats that you can fold and tuck neatly in a bag. These are thin and comfortable with less weight.
Before you start the poses, it's vital to keep in mind your body weight. If you are heavy and your mat is so light, you might end up causing it to slide as it pulls away. It can cause you to fall with a thud and injure yourself.
7. Make and model
What comes to your mind when you hear of the model? To some, it is the beauty, to others could be the texture and even the model. All these are definitions of a good-looking mat.
You ought to choose the one with a pattern appealing to you. The art of relaxing when doing Yoga requires a mat appealing to the eye. Most of the mats have original designs that perfectly suit different uses.
It should have an excellent color of your choice, spongy for your maximum comfort, and comfortable size to accommodate your flexible body movement.
As you consider the beauty of the mat, it is good you think of how friendly it is to the ecosystem.
8. Easy to clean
Cleaning a yoga mat is an easy affair. Though it is unlikely that you will share your mat with anybody else, no one enjoys using a dirty item. That is why it is essential to consider how to keep it clean.
An ideal mat should be easy to clean since your feet, face, hands, and almost all parts of your body are likely to come into contact with the mat.
You'll do the poses without shoes. Hence, you wouldn't wish to step on dirty mats with your clean feet. Worst, you may use a sweaty mat that's all dirty.
Hot Yoga can make you sweat as you work. It means that there is excess heat produced by the body, which can cause sweating. The disadvantage of thick mats is that they are difficult to clean.
9. Price of Yoga Mat
The yoga mat price should be within your budget. The best affordable yoga mat will serve you for long, with less maintenance.
It should be within your budget, as you wouldn't want to spend more than you had planned.
Although every purchase is justifiable, it's not to mean that you should only look at the cost. Cheap may eventually end up being expensive because you will keep on changing mats.
The bottom line is, your mat features should perfectly fit what you want for your desired comfort.
10. Yoga Mat Based on Yoga Pose
Other factors to consider when buying the yoga mat are the poses and types of yoga exercises you intend to do.
Camel pose
You will need a mat soft enough and thick too for you to kneel comfortably without straining your knees.
Camel pose helps your back be flexible, hence relaxing your body. This pose can be risky if you do not use a mat as much of the weight is pressed down to the ground.
Reverse plank
As you consider buying a mat for this pose, keep in mind the stickiness of the mat. The feet need to be firm on the mat to prevent flipping over.
Warrior 1
This pose requires you to get a yoga mat that is of relatively suitable length to stretch yourself comfortably.
Forward bend
You will require a soft mat and thick to hold your weight in place. The mat should be eco-friendly, especially if you are allergic to synthetic fiber. The reason being, your face is so close to the mat and might touch it. Hence it may cause a reaction or an allergy.
Downward facing dog
With this pose in mind, you'd want to get a long mat to bend comfortably. The sticky soft top of the mat helps prevent your hands and feet from sliding.
All in all! Whichever pose you choose, you need to have your options open. The best thing about the yoga mat is that it can accommodate different exercises. The sky's the limit, whether you're a beginner or a professional.
11. Yoga and Exercise Mat, are they the same?
If you are a beginner, you might be a crossroads about whether to pick a yoga or exercise mat. But are they the same? In our illustration below, we highlight these differences.
Yoga Mat
Exercise Mat
Thickness
They are thin about ¼ an inch. However, they have a stickiness feel on the top for different poses.
The thinness makes the mat light to carry around.
It also helps in keeping proper balance when doing exercises like tree pose.

They are thick for heavyweight exercises.
They are common in gyms.
Stickiness
Have a good cling on the ground. It ensures the mat doesn't slide off during the exercise.
They do not have a good grip. Hence they can easily slide.
Comfort Level
You need not use shoes with these mats. You can comfortably use bare feet.
You can use it comfortable with shoes. More so, when doing extensive exercise.
12. Best Overall Brand
From our review, Adidas takes the trophy as the best yoga mat for many reasons. First, it combines all the factors to emerge as the best durable yoga mat. Although it comes at a high price, we recommend it for users looking for a high-quality yoga mat that will endure many sessions.
Cleaning and Maintenance of Yoga Mats
Yoga mats comprise a variety of materials; hence require different care and maintenance.
Some yoga mats come with a carry bag for storage, and this prevents dust build-up. However, during a workout, you may sweat. Therefore, it is essential to clean your mat to keep the bacteria and germs away.
Dirty mats are dangerous because they can slide. It can lead to injury when using the mat for your exercises.
The best way to clean your mat is by using warm water and mild detergent. Soak it for a few minutes and rub the dirt away with a soft cloth. Take it out to dry well before storing to prevent dampness.
For a rubber mat, wipe with a salt solution and hang to dry.
For PVC mats spray with mat-spray. Next, wipe, air it, and keep where it won't gather dust.
Yoga Mats Frequently Asked Questions (FAQs)
1. Can I do other exercises other than poses on a yoga mat?

The answer is yes. It's good for other exercises that don't exert pressure on your body.
Many people like the yoga mat because it is easily portable. The exercise mat, because of its thickness and heaviness, might not be ideal for traveling.

2. Does the thickness of the mat matter?

Yes, it does. If it's too thick, it might make you lose balance. The materials used to make yoga mats are thin but comfortable with different poses.

3. Which materials are used to make the yoga mat?

Most mats comprise PVC (Polyvinyl chloride) because they stabilize the grip when exercising. The material is not thick; hence it is not heavy to carry around.
Cotton fiber is popular because it has an absorption element that wicks away the sweat.
Rubber is also a suitable material and is heavier than PVC. It has a better grip, and it is biodegradable hence friendly to the environment.

4. Are there yoga bags available?

Yes. You can find them. You might consider purchasing it to protect your mat from dust. Unfortunately, if your mat is long, it might not fit. Worry less, because you can roll it nicely and carry it around even without the bag.

5. Do gyms supply yoga mats to their clients?

Some studios provide you with it. However, the problem with using a shared mat is that it might harbor bacteria.
You can talk to your yoga teacher to keep your mat at their studio unless you take it home to clean it. Your yoga mat is comfortable for you to take care of.

6. Is it a must I use a yoga towel?

If your mat has a good grip, you need not use a towel. When buying a yoga mat, consider one that is not slippery both on top and bottom.

7. As a yogi beginner, is there a specific yoga mat I need to buy?

Most mats are suitable for beginners. However, if you have joint or back problems, go for a slightly thicker mat, which might be more comfortable. It should fit well when you lie on your body, so you might also consider your height.

8. Can I use a yoga mat at home?

Yes, with a mat, you need not do your Yoga poses at the studio. Spread the mat and do your poses at home.
In case you have a teacher, you would want to practice the poses learned at home. The mat is also suitable for meditation and relaxing, which comes in handy at home.

9. Is a good quality yoga mat costly?

Every time you want to buy a useful item, you need to spend a little more money. A good costly mat will help you not revisit the shop. It is likely that the higher the price of the product, the higher the quality.
You should think in terms of your well-being and health compared to cost implications. That is not to mean that every expensive yoga mat is of excellent quality.
There are many factors and features of the mat you should consider. For instance, consider the thickness, material that has made the mat, size, comfort, and portability of the mat.
Conclusion
The bottom line is that whatever your choice for the yoga mat is, it should be something that meets your needs. It should be an item you'll feel proud of owning and carrying around.
When shopping, consider looking at several options before you settle on one. Take your time, ask for the features, and ensure they fit your description. Only when you're fully convinced, then buy it, and enjoy your exercises, meditations, and fitness.
Evidently, the Adidas is the best durable yoga mat that will give you value for money.
As we come at the close of our discussion, we hope that the best yoga mat review and buying guides have been resourceful. With all the information, you can now shop with confidence and pick your best mat. Further. for any queries or suggestion, please do write to us in the below comment section.
Read Related Reviews
Buy Top Yoga Mats Online
Vifitkit Anti-Skid Yoga Mat with Carry Bag Fo...
67%
OJS EVA Carrying Bag for Gym Workout and Yoga...
41%
Boldfit Yoga mat for Women and Men with Carry...
44%
Fitness Mantra® Yoga Mat for Gym Workout and...
68%
AmazonBasics 13mm Extra Thick Yoga and Exerci...
34%
Yogarise Anti-Skid Yoga Mat with Carry Bag & ...
73%
Roseate Yoga Mat 4MM Large with Free Skipping...
75%
Effingo Yoga and Exercise mat of 4 mm Parrot ...
61%