Inhalation therapy has been used for many years in maintaining the respiratory functions and is the best way to treat various respiratory disorders. One of the best inhalation techniques is the use of Personal Steam Inhalers that is now becoming very popular to treat the breathing issues. Personal Steam Inhalers also known as Vaporizers are used to provide steam therapy if you have any of the ailments like cold, flu, sinus, congestion, bronchitis, asthma, and other respiratory problems. Moreover, you can also use the steam inhalation technique to open your clogged skin pores for glowing skin. So, welcome to this blog which is all about the best personal inhalers which we have reviewed on the basis of specifications and customers feedback.
Explore More on
What is a Personal Steam Inhaler and how it works?
Personal Steam Inhalers are the electric device that wonderfully works to soothe and open the blocked nasal passages so that you can breathe easily. With this device, you can pump the soothed steam into your throat and lungs through the nose to clear up the respiratory passages. Steam therapy actually means the inhalation of water vapor. The warm and moist air or the steam you inhale loosens the mucus in the nasal passages, throat, and lungs, and thereby makes you to get relief from cold and sinus infections. Besides, personal steam inhalers are also beneficial in improving the blood circulation. When this therapy is done with essential oils or certain herbs, it offers more benefits to the respiratory ailments in a wonderful way.
Now how it works? It is very simple to use at home. You just need to add water up to the level indicated in the electric steam inhaler and switch it on. When the water brings up to boil, you need to keep your head over it, covering with a towel while keeping the eyes closed. And take a deep breath while inhaling the steam for up to 15-20 minutes for effective results.
You can also do the same process by using a bowl of boiling hot water. But, I think Electric Personal Steam Inhalers are the best and convenient way for inhalation therapy.
Amazing Benefits of Personal Steam Inhalers
Treating various respiratory ailments like common cold, sinus, flu, blocked nose, asthma, bronchitis, etc
Improves blood circulation and thereby treating migraines and headaches
Cleanse your blocked skin pores rejuvenate your facial skin. When some natural oils (eucalyptus, lavender, peppermint, lemongrass, fennel, rosemary, etc.) are added while steam inhalation process, it works amazingly to offer more younger and glowing skin
Steam Inhalers work as a great natural expectorant to clear the respiratory passages
Best Personal Steam Inhalers Reviews
With so many models and variants for personal steam inhalers are available, which one to choose is pretty much difficult. So, if you want something with awesome design, great performance, versatility, and even all in your budget, check out our top five personal steam inhaler choices to determine which one is suiting your needs. Also, if you want in-depth information read the full review on our best picks of personal steam inhalers.
1. Mabis Personal Steam Inhaler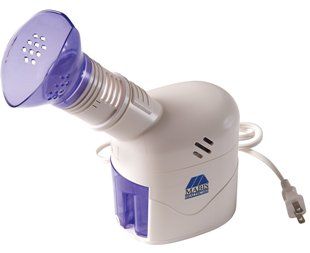 Mabis personal steam inhaler is one such stylish, versatile and great performing device to cure your respiratory ailments naturally. It provides warm and therapeutic steam vapor to gently relieve congestion, clear the lungs, soothe sore throats, break up blocked sinuses, and moisturize the nasal cavities. Also, you can add your favorite essential oils to it to enhance the healing effects of steam.
Key Features
Sleek and stylish design
Adjustable steam control
Filter-free
Relief for throat irritation, cough, and congestion
Ideal for aromatherapy
Auto Shut-off safety feature
Power-On Indicator
Includes: soft and latex-free flexible mask, drain and aromatherapy tank, indicator light, measuring cup and 5′ cord
Buyers Feedback
The Good
Nice build quality
Natural, Safe, and effective
Separate aromatherapy tank for essential oils and fragrance
Easy to remove the tank and also easy to clean
You can easily adjust the steam accordingly that is really very nice
The Bad
Spit a little with water
Smell of plastic from the mask
2. Vicks Steam Inhaler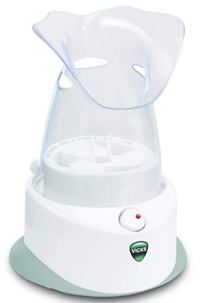 When it comes to the stuffy nose, cold, flu, and infections, the first brand strikes to our mind is definitely Vicks. And this Vicks steam inhaler is an absolute choice towards a quick relief from cold, nasal and sinus congestion as well as allergies. It's soothing steam targets the nose, mouth, and throat to naturally and effectively help in improving sinus congestion, dryness, and irritation.
Key Features
Comfortable soft and flexible hood
Compact and lightweight
Variable steam control
On/Off Indicator light
Dual scent pad slots for Vicks soothing vapors
Buyers Feedback
The Good
This electric steam inhaler provides the vapor therapy for relief from cough and congestion
Small convenient size for easy portability
The adjustable steam output provides the right amount of steam
Soft hood for personal comfort
Build quality is very good
The Bad
Holds a tiny amount of water
3. Dr. Trust Facial Steamer and Vaporizer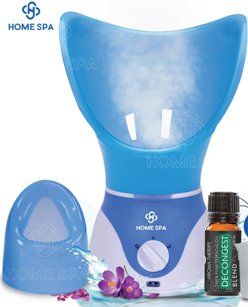 This is another smart choice for not getting only relief from cold and cough issues, but also to make your facial skin healthier and younger. This nasal steamer performs very well to relieve you from cold, throat infection, and congestion issues and also restores the sufficient moisture to the lungs and respiratory tracts. In addition, it also cleanses the face by opening up the clogged pores.
Key Features
Provides vapor therapy for cold, flu, bronchitis, and other respiratory disorders
Opens clogged pores and rejuvenate your skin
Gentle steam flow
LED Power On/Off Indicator
Two-speed level
Wide facial mask
Low Noise
Buyers Feedback
The Good
Nice build quality
Nasal steamer and facial sauna- All in one
Kids-friendly
The adjustable steam control option is very good that lets you choose the amount of steam accordingly
Water goes very smoothly into the unit's easy-to-fill base
Compact for easy storage or travel to work abroad
View on Amazon View on Flipkart
4. Kawachi Steam Vaporizer Nano-ionic Steam Inhaler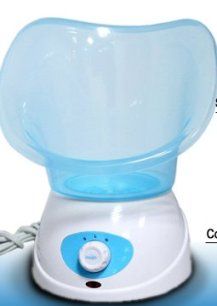 This is another best personal steam vaporizer with smart features. When it comes to offering health benefits, this one is best to provide instant relief from cold, cough, and sinusitis. It's warm moist steam open nasal and sinus passage to ease from congestion. And when it comes to offering beauty benefits, it's nano-ionic steam penetrates deeply into your skin that opens up your skin pores to remove dirt, bacteria & make-up residues very effectively. For cold, cough, and breathing disorders, and as well as for getting glowing and healthy skin complexion, The Kawachi steam inhaler is absolutely the best choice.
Key Features
Simple, safe, and easy
Stylish design
Power Indicator light
Automatic thermostat for added safety
Convenient to use with one-key operation
Nano-ionic steam
Lightweight and portable
Buyers Feedback
Will be updated when available
5. Wonder Steam Inhaler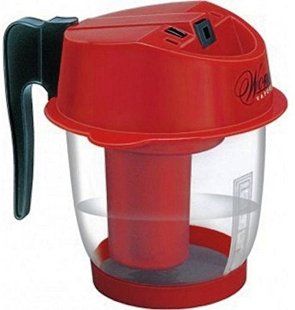 This professional vaporizer cum steam inhaler from the brand Wonder offers amazing benefits at such an affordable price. Its unique design offers the soothing steam to penetrate into your nasal blocks and unclogs them, letting you breathe very comfortably. It also offers to gain beauty benefits as you can also steam your face and hair cuticles. Thus, helping to open the clogged pores of your skin and giving it more healthy and glowing appearance. This compact size vaporizer can easily be carried along with you for amazing therapeutic benefits wherever you go.
Key Features
Simple and elegant design
Relieve cold, throat infection and congestion
Compact and lightweight
Best for aromatherapy
Also useful for face and hair steaming
Buyers Feedback
The Good
Nice and sturdy built
Great for cold, cough, sinus, and other breathing disorders
Also best for facial steaming and hair steaming
Strong stream of steam for best steaming benefits
Very easy and convenient to use
Kids-friendly vaporizer
The Bad
Product smells plastic after switching it on
View on Amazon View on Flipkart
Final Words
So, that's all for our best picks of personal steam inhalers you can buy for an effective home treatment of various respiratory issues and breathing disorders. All these come with great benefits and are also cost-effective too. So, get your favorite pick now…