In recent days, Laptop is a must have gadget for all of us. Whether you are a business person, a writer or a blogger, or even crazy about gaming and surfing on the go, all you can do with this great technological device. The best laptops should feature great keyboard, decent display, fast web browsing speeds, and some more extra features to increase the productivity so that you can do your work in a very less time and also without making much more efforts. When it comes to storage, SSD laptops are now more preferable than HDDs as they enhance the performance and launching speed of any software and also results in faster boot time as well.
If you are seeking for the best laptops, you must also consider the following most important points before purchasing a laptop.
You must look for the latest powerful processor in a laptop.
The second most important think you must consider the weight. A lightweight laptop is more preferrable and enables you to carry it more easily wherever you go.
The laptop must also have the backlit keyboard. This feature lets you operate very easily even in a low light setting.
Laptops that feature full-size keyboard and a spacious palm rest area are also very good.
Long battery life of the laptop is also an important point that you must consider.
Some other important points you must consider is their RAM, storage, full keyboard, processor, and software.
In this blog, here we have gathered 7 best SSD laptops of the year 2017. These are not only under your budget but also contain all the points as mentioned above suiting the requirements of every professional.
1. ASUS ZenBook UX330UA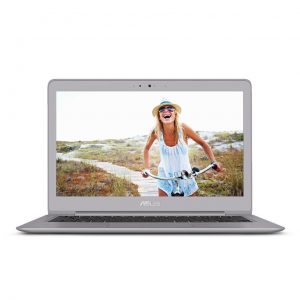 ASUS ZenBook UX330UA is one of the higher end models loaded with excellent features. This model is lighter, slimmer, and faster and has the latest 7th generation Intel i5 processor along with 8GB RAM, 256GB SSD, 13.3-inch FHD display monitor, pre-installed Windows 10 operating system, and an integrated graphics card. It has a glass-covered precision touchpad to give high sensitivity and incredible accuracy. The touchpad also integrates an advanced fingerprint sensor for fast, easy and secure login.
ZenBook UX330 features 3 built-in USB 3.0 ports and USB 3.1 Type C that delivers up to 10 times faster transfer speed as compared to previous generation USB.
Overheating is not a known issue of the ASUS ZenBook because it is one of the best SSD laptops which is faster and produces less heat. This laptop has a 13.3-inch screen and weighs just 2.6 lbs making it easy to carry here and there. With longer all day battery life, there's more comfort and responsiveness with the new ZenBook UX330.
Key Features
Built-in fingerprint sensor with one-touch login via Windows Hello feature
Sleek and lightweight 2.6 lbs aluminum body for comfortable portability
Latest 7th generation Intel i5-7200U 2.5 GHz Processor (Turbo to 3.1 GHz)
13.3-Inch wide-view Full-HD Display with Windows 10 Pre-installed
Fast storage and memory featuring 256GB SSD with 8GB DDR3 RAM
Extensive connectivity with HDMI/D-SUB/USB Type C, 802.11a/c WiFi, and SD Card Reader
Customers feedback
The Good
Build quality is excellent for price
The laptop has plenty of ports, including a USB-Type C port, which is compatible with the adapters to make this an additional USB 3.0 port
Super light and thin
Featuring backlit keyboard with an auto-light sensor
Fingerprint scanner is a nice add-on
Average battery life is also good
The Bad
The SSD is pretty sub-standard
2. ASUS PRO B9440 laptop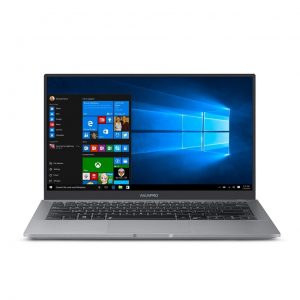 Greater productivity and high efficiency are the features you might expect from your notebook. This one is the great piece delivering your expectation and so comes under one of the best SSD laptops. It comes with a powerful Intel processor of the 7th generation, FHD display, 8GB of RAM, 512 GB SSD and a replaceable battery for easy switching for extended computing or maintenance. The weight is only 2.5 pounds, so it is easy to carry anywhere.
One of the best features of this model is that it is having with a fingerprint scanner that takes care of the data access authorization and protection. The very impressive part of this laptop is its battery life. It comes with 10 hours battery life to keep you powered up throughout your day.
ASUS PRO B9440 also features power connector alert that reports users if the power supply malfunctions or is disconnected and so minimizing the risk of sudden shutdowns and interruptions.
Key Features
Extremely narrow bezel design with 14" Display in a 13" Frame
Magnesium alloy chassis: weighs only 2.3 lbs with a thinness of only 0.58 inch
It comes with 10 hrs whole battery life and charges the battery from 0% to 50% very quick in only 30 minutes of charge time
7th Gen Intel Core i5-7200U 2.5 GHz Processor and Windows 10 Pro featuring Windows Cortana and Fingerprint scanner feature
Backlit keyboard with 1.5mm key travel distance and contoured keys for more comfortable as well as accurate typing
Fast high storage capacity with 512GB SSD and 8GB RAM for a superior multitasking performance
Latest connectivity with 2x USB 3.1 Type C (Gen 1) ports 802.11ac (2×2) WiFi, and also comes with ASUS dongle (1 x HDMI, 1 USB-A, and 1 USB type C)
Customers feedback
The Good
Decent look
Fantastic keyboard
Great matte screen
Very light weight and portable
Fingerprint sensor works very good
The Bad
The touchpad is little less responsive
3. Acer Swift 7 SF713-51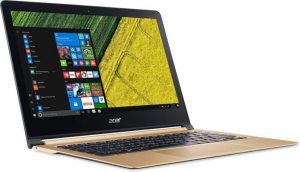 This one model from Acer also comes under the category of best SSD laptops. This laptop has the most appealing features as well as an attractive design in the new Aspire Swift series laptops.
Featuring the 7th gen Intel Core i5 processor, this model from Acer lets you enjoy all your tasks with more power and more battery life even on the go. This 13.3-inch laptop also features 8GB RAM, Windows 10 operating system, excellent battery life that lasts for up to 9 hours, writer-friendly keyboard as well as abundant flash storage of 256GB. It has a convenient compartment door that lets you upgrade the SSD and Memory with ease.
Equipped with the latest and fast 2×2 802.11ac wireless featuring MU-MIMO technology, enjoy up to 3 times faster wireless performance than ever with this laptop.
Key Features
7th Generation Intel Core i5 Processor
13.3″ screen
8GB DDR3 Memory, 256GB SSD
Up to 9-hours Battery Life
Privacy Controls: Trusted platform module (TPM) solution, BIOS user, supervisor, HDD passwords
USB type-C port
Ultra-thin 9.98mm form factor
Customers feedback
The Good
Fantastic look and great performance
Very light and thin
No heating problem
View on Amazon View on Flipkart
4. Microsoft Surface Pro 4 (Core i5 – 6th Gen/8GB/256GB/Windows 10 Pro/Integrated Graphics)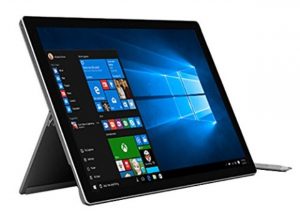 This new Microsoft Surface Pro 4 is one of the latest model of SSD laptops. It is fully loaded with enhanced performance . Featuring sixth generation Intel Core processors and higher performing graphics makes this model deliver high speed and reliability.
The advanced processor also leads to quiet operation and prevents the laptop from being heating up. The model is also powered by 64-bit Windows 10 operating system and gives you the best in personalization, security, and productivity as well.
Featuring lightweight and sleek body, the new Microsoft Surface Pro laptop is incredibly portable, and you can easily carry it in your shoulder bag, wherever you go. It's 31.24 cm PixelSense display delivers you the best picture-perfect experience. The very best feature of this laptop is its battery life that can last up to 9 hours between full charges.
Key Features
6th Generation Intel Core i5- Processor
8GB DDR3 RAM
256GB Solid State Drive
31.242 Centimeter PixelSense Full HD Display
Windows 10 Pro
Customers feedback
The Good
Excellent design
Sleek and lightweight
Battery life is also good
The Bad
Its fan turns on too often and also it is too noisy
The price is too high
View on Amazon View on Flipkart
5. Lenovo Yoga 3 14-inches 80JH00A2IN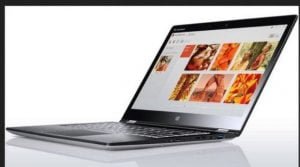 This one model Lenovo Yoga 3 80JH00A2IN comes with an innovative design and impressive picture technologies. It is powered by the Supreme 2.4 GHz 5th Gen Intel Core i7 5500U processor, which offers an amazing super fast performance. Its Turbo Boost feature can stretch the processor's 2.4 GHz clock speed up to 3 GHz to make your Laptop go amazingly fast.
The features of Lenovo Yoga not only end here. It comes with an 8 GB DDR3L RAM that keeps your multitasking experience smooth. When it comes to storage, this model is one of the best SSD laptops, and there is a 256 GB SATA SSD hard drive. Featuring the built-in Windows 8.1 operating system this one laptop lets you multitask seamlessly. Further, it allows 4 hours of average power back-up so that your work and play go nonstop.
Key Features
Intel Core i7-5500U 5th Gen Processor
8GB DDR3L RAM
256GB SATA SSD
14-inch IPS Multi-Touch Display
2.4 GHz with Turbo Boost upto 3 GHz
Windows 8.1 Operating System (Free upgrade to Windows 10)
Graphics Coprocessor Nvidia GeForce
Wifi connectivity technology
Customers feedback
The Good
Innovative design
Great performance
Slim and light weight
Super fast boot in less than 6 seconds
The Bad
Battery life is quite poor for this high end model.
Even after shutdown the external hard drive is getting power
I am sure that the above listed SSD laptops will help you in picking out the absolute one. All these are the best SSD laptops of 2017 that offers great performance as well as some crucial features and thus making out the great options among the best laptop brands.