Bed sores, also known as pressure ulcers or decubitus ulcers, are injuries to the skin and underlying tissues that occur due to prolonged pressure on a particular area of the body. They are common in people who are bedridden or confined to a wheelchair for extended periods, such as elderly or disabled individuals. Bed sores can be painful and lead to infections, which is why it is essential to take preventive measures and treat them promptly.
One of the most effective ways to prevent and treat bed sores is to use specialized ointments. These ointments are designed to reduce friction and protect the skin from pressure and moisture, which are the primary causes of bed sores.
In this article, we will discuss some of the best ointments for bed sores that have been tried and tested by medical professionals and patients alike. We will discuss the key ingredients, benefits, and drawbacks of each cream to help you make an informed decision.
Best Ointments of Bed Sore-Reviews
1. Amaterasu Soreze Gel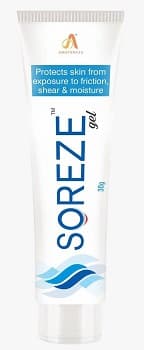 The top on our list comes a gel-based skin cream for bed sores, available on Amazon with a lot of positive customer ratings. The product uses silicone-gel as an active ingredient that helps in preventing and treating bed sores.
Upon application, this product creates an ultra-thin silicon-based water-repellent barrier film that prevents direct contact between the skin and clothing. Thus, it reduces friction and shear, causing bed sore.
This skin cream contains no harmful chemicals, dyes, or preservatives and is dermatologically tested; therefore, absolutely safe to use on the skin.
Specifications
Form: Gel
Active Ingredients: Silicone Gel
Net Quantity: 30 gm
Pros
Starts actions within 30 seconds of application
Safe to use
It can be used along with an air mattress or water beds, or other bed sore prevention techniques for the best results
Cons
2. GoHeal Bed Sore Cream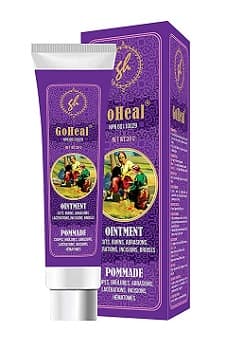 GoHeaL Bed Sore Cream is a topical cream designed to help prevent and treat bedsores or pressure ulcers. The cream is formulated with a mixture of natural herbs and plant extracts, with aloe vera as its primary ingredient. These ingredients are known to possess anti-inflammatory properties and help in nourishing and safeguarding the skin of the patient.
The cream is fast-acting and helps to soothe irritated skin while promoting healing. The cream is also said to be non-greasy and easy to apply, making it an ideal choice for individuals with limited mobility.
Moreover, this cream is also effective in treating chronic open wounds, non-healing wounds, ulcers, and burns, making it a versatile solution for various skin issues.
This cream is particularly effective in preventing bed sores in areas such as the heels, elbows, and other bony prominences. It is also non-irritating and safe for sensitive skin.
Specifications
Active Ingredients: Aloe vera, Grape Seed, neem, drumstick leaves, coconut Oil, Orange seed, Olive, pomegranate seeds
Form: Gel
Net Quantity: 30gm
Pros
An affordable all-natural ointment
Works well for treating bed sores, open and non-healing wounds, etc.
Controls itching
Encourages cellular regeneration and facilitates the growth of new skin over a wound
Cons
3. B-Sore Bed Sore Oil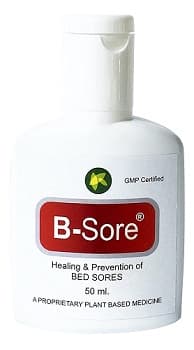 This product from B-Sore is not a cream but an oil-based formula that is a promising product for individuals who are prone to bedsores. The oil is formulated with natural ingredients such as aloe vera, calendula oil, and tea tree oil, which are known for their soothing and healing properties. It promotes skin regeneration, reduces inflammation, and protects the skin from further damage.
The oil is easy to apply and absorbs quickly into the skin without leaving a greasy residue. It is also free from harsh chemicals and synthetic fragrances, making it suitable for sensitive skin.
Specifications
Form: Oil
Net Quantity: 50 ml
Pros
Safe and easy to use
Have soothing and healing properties
Relieves pain of bed sore
Heals faster
Cons
4. Sudo Crem Skincare Cream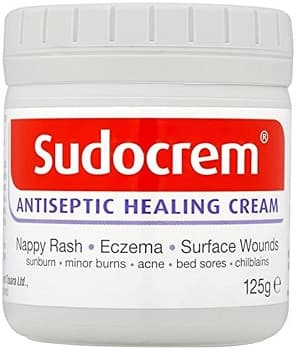 This antiseptic healing cream is another best product for treating bed sores, surface wounds, eczema, acne, nappy rash, etc. Sudocrem Antiseptic Healing Cream boasts a water-repellent base that creates a shielding layer, effectively preventing irritants from reaching the skin. Moreover, the cream's emollient properties provide a calming effect on sore and inflamed skin, leaving it feeling smooth and supple.
The cream is not limited to these benefits alone. It can also be utilized for various skin conditions that necessitate a soothing and protective antiseptic cream that possesses healing, antibacterial, and antifungal properties.
Specifications
Active Ingredients: Zinc oxide, Benzyl Alcohol, Benzyl Benzoate, Benzyl Cinnamate, Purified Water, Liquid Paraffin, Paraffin wax, Beeswax, Microcrystalline wax, Sodium Benzoate, Linalyl Acetate, Propylene Glycol, Citric Acid, Butylated Hydroxyanisole, Sorbitan Sesquioleate, Lavender fragrance.
Form: Cream
Net Quantity: 125 gm
Pros
Very effective healing cream
Safe to use
Suitable for all skin types
Best for babies too
Cons
5. SBL Arnica Gel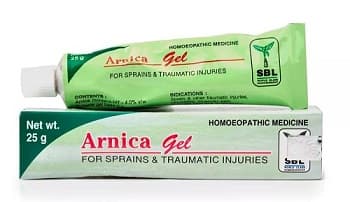 SBL Arnica gel is a highly effective and reliable solution for not only bed sores but various other skin conditions like eczema, fungal infections, itching, etc.
This cream possesses a range of beneficial properties, including antiseptic, anti-inflammatory, antibacterial, antifungal, and decongestive properties. It effectively stimulates blood flow and circulation under the skin, making it an excellent remedy for reducing healing time for the mentioned skin conditions. In addition, it provides relief for sprains, traumatic injuries, neuralgias, muscular pain, and hematomas.
Another great thing about this product is that it comes in a convenient tube that is easy to use and carry around. It is also reasonably priced, which makes it an excellent value for money.
Specifications
Form: Gel
Net Quantity: 25 gm
Buying Guide for the Best Ointments for Bed Sore
1. Consult With a Healthcare Provider
Before purchasing any ointment for bed sores, it's important to consult with a healthcare provider. They can provide a diagnosis and recommend the best treatment plan, including which ointments are most suitable for your condition.
2. Check for the Ingredients
Look for ointments that contain ingredients such as petrolatum, lanolin, or zinc oxide. These ingredients help to create a protective barrier on the skin and promote healing. Other ingredients, such as aloe vera, calendula, and chamomile, can also be beneficial for their anti-inflammatory properties.
3. Consistency
The consistency of the ointment is also important. You want an ointment that is thick enough to create a barrier on the skin but not so thick that it's difficult to apply. Some ointments may also be available in a spray or foam form, which can be easier to apply.
4. Absorption
Some ointments are absorbed quickly into the skin, while others may leave a greasy residue. If you're concerned about the greasiness of the ointment, look for products that are labeled as "non-greasy" or "fast-absorbing."
5. Brand Reputation
Choose ointments from reputable brands with a history of producing high-quality products. Check customer reviews online to see what other people have experienced with the product.
6. Price
Ointments for bed sores can vary in price. Consider your budget, but don't sacrifice quality for a lower price. In many cases, it's better to spend a little more for a high-quality product that will effectively treat the condition.
Conclusion
The ointments mentioned in this post are some of the best options available in the market, but it is always recommended to follow the instructions and use them as directed. With proper care and attention, bed sores can be treated effectively and the healing process can be quickened.