Are you searching for the best UHD TVs or 4K TVs for your home? You are absolutely at the right place. We have gathered here the best UHD TVs picked from the best brands.
As technology has changed the way and also a drastic change has occurred in the world of TVs since the last few years. Because of this technological enhancement, the new generation of TVs are now available. The latest UHD TVs or Ultra High Definition TVs has taken over the place of traditional HD TVs. The 4K TVs or UHD TVs has more improved picture quality, sharpness, color and viewing angles, design and of course the sound quality.
Now what exactly the 4K or UHD is? It actually refers to the resolution of 3840×2160 pixels. It is four times the 1920×1080 pixels which are normally found in a full HD TV. Since 4K is the most commonly used term, it is also known as Ultra HD TV or UHD in short and even 4K Ultra HD.
For more detail on 4k or UHD, we recommend to check these links
1. Wikipedia 4K Guide
2. 4K Resolution explained
Why UHD TVs?
Furthermore, what makes UHD TVs the best out of full HD TVs. Since it comes with extra resolution, it adds better definition and clarity to the picture. All the big brands including LG, Samsung, Sansui, and Sony have the latest ranges of best 4K TVs.
Our Best Picks of 4K UHD TVs
Here is the list of 7 best UHD TVs which are our latest picks from the above-mentioned brands. Let's have a detailed look at all these models and make your buying decision easier with our picks for the best UHD TVs or 4K TVs.
Best UHD TVs Review
Here is the detailed review of all the above mentioned models of UHD TVs along with their full specifications and buyers feedback that will surely help you in digging out the best one for your home theater.
1. LG 108 cm (43 Inches) 4K UHD LED Smart TV 43UK6360PTE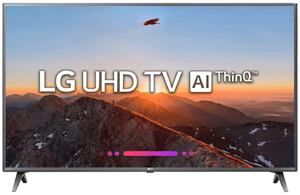 LG 43UK6360PTE with the new 4K resolution makes a new standard of high definition by raising the viewing bar higher than ever. Equipped with the built-in Google Assistant, it takes your world of entertainment to the next level. It lets you select your favorite programs, ask questions to your Google Assistant and also you can enjoy more than eight hundred offline commands with its AI ThinkQ feature. The amazing wireless connection allows you to cross over all kinds of Bluetooth devices in a hassle-free manner.
This model from LG is one of the best UHD TVs that delivers the most identical color impression to that of the original image in every precise pixel of the UHD resolution. It also offers the most consistent contrast and color from all the angles and thus enabling you to enjoy more professional grade color from every seat in your home.
This UHD TV from LG is also featured with new soundpost processing technology to give you an outstanding and multi-dimensional sound speakers without adding any extra speakers. The remote comes with it works magically allowing you to control your set-top box, speakers, BDP, and even satellite TV with this single one.This LG 4K TV also offers you to explore and enjoy more on Netflix's premium 4K HDR content with easier control and faster access.
Key Features
108 centimeters LED Ultra HD 3840×2160p
Connectivity: 3 HDMI ports to connect set top box, Blu Ray players, gaming console | 2 USB port to connect hard drives and other USB devices
Active HDR for an Enhanced Picture Quality
The specially designed IPS 4K Display paves for lifelike picture quality
ThinQ AI for an Interactive Experience
Magic Remote for Convenient Access
Share and Control Your Mobile Screen
Cloud Photo and Video Application
Two-way Bluetooth
4K HDR Content on Netflix
DTS VIRTUAL: X an immersive, multi-dimensional aural experience
Ultra Luminance feature gives excess current from dark areas to brighter areas to enhance contrast
Magic mobile connection
Buyers Feedback
The Good
Its ultra slim design offers excellent space efficiency
4K up scaling is nice
Superb sound quality
The IPS panel gives great picture quality
View on Amazon View on Flipkart
2. Panasonic 108 cm (43 Inches) 4K UHD LED Smart TV TH-43FX650D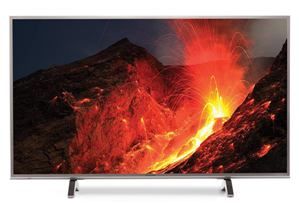 If you are seeking for UHD TV at an affordable price then Panasonic TH-43FX650D is the best UHD TVs at amazing affordable cost. It comes with a high contrast display offering you a good view while watching movies, playing games, and browsing through different apps. The IPS LED super bright plus panel gives you high light transmittance and wide viewing angle.
The high-contrast UHD 4K display offers great depth & detail to your movie-streaming experience. Featuring Hexa Chrome Drive technology, the TV provides natural and beautiful color with "6 colors reproduction". It also has specially designed box speaker offering you a sound experience that is truly surround in nature. And its special voice interaction feature lets you interact with the TV through your voice command via the Viera remote app.
Another best feature of this smart 4K UHD TV is bluetooth audio link function that connects easily to a wireless audio speaker via bluetooth and provides amazing powerful sound. Also, it comes with "Swipe & Share" feature allowing you to 'throw' content from your smart devices to the TV Screen by swiping your fingers along your portable devices. Not only this, with the easy mirroring feature, you can fastly and easily reproduce what is showing on your portable device on your TV's much bigger screen.
Key Features
Resolution: 4K Ultra HD (3840 x 2160p)
Connectivity: 3 HDMI ports to connect set top box, Blu Ray players, gaming console | 2 USB port to connect hard drives and other USB devices
6 colors Hexa Chrome Drive
IPS LED Super Bright Panel
Multi HDR support
1500 Hz Backlight Motion Support
Box Speaker for cinema sound
My Home Screen to provide ease to customize your own home UI
Voice Interaction via Viera remote app
Bluetooth audio link function
Swipe and share
Easy mirroring
Buyers Feedback
The Good
Nice and elegant slim design
Fantastic picture quality
Nice User interface with Smart remote
Built-in bluetooth works like a charm
It comes with youtube, Netflix and Amazon Prime Videos built-in that offers you a great experience
The Bad
Sound quality is not up to the mark
View on Amazon View on Flipkart
3. Sony Bravia 108 cm (43 Inches) 4K UHD LED Smart TV KD-43X7002F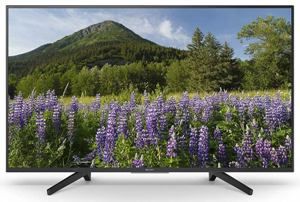 The new Sony Bravia KD-43X7002F is equipped with all the features you need to experience a high-performance digital product with cutting edge technology. Thus comes under the category of the best UHD TVs out there. It comes with a high quality LED display that offers clarity and efficiency both.
With 43 inches screen size this Ultra HD TV from Sony offers clear and smooth picture quality. It's wide viewing angle offers the perfect color contrast for the perfectly clear view from every corner of your house. The model gives you Ultra HD picture quality and thus delivering you real life experience on the virtual platform.
It is featured with built-in Wi-Fi to enjoy great entertainment like browsing movies, enjoying video channels like YouTube and accessing services such as on-demand TV, wirelessly. The smart plug and play feature allows you to easily share videos, photos and music from multiple devices.Plus, the screen mirroring feature allows you to enjoy content and apps from your smartphone on your Sony TV.
Key Features
Resolution: 4K Ultra HD (3840 x 2160p)
Connectivity: 3 HDMI ports to connect set top box, Blu Ray players, gaming console | 3 USB port to connect hard drives and other USB devices
4K X-Reality Pro
Bass Reflex Speaker to experience richer and deeper sound
ClearAudio+ to make your listening like your viewing
Clean Cable Management
Great Entertainment Wirelessly with Built-in Wi-Fi
YouTube Direct & Quick
Netflix One Click Remote
Smart Plug and Play to enjoy your smartphone
Seamless Internet Connectivity with USB Tethering
Unlimited Entertainment with Opera Store, Big Flix and Sony Liv
Super Multi-Format USB Play to enjoy your favorite digital content from any USB stick
Screen Mirroring
Buyers Feedback
The Good
Super Slim design
Superb picture quality
Good sound effect
Great value for money
View on Amazon View on Flipkart
4. LG 108 cm (43 Inches) 4K UHD LED Smart TV 43UK6560PTC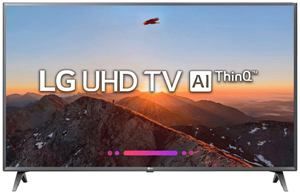 Get an amazing viewing experience with this efficient model of LG. Packed with features like Ultra HD, Netflix, IPS 4K, and much more, this one is the best UHD TVs out there. The LG 43UK6560PTC 43 inches Smart UHD TV is light and can be mounted easily on a wall. It is featured with Ultra High Definition resolution ensuring you to enjoy feature rich contents like movies, sports, and other entertainment.
This model of LG comes with the AI ThinQ technology that controls your TV through Voice Recognition. It also comes with the new sound processing technology that provides immersive, multi-dimensional sound experience without additional speakers. With its magic remote that is AI assisted you can operate your smart TV, easily and effectively using your voice.
Key Features
Resolution : 4K Ultra HD (3840x2160p)
Connectivity: 4 HDMI ports to connect set top box, Blu Ray players, gaming console | 2 USB port to connect hard drives and other USB devices
Thin TV panel that delivers color accuracy and sharp images
Built-in Wifi
Cloud Photo and Video
WebOS
AI ThinQ technology
IPS 4K display
4K Active HDR
Cloud photo and video
New sound processing technology DTS Virtual: X
Magic Remote
Netflix recommended
Wireless sound
Buyers Feedback
The Good
Awesome TV with fantastic features
HDR and upscaling is superb
Superb picture and sound quality
Magic remote is just awesome and AI adds more convenience
View on Amazon View on Flipkart
5. Samsung 108 cm (43 Inches) Series 7 4K UHD LED Smart TV UA43NU7100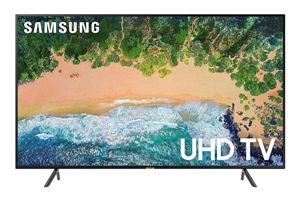 Whether you want to enjoy the best of entertainment, play video games, or connect with your friends on social media, all you can do with this great Samsung UHD TV.
It comes with the stunning 4K UHD resolution that makes images more clear. So everything you watch looks and feels natural. This model from Samsung also has the UHD dimming feature letting you divides and processes the screen into small blocks so you see more precise details. Its SmartThings app offers features such as Remote Control and Mirror Screen. Plus, the contec sync and share feature of this UHD TV lets you Seamlessly connect your Samsung smart devices to sync photos.
Key Features
HDR feature provides enhanced brightness
Active crystal color gives extra light to the TVs LED
Equipped with 4K UHD resolution
PurColor to watch your favorite content with natural colors
Enhanced contrasts
Ultra Clean View
Simple Wireless connection
UHD dimming
Slim design
Content sync and share
Buyers Feedback
The Good
Build quality is extremely nice
Superb colors clarity
Great sound and video quality
Its low input lag is excellent for gamers
Easy to navigate smart features
Worth for the price
The Bad
Limited apps to configure through
View on Amazon View on Flipkart
6. Sony 108 cm (43 Inches) 4K UHD LED Smart TV KD-43X7500F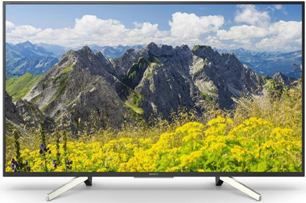 The model KD-43X7500F from Sony is one of the great ones amongst the best UHD TVs. The model will definitely change the way you enjoy your television viewing experience. Pairing the brilliance of 4K clarity along with the brightness, color and detail of high dynamic range, this TV offers you the ultimate picture quality. Plus, the 4K X-Reality Pro offers the amazing and extraordinary clarity.
This Sony UHD TV is designed to expand your entertainment by delivering unlimited enjoyment of various contents, from apps to movies between Android devices. It is also equipped with the magnetic fluid speakers that offer the ability to play Hi-resolution Audio with zero distortion and exceptional clarity.
Featuring Voice search, this TV lets you find content across different services and thus allowing to spend less time in browsing and more time in watching. With the built-in Chromecast feature, you can easily cast your favorite entertainment like YouTube or Netflix from your personal device on to the TV screen. And the biggest plus is that you can enjoy the HDR gaming as it is compatible with Play Station 4 and Play Station 4 Pro Consoles.
Key Features
108 centimeters LED 3840 x 2160
Extremely slim design for smart and elegant look
Display: 4K HDR | 4K X-Reality Pro | Motionflow XR
Connectivity: 4 HDMI ports to connect set top box, Blu Ray players, gaming console | 3 USB ports to connect hard drives and other USB devices
Bass Reflex Speaker for deeper and richer sound
Voice search
Google Play
Built-in Chromecast
Notify Bravia to keep you in the loop with call notifications, text messages, social apps and more
Content Bar to find everything fast
Fun, delightful and collaborative music experience
Buyers Feedback
The Good
Great picture and sound quality
The TV can upscale any content to 4K
Great touchpad remote
Easy to operate
The Bad
Higher on the price side
No bluetooth speaker connection option
7. Mitashi 107.95 cm (43 Inches) 4K UHD LED Smart TV MiDE043v10 4KS
With an affordable price range, the Mitashi MiDE043v10 4KSUHD TV is one of the best UHD TVs bringing your viewing experience to the next level. It offers razor sharp image and crystal clear audio quality. The TV has all the smart features that let you browse the internet, access all your social media accounts and stream your favorite TV shows, all at the touch of a button. It is equipped with a powerful high speed dual core 1.2 GHz processor that lets you enjoy a hassle free experience with most games and applications.
Some more exciting features that the model is equipped with includes smart remote control, multimedia cloud share, TV screen transmission, etc.
Key Features
4K Ultra HD resolution- 3840 x 2160
DLED technology with super slim panel
Smart Android TV
Built in Wi-Fi
Ethernet connectivity
Screen Mirroring
High Speed Processor
Agile remote app to use via smartphone
Ultra Narrow bezzel design
Wide viewing angle
High Dynamic contrast ratio
Buyers Feedback
The Good
Spectacular picture quality
Smart TV fully android
Stunning looks with thin bezels
Final Words
This is all about 7 best UHD TVs or 4K TVs. All these models are equipped with latest 4K technology and great features as well. So do more with your TV and get entertained in a whole new way on your 4K. Also, these are picked from the best brands including Samsung, LG, Micromax, etc. So, bring your entertainment experience to the next level by picking out one of the best UHD TVs mentioned above.