Are you searching for the best UHD TVs or 4K TVs for your home? You are absolutely at the right place. We have gathered here the best UHD TVs picked from the best brands.
As technology has changed the way and also a drastic change has occurred in the world of TVs since the last few years. Because of this technological enhancement, the new generation of TVs are now available. The latest UHD TVs or Ultra High Definition TVs has taken over the place of traditional HD TVs. The 4K TVs or UHD TVs has more improved picture quality, sharpness, color and viewing angles, design and of course the sound quality.
Now what exactly the 4K or UHD is? It actually refers to the resolution of 3840×2160 pixels. It is four times the 1920×1080 pixels which are normally found in a full HD TV. Since 4K is the most commonly used term, it is also known as Ultra HD TV or UHD in short and even 4K Ultra HD.
For More detail at 4k or UHD, we recommend to check these links
1. Wikipedia 4K Guide
2. 4K Resolution explained
Furthermore, what makes UHD TVs the best out of full HD TVs. Since it comes with extra resolution, it adds better definition and clarity to the picture. All the big brands including LG, Samsung, Sansui, and Sony have the latest ranges of best 4K TVs.
Here is the list of 7 best UHD TVs which are our latest picks from the above-mentioned brands. Let's have a detailed look at all these models and make your buying decision easier with our picks for the best UHD TVs or 4K TVs.
Also, Check out best 55 inch 4K ultra HD TVs and best 65 inch 4K TVs
1. LG 43UH650T 108 cm (43 inches) 4K Ultra Smart LED IPS UHD TV
LG 43UH650T with the new 4K resolution makes a new standard of high definition by raising the viewing bar higher than ever. It comes with a stunning 8.3 million pixels that deliver the unblemished picture and amazingly vivid detail.
This model from LG is one of the best UHD TVs that delivers the most identical color impression to that of the original image in every precise pixel of the UHD resolution. It also offers the most consistent contrast and color from all the angles and thus enabling you to enjoy more professional grade color from every seat in your home.
Key Features
108 centimeters LED Ultra HD 3840×2160
Connectivity HDMI: 2 USB Port: 1
Ultra Luminance feature gives excess current from dark areas to brighter areas to enhance contrast
WebOS 3.0
Multi-view feature lets you watch two split scenes on the same screen
Magic zoom
Magic mobile connection
Equipped with music player
Buyers Feedback
The Good
Its ultra slim design offers excellent space efficiency
4K up scaling is nice
Superb sound quality
The IPS panel gives great picture quality
2. Micromax 109.3 cm (43 inches) 43E9999UHD 4K UHD TV
If you are seeking for UHD TV at an affordable price then Micromax 43E9999uhd is the best UHD TVs at amazing affordable cost. It comes with a high contrast display offering you a good view while watching movies, playing games, and browsing through different apps.
The high-contrast UHD 4K display offers great depth & detail to your movie-streaming experience. From fast-paced zombie survival games to launching apps, the equipped Quad-Core Processor brings in full power.
Key Features
A Fluid navigating experience
Smooth Performance
Dual core processor
Sharp visuals with vibrant colors
Motion sensing games
High color gamut
Buyers Feedback
The Good
Nice and elegant slim design
Fantastic picture quality
Sound quality is also great
Nice User interface with Smart remote cum air mouse
The Bad
Brightness of the TV is not upto the mark
View on Amazon View on Flipkart
3. LG 43UH750T 108 cm (43 inches) 4K Ultra HD LED IPS TV
The new LG 43UH750T is equipped with all the features you need to experience a high-performance digital product with cutting edge technology. Thus comes under the category of the best UHD TVs out there. It comes with a high quality LED display that offers clarity and efficiency both.
With 43 inches screen size this Ultra HD TV from LG offers clear and smooth picture quality. It's wide view angle offers the perfect color contrast for the perfectly clear view from every corner of your house. The model gives you Ultra HD picture quality and thus delivering you real life experience on the virtual platform.
Key Features
108 centimeters LED 3840 x 2160
Ultra Luminance
WebOS 3.0
Magic Zoom
Multi View
Magic Mobile Connection
Music player
Audio features include: Dolby Digital Decoder; DTS Decoder; Clear Voice III; Smart Sound Mode; Wireless Sound Sync
Buyers Feedback
The Good
Super Slim design
Superb picture quality
Awesome sound quality
Great value for money
4. LG 43UH617T 108 cm (43 inches) 4K Ultra HD LED IPS TV
Get an amazing viewing experience with this efficient model of LG. Packed with features like Ultra HD, Netflix, IPS 4K, and much more, this one is the best UHD TVs out there. The LG 43UH617T 43 inches Smart UHD TV is light and can be mounted easily on a wall. It is featured with Ultra High Definition resolution ensuring you to enjoy feature rich contents like movies, sports, and other entertainment.
This model of LG also has the Miracast connectivity built into it that allows the seamless transfer of video and audio data between this product and other compatible devices. It comes with pre-installed apps including YouTube and Netflix. One of the great features that make this model one of the best UHD TVs is its Face-Recognition technology. And this technology prevents the unauthorized use of the TV.
Key Features
109.22 centimeters LED 3840 x 2160
Thin TV panel that delivers color accuracy and sharp images
Consumes less power because of its unique technology
Screen resolution is 3840×2160 pixels that ensure sharp, clear, and high-quality picture
WebOS 3.0 helps you to pick your desired apps easily
Buyers Feedback
The Good
Awesome TV with fantastic features
HDR and upscaling is superb
Superb picture and sound quality
5. Sony 108 cm (43 inches) Bravia X Series KD-43X8500C 4K Smart LED UHD TV
The Bravia X Series KD-43X8500C from Sony is one of the great ones amongst the best UHD TVs. The model will definitely change the way you enjoy your television viewing experience. Featuring X-tended Dynamic Range technology, this 4K TV from Sony offers exceptional image clarity. It also has a built-in 4K processor X1 chip that ensures great picture quality, color and contrast as well.
This Sony Bravia UHD TV is designed to expand your entertainment by delivering unlimited enjoyment of various contents, from apps to movies between Android devices. It is also equipped with the magnetic fluid speakers that offer the ability to play Hi-resolution Audio with zero distortion and exceptional clarity.
Key Features
108 centimeters LED 3840 x 2160
Extremely slim design for smart and elegant look
Triluminos display
MHL Connectivity
Screen mirroring and NFC
4 HDMI Ports and 3USB ports
Buyers Feedback
The Good
Great picture and sound quality
Triluminos display technology makes color looks natural
The TV can upscale any content to 4K
Great touchpad remote
Easy to operate
6. Samsung 43KU6470 108cm (43 inches) 4K UHD TV
Whether you want to enjoy the best of entertainment, play video games, or connect with your friends on social media, all you can do with this great Samsung UHD TV.
It comes with the stunning 4K UHD resolution that makes images more clear. So everything you watch looks and feels natural. This model from Samsung is also equipped with Quick Access Tizen feature which enhances its performance. And thus you can access Live TV or any apps without any hassle.
Key Features
HDR feature provides enhanced brightness
Active crystal color gives extra light to the TVs LED
Equipped with 4K UHD resolution
Featuring new smart hub to access live TV, Over The Top (OTT), games and more entertainment
Enhanced contrasts
Ultra Clean View
Flicker Free videos
Simple Wireless connection
Buyers Feedback
The Good
Wonderful product
Superb colors clarity
Great sound and video quality
Worth for the price
The Bad
Play Store is not available
Limited apps to configure through
7. Sansui SNA43QX0ZSA 109 cm (43 inches) 4K Ultra HD LED Smart TV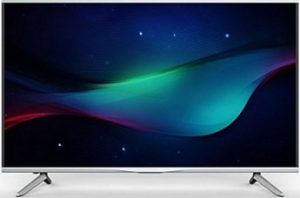 The Sansui SNA43QX0ZSA 109 cm UHD TV is featured with 4K UHD technology bringing your viewing experience to the next level. It offers razor sharp image and crystal clear audio quality. It has all the smart features that let you browse the internet, access all your social media accounts and stream your favorite TV shows, all at the touch of a button.
Some more exciting features that the model is equipped with includes smart remote control, multimedia cloud share, TV screen transmission, and game control, etc.
Key Features
4K UHD
Multi screen features
IPS panel offers brighter and smoother picture quality
USB 3.0 enhance the data transfer speed
Buyers Feedback
The Good
Spectacular picture quality
Smart TV fully android
Stunning looks with thin bezels
The Bad
Unable to play 4k format from USB
Screen mirroring is slow
View on Amazon View on Flipkart
This is all about 7 best UHD TVs or 4K TVs. All these models are equipped with latest 4K technology and great features as well. So do more with your TV and get entertained in a whole new way on your 4K. Also, these are picked from the best brands including Samsung, LG, Micromax, etc. So, bring your entertainment experience to the next level by picking out one of the best UHD TVs mentioned above.