Music is the soul of the body- it's a true saying. And a smart speaker makes the best sound for music making you feel more enthusiastic and joyful. But think if you can get a lot more rather than music, TV, film, video games, podcasts, audiobooks. It will surely be more amazing. So, have you guessed for what I am talking about? Yes, the new tech gadget- Smart Speakers.
I think every smart home needs smart speakers in this era of technological gadgets. These smart speakers act as a hub that is capable of answering your questions and even letting you control your smart home products. And it is really a great experience to have such a wonderful device at your home.
A little brief on Smart Speakers
A speaker that is capable of doing anything beyond just producing sound can be termed as Smart. Smart speakers are simply a type of voice-activated speakers enabling you to talk with and interact with like you do with your Smartphone. Featuring onboard Virtual Digital Assistants like Siri, Cortana, Alexa, and Google Assistant, it can do your job with just your voice. They have a loudspeaker and a sensitive microphone that makes it easy for the devices to hear directions. It also understands what the users ask and then provides information accordingly. This gadget is just a beautiful invention trying to work for future home automation.
Think how amazing it is to live in a world where you don't need to lift your finger, and all your work can easily be done with just your voice only. All exactly the smart speakers can do the same. Briefing you about the latest news, weather report, playing music, rhymes, and songs for kids, and even controlling smart home gadgets like air conditioner, fridge, lights, and switches, it is making your life easier. So don't you want such an amazing device to have in your home? I am sure you all will want. So welcome to the blog that will surely help you to pick your favorite smart speaker.
Also, to get in-depth information on Smart Speakers, please check our Buying Guide Section.
Our Best Picks of Smart Speakers with Alexa
When it comes to choose smart speakers, a lot of choices are now available ranging from the smart display to tiny portable speakers, good sound quality and much more. And it is not always easy to figure out which one will suit your home, your budget, and your needs the best. So, to help you out, here we have lined up the best and latest smart speakers for your smart home.
Best Smart Speakers Reviews
1. Amazon Echo Smart speaker with Alexa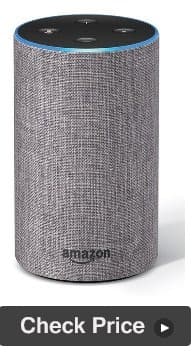 Amazon Echo can simply be described in just one word- Superb, that every smart home should own. Great design, solid speakers with amazing sound quality and much more is all this smart speaker is featured with. This smart hand-free speaker doesn't make you to lift your finger and can easily be controlled using your voice only. Even its smart connectivity with Alexa Voice Service is really great. It makes to play music, make calls, answer questions, provide information on news, weather, sports, and much more very instantly.
The device is very simple to set up and use. You just need to plug in Echo and connect it to the power source. Then use Alexa app to connect to WiFi and finally just ask for what you want. Amazon Echo has the powerful speakers that fill your room with immersive 360° unidirectional audio, and also brings crisp vocals and dynamic bass response. And the best part is that if you want to play music on an Echo device in another room, you can use its multi-room music service. This lets you to play the same song throughout your whole home.
It is now also easier to call or message your friends and family who has an Echo device or the Alexa app with this amazing device. You just need to ask Alexa to make a call or send a quick voice message whom you want and done. You can also create routines that make compatible your Echo device and smart home devices to work together. This feature lets you control your home devices at scheduled times with a single voice command, like turning off the lights when you go to bed, turning on your coffee machine every morning, etc. The device also has Far-field Voice Recognition technology that can hear you from across the room and even in the noisy environment.
Key Features
Hands-Free Speaker that you can control with your voice
Simple to set up and use
Powered by Dolby
Answers all your questions
Voice control your music
Multi-room music feature to play music
Hands-free calling and messaging
Control your home devices at the scheduled time
Far-Field Voice Recognition
Buyers Feedback
The Good
Decent design
Awesome sound quality
Overall functionality of the device is brilliant
It easily understands our language
Also have religious skills integration to play from Bible, Bhagwat Geeta, and Quran
Easy to use
The Bad
Still needs improvement in terms of Search Engine
2. Sonos One Smart Speaker with Alexa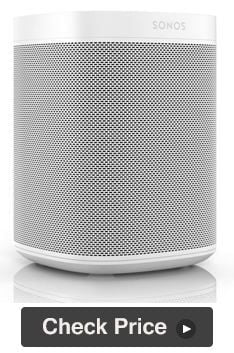 The next is Sonos One, a perfect blend of clean design, intelligence and smart home skills of Amazon Alexa, and amazing sound quality and much more. This feature-rich smart speaker is a perfect buy for every smart home for all music lovers. Sonos One supports 70 music services and plays everything ranging from the most popular streaming services, on-demand services, internet radio, your favorite podcasts and audiobooks, your go-to collection of downloads, and whatever you want to listen.
When it comes to design, the Sonos One features a compact and sleek design with rounded edges and easily fits anywhere you put it. The physical controls are however very nice; you can use your voice control for an easiest operation. The device comes with the speaker with six internal microphones that allow it to hear you very properly. Next, on the top of the device, there is a power-indicating LED alongside small light letting you know that your speaker's microphone is active.
The device easily connects with the Amazon Alexa voice server easily over WiFi. And you can use your voice and the Sonos app to control and manage music in one place. What is especially best about the Sonos One Speaker is its pretty fantastic sound quality that lets you enjoy rich, room-filling sound. The device is also multi-room compatible allowing it to wirelessly connect to other Sonos speakers in your Sonos Home Sound System to play music in any or every room. Plus, you can also pair two Sonos Ones together in the same room for instant stereo sound. The device is also featured with AirPlay 2 that lets you stream directly from your Apple devices or ask Siri to play your favorites from Apple Music.
Key Features
Alexa Built In
Play and control your music hands-free with your voice
Play songs, check news and traffic, control your smart home and enjoy all those other helpful Amazon Alexa skills using a single Sonos speaker
Enjoy full voice control for Spotify on the Sonos One
Pair two Sonos one's together in the same room for instant stereo sound
Superior sound
Compatibility to hundreds of streaming services including Amazon Music, Spotify, Pandora, iHeartRadio, TuneIn and SiriusXM with the Sonos app
Multi-room compatible
Expandable setup
Fits anywhere
Buyers Feedback
The Good
A really full and well-balanced sound
Easy setup
The functionality of the device is amazing
The one-touch control makes operating the device ever more easier
More than 70 streaming services support is pretty impressive
Voice recognition is also very good
The Bad
It does not support Alexa voice calling
3. Sonos PL5G2US1BLK PLAY:5 Ultimate Smart Speaker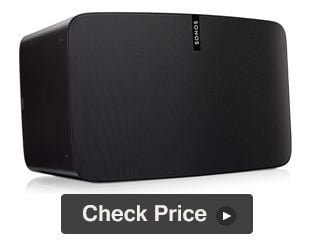 For all hard-core music lovers and fanatical hi-fi enthusiast, this smart speaker is for you. The Sonos new Play 5 features a bigger, sleeker, and a better sounding speaker making it an ideal choice for a smart home. The sound quality it delivers is really excellent with better clarity and bass. And the best part is that it delivers really a brilliant sound even to the largest rooms. Available in two vibrant color options-White and Black, the device never fails to offer an aesthetic appearance to your room decor. This device you can place either vertically or horizontally depending upon your preferences. When it is vertical, it is in mono. And when it is horizontal, it is in stereo.
This ultimate smart speaker is very easy to set up and use. It supports over 80 streaming services including Amazon Music, Pandora, Spotify, and Apple Music, etc. globally. Plus, the Sonos app lets you quickly search through all your services to track down your favorite music. The device is also compatible with Amazon Echo or Alexa enabled device, so you can just ask for what you want to listen to.
The device comes with Six Class-D amplifiers along with six dedicated speaker drivers that deliver crystal clear, rich, deep, stereophonic sound with zero distortion. In addition, the three powerful woofers and a completely sealed architecture of this device deliver big, precise bass response without reverb or echoes. And if you are using this smart speaker in pairs, it can fill the whole house with music. Also, you can play different songs in different rooms or the same song everywhere.
Key Features
Fills a large room with pure and brilliant sound
Uncompromised sound whether horizontal or vertical
Works with Alexa
Precise bass response
Sonos app for complete music control
Convenient and ultra-responsive top-panel touch controls
Streams over WiFi, not Bluetooth, so the music never stops
Compatibility with over 80 streaming services
Line in. Plug in any device you desire
Humidity resistant so you can enjoy your favorite songs in music-starved places like bathrooms and outdoor decks
Buyers Feedback
The Good
Simple and straightforward design
Nice build up
Superb stereo sound
Easy to set up and use
Rich bass response and crystal clear mids
Controllable through iPhones, iPads, and Android apps
4. Echo Plus (2nd Gen) Smart Speaker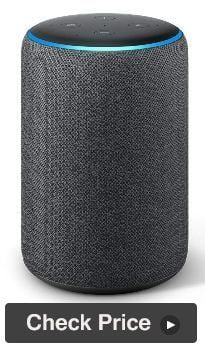 The 2nd generation Echo Plus is all the newest from the Amazon Echo range with some more smart features. The original Amazon Echo Plus was designed to act as a smart home hub with its Zigbee support, and this new version takes the same aspect to a new level. The device is featuring new premium speakers powered by Dolby that lets you play 360-degree audio with crisp vocals and dynamic bass response. It works with Alexa that makes the device to play music, answer questions, make calls and provide information on news, weather, sports, and much more.
The Echo Plus easily connects to and controls the compatible products including lights, locks, plugs, sensors, and much more with your voice. You can also use your voice to set timers, add items to lists, and create calendar events and reminders. Another smart feature of Amazon Echo 2nd generation is the Local voice control. This feature allows the Alexa to maintain control of your smart home even without an internet connection.
With just your voice, the device lets you call almost anyone hands-free. It also features seven microphones, beamforming technology, and noise cancellation that hears you from any direction even while music is playing.
Key Features
Built-in Zigbee hub easily set up and control your compatible smart home devices
Improved sound for streaming music
New premium speakers powered by Dolby
Temperature sensor
Works with Alexa to play music, answer questions, read the news, check the weather, set alarms, control compatible smart home devices, call almost anyone, and more
Multi-room music to play music on compatible Echo devices in different rooms
Stream music and books from Spotify, Pandora, TuneIn, Audible, and more
Call or message anyone hands-free
Buyers Feedback
The Good
Smart and classy design
WiFi Simple set up
Built-in Zigbee hub works very well
Quick performance
Impressive audio
Temperature sensor is a nice feature
5. Echo Dot (3rd Gen) Smart speaker with Alexa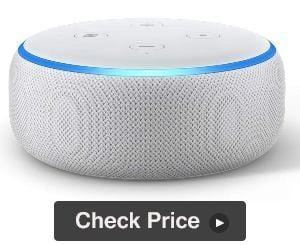 If you want something in budget, the new Echo Dot 3rd generation smart speaker is for you. The device features a new design and improved sound than its previous versions. When it comes to design, the new Echo Dot looks like a hockey puck with softer and more rounded edges that perfectly add to your room decor. The topmost part has LEDs that lights up blue when Alexa is listening. There also comes two volume buttons, a button to turn the microphone on and off, and a button for activating Alexa.
With this voice-controlled smart speaker with Alexa, you can ask for your favorite music, news, information, and also control compatible smart home devices and much more. Even by creating Routines, you can control multiple devices at scheduled times or with a single voice command. This new device now comes with more than 50,000 skills that include everything from playing Jeopardy to turning on your lights, ordering pizza and getting a ride to the airport.
On the Echo Dot, you can stream audio through Amazon Music, Spotify, Deezer, SiriusXM, Pandora, iHeartRadio and TuneIn. The device features 4 far-field microphones that makes Alexa to hear you from across the room. It also supports hands-free calling and messaging with just a single voice command.
Key Features
Voice controlled speaker with new design and improved sound
Works with Alexa
Control compatible smart lights, plugs, and remotes just using your voice
Call or message family and friends who have an Echo device or the Alexa App
It can hear you from across the room with 4 far-field microphones
Use the built-in speaker or connect to speakers through Bluetooth or audio cable for bigger sound
15,000+ skills including ordering cab, food, jokes, and games
Buyers Feedback
The Good
Great design with smart features
Solid and sturdy unit with the excellent build quality
Simple to set up and use
Sound quality is awesome
The buttons function very well
Great product at such an affordable price
6. Eufy Genie AK-T1241211 Smart Speaker with Amazon Alexa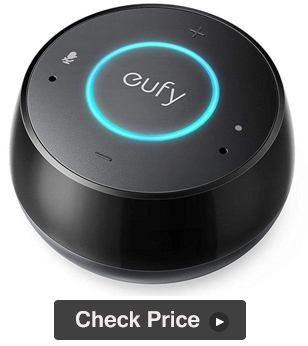 The next best smart speaker in our list is Eufy Genie with Amazon Alexa. When it comes to design, this one is quite similar to Echo Dot but a little bit taller. It also comes with the same buttons on top, up and down volume button, a mute button, and the active button likewise Echo Dot. The device works perfectly with the voice command. Thanks to its far-field microphones that hear your commands from across the room and even its built-in speaker are loud enough for you to hear its responses. It comes with a multitude of skills covering every service the internet has to offer including Ola, Uber, Goibibo, Cleartrip, FreshMenu, Urbanclap, and much more.
You can use the device to access your calendar, set alarms, and get the latest news, weather, and sports updates. Also, you can control your smart home devices with this device. No need to lift your finger, the device better reacts to your voice command. Just ask your question and the get quick answers from the device.
Included Components in the Box: Eufy Genie, AC Power Adapter (5ft/1.5m), AUX Cable (5ft/1.5m), User Manual, Safety Instruction Card
Key Features
Alexa-enabled smart speaker
Built with a 2W speaker that delivers dynamic audio and room-filling sound
Enjoy your favorite playlists from streaming services like Amazon Music, Saavn
Ask Alexa to play music, hear the news, check the weather, control your smart home, and more
Easy setup with the free Eufy home app
2.4GHz WiFi network support
Buyers Feedback
The Good
A good alternative to Echo dot at a reasonable price
Nice build quality
Awesome audio quality and volume
Works perfectly with any Alexa compatible devices
The Bad
Limited functionality compared to Echo dot
Does not support Bluetooth
Not support Alexa calls and messaging (feature to be coming soon )
7. Harman Kardon Allure Wireless Speaker System with Alexa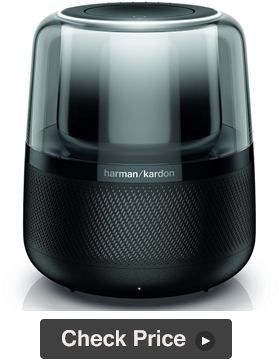 Last but not the least, this smart speaker from Harmon Kardon being your best choice for a smart home. With an aesthetic appeal, the device perfectly adds a great style to your home decor. The design part is really fantastic. It comes in a pretty funky and eye-catching cylindrical design with awesome build quality. The upper half part of the device is made up of transparent plastic with a circular, 360-degree LED light that shines blue, white, and red, while the music is playing. The bottom half part of the device is covered with a metal frame along with hundreds of notches for sound to come through.
As it is a voice-activated speaker powered by Amazon Alexa voice service, so you need not to lift a finger for anything. Just ask Alexa for what you want and get it. Alexa works very decently to perform simple tasks like creating reminders or a to-do list and playing music. It also gives you the weather report, news briefings, and connects to a growing number of apps with its Skills.
The sound is too unique. It offers room-filling sound. The audio has a warm tone to it, and the bass is quite enough that you can feel even at low volumes. This device comes with four microphones for far-field voice recognition that enables it to hear you from across the room even in the noisy environment too.
Key Features
Powered by Amazon Alexa Voice service
Far-field voice recognition
Wireless Bluetooth streaming
360 degree sound
360 degree LED lighting
Best in class audio
Hands-free voice control
Buyers Feedback
The Good
Nice build quality
Excellent 360 degree sound
Attractive design
Powerful bass
Warm sonic signature
The volume button works very well and easily
The Bad
Lacks in midrange
It doesn't support multi-room audio, but you can integrate it into a multi-room system with other Alexa speakers via the Multi-Room Music setting in the Alexa app
No sound customization in the app
A bit higher on the price side
Smart Speakers Buying Guide
Why to choose Smart Speakers?
A smart speaker not only lets you listen music but can do a lot more
The smart speakers are featured with an artificially intelligent virtual assistant allowing the users to interact with their devices hands-free.
Smart speakers are making your life easier by automating your daily chores including vacuuming, cooking, grocery shopping, reminding about to take medication at the proper time, paying bills on time, and much more.
It also makes you get updated on news, weather and sports report and whatever information you want on your voice command.
These smart speakers also increase autonomy for the elderly and individuals with disabilities. It assists them by automating crucial activities and services, such as opening and closing doors, or contacting medical professionals, etc.
It can control your smart home devices. You just need to set routines, and it serves you well for the tasks like switching on and off the lights, turn out the oven, turn on the coffee maker every morning, etc.
These smart speakers can also detect different voices in your home. Each user will get their own calendar appointments or curated music playlists when asking for them.
How does a Smart Speaker work?
A smart speaker can hear you with the words "Alexa" or "OK Google," and then listen to your question or command carefully and finally respond to it. It means ask whatever you want and get respond instantly. For instance, you can ask it to play your favorite songs, nursery rhymes for kids, news and weather, and more specific details and facts like asking your basic mathematics questions, unit conversions, open and closing time for any grocery or local store, and much more.
You can also subscribe to a music streaming service like Spotify, and the device lets you play your favorite music by simply searching the artist, album or track name, type or the year. The device also helps you reminding for your to-do lists like reminder for any important appointments or tasks, or another daily records of activities. Since the smart term is used here, the device can also let you control your smart home devices, all with a single voice command.
Features to consider before buying a Smart Speaker
Size, Price, and Audio Quality
These three specifications are very much important considerations before buying a smart speaker for your home. You must consider how much you want to spend? And whether it gets fit on a space where you want to keep it. Since different sizes and designs are available, the choice depends only upon your preference.
Generally, the smaller and low priced speakers come with lower audio output. And when you scale up the size, the sound quality and price also increases as well. When you go for the higher quality with an increased price range, the audio quality you will get is but obvious excellent.
And if audio quality is the priority for you, you must also check the features like size and number of internal speakers, including woofers for bass sounds, and tweeters for high sound. This will let you get the best sound experience.
Multi-User Support
This feature in a smart speaker makes it able to understand multiple people at the same time. It recognizes the voice the different people and then works accordingly. But for this, you must tell Alexa to switch accounts each time.
Multi-Room Streaming
This feature makes the device to be able to switch playback from room to room on the user's preference. The feature generally refers to the adding of one or more wireless speakers to your home. These speakers then communicate with each other, and you can control it via an app on your phone, tablet or computer. And now even with your voice. This lets you create different rooms of music and either you can play the same track in a single room or play different music in different rooms.
Which AI Assistant you choose
A smart speaker is more than just its audio capabilities. So which AI assistant you are choosing also influences your buying decision. Alexa, Siri, Cortana, Google Assistant are all smart; the choice depends on you.
Compatibility with smart home devices
The smart speakers are compatible with the smart home devices that allow you to control your home devices on single voice command. So you must check for the smart speaker you are purchasing is compatible whether for your home devices or not.
Screen
Some smart speakers are also now coming with the screen feature letting you see things. You can watch video flash briefings, weather forecasts, see music lyrics, Amazon Video content, security cameras, photos, to-do, and shopping lists, browse and listen to Audible audiobooks, and much more.
Security
Security and privacy is, of course, an important feature you must look in a gadget you are investing in. A smart speaker listens to everything that you are saying, and so privacy is very important. That's why most of the smart speakers come with mute buttons that disables the microphones while you are on a phone call or video call. It also disables the automatic voice detection by turning off the mic through a hardware switch present in the device.
Final Words
That's all end for our best picks, reviews and buying guide for the smart speakers with alexa. I am sure the blog will surely help you out to pick your favorite one on the basis of your desired choice and preferences. All are budget-friendly models and have the smartest features ever. So what are you waiting for? Just upgrade your smart home with one of the above listed smart speakers.
Explore More on Smart Speakers
Echo Dot (3rd Gen) – New and improved smart...
22%
Azacus Wireless Portable Bluetooth Speaker wi...
27%
JBL GO Portable Wireless Bluetooth Speaker wi...
37%
Echo Dot (3rd Gen) – New and improved smart...
22%
Echo Dot (3rd Gen) – New and improved smart...
22%
Amazon Echo (2nd Gen) - Powered by Dolby – ...
20%