An Indian household definitely deserves the best Smart TV for entertainment purposes. With daily soap operas gripping the attention of every possible viewer, if you don't have a well-functional TV unit, then your entertainment will come to a dead end. Always remember that a mere 32 inches TV is a history, which should be forgotten. It is time to move ahead and embrace the world of smart TV. And when you are talking about Smart TV, the first name that come up to your mind got to be of Samsung TV.
Samsung is one brand you can trust with its wide ranges of Smart TV. Available in various screen sizes and resolutions, the best Samsung TV is hard to find among so many available options. Choosing anyone among the lot is no doubt challenging, but not impossible.
Some are into LED TVs, and then you have another bunch of people more into OLED, the expensive one. Setting up your budget and then making plans with the right choice is always a smart decision to do. Now the real question is which one to choose among LED and OLED Smart TV from Samsung. But first, let's learn about the necessary choices to make.
I. Best Samsung LED TV
To begin this communication, it is time to check in with the best Samsung LED TV. The market houses multiple options, making it difficult to pinpoint anyone. Among the lot, let's talk about the top 3 ones from the main manufacturing house now.
1. Samsung T5770 43 Inch Smart FHD TV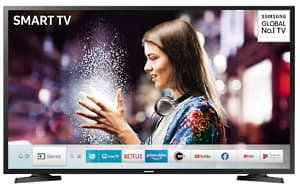 Known for its basic features like Ultra Pix and HDR, 40W, and Voice Assistant with a single remote control, Samsung has hit the spot with this T5770 Smart FHD TV. It comes with full HD resolution and with Smart Hub and Remote control features. Thanks to full HD resolution, now you will find two times more clarity in pictures. All your favourite TV shows and movies will provide you with a real feel. The vivid and rich Full HD resolution will spice up your entertainment to a whole new level.
It comes with smart Hub technology with one remote control. So, now you can discover all types of content just in one place and procure maximum enjoyment out of it. The Sleek remote control will keep the entire machinery simple and will allow you to quickly search your favourite content on the go. Right from your TV serials to game consoles and apps, now you can access everything with just a single remote control.
With its High-Dynamic Range, now you get the chance to level up the bright expression of your Smart TV and enjoy the immense spectrum of visual details and colors, even in the darkest of all scenes. With a fully-functional and detailed content guide, now you will have curated list of all the contents from streaming channels to broadcast, personalized. So, now you can get to your favourite content with ease, and without the need of opening an app.
You can't forget its multiple voice assistance, can you? So, everything seems a lot easier with such voice control. You can now easily access all your favourite contents, get answers and even get to control your TV with some other connected devices around your place. All you have to do is tell your voice assistant, what to do. Moreover, this Smart TV can easily fit any home ecosystem. It can work well with Google Assistant, Amazon Alexa and AirPlay 2.
Pros
This TV is perfect to be used with Amazon Alexa to make your life simpler
Thanks to Google Assistant, now you can control your TV with ease
It can always work well with AirPlay 2
It has 2 HDMI ports and with 1 USB port for easy connectivity
Cons
Only a single USB port is not enough
2. Samsung T5350 Smart FHD TV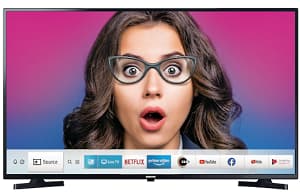 With its personal computer mode and a perfect content guide, T5350 Smart FHD TV is another classic LED example from the house of Samsung. It has its very own music system! A Series 5 model, this Samsung smart LED TV, comes with full HD resolution, which makes picture clarity follow an all-new level to it. It has HDR picture control and with PurColor as some of its interesting features to look at.
Just like the previous model as discussed, it comes with stunning detail viewing experience too with its High-dynamic-range. Now you get to enjoy the immense spectrum of visual details and vivid colors in dark scenes too. PurColor, on the other hand, makes every video watching experience way more vivid than usual. It will enable the TV to showcase its wide ranges of colors, which end up with optimal picture performance and immersive form of the viewing experience.
It comes with Ultra Clean View, which helps in delivering premium quality images with significantly less distortion. This mechanism is actually utilizing advanced algorithms for analysing its original content and then delivering improved details. Moreover, with its Contrast Enhancer, you can feel like the images coming back to life! This process helps in bringing in the flat image to life by adjusting its contrast and then presenting outstanding picture quality with that deeper depth.
Now, you can plug your favourite media and entertainment into this Smart LED TV and watch your best videos, play some music and even view photos through a USB connection. You can even use its personal computer mode. This mode actually helps you to work from Cloud on your presentation. It has Word and Excel documents, and you can even mirror your laptop on the screen for convenience. If you want, you can access the office computer remotely as well.
Pros
You will find the perfect content guide, which makes entertainment a lot easier
The Music Player feature helps turn this Smart TV into a virtual music system
Now you can live cast with T5350 Smart FHD TV
It has full HD resolution for picture-perfect clarity all the time
Cons
This model has only two HDMI port and a single USB port
3. Samsung N5470 Smart FHD TV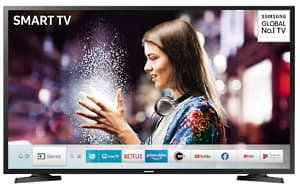 This Smart LED TV from Samsung is known for its four-channel surround sound system. It has Ultra Pix Colour Technology, which is a revolutionary addition in the list. Furthermore, this sector comprises of the built-in set and with Smart hub-based Set-top box, which is another plus point to consider. With 43" screen size, this TV is a perfect fit for your compact living space. A Full HD resolution, this Smart TV comes with Quad-Core Processor, and it is part of the Series 5 set.
Right from personal computer to the music system, home cloud service to live cast, this TV has everything, which makes you explore its magical features daily. It has two-way sharing, which is indeed necessary these days. This Smart TV comes with its very own Content Guide. There are so many shows to choose from. This Content Guide will recommend the popular shows and contents, which are tailor-made for you. So, now you get to watch whichever movie or serial you want to.
For a perfect work-fun balance, this TV can be your personal computer when the time feels right. You can easily work from Cloud and then mirror laptop for that big screen convenience. If you want, you can even remotely access your entire office computer, whenever the time comes for covering any unfinished file. Moreover, this Smart TV comes with a personal music system. It offers that new visual experience to your entire playlist. So, now you can easily turn your TV into a virtual music system in three very different color tones.
Pros
You can address the home cloud through this Smart LED TV
You can easily switch on to entertainment, where you can get all your favourite content across genres
Live Stream is yet another positive feature of this smart TV, where you can share the content with anyone and entertain everyone
Cons
Model availability will vary from one location to another
Features and prices might change without any prior notice
View on Amazon View on Flipkart
II. Best Samsung OLED TV
Well, you have tried your hands on Samsung LED TV, and the results aren't that bad. However, if you do have some extra bucks to spare and want the latest model of all time, then Samsung is known to house the best Samsung OLED tv. Now, the market has so many and most from Samsung hut. Want to know the best ones among the lot? If so, then get along with the top 3 options as mentioned below for your reference.
1. Samsung Q950T 85 Inch 8K Smart QLED TV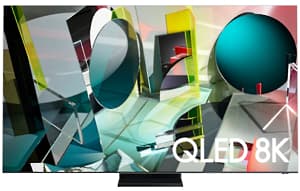 With 8K becoming a new trend these days, Samsung isn't lagging behind as you can see in its Q950T 8K Smart QLED TV model! This model is available in 75 inches and 85 inches, whichever one seems to fit your spacious living room. Known for its infinity screen and real 8K resolution, your entertainment will take a completely new turn these days. This model is part of 9 Series, and it comes with OTS+.
This infinity screen is here because of its edge to edge viewing experience. The black edges are shrunk in to present like there is nothing in reality. To top it all, this model has an ultra-slim frame, which will remove all kinds of distractions for that immersive viewing experience. Moreover, you can't ignore its real 8K resolution. So, this feature helps in bringing in a new dimension of reality to living space in larger screens. Now you can feel the power of every possible frame within 33 million pixels at perfect clarity with four times more resolution than what you get with 4K.
It comes with Quantum Processor 8K, which is powerful intelligence that you will ever need. This intelligent processor helps in creating the best view experience with brilliant AI Upscaling and even Adaptive picture under 8K resolution. This 8K AI upscale multiple source types and resolutions right into 8K through the idea of machine learning. It will end up creating realistic edges, flawless textures, and even reduces nose for that real-like picture quality.
Pros
This TV is known for its adaptive picture quality, which will adjust the brightness automatically according to the surrounding areas with ease
It has one invisible connection along with the no Gap Wall-mount structure, which is hard to find in other Samsung models so easily
It has Object Tracking Sound+ for helping you to enjoy the realistic sound experience, just like in multiplexes
Cons
This 8K resolution QLED TV is known for its high price range, which isn't possible for maximum people to afford
It is very fragile and must be placed in the most secure place
2. Samsung Q60T 4K Smart QLED TV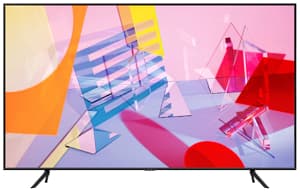 Available in five different sizes, Q60T 4K Smart QLED TV comes with 100% colour volume, and Dual LED service. It even has Quantum HDR and with 3-side Bezel-less features. So, for that premium level picture quality, this QLED TV from Samsung is the one to watch out for. You will receive a billion shades of proper color with Quantum Dot. This technology is designed to deliver the best ever picture.
With its Dual LED backlighting based technology, you get the chance to adjust the current color tone for matching the content's mood to watch it in the way it was to be. It further comes with Quantum HDR, which will bring in the contrast and detail for experiencing full power in every possible image. Apart from the leading standards, this dynamic tone mapping comes with HDR10+ for deeper blacks and vibrant imagery throughout.
This TV is known for its powerful form of picture quality because of Quantum Processor Lite. Now you can enjoy perfect picture quality, made possible with a single chip. It helps in orchestrating color and optimises the higher contrast ratio. It is also perfect for mastering HDR at its best. With this 3-side Bezel-less design, you can set some new standards. You will check out most of the immersive cinematic experience ever possible.
The ambient mode of this smart TV is what you need the most for decorating your place with favourite pictures. Whenever you are about to project your best photos onto the TV screen, the machine will blend itself into the décor elegantly. So, now you can easily work on various photos in one beautiful collage and then place them in one slide show to keep visuals on point and fresh.
Pros
This Smart TV is mainly powered by TIZEN
It comes with one remote control and a smart hub, where you can access multiple contents with a single remote
The Ultra HD background of this Smart TV comes with its very own content guides, which will tailor-made a preference list
Cons
TV is very slim and quite fragile. So, a single knock can destroy your TV completely
It is too expensive for the generic crowd to purchase
3. Samsung Q800T 8K Smart QLED TV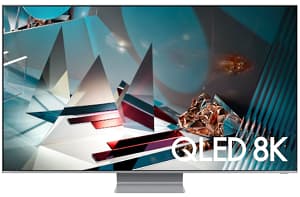 Want to mingle the power of 8K resolution with a QLED background? If so, then waste no time further and work out on the Q800T 8K Smart QLED TV from the house of Samsung. This model is available in three different sizes, under 65 inch Samsung tv, 75 and 82 inches. Based on your available space and the luxurious spread of your living room, you can choose the right screen size of your model.
It comes with the latest real 8K resolution, which is now of prime importance in this market. It is part of Series 8 and comes with OTS+ and Direct full array 24X.
Now, you get the opportunity to enter the world of the all-new resolution, which will bring in a completely new dimension of reality of living room space. You can easily feel that limitless power of 33 million pixels at its ultimate clarity with the resolution, known to be four times more than 4K models. Similar to a previous 8K QLED model from Samsung, this one too has powerful intelligence, which perfects reality. The Quantum Processor 8K helps to create a perfect viewing experience with AI Upscaling and Adaptive picture.
This Smart TV comes with adaptive Picture quality. It means now you can actively adapt to the viewing environment by adjusting brightness automatically. You get the chance to experience that perfect picture without thinking about the time of the day. Even the powerful Quantum Processor 8K will upscale multiple sources and resolutions into its 8K field through the world of machine learning. AI Upscaling will work to reduce the noise and even create flawless textures.
Now, you will further enjoy multiple concentrated forms of concentrated backlight zones, which can adjust precisely for inky blacks and pure bright. So, now you get to experience illuminative details with the impressive contrast, thanks to the Direct Full Array feature of this model.
Pros
This TV comes with Dynamic Sound System, which will track the object. That's what Object Tracking Sound+ means
With its ultra-viewing angle, you get to see the picture clearly, no matter wherever you sit
With its Quantum HDR 16X, you get to view every single detail with ease as intended by the director now
Cons
This product is too expensive
Some prices are still not out, especially of the 55 inches and larger models
III. Best 32-inch TV from the house of Samsung
If you have a tight living space and the distance between the TV cabinet and the sitting arrangement is not much, then heading towards the big 55" QLED TV might not be the right decision, even if you have the money to spend on it. You need something rather compact. So, opting for the 32 inches TV will be a smart choice to make. So, let's talk about the top 3 best 32 inches TV from the Samsung unit right now.
1. Samsung 32 inch HD Ready LED TV – 32J4003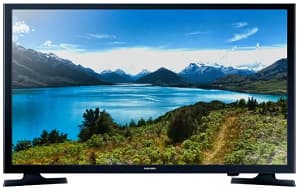 With Dual 5W speakers and Dolby Digital Plus Surround Sound system and 60Hz for blur-free picture quality, this Samsung 32 inch led tv will always win millions of hearts. It readily comes with 1366 x 768 HD Ready Display with its wide colour enhancer option. So, now procuring amazing picture quality is a very easy project to consider. It comprises of 2 HDMI ports for connecting consoles and set-top boxes simultaneously. Moreover, it has 1 USB port, where you can watch contents from hard disks and USB drives.
This TV unit from Samsung is stylish, smart, and will prove to be one fine addition to your household. It is slim and comes with a narrow bezel and the finest smooth finish of all time. It is light in weight and slim in size and makes up perfectly for your entertainment unit. You can even hook it directly on the wall, thanks to its wall mount feature.
This 32 inches HD ready LED screen will present the viewers with vibrant colours and that sharp image. With an enhanced resolution, you will receive the top-notch quality picture. Moreover, its HyperReal Picture Engine will present you with the most cinematic experience of all time.
This TV has Wide Colour Enhancer, which will easily improve the quality of every possible image and will further uncover all the hidden details. Moreover, the sound quality is because of its dual speakers. The combined output of 10W will present you with advanced Digital Dolby experience. Moreover, the speakers are well-equipped with Down Firing Bass Reflex. Through this feature, now you get to distribute HD sound as well.
Pros
This TV has one of the best connectivity options and ranked among the best 32 inches LED TV in India. With 2 HDMI and 1 USB port, you can't ask for anything more
As additional features, this TV has Indian Cinema Mode, where you get to enjoy the cinema-like experience at your place
It has a separate cricket mode, where you get to enjoy sports like you are watching it on the field
Cons
Sometimes, the audio of this TV might get interrupted, which can be easily resolved by calling a Samsung technician
View on Amazon View on Flipkart
2. Samsung 32M5100 – 32 inches Full HD LED TV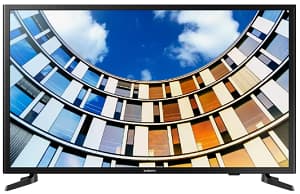 You get the opportunity to connect mobile phone with this 32M5100 32 inches Samsung Full HD LED TV via Bluetooth and enjoy the best experience of all time. With its full HD display, now you get the opportunity to enjoy crystal clear and high-quality picture every time when you turn your TV on. It helps in supporting mobile phone mirroring at its best.
This Samsung 32 inch smart tv helps in supporting mobile phone-based mirroring. So, if you have any picture or video on your mobile phone, which you want to display on 32 inches TV screen, you are most welcome to do so.
This phone comes with 2 HDMI ports for connecting gaming consoles, set-top boxes, and laptops. It even has 1 USB port for accessing content from USB drives, hard drives and more. The price is also pretty reasonable, so there is no need to invest a lot for the TV in here. With this Smart LED TV, now you get to enjoy entertainment non-stop with your friends or your entire family together.
This TV has a Clean View feature, which can easily eliminate all kinds of external interference and noises and enhance the contrast and colour of the picture at the same time. As a result, you will receive a crystal clear view and even refined image quality. This TV comes with wide colour enhancer, where you get to see the content to be portrayed in the best way possible. Wide Colour Enhancer will improve image quality and provide you with colorful and bright viewing experience all the time.
Pros
Thanks to its full HD quality, now you get to enjoy 1080p display all the time
With its mirroring feature, you can see what's on your screen but on a larger and bigger surface area
This TV further has two-way Bluetooth audio feature, where you get to listen to TV audio on mobile through Bluetooth connectivity
Cons
TV is a bit thick and harder to move around
Look wise; this TV won't match the contemporary aesthetic value
3. Samsung 32K5300 32-inch full HD LED TV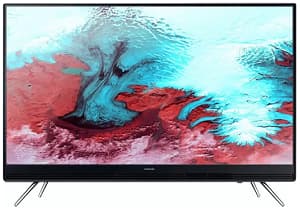 The next time you are looking for a 32 inches smart TV from Samsung with full HD resolution, you are most welcome to try out the 32K5300 model. This is one of the finest examples of Smart TV, which comes with Bluetooth connectivity and Screen Mirroring. Moreover, the 1920 x 1080 full HD resolutions is another feature for you to consider. It comes with a refresh rate of 100 Hz for a blur-free and smooth picture for you to consider. Furthermore, it has 2 USB ports, 2 HDMI ports, and it comes with built-in Wi-Fi.
This TV comes with 20 W Audio Output with proper Dolby Digital Plus. It comprises of useful dashboard-style screen size for accessing all possible connects right at one place for that easier and quicker access. All the games, apps and even online streaming services are now available with that quicker access in a single screen. The content for these connected devices like USB drives is also made easily available on this possible screen.
Moreover, to make the service more promising, this TV comes with its unique metallic legs. These legs can easily fit right in the built-in holes within seconds. The legs are primarily available in two different sizes so that you can easily tilt the TV if you need to. So, now you get to watch your favorite movie while lying on your bed.
Pros
This TV provides the special Samsung mirroring feature, where you can see the content of your smartphone on the big screen. It comes with TV to Mobile and Mobile to TV mirroring services.
32K5300 also provides Bluetooth Connectivity. So, within seconds, you get to turn your TV into a music jukebox
This TV has an audio output of two 10 watts of full ranging speakers. It comes with twitter as coupled with the Digital Dolby plus
Cons
Power-boards might provide some issues sometimes
The apps might sometimes hang for which you need to restart the TV
IV. Best 43-inch Smart TV from Samsung
If you are into some bigger and better models from Samsung, then the 43 inches TVs will be your perfect addition to the list. There are multiple TV models available under the 43-inch version and let's talk about the top 3 options available in this regard.
1. Samsung 4K UHD LED Smart TV UA43NU6100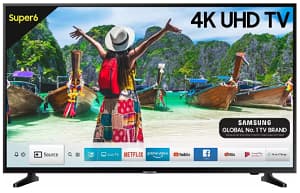 A perfect product from Super 6 Series, 4K UHD LED Smart TV UA43NU6100 will offer you with plenty of features for that impressive superior entertainment experience. Let's talk about the display first. It comes with 4K UHD resolution of around 3840 x 2160 pixels. It can also complement Ultra High Definition with its micro-dimming and HDR features.
Samsung will be using Pur Colour Technology and then contrast enhancer at the same time. The entire product helps in displaying colours, which are closer to that real-life experience. You can't miss the details in overly bright and dark scenes.
This TV can always support HLG and HDR10+ content. You can also enjoy the real effect of HDR content through some of the streaming apps like Prime and Netflix. There are different modes available to this TV, and those are Dynamic, Cinema and more that will optimize the display to match your content type easily.
This 4K UHD Smart TV from Samsung has the perfect audio quality you could have asked for. This model comes with the much-awaited 20 Watt output, through two of its channel speakers. The Dolby Digital Plus System will present the finest clarity, bass, and crispness that will make the sound viewing experience a lot better.
When it comes to Smart features, this TV comprises of various Video On Demand Apps like the Netflix, YouTube, and Prime, already installed within. Furthermore, it comes with the Tizen Operating System, which will make this product work a lot better than usual. You can even learn your viewing pattern, and the TV will guide you to try out some of the best and popular shows possible.
Pros
You can easily cast your laptop or mobile on the TV with its mirror imaging services. You can even turn your TV into a virtual music player in the same way.
This model comes with the Samsung Cloud service, which is designed to help save some important documents, videos and photos
If you want, you can easily enjoy multiple games with its amazing graphics through this great Smart TV
Cons
It does not have proper Bluetooth connectivity
The remote controller is outdated
It won't work with Alexa
View on Amazon View on Flipkart
2. Samsung UA43N5470 108 cm Full HD Smart TV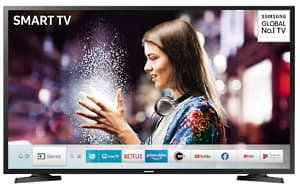 If the previous model doesn't fulfill your requirements and you want something different, then the Samsung UA43N5470 108 cm full HD Smart TV model might be your right choice to make. If you are into the world of full HD, then this Smart TV is the prime choice to make right now. It is versatile in its features and worth the money you are about to spend on this top-notch quality.
The display is not just stunning but perfectly detailed with 1920 x 1080 HD screen. Moreover, this TV gets to support the HDR content and will come with PurColor system for making the picture come out as vibrant as it can get. The screen is purposely designed for that ultimate Ultra clear resolution.
Apart from a picture-perfect display with contrast and vibrant colours, this TV comes with a proper sound quality system too. It has a 40-watt surround sound system with its audio output. So, there is no need any more to invest in any added speaker if you want to get the most audio out of your show or music. This TV, overall, is considered as a full home entertainment system.
If you want, you can use this TV as your personal computer for work. It can even play the role of music player, a hub for storing your data and interface for all your favorite apps under one platform.
When compared to some of the other smart TVs available in the market, this one has its own memory. So, you get the chance to store multiple data, which will gladly include some major documents for family or work and on TV without the risk of even losing those. You can back up the documents to cloud for that added security element to it.
Pros
This TV comes with best-in-class surround sound output with the 40-watt system
It has a promising display with Pur Colour and HDR technology
It offers two-way sharing for streaming content directly onto TV from smart devices and vice versa
Cons
It fails to work with Alexa
View on Amazon View on Flipkart
3. Samsung RU7100 43 Inch Smart TV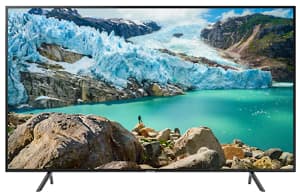 You are most welcome to try out Samsung RU7100 TV as another 43 inches Smart TV from this brand right now. It is on good 4K LED TV, which comes with a decent overall picture. It can always deliver deep blacks and comes with high native contrasting ratio. This TV is also perfect for those rooms with dim light.
This Samsung 43 inch smart tv has proper grey uniformity and comes with proper colour accuracy. It fails to have wider colour gamut and cannot be very bright, mainly in its HDR mode.
This TV comes with a flat design, which is perfect and more or less similar to the NU7100 model from the house of Samsung. This stand available with the item helps in supporting the TV well and comes with a minimalistic wobble. For holding this TV well, you need a larger table. The TV's back is made out of plastic and with the same textured finish as you can find with the 2018 models.
The cable management will be proficiently serviced through some of the guide tracks on the back of the TV and with the help of some couple of clips, as well-attached to the legs. The build quality remains decent, and there should not have been any issue with it, whatsoever.
Pros
The best part of this TV is its promising low input tag
This Samsung model is known for its proper uniformity, which is another positive point to consider
Cons
It comes with poor versions of HDR peak brightness
Even the image will degrade whenever viewed from an angle
Best Samsung TV Buyers Guide
In this section we will detail you how to choose a TV based on various factors which affect your viewing experience. You can read our full smart tv buying guide for more detail.
1. The Best Size of Smart TV for your home
It does not matter if you are planning for a simple 32 inches model from Samsung or 55 inch Samsung Smart TV, the biggest factor while purchasing a TV probably has to be the size of the screen. Keep a note on the number of family members who will gather together and watch it and where you are planning to put it. If you are planning to wall-mount the TV in your bedroom, then a basic 32 inches will work wonderfully for you. But, if you are about to place it in the living area, then a bigger and better version can work wonderfully.
2. Screen Resolution or Display to Choose
You have three different screen resolutions of Samsung smart TV to choose from. One is HD ready, another one is Full HD, and the last one is Ultra HD or 4k. The HD ready will come with 1,280 x 720 pixels with around 1 million pixels approximately. Then you have Full HD with 1,920 x 1,080 pixels and around 2 million pixels. The Ultra HD or 4K is 3,840 x 2,160 pixels with a total count of around 8 million pixels. The more pixels there are, the better will be the image quality. With more pixels, any image can be proficiently displayed at larger sizes without running through picture degradation. So, think about that as well.
3. The Refresh Rate to Consider
Mostly stated in Hertz, the refresh rate is explained as the time a perfect is proficiently refreshed on the said display screen. It can be 60 times per second as the standard refresh rate. A 60 Hz rate can always make things look a bit blurry in screens with rapidly moving objects. So, for that proper natural picture, Samsung houses some Smart TV with double the basic refresh rate, which is 120 Hz. So, look for that, while making a purchase.
4. OLED TV Technology
Samsung is all set to compete against LG's OLED market with its own QLED or quantum dot LED options. These are mainly microscopic semiconductors, designed to emit beautiful and colourful light whenever you are hit by any ray of light. The light then absorbs and emits capacity of the QLEDs to provide picture-perfect and vibrant images on the screen. So, if you have some extra bucks to spare then go for the QLED Smart TV from Samsung, as these are rather costly.
5. HDR Technology to look for
One of the major technical innovations in the field of TV industry got to be the High Dynamic Range technology. It is one broad term, which is used for a series of standards, proficiently designed for expanding contrast and colour range of the video displays, which are beyond the current hardware. So, you have to look in for this HDR technology as well while purchasing a smart TV from Samsung house.
Keep a track on these points before purchasing a smart TV from Samsung house. Going through these options will always help you make the right choice, as you are about to invest quite some bucks on the TV.
LED Vs. OLED – Which one to choose?
If you are way too confused between LED and OLED versions to choose from, then there are some points, which can help you find an answer.
The Black Level
The ability of the display to produce darker and deeper blacks is the most primary factor in procuring excellent picture quality. Deeper blacks will allow for that higher contrast and richer colours, and ending up with dazzling and realistic image. If the matter involves around the black level, the OLED is always taking the primary holdover LED without question.
In terms of Brightness
Whenever the matter is associated with brightness, LED TVs are known to be on the advantage level. The backlights of LED Smart TVs are made from powerful and large LEDs. With quantum dots added to it, the brightness can be well-preserved even when the size of the LEDs starts to get smaller. OLED TV, on the other hand, can prove to be quite bright as well. But, the cranking the OLED pixels to their maximum effort for a long time will reduce its lifespan and the pixel will even take longer time than usual to return to total black. So, here the winner is going to be LED TV.
The Color Space
OLED models will be ruling this category. However, by improving the backlight purity of the model versions, quantum dots have now allowed the LED models to move forward in terms of colour brightness and accuracy, and even colour volume. So, these high-end LED models are working hand in hand with the OLED ones in terms of colour space. Both these models will support wider colour gamut and HDR features. So, in this regard, you can easily say that OLED and LED are both winners.
Response Time
Response time is mainly the time it literally takes for every single pixel to change its state. The state of the pixel will not just be its colour but also brightness. With one faster response time, you will receive lesser motion blur and with few artefacts. As OLED pixels are here to combine colour and light source in one single diode, it can easily change the states faster. On the other hand, you have LED TVs, which are using LEDs for producing brightness. The tiny LCD shutters will be the one to create colours. These LCD shutters are slower to respond, by nature, when it comes to change of state.
OLED, at this point, is providing the fastest response time of any possible TV technology, making it one major winner at this state.
The Refresh Rate to Consider
The refresh rate is mainly the time when the entire image on the screen changes. The faster that rate becomes, the smoother things will look. It is easier for you then to pick up the details even in some fast-moving content. Most of the newer TV models now have the capability to refresh rates of around 120Hz, where the entire image is likely to be updated 120 times every possible second. It can go as high as 240Hz.
If the refresh rate is also determined by Hz, then OLED will be a clear winner in here as it can achieve the rates 1000 times higher when compared to LED models. But the speed is not the only consideration here. Unlike TV shows and movies, video games will employ what is called "variable refresh rates." It means that the rate will change during different gaming parts. If the TV fails to match those rate changes, you will be the victim of image tearing. So, gamers are looking for TVs to handle VRR. It is one rare feature on both Led and OLED TVs. Right now, the newer 2018 models from Samsung house this feature. To be honest, when it comes to VRR, it is one real advantage that neither OLED nor LED TVs have.
Concluding Note
Going through this guide will help you learn more about Samsung and the type of TV models you can get from this source. The final call remains with you, where you get the opportunity to choose the Samsung model you want for your bedroom or living room. Make sure to go through all the products, check out their prices and features, and pre-set a budget accordingly. It will literally help you to make the right purchase, without wasting your money anywhere else. Making one choice is tedious but not impossible anymore!