Samsung is one of the world's biggest TV manufactures, we all know. The brand offers a variety of models from LED, OLED, QLED, 4K TV, HD or UHD, satisfying a variety of needs and budget point. Here, we have brought the best models of Samsung Smart TV in India for you.
These smart TVs from Samsung will not only provide users with TV content; but will also act as an interactive media tool, providing services such as on-demand streaming, web browsing, etc.
Get an in-depth details on "How to Choose the Best Samsung Smart TV", in our Ultimate Buying Guide.
Our Best Picks of Samsung Smart TV and Reviews
We have reviewed best available models in Samsung. These Smart TVs are highest rated and best selling models
1. Samsung 49-inch UA49N5300AR Full HD LED Smart TV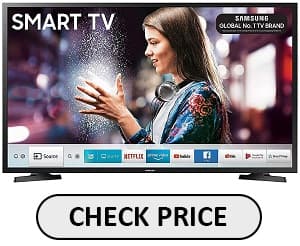 First on the list is the 49-inch UA49N5300AR from Samsung Full HD LED Smart TV. It is one of the highest-selling Samsung Smart LED TVs.
This TV converts into a complete work-station. Users can access their work files from the cloud. Remotely access any computer on these 49-inch TVs.
This Samsung Smart LED TV is also an ideal music player. The TV displays the music playlists in a brand-new design. The TV converts itself into a virtual music player. The sound quality of the speakers is spectacular. Plus, the display and user interface for accessing music files is very easy to understand.
It also features an efficient Home Cloud system. This system enables users to save their most important files on their TV, wirelessly and automatically. Get secure storing space with these TVs.
The TVs also offer live cast which enables users to live stream directly from their TVs. The broadcast quality is splendid. Sync the TV with Samsung smartphones and manually control it from anywhere. Play phone videos or watch images directly on the TV. Samsung smartphones and this Smart TV work perfectly together, boosting the overall user experience.
This set is one of the best Samsung Smart TVs in terms of compatible use with smartphones. Most importantly, users can access all their content/media from one spot. Be it live TV, on-demand streaming, online browsing, apps or other platforms – browse through all types of media content with the Samsung 49-inch UA49N5300AR Full HD LED Smart TV.
Key Features
The screen size is 49-inches. Ideal for family viewing or watching HD movies.
Full HD Display Resolution (1920 x 1080 pixels) ensures top-quality images.
The lag-free refresh rate is 60Hz.
Micro Dimming Pro technology. This technology helps the TVs analyse and divide each segment of the screen. The TV (in real-time) separates the deep black from the pure white segments of the screen. This ensures that the images are crystal clear and easily distinguishable.
It has all the necessary features you need in a high-efficiency Smart TV.
Buyers Feedback
The Good
The 'PurColor' feature enables the TV to display al shades of color. There are no irritating color corrections. Optimal picture performance is guaranteed.
Comes with a built-in set-top box.
Two HDMI ports.
1-year warranty on the whole set.
There are four channels of sound output. These channels are spread evenly from top to bottom. The sound spreads optimally. The whole room receives an incomparable cinematic sound quality.
The Bad
Only one USB port. Not enough if you want to plug in your speakers.
The built-in set-top box is useless if you already have a set-top box.
2. Samsung 32-Inch HD Ready LED TV UA32T4010ARXXL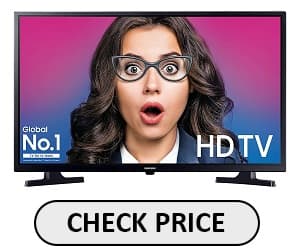 In terms of small size and efficiency, the Samsung UA32T4010ARXXL 32-Inch is the best Samsung Smart TV in the market. It is ideal for people who live in small dorms or apartments.
The set has a high-quality LED panel which provides users with 720p High Definition resolution. This model also has Samsung's 'PurColor' technology. Plus, the local dimming feature is also available. All of these factors ensure that the user receives amazing contrast and color saturation.
Of course, this Samsung Smart LED TV has Wi-Fi connectivity. The user interface is easy to use. It offers fast and smart functionality. Users can easily access all of their favorite on-demand streaming apps.
Key Features
This model uses Samsung's 'Ultra-Clear-View' filter to provide the cleanest possible pictures.
There are two HDMI inputs.
Only one USB port. There are also component/composite video inputs, and an additional RF-coax input point. Users can easily connect their DVD players, gaming consoles, HD speakers, etc. Don't forget to make additional space for the wires.
The Smart Hub home menu is easy to use and understand. There are helpful sections, such as live sports, news, movies, reality shows, and other broadcasts. There is no confusion of browsing through multiple menus.
Picture quality is impeccable. The motion rate is 60 FPS. The refresh rate is equally fast.
Fast processing speed.
Backlight technology guarantees high-quality images with clear contrast.
Overall, an easy to browse navigation experience. Access social media, internet browsing, etc. with ease.
Buyers Feedback
The Good
Numerous inputs
Easy to use remote
Picture quality at par
Good sound quality
The Bad
Does not connect mobile using wi-fi hotspot
No voice-command support
No voice-command support
3. Samsung 32-inch Series 4 HD Ready LED Smart TV UA32N4310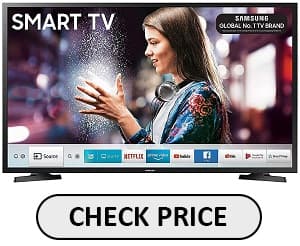 The Samsung 32-inch Series 4 HD Ready LED Smart TV UA32N4310 is a classic bargain buy. Although these TVs are small in size, they come with a ton of features. In terms of function and multi-tasking capabilities, this set is one of the best-priced Samsung 32-inch LED TVs.
Key Features
Turn the TV into a cool music system. The user interface is cool. It is easy to create virtual playlists. Plus, the in-built sound system provides an immersive listening experience.
Save files seamlessly on the Home Cloud.
Live Casting enables users to watch phone or computer content on this Samsung 32-inch LED TV. Watch pictures, videos, or live stream content on your TV.
The Smart Hub allows users access to a plethora of TV apps. Browse the internet, important files, or other content from TV apps while watching your favourite TV shows.
High Definition Resolution vastly improves the TV viewing experience. The HDR aptly highlights each colour particle. The TV offers impeccable contrast and clarity.
Ultra-Clean View.
Micro Dimming Pro.
PurColour.
The set costs less than 20,000 rupees. At this price range, not many TVs offer so many features.
The SmartThings app enables users to control multiple devices with ease.
Buyers Feedback
The Good
Superb picture quality
Outstanding picture enhancing features
Consists of all the important Smart TV features
Cheap
1-year warranty on the complete set
The Bad
The browser is not compatible with all websites
Only one USB plug point is not enough
4. Samsung 43-Inch UA43N5300AR Full HD LED Smart TV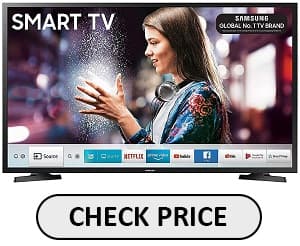 The UA43N5300AR Full HD LED is the best Samsung 43-inch Smart TV in the market. It offers users easy access to all of their content from one easy to use interface – the Smart Hub. With the Smart Hub, users can access live TV, online content and content from streaming apps. Simultaneously browse the internet while watching TV.
Key Features
This Samsung 43-inch Smart TV is extremely light and sleek. It is visually stunning with display resolution of 1920 x 1080 pixels (Full HD).
The refresh rate of this Smart TV is 50 Hz. It enables smooth and crisp transitions which ensure effortless viewing.
'PurColor' feature enables the TV to display all shades of color, as per the intentions of the content creators.
The Micro Dimming Pro technology examines each region of the screen for deep black and pure white areas. It helps the TV provide optimal picture performance. Plus, electricity is used in a precise and eco-friendly manner.
The Samsung 43-inch Smart TV comes with a built-in set-top box.
There are two HDMI ports and one USB port.
Amazing Sound – The sound output distributes evenly from top to bottom of the TV sets. The sound spreads out evenly in the entire room. The Samsung 43-inch Smart TV delivers cinematic sound quality even in large rooms.
Ultra-Clean View feature processes original content (even if they are in poor picture quality) to deliver high-quality images with no visible distortions.
Buyers Feedback
The Good
1-year manufacturer warranty
Easy to install and use
Cost-effective compared to other similar products
The Bad
Only one USB port and two HDMI ports will not be sufficient for gamers
5. Samsung 108 cm (43 Inches) Super 6 Series 4K UHD LED Smart TV UA43NU6100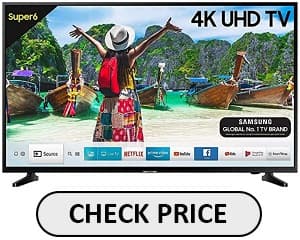 The 'Super Six Series' from Samsung is extremely popular. The Samsung 108 cm (43 Inches) Super 6 Series 4K UHD LED Smart TV UA43NU6100 (Black) (2019 model) is the latest addition to this series of 4K UHD Samsung 43-inch Smart TV. Overall, this TV's design ensures heightened entertainment experiences.
Key Features
Crystal clear display. In terms of display, this model is the best Samsung Smart TV that you can find in the market. The 4K UHD resolution (3840 x 2160 pixels) offers super viewing.
HDR and micro-dimming features complement the UHD Display.
HDR technology enhances color range and contrast.
'PurColor' technology also acts as an efficient contrast enhancer.
Display colors seem as life-like as it gets, even when the screen is dark or overly.
The TV supports both HLG and HDR10+ content (major streaming platforms like Netflix and Amazon Prime use such high-quality images). Enjoy the stunning effect of HDR on this 4K UHD Samsung 43-inch Smart TV.
Viewing modes such as Cinema and Dynamic optimizes viewing experience by suiting the screen to the type of content it is displaying.
A refresh rate of 60Hz is perfect for watching fast-paced content. Expect effortless and lag-free transitions in movies and sports shows.
The 4K UHD Samsung 43-inch Smart TV also features two 10w speakers (Dolby Digital +) system which ensure optimal bass and clarity of sound.
The ever-reliable Tizen OS is used in this 4K UHD Samsung 43-inch Smart TV.
Buyers Feedback
The Good
Very easy to download Video on Demand applications such as YouTube, Netflix, Amazon Prime, etc. pre-installed
The user interface is easy to use. The interface also self-adjusts as per the viewing habits of the user.
Easy to cast mobile and laptop content to the TV.
Acts as a safe storage space for storing documents, photos, etc.
HQ graphics allow users to play high-frequency games effortlessly.
The Samsung Smart Things app allows users to control the entire set-up with ease. The lag-free smart features make this set one of the best Samsung Smart TVs in the market.
The Bad
The TV has only two HDMI ports and one USB port which is not enough for people who wish to attach gaming consoles and disk players to the TV
No Bluetooth connectivity
TV does not support Amazon Alexa
Several regional apps such as Voot and Zee TV are not accessible on the Tizen Operating System
Costly compared to similar models from other brands
6. Samsung UA43N5470 108 cm (43 Inches) Full HD LED Smart TV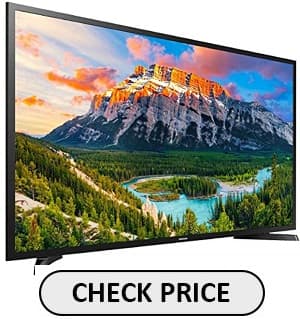 If you are looking for high-quality audio on your TV, this model is best Samsung Smart TV that you can get currently in the market. Apart from its famous audio features, this Samsung 43-inch Smart TV is extremely versatile and offers excellent viewing experiences. This Samsung 43-inch Smart TV has an impeccable 1920 x 1080 Full HD screen.
Key Features
It supports all HDR content from major streaming platforms.
Features the famous PurColor system which makes the pictures as lively as possible.
Ultra-clear resolution ensures that the image quality, contrast, and the vibrancy of colors is perfect.
The sound quality of this Samsung 43-inch Smart TV is the best in the market. The TV has a 40watt surround-sound audio output (double the amount of most Smart TVs). There is no need to purchase extra speakers.
The TV offers in-built HQ sound. When you're not watching content, you can use this TV as a high-quality music player.
Smart Features make the Samsung UA435470 an ultimate home entertainment system.
Use it as a personal computer for saving work files, etc. You can safely store loads of data. The documents can be sent to the cloud, providing maximum security.
Buyers Feedback
The Good
The coolly designed interface allows users to access their favorite apps with ease.
Two-way sharing enables users to stream content directly from their smartphones to the TV, and vice-versa.
Excellent display with High Definition Resolution and PurColor technology.
The sound output of 40 Watts is the best that you can get.
Cost-effective.
The Bad
Does not connect with Amazon's Alexa.
7. Samsung 80 cm (32 inches) M-series 32M5570 Full HD LED TV
This Samsung 32-inch smart TV offers more than the average Smart TV with an interface and Wi-Fi Internet Connectivity. This TV set has mostly favorable reviews.
Key Features
Access all types of content (online, streaming platform content, etc.) directly on the TV.
Full HD Resolution.
Hyperreal Picture Engine provides a crisp and more realistic image quality.
Use the Contrast Enhancer setting to get the perfect contrast.
Wide Color Enhancer boosts movie or TV series viewing experiences.
One remote control that manages all the multiple devices attached to the TV.
Voice Control for switching channels.
Dongle Compatibility (LTE).
Pre-installed web browser.
RF Connectivity Input.
Micro Dimming Pro and PurColor enhances picture quality.
Space to incorporate RGB Cables.
Two USB Ports.
Three HDMI Ports, enough for installing gaming consoles and other media players.
Built-in Wi-Fi and Ethernet Port.
60 Hz Refresh Rate.
Buyers Feedback
The Good
Super-slim and stylish-looking.
The TV Set offers Screen Mirroring. Directly watch Mobile content on the TV. Similarly, users can view TV content on their Samsung phones.
Sound Mirroring. Listen to music on your phone on the TV. Use the TV as a high-quality Bluetooth speaker!
The Sound System is fantastic. Two 10W Speakers (with Dolby Digital Plus).
Users can also store files on this TV.
Low-cost and durable.
1-year warranty.
The Bad
No installation services available.
The package is safe for purchase only from verified sellers.
8. Samsung UA32N4200 HD Smart LED TV (32 Inches)
The UA32N4200 HD Samsung 32-inch LED TV has a strong reputation in the local Indian market. Like most products from Samsung, the UA32N4200 HD model is reliable and offers several features. The sleek and stylish TV set is guaranteed to entice viewers. In terms of visual appeal, this Samsung 32-inch LED TV scores full marks.
Key Features
Full HD Ready display optimizes viewing experiences.
PurColor technology makes the color particles in every picture appear prominent. The picture quality is much more vibrant and clearer than standard HD TVs.
The screen has a refresh rate of 60 Hz. All transitions feel incredibly smooth and crisp.
Very easy to connect the Samsung 32-inch LED TV with Blu-Ray disc players or gaming consoles. The TV has two HDMI ports and one USB port. All the ports are on the backside of the set. Make sure the TV set installation is done keeping this space requirement in mind.
Easy to set-up Wi-Fi connectivity.
Two 10Watts speakers offer decent sound.
The interface is run on the ever-reliable Tizen OS. Regular updates are made to the OS. The OS is easy to use and has all the cool features that every smart TV should have such as a Personal Computer, a unique Music System, Home Cloud for additional storage, Live Casting, and two-way sharing.
Easy to install apps (especially streaming apps such as Netflix or Amazon Prime).
Buyers Feedback
The Good
Crystal-clear HD Ready display with 1366×768 resolution
Fast refresh rate ensures smooth viewing experiences
PurColor and Auto-Dimming helps boost image quality from all angles
Energy-efficient
Cost-effective
Light and easy to install (weighs only 5.6 kg)
1-year warranty on the entire set
The Bad
Only one USB port
The two 10W speakers are not loud enough for living rooms
The 55-inch size category of Smart TVs is extremely popular among both manufacturers and buyers. Almost every significant model of Smart TVs is available in 55-inch versions.
Similarly, 65-inch Samsung TVs such as the Q900, the Q90, the Q8, or the Q80 all offer superb viewing experiences. These TVs, however, are made for bigger rooms. If you live in a small apartment, these TVs will be a bit overwhelming. Here's a detailed buying guide to help you make your final purchase decision.
Samsung Smart TV Buying Guide
Why Smart TVs?
There are numerous types of Smart TVs in the Indian market. Multiple factors influence each category or type of Smart TVs. They include –
Displaying Technology
The best Samsung Smart TVs are available with various display technologies, mainly – plasma, LCD, LED and OLED.
Screen
Plasma screens are famous for providing impeccable color accuracy and image sharpness. LCD (Liquid Crystal Display) and LED (Light Emitting Diodes) TVs use high-quality light sources to minimize power usage. OLED too offers extreme color accuracy and broader blur-free viewing angles. The one feature that all these Smart TV sets have is that thy have ultra-thin screens.
Display Resolution
The costlier the Smart TV, the more display resolution it will offer. All the best Samsung Smart TVs offer HD content. The most common display resolutions are 4K Ultra HD and Full HD.
Interface
Another feature that makes Smart TVs so popular is their user interfaces. The software platform used in these TVs is extremely easy to understand. For instance, a Samsung Smart LED TV will have its own user interface. Other common interface platforms are Android OS, My-Home-Screen, Amazon Fire TV, etc.
Size
Smart TVs are extremely slim and light. Installing these TVs is very easy. However, users must first assess the screen size of the TV they plan to purchase. From 32-inches to 43-inches, there are a lot of options. We will review all the best models in each size category later in this guide.
Although there are several other features that Smart TVs have, these four are the most common classifying factors.
Why is Samsung the Best Brand for Smart TVs?
Although there are a lot of brands such as Sony, LG, MI, etc. the most popular brand in the Indian market is Samsung and rightly so. They have been active in the Indian appliance industry since the early 90s. Other companies draw inspiration from Samsung's new inventions. The Samsung OLED TV was the first OLED TV to gain widespread popularity in the country.
Samsung smart TVs are also great at up-scaling or converting HD images into 4K resolution. They perform better than LG or Sony sets when displaying images that move with a rapid motion. Most of the best Samsung Smart TVs feature HDR10+ technology that makes colors appear super-clear. The input lag is low, which makes the TVs ideal for gamer. Samsung is the global industry leader when it comes to TV technology. Hence, in this review, we will be looking at the best Samsung Smart TV.
Key Reasons Why People Choose Samsung?
Samsung manufactures the best Samsung Smart TVs with QLED displays
Their investment in quantum-dot enhancement technology makes picture qualities on Samsung Smart TVs extremely efficient
Tizen is the smart TV OS that Samsung uses. It is extremely easy to use and it integrates effortlessly with other devices and apps
Users can get a complete smart TV experience even on less expensive Samsung Smart TVs. In fact, some of the best Samsung Smart TVs are low-cost.
Bixby voice assistant is available on newer models
Samsung's HDR10+ is better than Dolby Digital
What does LED TV mean?
Light Emitting Diode or "LED" refers to the nature of the backlighting system used in the TVs. In the past, the backlights in TVs were thicker and made with less effective technology. Cold-Cathode Fluorescent Lights took up a lot of space, making the size of TV sets bigger. Nowadays, almost all flat-screen TVs use LED backlighting. LCD TVs were the first to use LED backlighting.
Are all LED TVs the same?
Not all LED TVs function the same. Brightness and black levels of TVs depend on the quality and number of LEDs in the TVs. Quantum dot Light Emitting Diodes or QLEDs use light sources that are as small as quantum dots. Hence, QLED TVs have more brightness and colour.
What does OLED TV mean?
"OLED" stands for "Organic Light-Emitting Diode." OLED TVs can produce both light and colour from a single light source or diode. All they need is electricity. These TVs OLED TVs do not require a separate backlighting arrangement. Each pixel in OLED TVs is self-contained sources of light and colour.
OLED screens can hence be extremely thin and flexible because there's no backlighting arrangement taking up extra space. They are superior to LED TVs because each pixel in OLED screens receives their luminance, unlike the pixels of LED TVs which require an external light source. There are no ways to manage blackness levels. LED TVs are either lit or completely dark when switched off. It is much easier to manage the black levels in OLED TVs.
However, the problem with OLED TVs is the fact that only LG manufactures OLED panels for TVs. Samsung does not manufacture OLED TVs, but the company does make OLED smartphone panels. There are plans to launch a range of TVs with QLED and OLED technology (known as QD-OLED), but that idea will take quite some time to materialise.
LED vs OLED – What are the Differences?
The main difference between LED and OLED TVs is the fact that LED doesn't function on the principle of self-illumination. Those TVs need a backlight to operate correctly. OLED on the other hand is self-illuminating. OLED devices do not require backlights to initiate their operations. Some other key differences are –
Viewing Angles
OLED TVs offer wider viewing angles. An OLED display screen is better for people who watch TV with large families. Since those sets are angled at 84 degrees in comparison with LED's 54 degrees, the viewing experience is more uniform. LED display provides first-rate picture quality when users view the screen from the centre. There's a little bit of deterioration in picture quality as you move either side of the centre.
Brightness
LED display provides much more intensity than OLED TVs. LED TVs use quantum dots to boost the quality of backlight. Consequently, the intensity of LED screens increases considerably. Using OLED TVs at their maximum brightness for long durations can reduce its efficiency and lifespan.
Thinness
Both LED, and OLED screens are extremely thin. Although the difference in lightness is minimal, OLED TVs typically have thinner screens.
Response Time
The diodes inside an OLED arrangement have a speedy response time. That does not mean that LED TVs lag. They are just a bit slower than their OLED counterparts.
Screen Size
LED TVs can reach up to 100 inches in screen sizes. OLED TVs reach a maximum height of 90 inches.
Energy Efficiency
OLED consumes far less energy as it is self-illuminating. No additional backlight is needed.
Which one Should You Buy?
To put it simply, OLED is a slight advancement on LED TVs. But, the working principle of both of them is quite similar. Any of these two will be a decent addition to your home.
How to Get the Best Picture Quality?
Picture quality is the first thing that you should look for when buying a Samsung Smart LED TV or Samsung OLED TV. Overall, OLED TVs offer the best picture quality. But they can be quite expensive. Hence, before making a costly purchase decision, the factors you must consider include –
Local dimming is a must-have feature. It vastly boosts picture quality. Also, look for other features such as quantum dots, etc.
The capacity to produce deep shades of black – this essentially means that the TV has high contrast, an essential ingredient in producing high-quality pictures.
Colour saturation and colour accuracy are two vital factors that determine picture quality.
Less significant features include colour gamut and video processing.
What size TV should you get?
Buying a TV is similar to purchasing a new piece of furniture. It must fit wherever you plan to install it. Ideally, the placement of the TV should be proportional to the furnishings. For instance, a Samsung 32-inch LED TV will not look too good floating on a massive wall. Similarly, a 55-inch Samsung Smart TV will look out of place in a small living room.
Before deciding on the size of the TV, get a tape to measure the wall. Check what the outline of your TV looks like on the wall. Assess the width, height, and depth of the TV before making a purchase.
Is 4K/UHD TV worth the money?
Almost all mid and large-sized Samsung Smart LED TV offer Ultra HD or 4K resolution. 4K TVs have 3840×2160 pixels as compared to the 1920×1080 pixels that a standard HDTV has.
Does this create a huge difference? Well, the picture quality of 4K TVs is much better. If you are planning on viewing a lot of 4K content, which is mainly available on streaming platforms such as Amazon or Netflix premium, getting a 4K TV will undoubtedly be worth the money.
Quick Tips
Avoid 720p. TVs with 720p resolution are outdated. Spend a little more and go for a TV with Ultra HD or 4K resolution. These TVs are ready to meet the demands of future HD content.
Stay away from 8K TVs. 8K TVs are as expensive as they are alluring. No major movies or TV shows are available in 8K yet. It will take these TVs a good 2 to 3 years to enter the mainstream.
Plan your budget. Expect to spend somewhere between 30-50,000 Rupees for a Samsung 43-inch Smart TV or a 65-inch Samsung TV. You may get a cheaper model from a lesser brand. But, since TVs are long-term investments, it is better to spend your money on a top-quality model that will last a long time.
Ask the TV seller to provide free installation. A lot of companies provide such services.
60 Hz refresh rate is a must. Or else, watching HD and fast-moving content becomes difficult.
Look for an HDR-compatible Samsung OLED TV or QLED TVs. These TVs offer more realistic colours and crystal-clear images.
Make sure the TV has at least three HDMI ports. It would be better if the TV had the new HDMI 2.1 ports.
Avoid TVs that don't offer at least a 1-year warranty.
Final Words
Hopefully, this review helps you make the right decision. TVs, unlike smartphones, are long-term investments. Carefully assess each feature before making a purchase decision. If you plan properly, there's no doubt that you will find the best Samsung Smart TV that addresses all of your needs. Shop wisely and shop as per your needs and requirements.
Explore More Related Products
LG 80 cm (32 inches) HD Ready Smart LED TV 32...
14%
OnePlus Y Series 80 cm (32 inches) HD Ready L...
8%
Toshiba 80 cm (32 inches) Vidaa OS Series HD ...
6%
LG 108 cm (43 inches) Full HD LED Smart TV 43...
12%
Hisense 80 cm (32 inches) HD Ready Smart Cert...
5%
V-Guard Voltino Max TV Voltage Stabilizer for...
23%