4K TVs, or Ultra HD TVs or UHD TVs are now the demand of everyone as they offer the more clear picture and vivid detail than our normal HD TVs. For your preference, we have rounded-up here the best 65 inch 4K TVs from various bands including LG, Samsung, Sony, etc.
Want to know more about the 4K TVs or UHD TVs, check these links
Wikipedia 4K Guide
4K Resolution
Our Best Picks of 65 inch 4K TVs
There are a lot of options for 4K Ultra HD TVs, available in the market but choosing from the wide range of models is quite difficult. So don't get worried as we have made your task easier.
Just have a look on the below listed best 65 inch 4K TVs and get the perfect one. The blog contains only the good stuff, and all these sets of 4K UHD TVs are stunning performers and well worth considering.
Best 65 Inch 4K TVs Review
Here is the detailed review of the above mentioned models so that you can have more clear idea about them to choose the one wisely.
1. LG 164 cm (65 Inches) 4K UHD OLED Smart TV OLED65B8PTA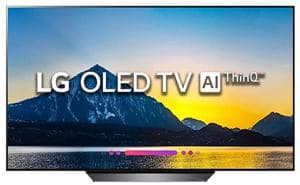 This ultra slim model from LG is one of your best choices if you are seeking for the best 65 inch 4K TVs. Turn it on and get inspired by its life-like colors. This 4K Ultra HD TV offers the more perfect picture and incredibly vivid detail. What is especially best is its IPS 4K Quantum Display that is capable of reproducing more shades of colors with finer gradation. The TV delivers intelligent voice-activated control as it is featured with ThinkQ AI that lets you control the TV using your voice command. Also, featuring Dolby Atmos, the TV creates powerful and moving audio to enhance the sound quality.
It also has the magic mobile connection that let you enjoy the smartphone content on your TV with ease. Also, you can easily browse and share files from the external device wirelessly with its SmartShare feature. Plus, the feature of simultaneously watching the TV and surfing the internet makes this one a multi-tasking TV. Moreover, you can also watch two inputs on the screen using the LG Exclusive mobile connection overlay.
Key Features
Sleek display and bezel
ThinkQ AI for activated voice control
A7 Intelligent Processor for rich colors and deep details
Dolby Atmos to create the powerful sound
4K Cinema HDR to deliver lifelike colors
OLED display
Gallery mode to access photos, music, and more
Compatible with Netflix
Wireless sound
Magic remote
Buyers Feedback
The Good
Clear, consistent and sturdy
Offers an immersive viewing experience
The cinema screen design for an elegant and appealing look
Superb picture and sound quality
View on Amazon View on Flipkart
2. Sony 163 cm (65 Inches) 4K UHD OLED Smart TV KD-65A8F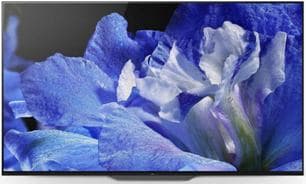 Get an experience of breathtaking 4K HDR picture quality in a super slim design with this one of the best 65 inch 4K TVs. This TV is equipped with the brilliance of 4K clarity with the color, brightness, and detail of High Dynamic Range. Also thanks to its Triluminos display that brings you even more lifelike colors.
The X-tended Dynamic range feature of this model reproduces wider brightness and also highlights details. That's why every scene shown on the TV looks natural. This UHD TV is also featured with 4K X-Reality that enhances its texture, contrast, color, and edge. Just dive into the world of 3D with this dynamic model from Sony and enjoy compatible Blu-Ray movies, web videos and TV broadcasts with finely detailed 3D images.
This Sony TV is also featured with Acoustic Surface Technology enabling the sound to come from the entire screen enhancing your audio experience. Another amazing feature of this Sony TV is its Triluminos display that maps colors from a wider palette, and thus you can see real vivid colors around you.
With built-in Google assistant, the TV lets you quickly access your favorite shows, get answers and control your TV using your voice command. And the best part is that you can also connect your Alexa-enabled devices for seamless hands-free control of this Sony TV.
Key Features
4K High dynamic range
One slate design
Triluminos display
Built-in Wi-Fi
Acoustic surface technology
4K X-Reality Pro
Clear Audio+
Built-in chromecast
Content Bar to find everything fast
HDR gaming with PlayStation
IR Blaster to control everything with one remote
Buyers Feedback
The Good
Nicely built
Superb performance
Brilliant colors
Stunning picture and audio quality
3. Panasonic 164 cm (65 Inches) 4K UHD LED Smart TV TH-65FX600D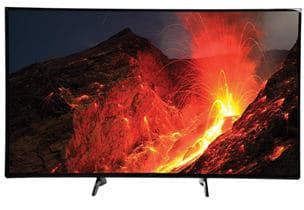 Dive into the world of an ultimate picture with this one of the best 65 inch 4K TVs from Panasonic. Featuring supreme 4K Pro Quality and incredibly smart functions, this will be absolutely your best choice at all. And thanks to its metallic switch design that offers you the flexibility to move the position of your TV pedestals from a narrow to a wide grip.
This UHD TV is featured with HEXA Chroma Drive that delivers the maximum impact from its 4K resolution. It's wider color coverage, and professional processing technology with 6-color reproduction gives you stunning picture quality. The model is also equipped with easy and simple network service based on Firefox OS that enhances your viewing experience.
There comes a specially designed box speaker to give you an amazing sound experience. Plus, my Home Screen feature enables you to customize your own home UI. You can also interact with your smart TV through your voice command using the Viera remote app. What comes the next is its smart swipe and share feature that lets you share the contents from your smart devices to the TV screen. And moreover, its easy mirroring function can quickly and easily reproduce the content showing on your portable device to your TV's bigger screen.
Key Features
4K Ultra HD TV
Metallic switch design
IPS panel to provide a wide viewing angle
Six colors hexa chroma drive
1500 Hz Backlight Motion Rate
My Home Screen
Voice interaction using Viera Remote app
Swipe and share
Easy Mirroring
High definition multimedia interface
Buyers Feedback
The Good
Nice design
Sturdy built
Excellent sound and video quality
Unbeatable upscaling
Performance is great
True deep color
HDR works amazingly superb
4. Samsung 163 cm (65 Inches) Series 8 4K UHD LED Smart TV UA65NU8000K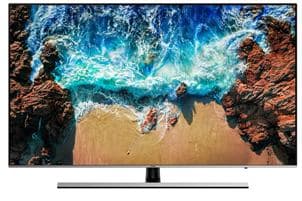 Want to experience all shades of richer and life-like color, Samsung UA65NU8000K will absolutely be a perfect choice. This model from Samsung is one of the best 65 inch 4K TVs featuring Quantum Dot technology. It's bezel-less 360 design, and metallic contour makes the screen float and thus pushing you deeper into the content. With the UHD resolution, you can experience more vivid detail and clarity to the picture. This UHD TV is also featured with supreme UHD Dimming Technology that delivers optimized color, contrast, and sharpness for true-to-life image quality.
Featuring a wide range of brightness levels, the TV lets you see the brightest and even darkest scenes very clearly so you will never miss out any details. With HDR 10+, you can experience more remarkable HDR expression. For all who loves gaming, this TV is a great buy as it offers you the best gaming environment to play graphic-rich games.
It also has a smart things app that offers amazing convergence and easy connectivity with the majority of personal devices. The TV is compatible with Samsung Cloud letting you connect your Samsung smart devices with it to sync photos and share files.
Key Features
4K UHD resolution
Ultra slim array
Boundless 360- degree design
HDR Elite to find the hidden details
HDR 10+ for more remarkable HDR expression
Dynamic crystal color
Game Mode
SmartThings App to keep all your smart home devices connected like refrigerator, washing machine, mobile and more, for seamless interaction
Buyers Feedback
The Good
Mesmerizing quality
Unbelievable audio and video quality
Best gaming experience
SmartThings app is very good
View on Amazon View on Flipkart
5. Sanyo 165 cm (65 Inches) 4K UHD LED Smart TV XT-65A081U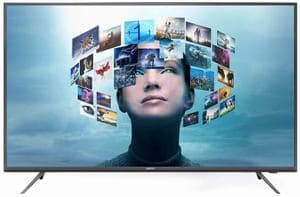 Featuring innovative technology and superb specifications, this one model from LG is also one of the best 65 inch 4K TVs as well. Stunning visuals, superior acoustics, and enviable aesthetics describes this smart TV from Sanyo. The transcending LED technology, allows you to dive into an illumination of unmatched color. It's expanded color scope offers the most vibrant, extra-rich, and life-like colors.
The 4K resolution feature offers breathtaking clarity and fine picture details. And the super slim design of this model can perfectly match your home decor due to its cutting edge technology.
This 4K TV is powered by the latest Android Operating System that lets you enjoy the original Android experience with unlimited access to thousands of authorized apps on the official Android TV Play Store.
It is also featured with Google Assistant, so you can now control your TV by using your voice command. The TV also comes with built-in chromecast that lets you cast movies, TV shows, music, games, sports and much more from Android, iOS, Mac, Windows or Chromebook to your TV. And the most amazing part of the TV is its non-stop and fun-filled gaming experience with vibrant visual details and stunning 3D graphics.
Key Features
Super Bright IPS LED
Dolby audio
Official Google Android TV
Google Assistant
Built-in Chromecast
Minimalistic design
Seamless connectivity
Non-stop gaming
Buyers Feedback
The Good
Stunning look with thin bezels
Spectacular picture quality
Superb sound quality
Great colors clarity
Price is very reasonable
Works very well with HD content
No issues with connectivity to Wi-Fi, USB, HDMI, etc
The Bad
Amazon Prime is not available
The sideloaded apps must be carefully picked before installed. If it is not compatible, it may cause boot loops
Conclusion
This is all about the best 65 inch 4K TVs or Ultra HD TVs. All the above models featuring 4K technology will surely give you the best and enhanced viewing experience. So, just get entertained in a whole new way on your 4K by picking out the one listed above. And get dive into the next level of entertainment with one of the best 65 inch 4K TVs from the most popular brands including Sony, Samsung, LG, etc.
Related Items
Lithara Transparent LED TV Cover for LG 65UH8...
50%
Samsung 163 cm (65 Inches) 4K Ultra HD Smart ...
32%
TCL 163.96 cm (65 inches) 4K Ultra HD Smart C...
54%
Sony Bravia 163.9 cm (65 inches) 4K UHD Certi...
43%
Philips 164 cm (65 inches) 6700 Series 4K Amb...
58%
LG 164 cm (65 Inches) 4K UHD LED Smart TV 65...
17%